By: Jonathan Kwan
June 14, 2019
Ever since the invention of glass, humanity has been intrigued by its desirable properties. From the beauty of its optical clarity to the diversity of which it can be used, it has always captured the imagination of people for thousands of years. Glass is both the one of the hardest materials and easiest things to break in the world, it can be found in medieval architecture to ultra-modern buildings, and it has been used from anything ranging from your smartphone to the windshield of your car. Simply put, there is nothing quite like glass. If there is anything glass has been invading in recently, it would be computer cases. Up until a few years ago, windowed side panels were all made out of clear acrylic sheets. Acrylic sheets are great, but you can scratch it by just looking at it, not to mention its optical properties are just not as nice as glass. Chassis manufacturers took note. All of a sudden, everyone started to replace acrylic with tempered glass. Enter Fractal Design's story. At the turn of this decade, the company did not have a single case with clear side panels. The company has always made products with thick steel and sound insulating panels to keep things subtle and quiet, but why buck the trend when you can make more money going with the trend? The Fractal Design Define S2 Vision Blackout not only has a tempered glass panel on the left, but also on the right... and in front... and get this -- even on top. Quite literally, every panel is made out of glass. Why only follow the crowd when you can lead by taking it to the extreme? Read on to find out how it fared against the normal Define S2!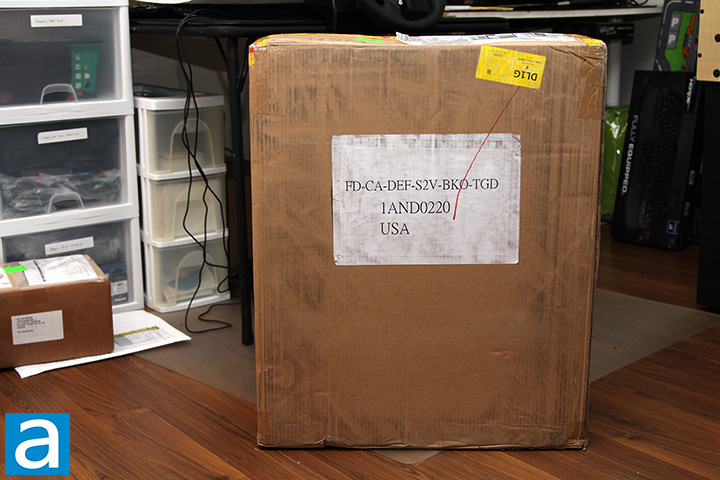 Fractal Design sent their latest Define S2 Vision Blackout mid-tower in a large brown corrugated cardboard box from the company's American offices in Dallas, Texas, USA using UPS Standard. It is not common to see a case shipped in something that is not its retail box. It has some random DHL tape on top as well, but funkiness aside, here we are. As always, everything arrived safely to us here in Calgary, Alberta, Canada for our review today.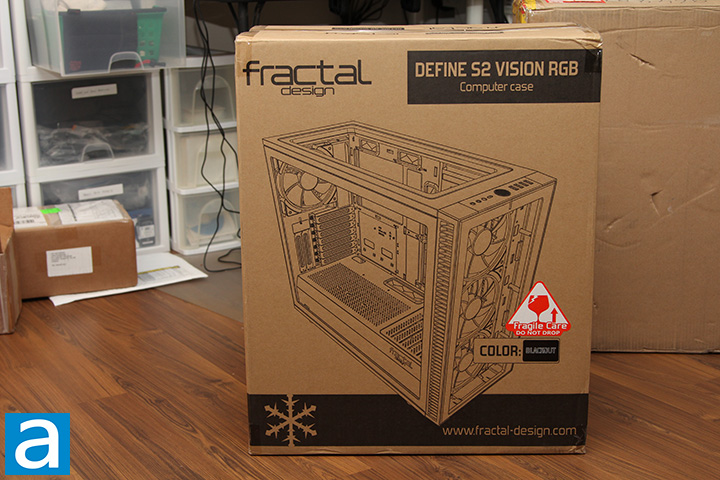 I actually requested the Fractal Design Define S2 Vision RGB, and until I opened the box, I thought this was it. The "Fractal Design Define S2 Vision RGB" text on the retail packaging is what Donald Trump would refer to as "fake news". A subtle hint can be found on the box where the Blackout label was applied to next to the Color box, but there is absolutely nothing RGB about the Blackout version. It comes with no RGB LEDs or RGB fans like the actual RGB version, which was a bit disappointing to me, haha.
As you can see in our photo above, Fractal Design's retail box design for the Define S2 Vision Blackout is very similar to all their other products since 2012. We have come to expect an environmentally friendly -- or economically friendly, depending on your perspective -- brown corrugated cardboard box with classic black ink. On the box, you will find Fractal Design's branding around the edges with an outline of the case occupying majority of the real estate. It is certainly not as pretty as what we have seen back in the Define R3 days, but no one spends that much time looking at the packaging anyway. At the end of the day, I have no guilty feeling dumping it into the recycle bin afterwards. I am no environmentalist, but I think that in itself has value in my opinion.
Before we move on, let us take a look at the specifications of the Fractal Design Define S2 Vision Blackout, as obtained from the manufacturer's website:
Specification: Define S2 Vision Blackout
3.5"/2.5" Universal drive brackets: 3
Dedicated 2.5" drive brackets: 2 included, 5 positions total
Expansion slots: 7 + 2 vertical
Motherboard compatibility: EATX (up to 285 mm wide) / ATX / mATX / ITX
Power supply type: ATX
Front ports: 1 x USB 3.1 Gen 2 Type-C, 2 x USB 3.0, 2 x USB 2.0, Audio
Total fan mounts: 9 (6 + 3 with included bracket)
Front fan: 3 x 120/140 mm (3 x Dynamic X2 GP-14 PWM included)
Top fan: 3 x 120/140 mm (with cooling bracket installed)
Rear fan: 1 x 120/140 mm (1 x Dynamic X2 GP-14 PWM included)
Bottom fan: 2 x 120/140 mm
Dust filters: Bottom fan + PSU, front fans, top panel (with cooling bracket installed)
Front radiator: 120/240/360 mm140/280 mm
Top radiator: 120/240/360 mm with cooling bracket installed, 140/280 mm (max 35 mm motherboard component height)
Rear radiator: 120 mm
Bottom radiator: 120/240 mm, 140 mm
PSU max length: 300 mm
GPU max length: 440 mm
CPU cooler max height: 185 mm
Cable routing space: 23 mm
Cable routing grommets: Yes
Fixed velcro straps: Yes
Tool-less push-to-lock: Both side panels
Captive thumbscrews: HDD brackets, SSD brackets
Left side panel: Dark tint tempered glass
Right side panel: Dark tint tempered glass
Additional Lighting: N/A
Case dimensions (LxWxH): 543 x 233 x 465 mm
Case dimensions w/o feet/protrusions/screws: 535 x 233 x 448 mm
Net weight: 12.1 kg
Package dimensions (LxWxH): 535 x 325 x 650 mm
Package weight: 14.8 kg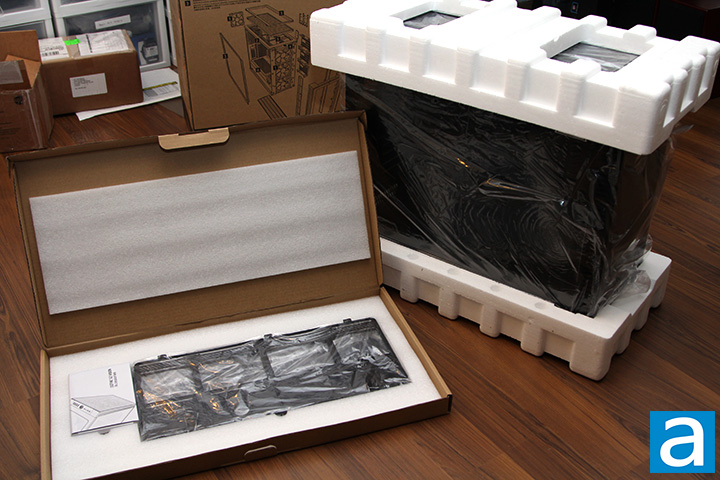 Out of the box, you will receive the Define S2 Vision Blackout computer case itself. The rest of the contents are placed neatly inside a large but thin cardboard box, which contains the following:
- Top filter
- Top radiator/fan bracket
- User manual
- Accessory box
---
Page Index
1. Introduction, Packaging, Specifications
2.
Physical Look - Outside
3.
Physical Look - Inside
4.
Installation and Conclusion