By: Aaron Lai
January 18, 2019
Last Christmas Eve, I was finishing up my cards and I headed to the local dollar store so I could pick up some supplies to complete them. When I walked in, I was surprised at how many people were doing last minute buying before the stores would close for the next day. I was not in a huge rush so I walked around the store. I was perusing their small gadgets when I overheard a conversation. A young boy walked by and passed another girl with her mom. The kids exchanged glances and waved when they realized who each other were. "I know your face!" exclaimed the boy. His mom was close by and asked him, "Who is she? What is her name?" Thinking for a second, the boy looked at the girl and back at his mom and said without hesitation "I dunno!" It is pretty hilarious to sometimes recognize people or things, but completely blank on their name. If I were ever in that situation, I probably would have avoided the other person until I knew their name, haha. For products, it can be a good or bad thing depending on how much or little they remember about the product. If a similar looking item can generate brand recognition, it can be a positive thing. However, if they do not remember or it brings up bad connotations, it may be time to switch their image. With the Fractal Design Define S2 arriving, I definitely made several takes, especially with how similar it looked to past Fractal Design cases. This manufacturer is known for its quality cases through their lineup, so does this keep up with this reputation inside and out? Let us read on to find out!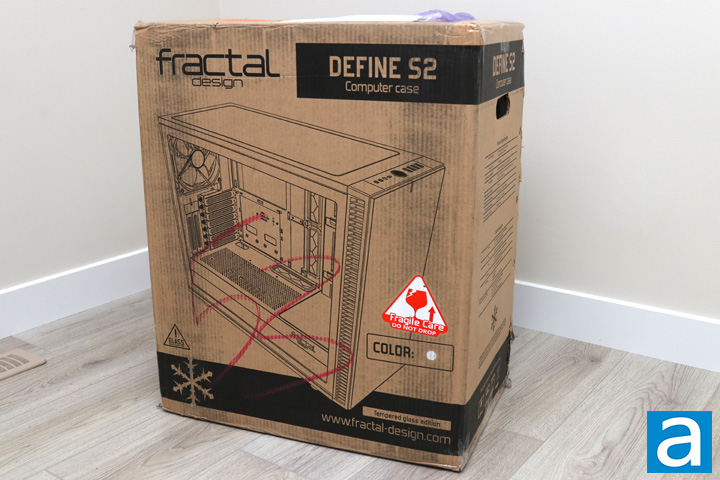 Today's review unit of the Fractal Design Define S2 arrived from the company's offices in Dallas, Texas, USA. As with other Fractal Design products we have received, the Define S2 arrived with FedEx and their international ground service. The box arrived in relatively good condition, though you can see how faded one panel is compared to the rest of the box. Otherwise, there are no real dents or bruises to be too concerned about. As this box is relatively huge, it is unsurprising to see the retail container as the shipping box. The retail box design for the Define S2 is pretty similar to the last Define S, as well as practically every recent Fractal Design case we have reviewed. This company generally keeps their retail boxes simple, with a black outline of the case on the front panel. Some specifications can be found on the side panels and other places. Fractal Design's branding can be found on the edges. The white color variant of the Define S2 is displayed on the box, but there are other colors available for this model, including Black, Blackout, and Gunmetal.
Before we move on, here are the specifications of the Fractal Design Define S2 from the manufacturer's website for your perusal:
3.5"/2.5" Universal drive brackets: 3
Dedicated 2.5" drive brackets: 2
Expansion slots: 7 + 2 vertical
Motherboard compatibility: EATX (up to 285 mm wide), ATX, mATX, ITX
Power supply type: ATX
Front ports: 1 x USB 3.1 Gen 2 Type-C, 2 x USB 3.0, 2 x USB 2.0, Audio I/O
Total fan mounts: 9
Front fan: 3 x 120/140 mm, (2 x Dynamic X2 GP-14 included)
Top fan: 3 x 120/140 mm
Rear fan: 1 x 120/140 mm (1 x Dynamic X2 GP-14 included)
Bottom fan: 2 x 120/140 mm
Dust filters:
- Bottom fan + PSU
- Front fans
- Top panel
Front radiator:
- 120/240/360 mm
- 140/280 mm
Top radiator:
- 120/240/360 mm
- 140/280/420 mm (max 35 mm motherboard component height)
Rear radiator:
- 120 mm
Bottom radiator:
- 120/240 mm
- 140/280 mm
PSU max length: 300 mm
GPU max length: Max 440 mm with front fan mounted
CPU cooler max height: 185 mm
Cable routing space: 23 mm
Cable routing grommets: Yes
Fixed velcro straps: Yes
Tool-less push-to-lock: Both side panels
Captive thumbscrews: HDD brackets, SSD brackets
Left side panel:
- Black/Blackout/Gunmetal versions: Light tint tempered glass
- White version: Clear tempered glass
Right side panel:
- Industrial sound-dampened steel
Case dimensions (LxWxH): 543 x 233 x 465 mm
Case dimensions w/o feet/protrusions/screws: 535 x 233 x 448 mm
Net weight: 11.6 kg
Package dimensions (LxWxH): 535 x 325 x 650 mm
Package weight: 13.4 kg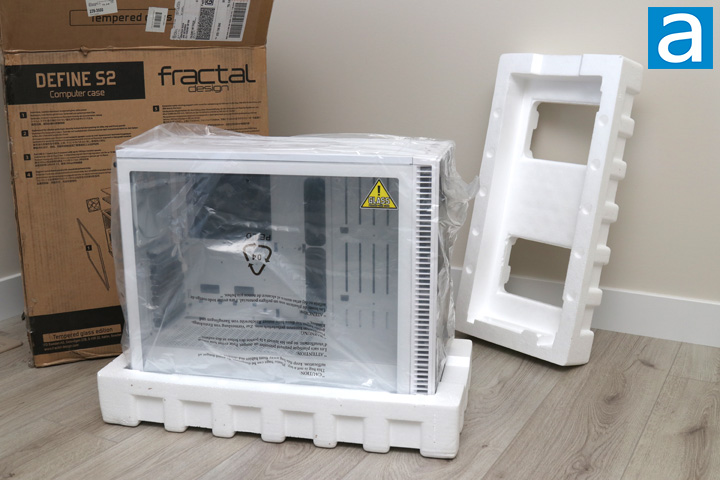 Out of the box, you can see Fractal Design has packaged the whole unit quite well. A clear plastic bag surrounds the whole case with two large white foam brackets fitted on the top and bottom of the case. The thick foam brackets should do a sufficient job in protecting the case during any shipping accidents. Plastic sheets cover both sides of the tempered glass panel to also prevent any surface damage the glass may face in shipment. Otherwise, a separate bag holding the user manual and warranty information is packed outside the case.
---
Page Index
1. Introduction, Packaging, Specifications
2.
Physical Look - Outside
3.
Physical Look - Inside
4.
Installation and Conclusion