By: Aaron Lai
March 18, 2020
If there is one thing I find difficult to do well, it is to work from home. When I was in my first job, they told me I could work from home whenever I wanted to. It was pretty easy to do so as I could just remote desktop into my PC at work and things would work as expected. However, the difficult part was not actually getting set up with my remote connections, but rather avoiding the distractions at home. Even if you can stay away from things like watching Netflix or YouTube in the background, there are many other things that can pop into your mind when you are at home that distract you from what you are currently working on. I think part of it is the environment, but the other side is the fact working as a software developer requires more teamwork and communication than you may expect. Being remote from people makes communication that much more challenging. Unfortunately, due to the current events in the world, I have been heavily encouraged to work from home. As it was announced last week, our team discussed the challenges we would face in the weeks ahead and we all expected our output would be lower than normal. One thing that might distract me more than normal is actually today's review unit, which is a new mini ITX case from Fractal Design. As the Era ITX was released today, I have to ask, "What can we expect from this smaller case?" I guess we will see today, so let us read on to find out!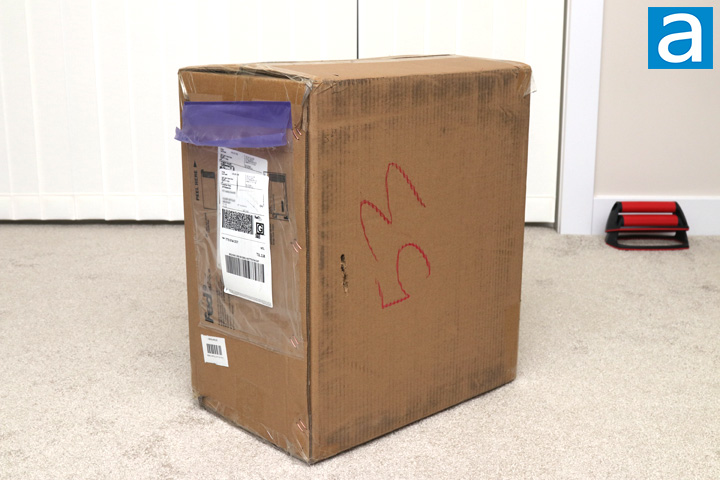 Today's review unit of the Fractal Design Era ITX arrived from Fractal Design's offices in Plano, Texas. Traveling over eighteen hundred miles to get to our APH Networks offices here in Calgary, Alberta, this box arrived in good condition with just one medium sized gash on one side panel. Otherwise, Fractal Design has packaged their box in another shipping container. The rest of the box is fine, as FedEx did a decent job in ensuring no other bruises or dents were made during the transit. It is quite a bit smaller than you might expect, especially since the recent Fractal Design cases we have reviewed have been of the larger mid-tower ATX format. I grabbed a pair of scissors and opened up the shipping container.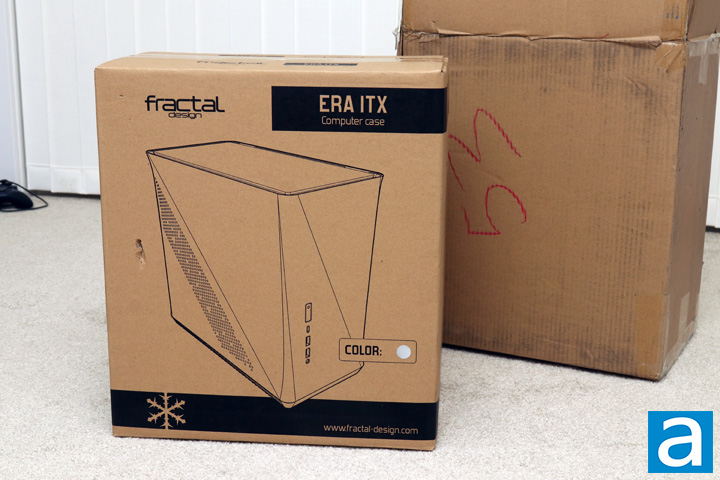 Slipping out of the shipping box, we have a better look at the retail container of the Fractal Design Era ITX . Much like most of Fractal Design's products, this retail box is a brown corrugated cardboard box with some printing on top of it. The top has the older Fractal Design logo, rather than its redesigned one, with the product name beside it. An outline of the case is shown to let users know what this case should look like. On the front, we also have a marking to show what color this case is. Fractal Design actually has made their Era ITX case in several colors including Silver, Titanium Gray, Carbon, Gold, and Cobalt. Each of these cases also have a corresponding top panel, depending on the color, but we will see later on. Otherwise, around the box shows some specifications and features of this case.
If you are interested, I have grabbed the specifications from the manufacturer for your perusal:
Case Material: Aluminum panels, steel frame
Motherboard compatibility: Mini-ITX
Power supply type: ATX, SFX-L, SFX
External 5.25" drive bays: N/A
3.5" drive support: SFX PSU: 2 HDDs or 1 HDD + 2 SSDs, ATX PSU: 1 HDD
2.5" drive support: SFX PSU: 4 SSDs or 2 SSDs + 1 HDD, ATX PSU: 2 SSDs
Expansion slots: 2
Front ports: 1 x USB 3.1 Gen 2 Type-C, 2 x USB 3.0, 3.5 mm CTIA combined audio/mic
Total fan mounts: 5
Front fan: N/A
Top fan: 2 x 120 mm
Rear fan: 1 x 80 mm (1 x SSR3 80mm included)
Bottom fan: 2 x 140 mm (without 2-slot GPU)
Dust filters: Bottom intake, Side intakes, Top exhaust
Front radiator: N/A
Top radiator: 120/240 mm or 2 x 120 mm (max 125 mm width, 67 mm thickness w/ fans, dependent on PSU position/type)
Rear radiator: N/A
Bottom radiator: N/A
PSU max length: 200 mm
GPU max length: 295 mm (210/190 mm with low-mounted SFX/ATX PSU)
GPU max width: 125 mm
GPU max thickness: 47 mm
CPU cooler max height: 120 mm without side-mounted 3.5" HDD, 70 mm recommended (91 mm max) with side-mounted HDD
Cable routing space: N/A
Cable routing grommets: N/A
Fixed Velcro straps: Yes
Tool-less push-to-lock: Both side panels
Captive thumbscrews: None
Case dimensions (L x W x H): 325 x 166 x 310 mm
Case dimensions w/o feet/protrusions/screws: 325 x 166 x 307 mm
Net weight: BK/BU/CHP versions: 4.019 kg, GY/SI version: 4.129 kg
Package dimensions (L x W x H): 385 x 240 x 435 mm
Gross weight: BK/BU/CHP versions: 5.107 kg, GY/SI version: 5.217 kg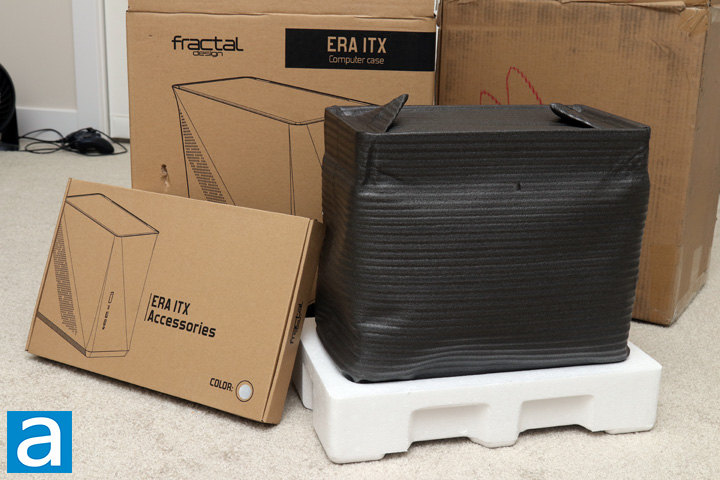 Out of the box, the Fractal Design Era ITX can be found wrapped in a thick gray foam bag and situated between two large white foam blocks. This is probably one of the better ways to protect the cases in transit and it looks quite premium too. This ensures the case is protected from any drops or falls, while also ensuring the surface is kept free of surface dings and scratches. Fractal Design has also packaged a large separate box with various accessories in this cardboard shell. There are also some sheets of documentation including an installation guide and warranty information.
---
Page Index
1. Introduction, Packaging, Specifications
2.
Physical Look - Outside
3.
Physical Look - Inside
4.
Installation and Conclusion