Page 4 - Installation and Conclusion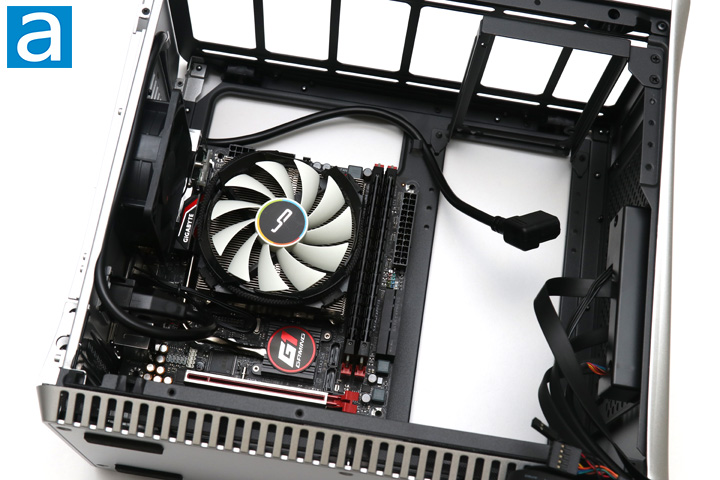 Following Fractal Design's instructions, I started by installing my Gigabyte GA-Z170N-Gaming 5 motherboard in, which is holding an Intel Core i5-6600K under a CRYORIG C7. The RAM on the motherboard is the Patriot Viper 4 Blackout DDR4-3600 2x8GB. As we can see, the CRYORIG C7 is a very short processor cooler at 47mm. Fractal Design says the Era ITX should accommodate coolers as tall as 120mm if you do not have a 3.5" hard drive mounted on the side. Otherwise, this clearance reduces to 70mm. I continued on by plugging in all the front I/O connectors into the motherboard. If you wanted to install the graphics card, I would do so now. Fractal Design recommends video cards no longer than 295mm, but this clearance reduces further if you are using a lower mounting position or a larger ATX power supply.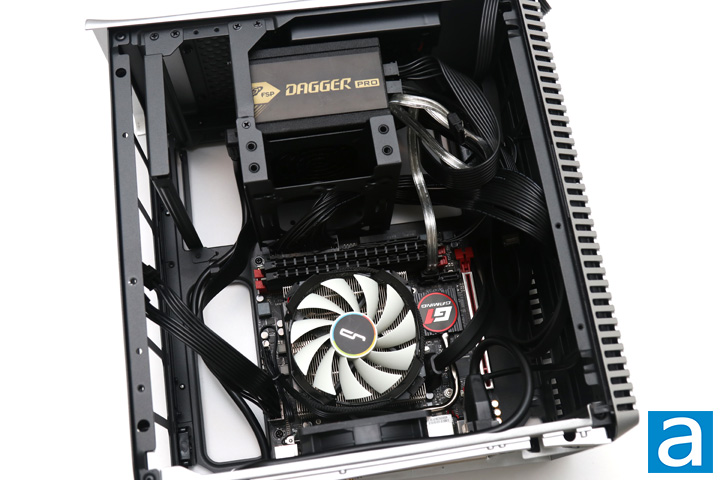 Afterwards, I went to install my power supply in this case. Due to its small size, I chose the FSP Dagger Pro 650W SFX power supply. This way, I would not worry about excess cabling in this already tighter case. However, if I were to redo this installation, I would have shifted up the power supply bracket to install in the higher position. I routed all of the cables to the necessary spot and plugged them in. Despite working in such a small space and using the lower mounting position, I found I had more than sufficient room to plug in all of these cables. I also ended up plugging in the power cable that leads to the back of the Fractal Design Era.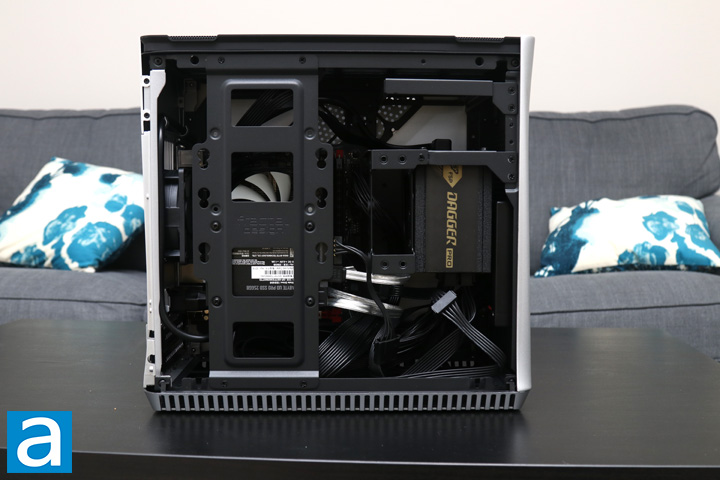 With practically everything plugged in place, my last step was to install some storage, which is the Gigabyte UD Pro 256GB. I mounted this on the vertical bracket and plugged the necessary SATA power and data cables into place before installing the whole bracket in front of the motherboard. Overall, I found cabling to be pretty straightforward with the Fractal Design Era ITX. They even provided a small Velcro strap to help with tidying up extra cable lengths. I still think some additional cable tie points would have helped with excess cabling, especially since Fractal Design includes some cable ties. I also would expect this case to be a bit more challenging to build in if I had additional components like an all-in-one CPU cooler or a graphics card here. Otherwise, I am quite pleased with the internal layout of the Fractal Design Era ITX and the whole installation process. I grabbed the two side panels and closed up the case to prepare for powering up my media PC.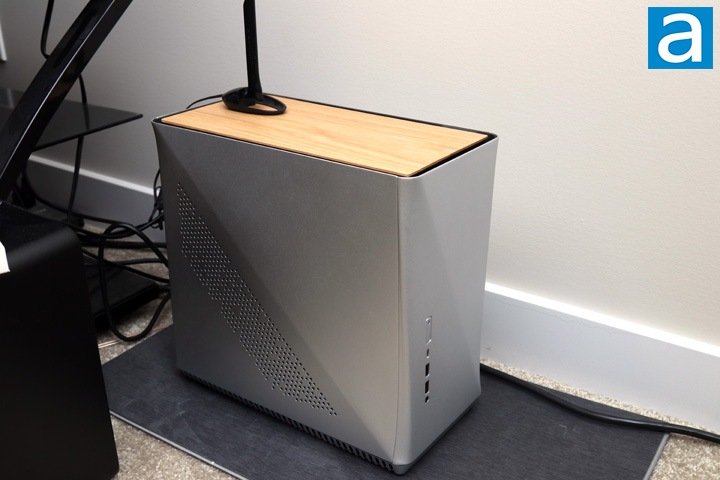 Since this is sitting in my living room and I have no top mounted cooling solutions, I chose the white oak panel on the top for a bit of contrast to the otherwise metallic exterior. With everything plugged in, I turned on the machine and it whirred to life. According to the standard APH Networks sound scale, where 0 is silence and 10 is loud, the Fractal Design Era ITX is a very quiet 2.0/10 under full load. The single 80mm fan included with the Fractal Design Era ITX is very quiet, but on the other hand, I would not expect the best thermals from using this fan alone. If heat is an issue, I would probably recommend users to install additional fans at the bottom for more intake, while also swapping out the top panel with the mesh panel for an easier escape of warm air.
-----------------------------------------
While I understand and agree with the reasons why we are to stay at home for the next few weeks, it has taken a bit of effort to not only stay focused, but to get the same amount of work done as I am used to. Our company has definitely faced some speed bumps along the way, but I think we are getting better at it day by day. One thing that has made working from home a bit easier is being able to see the Fractal Design Era ITX in my living room. While I may say this in jest, the Fractal Design Era ITX is truly a sleek and well-built case. Its aluminum siding is curved with intention and looks great in its protrusions and bends. It may swerve away from the typical Fractal Design, but I welcome this change. Furthermore, the inclusion of materials like wood and aluminum is a good choice for a premium yet clean look. Internally, Fractal Design has made sure users with the small form factor size are still given clearance for CPU cooling, video cards, power supplies, and storage options. These clearances may still be smaller than a typical mid-tower chassis, but it is impressive relative to its footprint. In addition, practically all of the intake and exhaust areas are covered with easy-to-remove filters to simplify the cleaning process. Building in the Fractal Design Era ITX is great with its logical layout and refined fit and finish. If there is anything I would have improved, it would have been adding a few more cable hooks to hold the included cable ties. I also would have liked to see a 3.5mm audio jack splitter to be used with more traditional PC headsets. Overall, I am quite pleased with the Fractal Design Era ITX, as it can hold a surprising amount of hardware without being too big itself. At press release, the Fractal Design Era ITX is available for $160 USD for all of their colors. This puts it in a higher price bracket, but I think the Fractal Design Era ITX is well-deserving of this price with its quality build and premium feel throughout.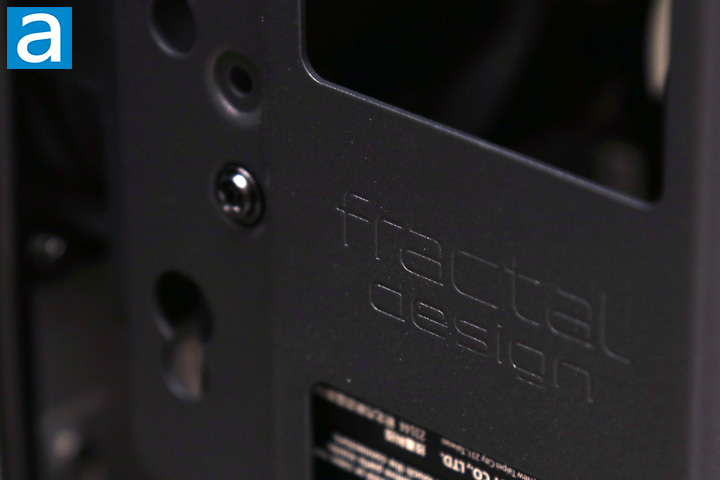 Fractal Design provided this product to APH Networks for the purpose of evaluation.
APH Review Focus Summary:
8/10 means Definitely a very good product with drawbacks that are not likely going to matter to the end user.
7/10 means Great product with many advantages and certain insignificant drawbacks; but should be considered before purchasing.
-- Final APH Numeric Rating is 7.9/10
Please note that the APH Numeric Rating system is based off our proprietary guidelines in the Review Focus, and should not be compared to other sites.
The Fractal Design Era ITX packs a surprising amount of compatibility into a small form factor, premium-made chassis.
---
Page Index
1.
Introduction, Packaging, Specifications
2.
Physical Look - Outside
3.
Physical Look - Inside
4. Installation and Conclusion