By: Aaron Lai
November 15, 2019
Around this time last year, my sister gave birth to a little girl and I became an uncle. It was a momentous occasion and trying transition period for them, but rather a shocking one for me for one reason: People started calling me "Uncle Aaron". It was the strangest thing for the first few months, especially since a lot of people calling me such were older than me with some having kids of their own. For a while, I would say only my niece is the only person who could legitimately address me as such. However, this continued throughout the year and I soon gave up trying to correct people. Furthermore, some people asked me, "What is it like to be an uncle?" To answer that question, I have to say not too much has changed. I see my niece about once or twice a week and she is a chill and smart baby. I also think she is a determined fighter in some ways, but also an obedient baby in other ways too. Obviously, this is just me speaking from a third-party view, so I would ask her parents about what it is actually like. As for today, when Patriot sent us their Viper 4 Blackout, there was a sense of familiarity with the "Viper 4" part of the name, especially since we had taken a look at a Patriot Viper 4 DDR4 memory kit back in 2015. However, with the memory kit we have now, there is a change with the addition of the "Blackout" moniker. You can probably guess the product colors will include more black components, but I would also expect other alterations considering the time gap between then and now. To find out these differences, you could ask the memory module, "What is it like to be a Blackout edition?" but the product may not respond to you with words. Thankfully, with our inspections and tests in this review, we will see what has improved in four years and with the new title, so let us read on to find out!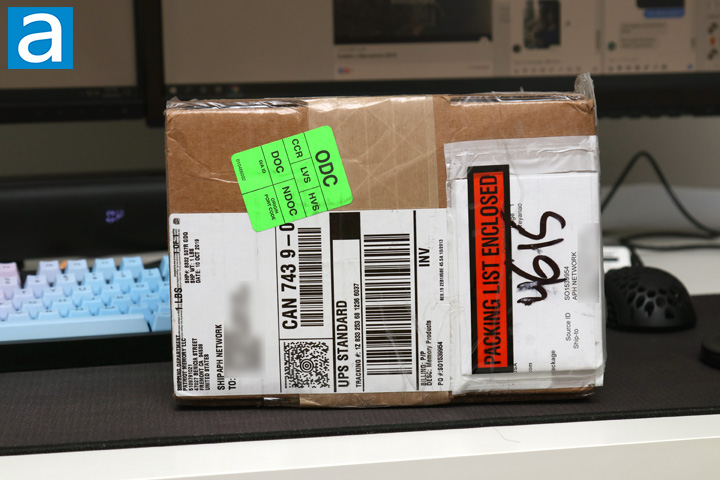 Our review unit of the Patriot Viper 4 Blackout DDR4-3600 2x8GB memory kit arrived in a brown corrugated cardboard box from the company's American headquarters in Fremont, California. Traveling with UPS and their Standard ground service, the box was in good condition with no real bumps or bruises to be concerned about. Otherwise, Patriot included several packing pockets to ensure the product inside remains intact.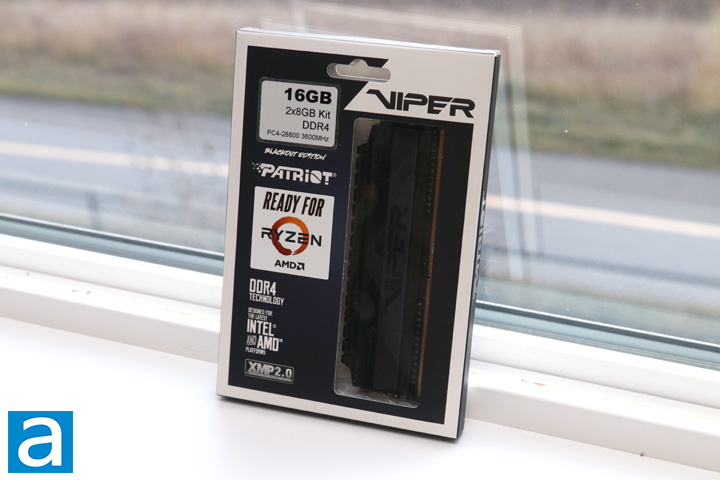 The Patriot Viper 4 Blackout DDR4-3600 2x8GB memory kit arrives in a pretty typical Patriot packaging. The Viper name is shown off at the top, with the product description on the side. As you already know, this is the Blackout Edition, which is an updated version of the original Patriot Viper 4. If you still do not know, there is a large window to show off one of the memory modules. On the left side, we also have some CPU manufacturers, including a "Ready for Ryzen" AMD label. Otherwise, down the left, we also have a line that says this kit is designed for both Intel and AMD platforms. Finally, there are markings of XMP 2.0 for faster profiles. There is not much else of interest around the box, but it is now time to look inside.
Before doing so, I have grabbed the specifications from the manufacturer for your viewing pleasure:
FEATURES:
- Series: Viper 4 Blackout
- Edition: Black Sides / Black Top
- Compatibility: Tested across latest Intel and AMD series motherboards for reliably fast performance
- Feature Overclock: XMP 2.0 support for automatic overclocking
- Aluminum heat spreader for faster heat dissipation and cooler operation
- Limited lifetime warranty
SPECIFICATIONS:
- Capacity: 16GB (2 x 8GB)
- Base Frequency: PC4-17000 (2133MHz)
- Base Timings: 15-15-15-36
- Tested Frequency Profile 1: PC4-28800 (3600MHz)
- Tested Timings: 17-19-19-39
- Tested Voltage for Profile 1: 1.35V
- Format: NON-ECC Unbuffered DIMM
- Pin Out: 288-Pin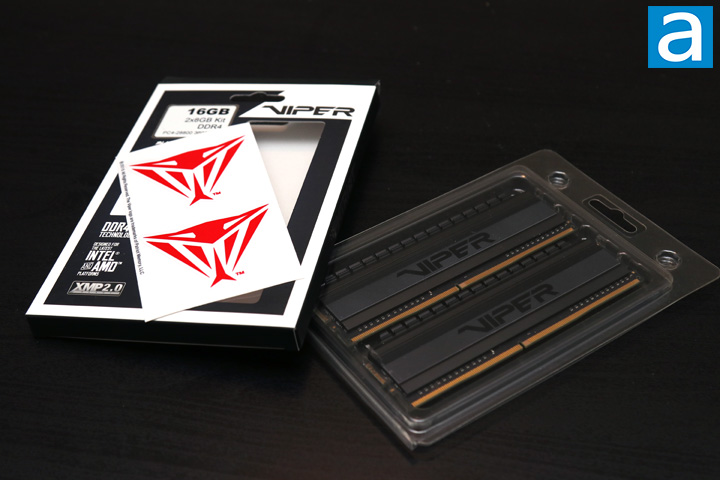 Opening up the retail packaging, the Patriot Viper 4 Blackout DDR4-3600 is placed in a plastic clamshell. There are also some Viper stickers included with its garish red snake logo, but otherwise there is not much else to speak of here. Just to take note here, the Patriot Viper 4 Blackout comes with a limited lifetime warranty, which is common for RAM in general.
A screenshot of the memory tab in CPU-Z with the Patriot Viper 4 Blackout DDR4-3600 2x8GB installed. The SPD timings in CPU-Z reads standard JEDEC specifications programmed into the memory, as well as Intel XMP data for running the memory at various speeds. Using the latest BIOS revision, our ASUS Prime X470-Pro had no issues detecting and working with the Patriot Viper 4 Blackout memory out of the box. It should be noted, you may need to enter your BIOS to ensure the XMP profiles are active. The Patriot Viper 4 Blackout DDR4-3600 2x8GB retails for approximately $80 USD at press time.
---
Page Index
1. Introduction, Packaging, Specifications
2.
A Closer Look, Test System
3.
Benchmark: AIDA64 CPU
4.
Benchmark: AIDA64 FPU
5.
Benchmark: AIDA64 Memory
6.
Benchmark: PCMark 10
7.
Benchmark: 3DMark
8.
Benchmark: PassMark PerformanceTest 9.0
9.
Benchmark: SuperPI 1M, Cinebench R20
10.
Overclocking and Conclusion