By: Aaron Lai
August 17, 2022
If there is one thing my niece enjoys, it is playing on playgrounds. In fact, I think she has seen more of these kid-sized structures in her life than I have in mine. I think it is great to have physical activity and play around outside, but I am not sure if it is true for adults, at least when it comes to these outdoor jungle gyms. I was recently on a nearby playground with my church's high school group, and even one of them, at the age of eighteen, complained about their lacking upper body strength. I chuckled as I looked around and a multiple of them would swing on the monkey bars and stick a landing, only to grimace with a hand on their back and ask why they were in such pain. Unfortunately, I also felt the pain, but I still had a good laugh at them acting closer to my age as opposed to vice versa. When it comes to computers, I think the first and foremost thing that can show its age is the computer case. While they may not be the most crucial part of your build, they are the most outwardly visual component and thus can often can look dated despite having a potentially new build inside. On the other hand, if you hide old hardware in a new case, other people will not notice an issue until they actually use the computer. Today, Fractal Design has decided to launch a refresh on a case that they have not touched in five years, which is their Focus G. Originally released for the wallet-friendly market, the Focus 2 is an updated enclosure with 2022-esque styling while still maintaining its low price. However, is this case a good bang-for-the-buck option, or should you look elsewhere? Let us read on to find out!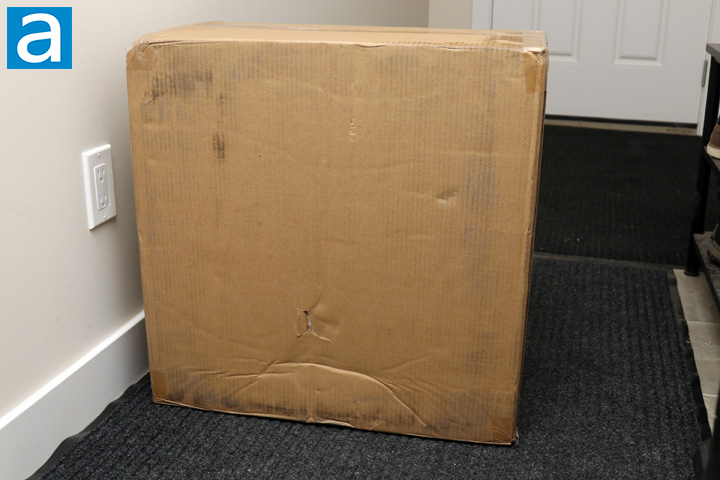 As this was sent to us before the launch date, Fractal Design sent us the Focus 2 RGB White TG in another nondescript brown corrugated cardboard box to hide the retail container. Traveling with FedEx and their standard Ground service, this box came to us in average condition. There are some notable bruises in the corners and side panels. As well, there is a pretty big hole on one side of the box, which is rather unfortunate. This box was shipped from the manufacturer's offices in The Colony, Texas. While we are used to seeing their products ship to us from Plano, both of these cities are suburbs of Dallas, Texas, where my colleague Jonathan Kwan often jokingly claims he is from as he works for a company headquartered there.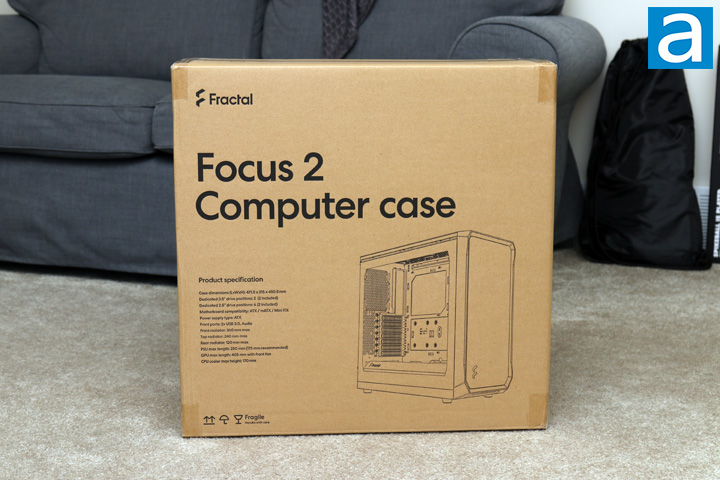 It has been more than a year since we last took a look at a case from Fractal Design, in the form of the Meshify 2 Compact, but you can see there are a lot of similarities in the retail box design. Using the same brown corrugated cardboard box, the Fractal logo can be found at the top, with the product name printed below in large easy-to-read font. Underneath, we have a list of primary specifications for the case inside, as well as an outlined image of the product. We were sent their RGB White TG variant, but Fractal Design also has a black version of this case, as well as non-RGB versions in both black and white. A final option with a solid panel in black is also available if you want to hide your components.
General Specifications
3.5"/2.5" drive mounts: 2 (included)
Dedicated 2.5" mounts: 2 included, max 6
5.25" drive bays: 0
Expansion slots: 7
Motherboard compatibility: ATX / mATX / Mini-ITX
Power supply type: ATX
Front interface: 2x USB 3.0, Expansion port for USB 3.1 Gen 2 Type-C add-on (sold separately), Audio I/O, Power button, RGB Controller (RGB versions only)
Total fan mounts: 6x 120 or 4x 140 mm
Front fan: 3x 120 or 2x 140 mm (2x 140 mm fans included)
Top fan: 2x 120/140 mm
Rear fan: 1x 120 mm
Bottom fan: N/A
Dust filters: Front (steel mesh), Top (plastic mesh), PSU (nylon)
Front radiator: Up to 360/280 mm (max 145 mm width)
Top radiator: Up to 240 mm (max 121 mm width, 45 mm MB component height)
Rear radiator: 120 mm
Bottom radiator: N/A
PSU max length: 250 mm (175 mm recommended)
GPU max length: 405 mm with front fan mounted
CPU cooler max height: 170 mm
Cable routing space: 19 mm
Tool-less push-to-lock: N/A
Captive thumbscrews: Side Panels
Case Material: Steel, Tempered Glass
Left side panel: Steel or Tempered glass
Right side panel: Steel
Case dimensions (LxWxH): 471.5 x 215 x 450.5 mm
Case dimensions w/o feet/protrusions/screws: 459 x 215 x 437 mm
Net weight: TG: 6.4 kg / Solid: 6.1 kg
Package dimensions (LxWxH): 539 x 305 x 538 mm
Gross weight: TG: 7.9 kg / Solid: 7.6 kg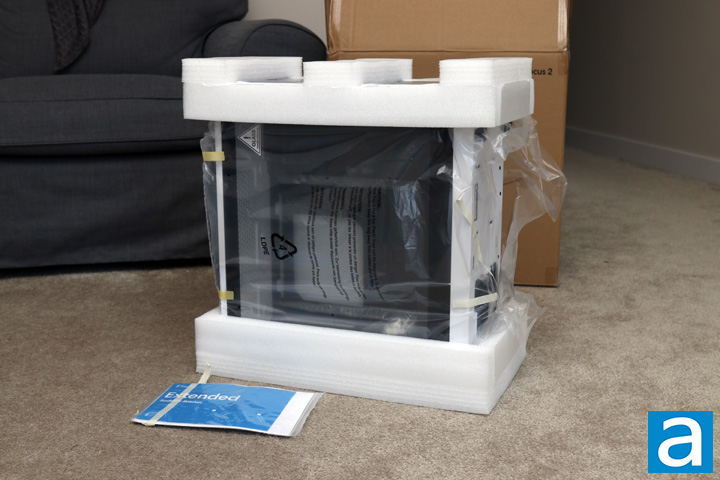 The Fractal Design Focus 2 RGB White TG comes packaged in a clear plastic bag with two decently thick pieces of white foam surrounding it. This foam is much more substantial than some other cases we have seen, which is great to see, especially on a more budget-oriented product. We also received an extra kit with brackets to adjust if you have a top mounted radiator. Otherwise, I am happy to say that the foam here has protected this enclosure well.
---
Page Index
1. Introduction, Packaging, Specifications
2.
Physical Look - Outside
3.
Physical Look - Inside
4.
Installation and Conclusion