By: Aaron Lai
February 24, 2021
As I have mentioned in the Cooler Master V850 SFX Gold 850W power supply report, I had recently purchased and been playing Ori and the Will of the Wisps. As a sequel, there are often premonitions as to what the second installment may be like. On one hand, you generally want some sort of continuity between the first and the second parts. This could mean keeping the same main character, or at least keeping the same thematic elements in both parts. A sequel video game often uses the same character and generally has the same gameplay style too. There may be some additions in the sequel, but the core of the game generally stays the same. On the other hand, you also expect to see changes like plot and character development. In my opinion, a good sequel is able to balance between delivering what users liked in previous games while also developing different stories and improving on more quality-of-life items so users can focus on the game. Even though I have yet to finish Will of the Wisps, I have really enjoyed the second installment in the series, as it keeps the same experience while enhancing on other things like its skill trees and some of the abilities. In the same way, manufacturers who develop their next product line need to find a good formula of keeping what users loved from their past products while also improving on the things to make using the product more intuitive. It also makes sense that they update the product for the present standards too. Today, Fractal Design has sent us their Meshify 2 Compact, their newest case in the Meshify lineup. I have looked at their last Meshify C, which was also a compact ATX mid-tower case. How does the Fractal Design Meshify 2 Compact compare today? Let us read on to find out!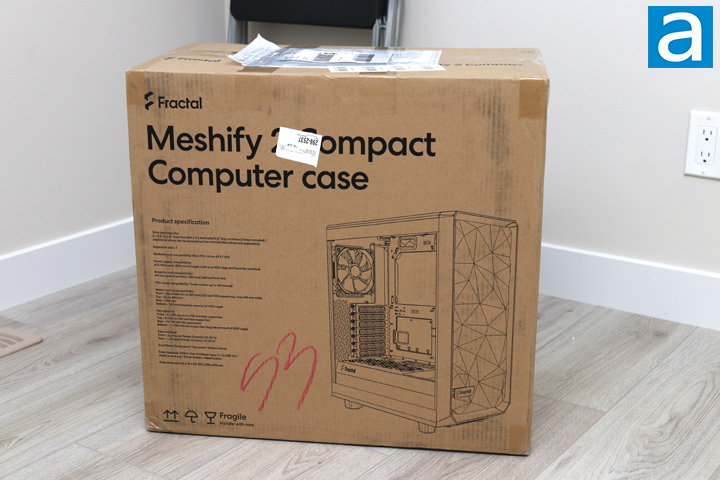 Today's review unit of the Fractal Design Meshify 2 Compact arrived from Fractal Design's offices in Plano, Texas. Traveling with FedEx and their International Ground service, this large box arrived in great condition with no dents or bruising to be concerned about. As typical with computer cases, the shipping container doubles as the retail box. The retail box looks pretty typical with a full brown corrugated cardboard box and printing on the panels. On this front side, you can see an outline of the Meshify 2 Compact on a smaller scale. The main thing I noticed was the updated font and branding. Gone is the older snowflake logo and in its place is the newer "F" logo. This is the same as the last Fractal Design case we looked at, which was the Define 7. Around the box, we have a few other things including more detailed specifications.
Before we continue on, I have grabbed the specifications from the manufacturer's review guide for your viewing pleasure:
General Specifications
3.5"/2.5" drive mounts: 2 (included)
Dedicated 2.5" mounts: 2 included, 4 positions total
5.25" drive bays: N/A
Expansion slots: 7
Motherboard compatibility: ATX / mATX / ITX
Power supply type: ATX
Front interface: 1x USB 3.1 Gen 2 Type-C, 2x USB 3.0, Audio I/O, Power/Reset buttons
Total fan mounts: 7x 120 or 4x 140 mm and 2x 120 mm
Front fan: 3x 120 or 2x 140 mm (2x 140 mm fan included)
Top fan: 2x 120/140 mm
Rear fan: 1x 120 mm (1x 120 mm fan included)
Bottom fan: 1x 120 mm (requires removal of HDD cage)
Dust filters: Top, front, bottom
Front radiator: Up to 360/280 mm
Top radiator: Up to 240 mm
Rear radiator: 120 mm
Bottom radiator: 120 mm (requires removal of HDD cage)
PSU max length: 200 mm w/o HDD cage, 165 mm w/ HDD cage
GPU max length: 360 mm total, 341 mm w/ front fan
CPU cooler max height: 169mm
Cable routing space: 17-28mm
Cable routing grommets: Yes
Fixed Velcro straps: Yes
Tool-less push-to-lock: Top, front and side panels
Captive thumbscrews: HDD, SSD and PSU brackets
Case Material: Steel
Left side panel: Steel or tempered glass
Right side panel: Steel
Case dimensions (LxWxH): 424 x 210 x 475 mm
Case dimensions w/o feet/protrusions/screws: 412 x 210 x 455 mm
Net weight: Solid: 7.7 kg / TG: 8.1 kg
Package dimensions (LxWxH): 552 x 320 x 554 mm
Gross weight: Solid: 9.3 kg / TG: 9.8 kg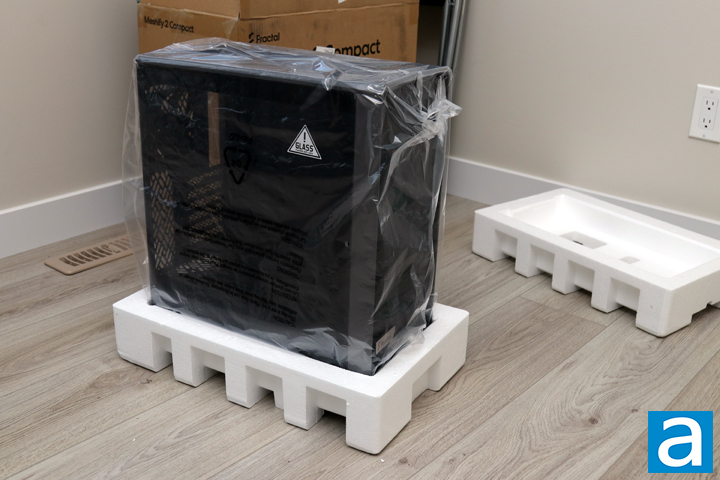 Out of the box, you can find the Fractal Design Meshify 2 Compact in between two large white foam brackets with a clear plastic bag protecting the enclosure from surface scratches or dings. As we received the tempered glass variant, there is plastic wrap on both sides of the glass for more protection. Otherwise, a small manual is included with the Meshify 2 Compact for a walkthrough on installing into this chassis as well as other tips you may want. One last thing I should mention before we carry on is the fact Fractal Design actually printed a nice logo pattern on the inside of the cardboard box for a neat look. It is probably something I will not look at again, but it made the unboxing experience a bit more interesting.
---
Page Index
1. Introduction, Packaging, Specifications
2.
Physical Look - Outside
3.
Physical Look - Inside
4.
Installation and Conclusion