By: Aaron Lai
February 19, 2021
If there is one single player game that stands out to me among the rest, it is Ori and the Blind Forest. I briefly talked about this game in a previous review, but this game was released back in 2015. It is a platformer game that can also be categorized as a Metroidvania game due to the gameplay mechanics. The first thing that really stood out to me was the game's artwork. It is not really one particular aspect of it, but rather the whole feel that it gives. It contrasted the despair of the environment with the hope and vibrancy of life in Ori. The second thing that stands out in this game is the music, which fits well with the design. Finally, I enjoyed the gameplay and its mechanics. It is a good mix of action and puzzling. I recently purchased the sequel, Ori and the Will of the Wisps, and I have been really enjoying it for all the same reasons. As you can see from here, it takes more than one aspect that makes a great game and the same can be said for a lot of the products we take a look at. For example, power supplies may offer a surprising aspect such as RGB lighting, be completely fanless, or is fully sealed. However, these single point aspects alone cannot make a unit shine, and we must take into account other qualities like cables, internal components, warranty coverage, and its performance. Today, we have the Cooler Master V850 SFX Gold 850W, a power supply that brings a high-power option to the small form factor market, making it one of the most power dense power supplies we have reviewed. Beyond its size, how does the V850 SFX Gold fare with all of the important aspects accounted for? Let us read on to find out!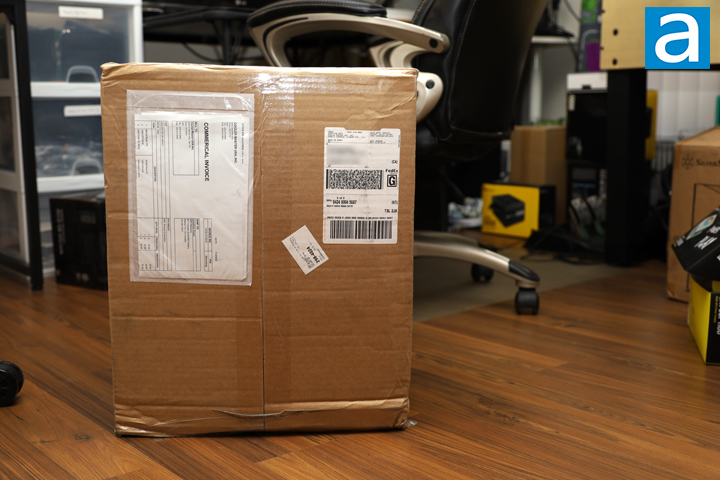 Today's report unit of the Cooler Master V850 SFX Gold 850W traveled from Brea, California to our APH Networks offices here in Calgary, Alberta. This large parcel was shipped to us by FedEx with their International Ground service. The box arrived in typical condition with some slight bruising in the corners, but nothing to be seriously concerned about. Along with the power supply, we received a whole bunch of other Cooler Master products that we have reviewed, including the SickleFlow 120 ARGB 3IN1, Hyper 212 EVO V2, MasterLiquid ML280 Mirror, and V650 Gold V2 White Edition 650W.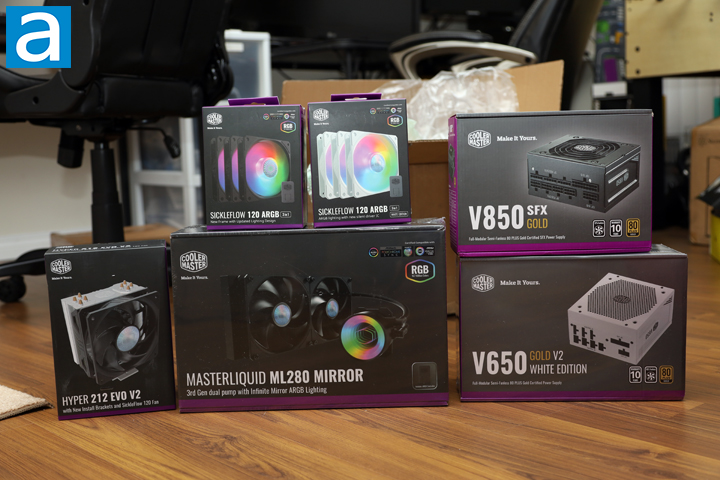 As you can see from the retail packaging of all of the Cooler Master products, they all have a pretty consistent look. A gray themed container with purple highlights and white lettering is seen on all of these products. The Cooler Master logo can be found on the top left corner, while the product name can be found on the bottom left corner. A small descriptor can be found underneath of "Full-Modular Semi-Fanless 80 PLUS Gold Certified SFX Power Supply". The product can be seen scaled down on the front with three stickers to indicate its fanless mode under 15% load, 10-year warranty, and 80 Plus Gold certification.
Before I continue, I have grabbed the specifications from the manufacturer for your perusal:
ATX VERSION: SFX 12V Ver. 3.42
PFC: Active PFC
INPUT VOLTAGE: 90-264V
INPUT CURRENT: 10-6A
INPUT FREQUENCY: 47-63Hz
DIMENSIONS (L X W X H): 100 x 125 x 63.5 mm
FAN SIZE: 92mm
FAN BEARING: FDB
EFFICIENCY: 90% @ Typical Load
80 PLUS RATING: 80 PLUS Gold
ERP 2014 LOT 3: Yes
OPERATING TEMPERATURE: 0-50°C
POWER GOOD SIGNAL: 100 - 500 ms
HOLD UP TIME: 16ms
MTBF: >100,000 Hours
PROTECTIONS: OVP, OPP, SCP, OCP, UVP, OTP, Surge and Inrush Protection
REGULATORY: TUV, cTUVus, CE, BSMI, FCC, CCC, EAC, RCM, KCC, CB
ATX 24-PIN CONNECTORS: 1
EPS 4+4 PIN CONNECTORS: 1
EPS 8 PIN CONNECTOR: 1
SATA CONNECTORS: 8
PERIPHERAL 4-PIN CONNECTORS: 4
PCI-E 6+2 PIN CONNECTORS: 4
SERIES: V Gold Series, V SFX Gold Series
80 PLUS: Gold
MODULAR: Full Modular
WATTAGE: Above 750W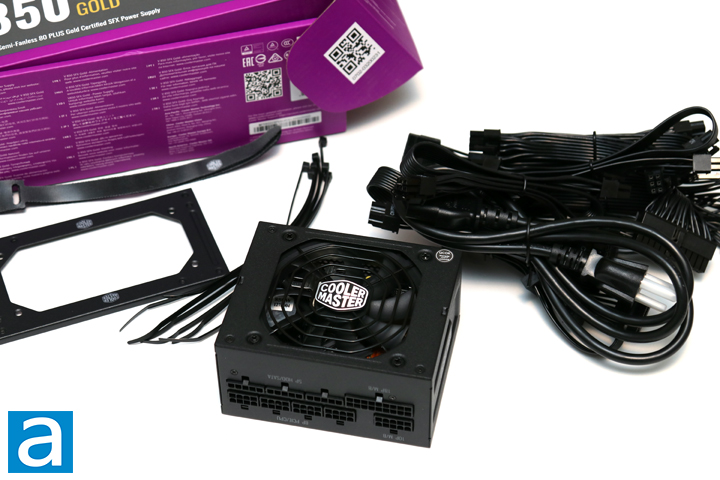 Out of the box, you can find the Cooler Master V850 SFX Gold 850W unit wrapped in a clear plastic bag. It is also packaged between two thick gray foam blocks to ensure the power supply is kept safe during the travel. All of the cables can be found in a separate clear resealable bag and each cable is separated with a twist-tie. In a third separate bag, Cooler Master has provided users with an SFX-to-ATX bracket, several cable ties, and a few Velcro straps. Finally, a bit of documentation is included. As we saw on the box, we do have a lengthy ten-year warranty included with the V850 SFX Gold unit as well as all of the other units in the V SFX Gold series. The other units in this lineup include their 550W, 650W, and 750W models.
---
Page Index
1. Introduction, Packaging, Specifications
2.
Physical Look - Outside
3.
Physical Look - Inside
4.
Minor Tests and Conclusion