By: Aaron Lai
January 15, 2021
I was recently watching one of my favorite music YouTube channels who was going over the reason why soundtracks often repeat. It goes into an interesting rabbit hole that explains how the more times a track of music repeats without the listener recognizing the repetition, the more the listener will enjoy the piece of music. It might explain why record labels try to get their top tracks on the radio to be played day after day in order to make more money from people listening to it. It also explains why a lot of music follows the same four chord progression and so much of popular music can be sang with the same progression. Even though the music may not be exactly the same, these sorts of repetitive elements may be selling well because it plays to something that feels well-known while not overtly sounding repetitive. I know for myself, I used to listen to one piece of electronic music continuously on repeat when I was studying one semester in university, and now I really like that same track even though it might also remind me of the hopelessness of studying for final exams. However, while this may be true for music, does repetition work for products? Often times, we may see new products keeping the same name as previous products for a bit of brand recognition. However, today we have the Cooler Master SickleFlow 120 ARGB 3IN1 fans. If this name sounds familiar to you, it is because we have already reviewed all of the fans from the Cooler Master SickleFlow 120 Series last year. There is one change now, as Cooler Master has a new white variant of these fans. With this three-pack, will this entice users to like the Cooler Master SickleFlow 120 ARGB fans more? Let us read on to find out!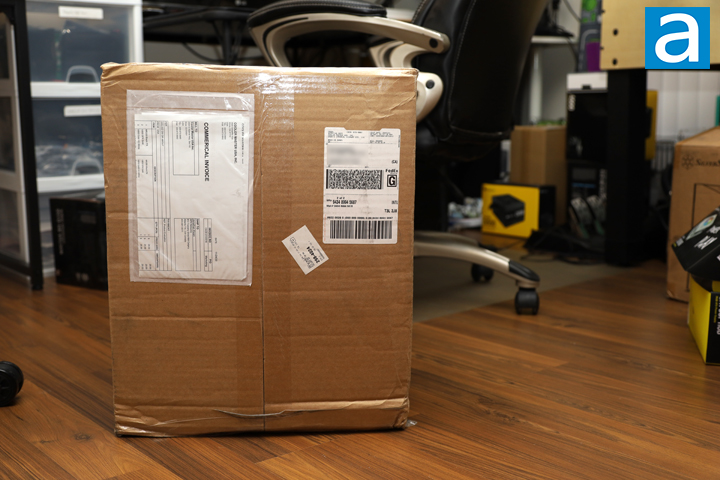 Today's review units of the Cooler Master SickleFlow 120 ARGB 3IN1 traveled from Brea, California to our APH Networks offices here in Calgary, Alberta. This large parcel was shipped to us by FedEx with their International Ground service. The box arrived in pretty typical condition with some slight bruising in the corners, but nothing to be seriously concerned about. Cooler Master graciously sent us both their black and white variants of the SickleFlow 120 ARGB 3IN1, but we also received several other Cooler Master products, which we will look at in the coming weeks.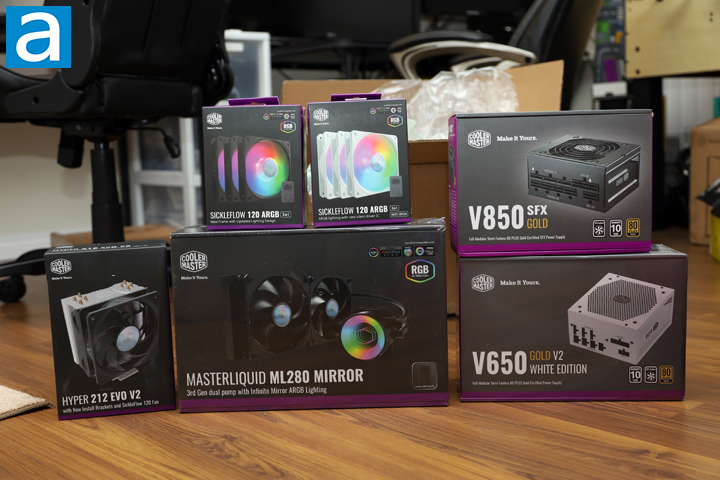 One thing I do like about Cooler Master packaging is the fact there is consistency across all of their products. As you can see the multitude of review samples we received from Cooler Master, each of them is packaged in a gray and purple themed container. The Cooler Master logo can be found on the top left corner, while the bottom edge has the name. A small descriptor can be found below. For our SickleFlow 120 ARGB fans today, Cooler Master sent us both their black and white samples in their three-in-one packaging, and the description reads "ARGB lighting with new silent driver IC" for the white edition, and "New Frame with Updated Lighting Design" on the black version. The front of the retail packaging shows off three fans in their respective colors, as well as a small controller to let you change colors. Some motherboard logos can be found on the top right corner, including ASUS, ASRock, and MSI, to show these fans support those RGB implementations. Around the box, we have some more information about the fans in various languages.
Before we continue, I have grabbed the specifications from the manufacturer for your perusal:
FAN PROFILE: Addressable RGB
FAN BEARING TYPE: Rifle Bearing
FAN SPEED: 650-1800 RPM ± 10%
FAN AIRFLOW: 62 CFM ± 10%
FAN AIR PRESSURE: 2.5 mmH2O ± 10%
FAN NOISE LEVEL: 8 - 27 dBA
FAN DIMENSIONS (L X W X H): 120 x 120 x 25 mm / 4.7 x 4.7 x 1 inch
FAN MTTF: 160,000 Hours
RGB CONNECTOR: 3-Pin ARGB
RGB RATED VOLTAGE: 5V DC
RGB RATED CURRENT: 0.21A
FAN RATED VOLTAGE: 12VDC
FAN RATED CURRENT: 0.15A
FAN SAFETY CURRENT: 0.37A
FAN POWER CONSUMPTION: 1.8W
FAN POWER CONNECTOR: 4-Pin (PWM)
FAN WEIGHT: 156g / 0.34 lbs
WARRANTY: 2 years
SERIES: SickleFlow
COOLER TYPE: Case Fan
FAN SIZE: 120
FAN - LED LIGHTING: ARGB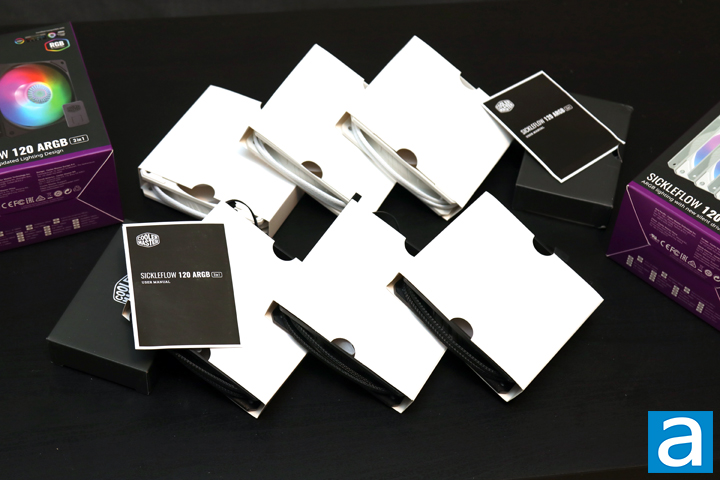 Out of the retail containers of the Cooler Master SickleFlow 120 ARGB 3IN1, we have each fan packaged in their own white cardboard sleeve. An additional black box containing extra cables and the included lighting controller. I do appreciate this extra packaging to ensure the cables do not catch in the fan impellers while also reducing the amount of plastic in each box. Otherwise, some documentation is included to highlight disposal and other information. Just for your knowledge, the Cooler Master SickleFlow 120 ARGB 3IN1 comes with two years of warranty from the manufacturer.
---
Page Index
1. Introduction, Packaging, Specifications
2.
Physical Look - Hardware
3.
Performance Tests
4.
Conclusion