By: Aaron Lai
December 21, 2018
I was recently on my way to the doctor's office when I saw a message from my friend who was moving her sister's desktop computer. Things were going fine until she noticed a lot of dust at the back. She asked me what could be done to clean it out, so I started texting out a reply. However, the doctor came into the room so I quickly told her she could remove the side panel and get a can of compressed air for cleaning. Approximately two hours later, I was alerted with another message and a photo. I had assumed she had just removed the side panel and was showing the results of her cleaning. However, the side panel was still on and she happened to unscrew practically all of the screws at the back, including the ones holding the power supply, exhaust fan, and an extra USB 2.0 expansion card. The first thing I did was laugh of course, especially since the power supply and the expansion card had fallen in, leaving a large gaping hole at the top. If there was anything I could have learned from this is how much information I did not give in the exchange. Despite using the right words, a lot of things were just left out. For tasks like this, I think it would have made sense to help her in person, which is what I ended up doing later that evening. When SilverStone launched the Nightjar NJ450-SXL, it was advertised as not just another small form factor power supply, but one that is fanless. We have seen other fanless power supplies in the past, but how did SilverStone and its OEM make such a small unit fanless? Rather than just reading about it, we decided to take a look at it and so that is what we have today. Is this a major feat of engineering in front of us, or will we see some mishaps along the way? Let us find out!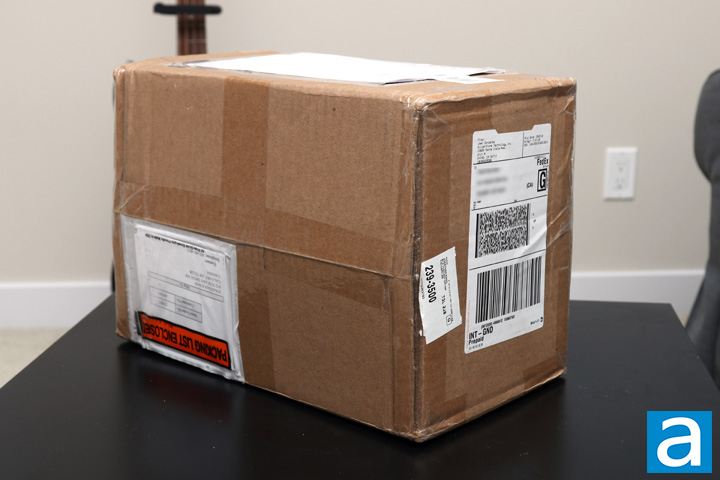 Today's review unit of the SilverStone Nightjar NJ450-SXL 450W arrived from SilverStone's offices in Chino, California. Traveling with FedEx and their standard Ground service, this box arrived in relatively good condition without having too many issues. There is a slight dent on one edge but it is not a huge deal. Otherwise, SilverStone packed this box with all of the edges sealed with packing tape. SilverStone also packed the product with some packing peanuts to prevent any damage to the box. While I used to like Styrofoam peanuts, but I really dislike how they break apart and leave lots of small pieces everywhere.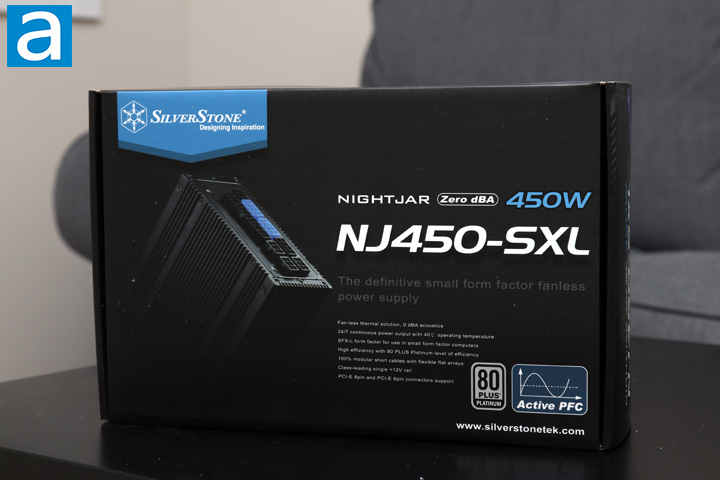 This is definitely not the first time we have seen a smaller power supply unit from SilverStone, but once again we have some sort of different box design. With a black and blue color scheme, the box itself is decently designed. The front shows off the unit in a bit of a mysterious darkness, but with just enough detail to get some insight about the external appearances. As with a lot of SilverStone products, the front panel has a lot of information about the product inside with even more on the back. The back also shows off the serial number and revision number of the unit, which is version 1.0 to no surprise. There is not much else to talk about here, so let us get on with the unboxing.
But first, here are some specifications from the manufacturer's website for your perusal:
Model No.: SST-NJ450-SXL
Max. DC Output: 450W
Power density: 436W per liter
Color: Black
combined +3.3, +5V: 100W
combined +12V: 450W
Input Voltage: 90V ~ 264V
Input Frequency Range: 47Hz ~ 63Hz
PFC: Active PFC (PF>0.9 at full load)
Efficiency: 89%~92% at 20%~100% loading
MTBF: 100,000 hours
Operating temperature: 0°C ~ 40°C
Protection:
- Over Current Protection
- Over Power Protection
- Over Voltage Protection
- Short Circuit Protection
- Over Temperature Protection
Connectors:
- 1 x 24 / 20 -Pin motherboard connector (300mm)
- 1 x 8 / 4-Pin EPS / ATX 12V connector (400mm)
- 4 x 8 / 6-Pin PCIE connector ("400mm / 150mm" x 2)
- 8 x SATA connector ("300mm / 200mm / 100mm / 100mm" x 2)
- 3 x 4-Pin Peripheral connector (300mm / 200mm / 200mm)
- 1 x 4-Pin Floppy connector (100mm)
Cooling System: Fan Less thermal solution
Form factor: SFX-L
Noise Level: 0 dBA
Dimension: 125 mm (W) × 63.5 mm (H) × 130 mm (D), 4.92" (W) x 2.5" (H) x 5.12" (D)
Weight: 1.52 kg
Certification: 80 PLUS Platinum
Other: Compatible with ATX12V v2.4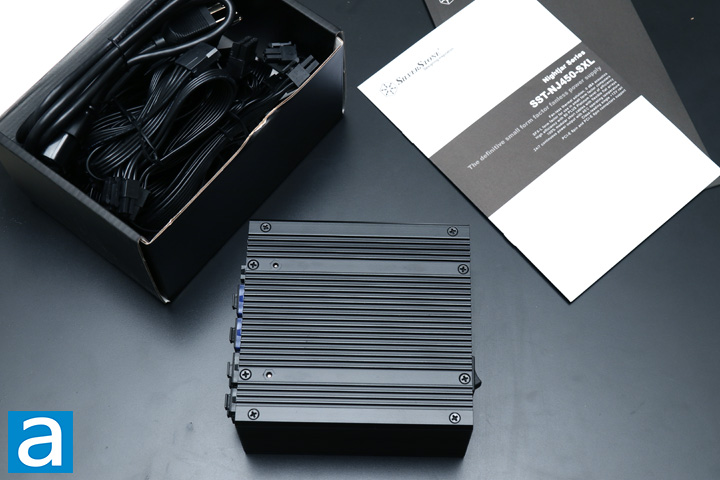 Out of the box, we have the power supply with all of the included accessories. The power supply is wrapped in a tight plastic bag and held in two large foam brackets. A Velcro sealed bag holes all of the additional power cables and mounting screws. As with a lot of SilverStone power supplies, they also included a relatively thick manual to describe different qualities and limits of the unit, as well as some installation instructions and pin layouts. As this is an SFX unit, I would have liked to see an adapter for the more standard ATX size. While SilverStone has separate brackets available, I think they should still include those in their SFX units, especially as this one is on the more expensive end of the scale. As with many SilverStone units, this unit has a warranty limited to three years.
---
Page Index
1. Introduction, Packaging, Specifications
2.
Physical Look - Outside
3.
Physical Look - Inside
4.
Minor Tests and Conclusion