Page 3 - Physical Look - Inside
As we usually do, we opened up the SilverStone Nightjar NJ450-SXL 450W power supply to take a closer look at what is going on inside. Opening up this power supply will void your three year warranty, as the two warranty seals covers two of the chassis screws. For your benefit, we voided our warranty on this unit, so you do not need to. There are zero user serviceable parts inside anyway. Removing the exterior shell is a bit trickier than other parts, especially as there is more than just the screws holding the plates in. We unscrewed all of the external screws, then started to pry the unit apart. Due to the thermal situation of the power supply, the external aluminum shell makes contact with the parts inside using several thermal pads. Even so, you will probably just a bit more elbow grease to get this unit open. The OEM for the SilverStone Nightjar NJ450-SXL 450W is Enhance Electronics. Enhance generally has a good reputation for power supplies, so we will see how this affects the build quality.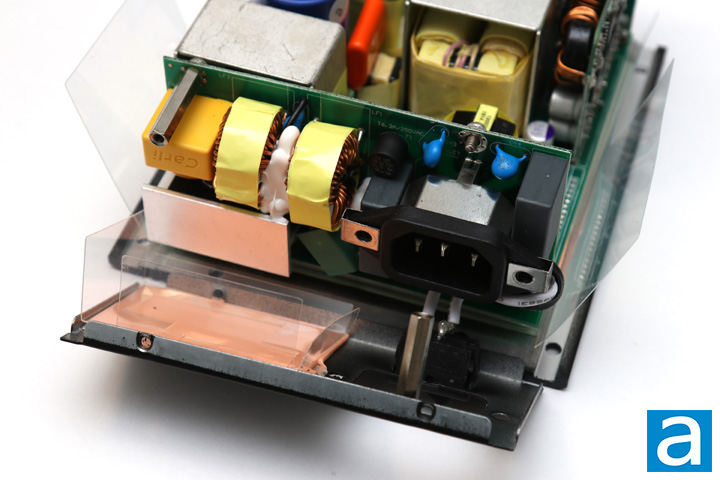 The transient filter stage is the first input stage of any computer power supply, so we will take a closer look at this first. Unlike regular units, this stage can be found much closer to the back of the power supply. From here, there are two ferrite coils and one metal oxide varistor. Two X-capacitors can be found around this area in addition to two Y-capacitors. A single X and two more Y-capacitors can be found close by, making for more than twice the amount of X and Y capacitors than recommended. In addition, the MOV being present here is good, as they are intended to protect your power supply from AC line voltage spikes. An NTC thermistor and relay can also be found here to reduce inrush currents.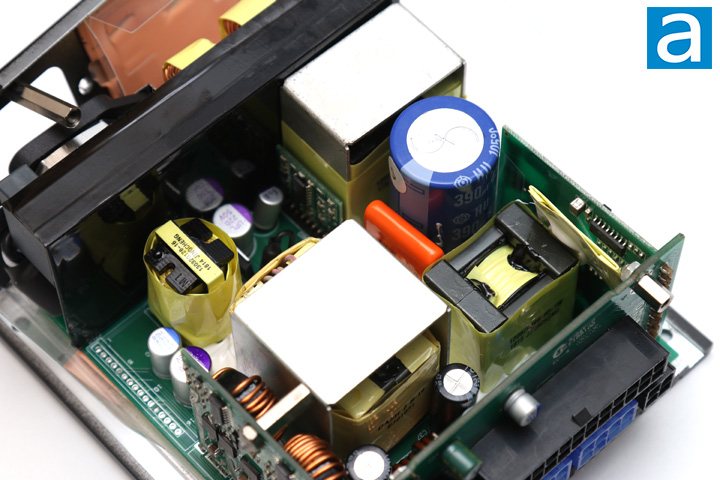 On the primary side, there is a single Hitachi HU capacitor. This is rated at 390uF at 450V. It has a temperature rating of 105c. It is great to see Japanese-made capacitors here, as some cheaper units have capacitors made from Taiwan or China. In addition, this is rated for the higher 105c temperature. Generally, more expensive power supplies have their main hold-up capacitors rated at 105c, as they generally boast a longer lifetime.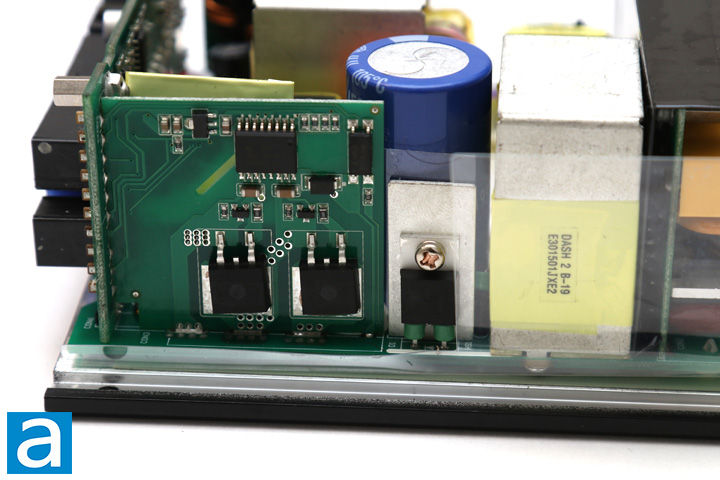 The power supply uses two GBU15J rectifying bridge attached to a heatsink, each supporting up to 15A of current at 100c. At 115V, the theoretical power you can pull from the bridge rectifier is 3450W at 100% efficiency. Of course, this is purely from the bridge rectifier, and not all components in the power supply can actually hold this workload. Even so, this is well above the necessary requirements for a 450W power supply. The active PFC circuit in the SilverStone Nightjar NJ450-SXL 450W is controlled by an ATK AT6101L and a Champion CM6901 resonant controller. Otherwise, other components in the active PFC circuitry were attached to the daughterboard and a heatsink. The two main switchers are Infineon IPB50R140CP and driven by a Si8230BD. This transistor is rated to deliver 15A at 100 degrees Celsius continuously, with a maximum resistance of 0.14 ohm and a typical resistance of 0.13 ohm. This on characteristic is called Static Drain-Source On-Resistance or commonly abbreviated as RDS(on). The more efficient the component is, the lower the RDS(on) value, since it wastes less power with lower resistance. A single CREE C3D0806A Schottky boost diode is also found in the active PFC circuit.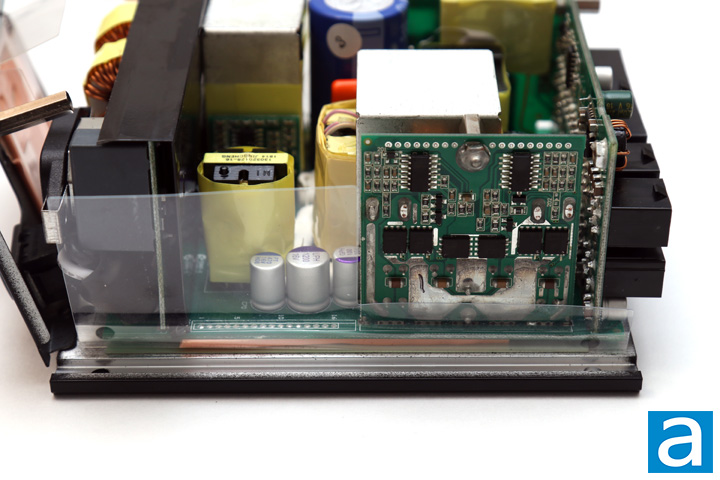 As for the secondary side, there are quite a few more Japanese capacitors made from Unicon, including both the electrolytic and polymer capacitors. The electrolytic capacitors are all rated at least 105c. As with modern high efficiency power supplies, all rectifiers produce the +12V out -- while the +5V and +3.3V outputs are generated from the +12V output using a DC to DC converter within the power supply unit. The +12V output is regulated by eight Infineon BCS014N04LS MOSFETs, cooled by the chassis. They are unlike most typical MOSFETs, as they have eight pins instead of the typical three. Drain source voltage is rated at 40V, with a continuous drain current of 100A at 25c. An RDS(on) value of 0.0014 ohm maximum and 0.0011 ohm typical are provided. The +5V and +3.3V rails are powered by components on the daughterboard with a total of four Infineon BSC018NE2LS DC to DC converters, and controlled by two ANPEC APW7160A. Finally, a Silicon Touch PS223 protection IC can be found, to provide over-voltage, under-voltage, over-current, short-circuit, and over-temperature protection. The datasheets for all components mentioned in this review can be found on their respective manufacturer's websites.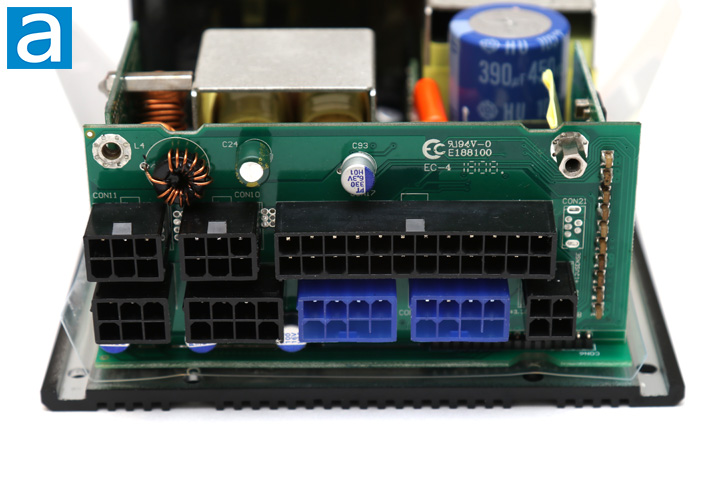 At the back, we have a large daughterboard covering the entire rear panel. This is where the modular cable sockets go. The layout of the output connectors can be found on the previous page. The compactness of the SilverStone Nightjar NJ450-SXL 450W is one of the main reasons why this unit is a lot harder to build or inspect, but I have to say SilverStone and Enhance have done a good job in ensuring quality is not sacrificed here. Soldering is quite good, which is even more crucial on a smaller board like this. Component selection too is excellent, which is as intended. Considering we want this unit to produce as little heat as possible, it only makes sense they pick components that are rated far above the wattage restraints of this unit. In fact, a lot of the secondary components are very similar to the ones found in the SilverStone SX800-LTI 800W, a unit with a higher power output and efficiency rating. As for cooling, there are quite a bit more heatsinks around, which is to handle and disperse the extra heat out. Obviously, with a form factor like the SFX-L size, cooling is even more important, but the completely closed nature of this power supply makes it even more important.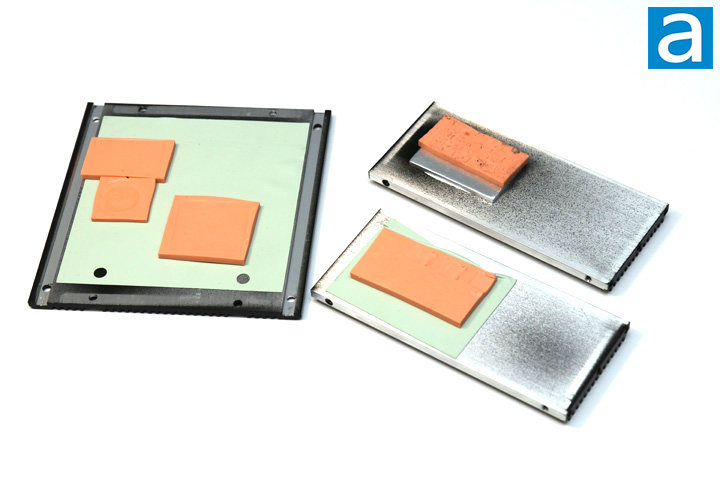 We would normally show off the cooling components here, but everything on the SilverStone Nightjar NJ450-SXL 450W is passively cooled with heat pads all around the external sides. As you can see here, SilverStone has put extra thermal pads on all the important components that make contact with the outside, including the main capacitor, the transformer, the active PFC circuitry, and all the components on the secondary side output. I think this is a pretty smart way to deal with the temperatures overall and it is unlike any unit I have seen before.
---
Page Index
1.
Introduction, Packaging, Specifications
2.
Physical Look - Outside
3. Physical Look - Inside
4.
Minor Tests and Conclusion