By: Jonathan Kwan
May 22, 2020
About a month ago in my Western Digital Red WD140EFFX 14TB review, I told a story about how one of my friends got the nickname "Hong Kong Grandma", to which we would refer her to as HKG for short. With regards to the mentioned situation HKG was in from the WD140EFFX review introduction, the gist of it was she was getting a lot of unwanted attention from a guy. The guy was socially oblivious to the fact she is not interested in him; not to mention everyone else knows she is totally uninterested as well. To make things worse, he kept bragging to everyone about how he managed to slide into her DMs. I became aware of some of those messages he was sending, and they range from uninspiring to simply cringeworthy. My personal favorite was, "How can a girl as pretty as you not have a boyfriend?" I probably do not need to explain to you why that is probably the worst pickup line of all time, and as such has reached meme status in my world. With the release of the Define 7 in February of this year, you may be asking a similar question, "How can a case in the Fractal Design Define lineup not be reviewed by APH Networks?" To which I would say is not a bad question at all, considering we have reviewed literally every ATX model in the product line since 2011, which included the R3, R4, R5, and R6. Fortunately, unlike the guy who never had or ever will have a chance with HKG, we finally managed to get our hands on the Define 7 in April. How does this case stack up against every model in the lineup in the last decade? We got the Dark Tempered Glass version to find out!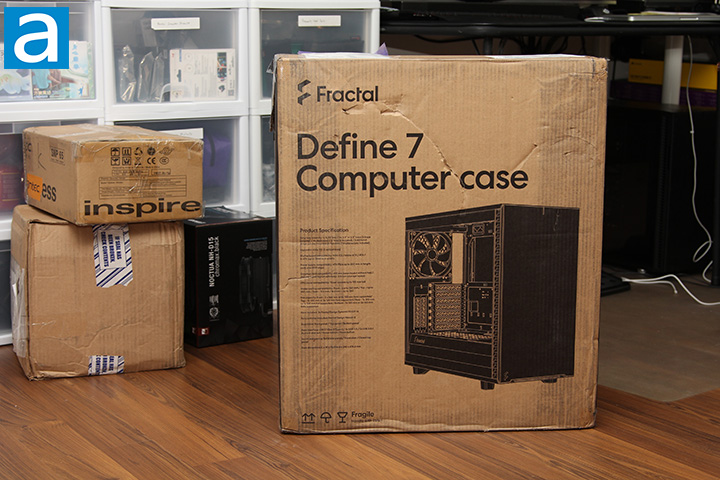 Fractal Design sent their latest Define 7 Dark Tempered Glass mid-tower in its retail box via a freight service from Paramount, California, USA, a city in Los Angeles County. It made its trip up here to us here in Calgary, Alberta Canada safely via FedEx International Ground. There were some slashes and rips on the box, but thankfully, nothing inside was damaged.
As you can see in our photo above, Fractal Design's retail box design for the Define 7 Dark Tempered Glass is very similar to the Define R6, which in turn was very similar to almost every model that came before it. The latest iteration features an environmentally friendly -- or economically friendly, depending on your perspective -- brown corrugated cardboard box with classic black ink. On the box, you will find Fractal Design's updated logo, the text "Define 7 computer case", and a drawing of the case occupying majority of the real estate. Feature highlights and specifications can be found on various sides. The color variant is also indicated on the box. It is certainly not as pretty as the Define R3, but no one spends that much time looking at the packaging anyway. At the end of the day, I have no guilty feeling dumping it into the recycle bin afterwards. I am no environmentalist, but I think that in itself has value in my opinion.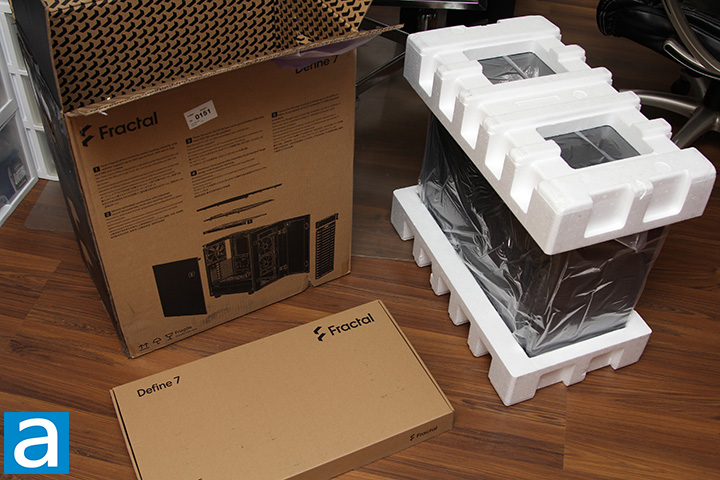 Out of the box, you will receive the Fractal Design Define 7 Dark Tempered Glass chassis clipped between two large Styrofoam brackets. A large but slim accessories box fill in the gap between the case and the exterior cardboard box wall. Inside, you will find the interchangeable ventilated top panel in the top layer. Beneath it is a Styrofoam tray with cutouts containing four HDD/SSD trays, all separately packaged, and a much smaller box with stuff like screws and zip ties. A user guide is also included, which is very well-written with nicely drawn diagrams. I found the user guide to be very informative on the features of the case and how to use it.
Before we move on, let us take a look at the specifications of the Fractal Design Define 7 Dark Tempered Glass, as obtained from the manufacturer's website:
Specifications
3.5"/2.5" Universal drive brackets: 6 included, 14 positions total
Dedicated 2.5" drive brackets: 2 trays included, 4 positions total
5.25" drive mounts: 1
Expansion slots: 7 + 2
Front ports: 1 x USB 3.1 Gen 2 Type-C, 2 x USB 3.0, 2 x USB 2.0, Audio I/O, Power button, Reset button
Total fan mounts: 9 x 120/140 mm
Front fan: 3 x 120/140 mm (2 x Dynamic X2 GP-14 included)
Top fan: 3 x 120/140 mm
Rear fan: 1 x 120/140 mm (1 x Dynamic X2 GP-14 included)
Bottom fan: 2 x 120/140 mm
Dust filters: Top, 2 x front, full length bottom
Fixed Velcro straps: Yes
Cable routing grommets: Yes
Captive thumbscrews: HDD brackets, SSD brackets, PSU bracket
Left side panel: Tempered glass
Right side panel: Industrial sound-damped steel or Tempered glass
Compatibility
Motherboard compatibility: E-ATX (max 285 mm) / ATX / mATX / mITX
Power supply type: ATX
PSU max length: 250 mm (with HDD cage installed)
GPU max length: Storage layout: 315 mm - Open layout: 491 mm (467 mm w/ front fan)
CPU cooler max height: 185 mm
Front radiator: Up to 360/280 mm
Top radiator: Up to 360/420 mm
Rear radiator: 120 mm
Bottom radiator: Up to 240/280 mm
Cable routing space: 30 mm
Dimensions
Case dimensions (LxWxH): 547 x 240 x 475 mm
Case dimensions w/o feet/protrusions/screws: 533 x 240 x 451 mm
Package dimensions (LxWxH): 558 x 363 x 641 mm
Net weight: 13.45 kg
Package weight: 15.94 kg
Volume: 57.7 liters
Other
Package contents: Define 7 case. Accessory box. User manual. Ventilated top. 4 x HDD/SSD trays (for a total of 6)
EAN: 7340172702214
UPC: 843276102210
JAN: 4537694275866
Product code: FD-C-DEF7A-03
---
Page Index
1. Introduction, Packaging, Specifications
2.
Physical Look - Outside
3.
Physical Look - Inside
4.
Installation and Conclusion