By: Jonathan Kwan
June 1, 2018
What is the biggest sin you can commit against your friends in 2018? Go ask any teenage kid and they will tell you it goes something along the lines of breaking a Snapchat streak. The genesis of any friendship starts with that little flame icon with the number "3" on the side. This is the beginning of your commitment to sending each other at least one snap every day. If you break a single digit streak, no matter; you were not serious about the friendship to begin with anyway. As time progresses and your streak hits one hundred and above, you better do what it takes to keep it -- leaving a triple digit streak out to dry is a serious offense. Case in point: I got a friend who broke a 236 streak and another who broke a 133, and I do not care their reasons include their phone died and they did not have internet, respectively; our friendship simply was not the same afterwards. Beside Snapchat streaks, I also care about review streaks. Since 2011, I have reviewed every Fractal Design Define series mid-tower, including the R3, R4, and R5. When Fractal Design released the Define R6 late last year, I knew I had to get my hands on one. But due to inventory problems on the Blackout TG model I wanted, one did not appear on our doorsteps until a little over a month ago. But fear not, my friends. Fractal Design did not break any streaks in sending us their Define R-series mid-tower chassis, and neither will I break my streak in reviewing these cases. There is one more streak they need to keep, however. The Define R3, R4, and R5 all won our venerable APH Recommended award. Will the R6 keep this streak rolling into a four? There is only one way to find out. By the way, I was joking about my friends who broke our Snapchat streaks.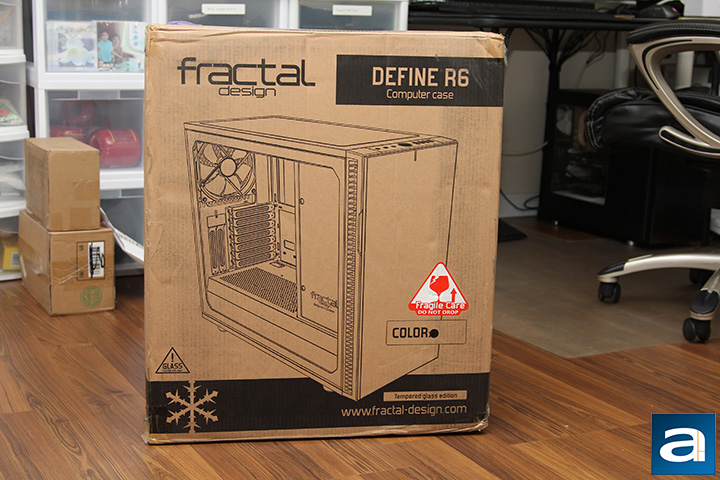 Fractal Design sent their latest Define R6 mid-tower in its retail box from the company's American offices in Dallas, Texas, USA. As it was with the Define R5, the Define R6 also came to us via FedEx International Ground. In the Define R5 review, I said things coming in via FedEx was quite rare at the time with UPS taking a lot of their business. Well, it looks like FedEx is back again: Twelve out of twenty-four items in our Review Tracker -- yes, we have a massive backlog -- came using FedEx. As always, everything arrived safely to us here in Calgary, Alberta, Canada for our review today. I took out my knife and my camera and got to work.
As you can see in our photo above, Fractal Design's retail box design for the Define R6 Blackout TG is very similar to the Define R5, which in turn was very similar to the Define R4 we reviewed nearly six years ago. The latest iteration features an environmentally friendly -- or economically friendly, depending on your perspective -- brown corrugated cardboard box with classic black ink. On the box, you will find Fractal Design's branding around the edges with an outline of the case occupying majority of the real estate. The color variant is also indicated on the box. It is certainly not as pretty as what we have seen in the past, but no one spends that much time looking at the packaging anyway. At the end of the day, I have no guilty feeling dumping it into the recycle bin afterwards. I am no environmentalist, but I think that in itself has value in my opinion.
Before we move on, let us take a look at the specifications of the Fractal Design Define R6 Blackout TG, as obtained from the manufacturer's website:
3.5"/2.5" Universal drive brackets: 6
Dedicated 2.5" drive brackets: 2
Dedicated 5.25" drive brackets: 1 (removable)
Expansion slots: 7 + 2 vertical
Motherboard compatibility: eATX (up to 285mm wide), ATX, mATX, ITX
Power supply type: ATX
Front ports: 2 x USB 3.0, 2 x USB 2.0
Total fan mounts: 9
Front fan:
- 3 x 120 mm or 2 x 140 mm,
- 2 x Dynamic X2 GP-14 included
Top fan:
- Standard layout: 3 x 120 or 2 x 140
- Open layout: 3 x 120/140 mm
Rear fan:
- 1 x 120/140 mm
- 1 x Dynamic X2 GP-14 included
Bottom fan:
- 2 x 120/140 mm
Dust filters:
- Bottom fan + PSU
- Front fans
- Top panel
Front radiator:
- 120/240/360 mm
- 140/280 mm
Top radiator:
- Standard layout: 120/240/360 mm (max 35 mm motherboard component height)
- Open layout: 120/240/360 mm - 140/280/420 mm (max 35 mm motherboard component height)
Rear radiator:
- 120 mm
Bottom radiator:
- 120/240 mm
- 140/280 mm
PSU max length: 300 mm
GPU max length:
- Max 440mm with front fan mounted
- Standard layout: maximum width 155 mm (including power connectors) for graphics cards longer than 300mm.
CPU cooler max height: 185 mm
Cable routing space: 23 mm
Cable routing grommets: Yes
Fixed velcro straps: Yes
Tool-less push-to-lock: Both side panels
Captive thumbscrews: HDD brackets, SSD brackets
Left side panel:
- Black/Blackout/Gunmetal versions: 33% tinted tempered glass
- White version: clear transparent tempered glass
Right side panel:
- Industrial sound-dampened steel
Case dimensions (LxWxH): 543 x 233 x 465 mm
Case dimensions w/o feet/protrusions/screws: 535 x 233 x 448 mm
Net weight: 12.4 kg
Package dimensions (LxWxH): 560 x 347 x 650mm
Package weight: 14.4 kg
---
Page Index
1. Introduction, Packaging, Specifications
2.
Physical Look - Outside
3.
Physical Look - Inside
4.
Installation and Conclusion