By: Ben Joubert
May 25, 2018
When I am not studying at university during the year, I work at a summer camp. Before the kids arrive in July, we have to facilitate different groups who use the camp as a retreat center. One thing this includes is a snack around nine o'clock at night, which is usually cookies. The last time I was working to help a group on the weekend, we had far less people who came than was reported to us. The kitchen made so many cookies for snack that night, it was wonderful. My eyes widened just like a kid in a candy store, and I had to exercise plenty of self-control to not just eat cookies until I felt sick. Even though I did not eat cookies until I felt sick, I still remember how easy it was as a kid to eat way too much candy or cookies. My eyes were much bigger than my stomach and so it was quite easy to overdo something. Thinking back to all those times when the sugar rush hits only to crash a while later is not something I want to experience again. There are other things that we so easily overdo as well, but I am sure tempered glass on a computer was not your first thought. Today, we have the FSP CMT510 computer chassis, which has not one, not two, but three tempered glass panels. It promises a stylish enthusiast grade look with all those panels. It even includes four RGB fans that you can control at the touch of a button. Three of those fans are at the front of the case, and one sits comfortably at the back. This case is definitely the conglomeration of all the recent trends in cases. But did it overdo tempered glass and RGB LEDs? Read on to find out!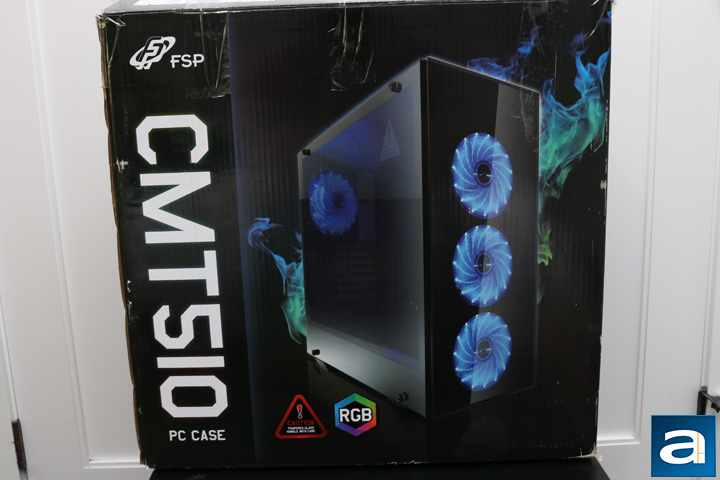 Unlike many of the cases we have reviewed here at APH Networks, the FSP CMT510 has a fully colored retail box instead of the boring old brown cardboard we see most of the time. From all the colors FSP had to choose from, they decided to go with a sleek blue and green mashup of colors on the front; however, the majority of it is in blue. Along the left, we find a black strip containing the model name CMT510, while FSP is found higher up. To the right of the stripe, we have the caution symbol because of the tempered glass as well as the colorful RGB symbol, indicating the customization available. On the back side, we have three cases lined up with their fans being either blue, red, or green. Along the sides, all the different specifications concerning the chassis are listed. The retail box is also the shipping box, and it arrived in quite good condition. It was shipped to us here in Calgary, Alberta from Chino, California via FedEx Ground. Most of the edges were beat up, but there were no large dents to be worried about.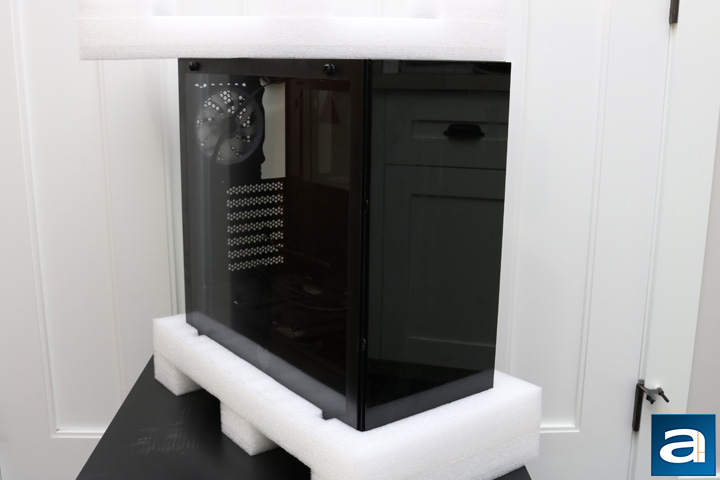 The packaging is the same as all other computer cases. There were two large Styrofoam blocks on either side of the case, with everything else inside of the chassis. Inside, we find the manual and all the screws required for the installation. Out of the box, the case looks really good. However, I do not know where to touch it. I feel like anytime I touch the panels I will have to clean it, haha. Throughout this review and installation, I definitely had to clean the panels more than once to ensure the final appearance looked as good as it could.
Before we move on, here are the specifications, as obtained from the manufacturer's website:
Specifications
Model Name: CMT510
Type: ATX Mid Tower
Color: Black
Materials: SECC, Tempered glass
Dimension DxWxH (mm) / (inch): 491 x 208 x 448mm / 19.15 x 8.11 x 17.47inch
Maximum CPU Cooler Height: 165mm
VGA Card Length: 400mm
Expansion Slots: 7
MotherBoard Support: ATX, Micro ATX, Mini-ITX
External I/O port: USB3.0 x 2, Audio, Microphone
Power Supply Type: ATX
3.5" HDD: 2
2.5" SSD: 2
Fan Including(pre-install): Front: 120mm x 3 RGB Led Fan
Rear: 120mm RGB Led Fan
Fan&Water Cooler Supply: Front: 120mm x 3 or 140mm x 2, or 360mm x1 Radiator
Top: 120/140mm x 1
Rear: 120mm x 1
Max Radiator Support: 360mm x 1
---
Page Index
1. Introduction, Packaging, Specifications
2.
Physical Look - Outside
3.
Physical Look - Inside
4.
Installation and Conclusion