By: Jeremy To
March 11, 2011
John D. Barrow once said, "There is no reason that the universe should be designed for our convenience." This insightful quote, stated by one of the most distinguished of peoples (Actually, I doubt more than five percent of people who read this know who he is), is entirely... stupid. I'm not saying that Barrow was wrong in making such an obvious statement. But to make things a little more interesting -- and for you readers with no clue as to what Barrow has anything to do with the FSP NB L90 -- let me rephrase my introduction. John D. Barrow once said, "There is no reason that the universe should be designed for our convenience." And Jezza Toe (Referring to one of my many notorious nicknames), in all his wisdom, power, and fame, replied, "But there is ample reason companies should be designing products specifically targeted for our convenience." Of course, the universe doesn't pick and choose its favorite sons and daughters, but you sons and daughters can most definitely pick and choose the products that make your life a little less painful. What do I mean exactly? Is there actually a simple solution to making life -- for lack of a better word -- easy? My answer to you is 'no'. Life as we know it is still full of hardship and struggles (Stupid Javad); long story short, it kind of still sucks. However, today -- the day in which you decide to read this review -- I will give you a little bit of insight on FSP Group's NB L90 universal notebook adapter, and how in some situations it could possibly make your life less complicated and more efficient. I'm not suggesting that the NB L90 is the only adapter out there for one's consideration. But through this review, I will show you whether this laptop PSU makes it or breaks it. So without further adieu, let's read on to see what I've found out!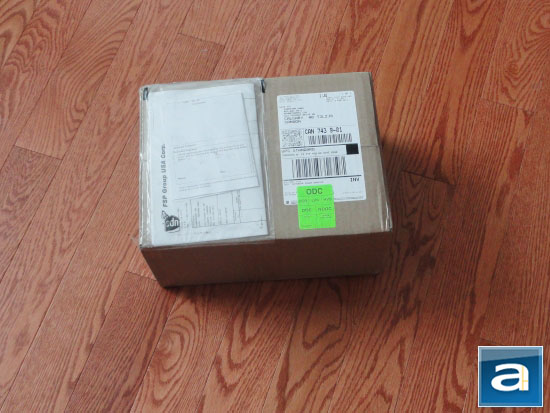 Our notebook power supply, FSP NB L90, came to us in a medium sized cardboard box from FSP Group's office down south in USA -- more specifically, Chino, California. Shipped by UPS, the two pound box made its journey to our office in Calgary, Alberta, Canada; arriving safely without any trace of abuse or damage. A few days later, the "good" dealt its way to my soft but muscular arms in a manner that was most definitely not sketchy, haha.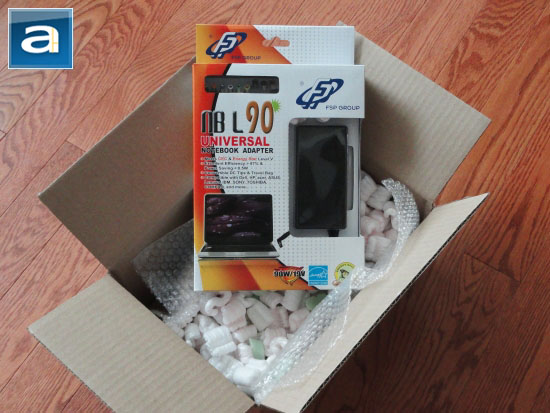 Of course, a sample unit arriving safely and unharmed is a good thing. This time, however, it came with a small price. A couple hundred Styrofoam noodles exploding its way onto the hardwood is not cool. After spending a few minutes cleaning up the noodles, and fishing them out of the inside the display portion of the retail box (Actually, you can still see two noodles stuck there in the picture above), I got a good look at the retail packaging of the L90. The first thought that came to mind was the packaging size for the L90; which is surprisingly big for a laptop power adapter. I assumed there will be a few items to accompany the L90, including a power cord, carrying bag, DC output tips, and user's manual. So why is the packaging so big? Well, that goes hand in hand with the second thought that sprang to mind. That is, a very unbalanced and busy-looking box. The packaging incorporates a white and orange theme, giving a good aesthetically looking box. But what FSP has done is put two display windows -- the right one encompassing the L90 unit itself, and the top left display window revealing the nine different output tips -- followed by a disastrous compilation of features, and texts that seems to drown out all the blank space on the box. In fact, FSP Group decided to even print a picture of a laptop right on the front of the box -- maybe for those few individuals that don't know what an adapter is?
Before we go on any further, let's briefly take a look at the features and the specifications of the NB L90, taken from the product packaging, as well as from the manufacturer's website:
Features
- 90-WATT | 18~20V @ 4.74A Maximum Performance
- High-efficiency power conversion ratio @ 87%+
- Meets CEC & Energy Star Level V standards
- 9 I-point interchangeable connector tips included
- Easy fit | Ultra thin | 16mm thickness
- Extra thick wire gauge for max. power transfer
- Ultra stylish | Special texture design case
- Standard AC input | AC power cord included
- Soft travel carrying case | Velcro tie included
- Energy saver | Stand-by less than 0.5-WATT
- Provide sufficienct charging power for battery unit
- Patented input fuse protection technology
Specifications
- Applications: 18~20V | 90-WATT Max. notebook PCs
- Cooling fan (s): N/A
- Maximum Output Power: 90-WATT | 19V @ 4.74A Maxiumum
- Capacity: 4.74A
- Voltage: 19V
- Output Connectors: 9 I-point interchangeable connectors (barrel type)
- Connector Size: Varies
- Operating Efficiency: 87% +
- Operating Temperature: 0 ~ 40°C +
- Operating Humility: 10 ~ 90% Non-condensing
- Storage Temperature: -40 ~ 60°C +
- Ripple/Noise: <150 mVpp
- Safety Approval: UL/cUL, FCC, TUV, CE, CB
- MBTF: 100,000 HOURS @ TYPICAL
- Other Tests: 100% hi-pot, 100% burn-in @ full load
- Unit Size: 2.36" (W) X 4.72" (D) X 0.64" (H)
- Unit Weight: 0.6 LB (S)
- Retail Package: 7.24" (W) X 2.36" (D) X 12.2" (H) @ 1.5 LB (S)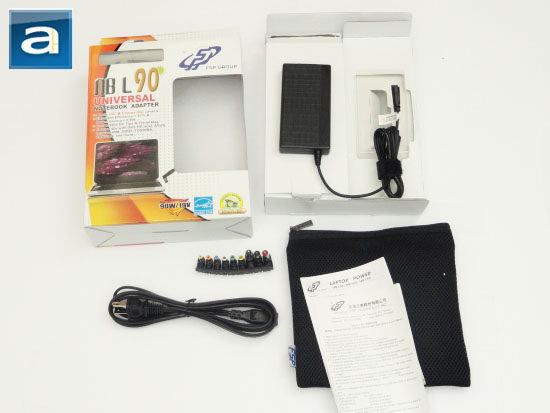 The retail packaging opens through a main flap at the top. Opening the flap reveals a cardboard box -– which slides out easily –- attached with two display windows, containing all the contents. After pulling the unit out of the right display window, and nine DC tips from the upper display, I fished out the few remaining components from the left side of the box. This includes the carry bag, AC power cord, and user's manual, as aforementioned. The soft travel carrying case provided was surprisingly well made. The material is made up of quite a few layers of woven mesh that seemed to be both soft and durable. Also, once opened, the carrying bag features an additional four side pockets inside, giving an overall nice touch in regards to the functionality of the bag. Once all the components are placed inside the bag (Each component having its own little pocket), the bag still seems light, durable, soft, while separating each component allowing the wires to stay untangled, and the unit/tips to stay unharmed. I might even end up using this bag to store other smaller peripherals in the near future, haha.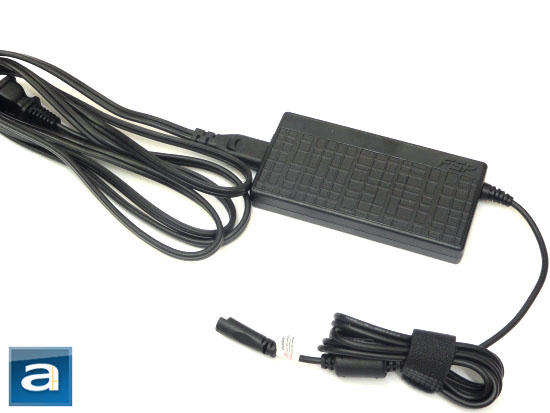 You know those times when you start arguing with so-and-so about something you just absolutely know your right? For example, those overcompensating idiots guys that continuously defend Smart Cars; in essence, they are willing to give up their manhood to save a little bit of gas. (Editor: Well just to add to that, you aren't saving much gas with a Smart Car compared to fuel efficient compacts like a Honda Civic in real world mileage. Those Smart Cars take premium gas, too.) No matter what you say, how persuasive you are, their response remains the same -- that is, you save a lot of gas. Gas gas gas, yahdee yahdee yah. Sure you save gas with a Smart Car. But the result of wanting to save gas lands you into driving practically one of the smallest production cars ever made -– along with becoming a laughing stock to almost every true car enthusiast out there (I do apologize if I'm offending Smart Car owners, but I'm merely stating an observation). Kind of like if you wanted to drive a Reliant Robin, you would either end up driving in a straight line, or just crash and die. So how do these examples of small drawbacks relate to the NB L90? Well, the answer is simple. The NB L90 boasts the success being an ultra slim adapter that is a whooping 16.5mm. That is crazy thin. So what's the drawback? Let's take a quick look at the other two dimensions. According to the specifications, the width of the L90 is approximately 60mm and the depth is around 120mm. Those two measurements produce only one reaction from me, holy macro! The FSP Group has produced a nice sleek and slim notebook adapter. But to put into plain and simple words, the PSU is still big. In the end, however, you still get a nice thin notebook adapter (that is almost as long as my entire hand, lol). For reference, the Asus G51Vx laptop's stock adapter that I used to compare the L90 with measures at 35x150x60mm (WDH). The stock adapter is larger, but I wouldn't consider this a fair evaluation of size since the L90 is a 90W adapter, whereas the G51Vx comes with a 120W adapter.
One feature of the NB L90 adapter is the physical design. FSP Group states it is a stylish PSU that uses a special textured design found on the top of the unit. I find this design to be very appealing as it complements the sleekness of the unit. However, as a reminder to you consumers, I must state the physical design of a laptop adapter is probably not the sole reason why you would want it. No matter how stylish or how physically appealing a laptop PSU is, it'll always end up hiding behind the laptop performing the only function you really care about –- powering your laptop.
The lead out cable is situated on the side closest to the FSP logo. The other end of the unit is where the AC cord leads in; situated in the middle of the unit. The wires on the L90 are quite thick giving an overall durable feel. With regards to wire management, the DC lead out cable features a Velcro tie allowing one to either adjust the length of the unit, or to keep the wires safe and untangled. The AC power cord does not have a Velcro strap, which is inconvenient at times. The overall length of the unit, including measurements of both the lead in and lead out cables, gauges to over 3.4m -- an adequate length for most adapters.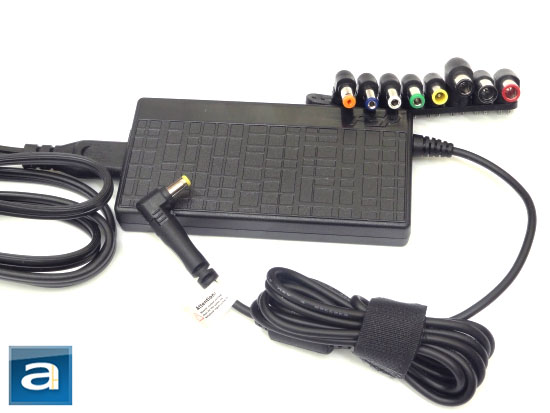 Accompanying the unit are nine different I-point interchangeable output connectors. Each output tip is securely fastened on a braid of rubber -– the tip stand. My thoughts on the tip stand is it seems to be a little unfinished and cheap. I generally do not have a problem with "cheap" looking components so long they perform their function well, but the L90 tip stand is just a bit over-the-top appalling. What worries me the most about this stand is not the looks, the feel, or even the material, but rather the tips' back-end being bare and having absolutely no protection. I could only imagine a terrifying scenario in which someone or something would end up accidentally sitting or stepping on the stand bending every connector –- rendering the entire unit worthless. Also, it would be nice if the unit itself could hold the tips, since losing the entire tip stand is possible.
The I-point design feature on each tip is a nice element as it allows a perfect insertion point to the DC cord. Also, this design allows each tip to be fixed firmly on the output cable, permitting a strong connection, without having one to fret about losing their connectors. It also prevents users in inserting the tip incorrectly. The tips form a 90 degree angle with the cable.
Each tip is color coded; matched with a compatibility table printed on the back of the retail box. The same table can be found on the manufacturer's website. The list compiles and matches each color coated tip to specific laptop brands –- in the attempt to lessen the guess and check work:
Yellow: Acer, Asus, Compaq, HP, LG
Orange: Acer
Blue: Acer, Compaq, Gateway, Hitachi, IBM, NEC, Sharp, Toshiba, Twinhead, WinBook
White: Acer, Compaq, Fujitsu, Gateway, Hitachi, HP, IBM, NEC, Panasonic, Philips, Samsung, Sharp, Toshiba, Twinhead, Viewsonic, WinBook, LG
Green: Acer, Asus, Compaq, HP
Yellow: Sony
Black: Dell
Black: IBM, Lenovo
Red: HP
In the list above, some brands are found to be using up to five different tip colors, which is to be expected, since brands don't usually follow only one tip type. Also, out of the nine different tips, some of them are coated as the same color. Not to worry here, since the compatibility list comes with numbers and a picture guide used as a reference to determine the number of a specific tip. Although, it would have been better if FSP Group could have utilized nine different colors to avoid this minor confusion.
It is also important to note that certain notebooks manufacturers like Dell have custom proprietary laptop adapters. When using the NB L90 on these notebooks, it will only power on the notebooks, but not charge them. The basic rationale behind this certain design is that some laptops will authenticate their power adapters before they permit it to charge. Regarding this situation, FSP Group does not give warning to this possibility, and could therefore lead some consumers to buy something that does not completely do its job. In fact, FSP Group has stated that the NB L90 is compatible with all 18-20Vdc input notebooks, which is only half right, since charging is not compatible with some laptops –- a small problem and fact when dealing with all universal adapters.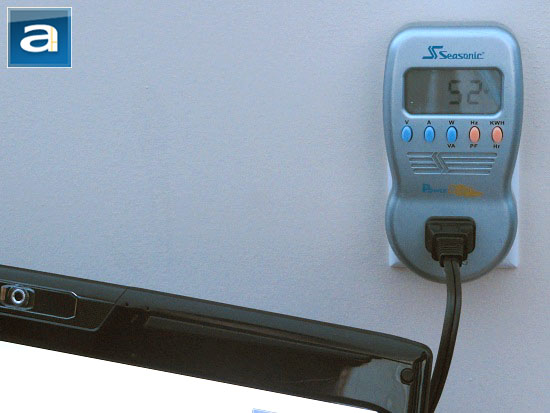 Before you ask, 52W is idle with Maximum Performance power profile. Our test result below is based on this load as well as when the laptop is under full load.
It is important to touch on a few things when testing the NB L90. This universal notebook adapter has the wattage to power most mid-ranged laptops, but may have difficulty when powering more high-performance laptops. The laptop I have used to test the L90 is our Asus G51Vx (Q9000, 4GB, 640GB HDD, 15.6" LED, GTX 260M, 5100 ABGN on) which leans towards a performance gaming computer of its time. As stated previously in a different section, the Asus G51Vx uses a stock adapter of 120W. If you own a laptop that uses a stock adapter of greater than 90W, I do not advise you use a 90W universal adapter as an alternative power source; the following two tests will explain why.
For the first test, I had the G51Vx loaded to 43W power consumption. With the same conditions, the outlet input measurement came in at 52W as shown in our photo above. At 47.7% load, the FSP NB L90 is capable of producing the power at an efficiency of 82.7%; which isn't too bad. A power adapter generally is most efficient when under 50-60% load, and for marketing purposes, some manufacturers take their numbers at 25c -- which is almost never the temperature the power supply operates at. While what we got isn't quite the 87% FSP claims, 82.7% isn't something to be worried about with this load percentage and non-ideal operating temperature. In making things a little more interesting, I decided to test the adapter a second time, this time pushing the 90W adapter to its pure limits. Using the G51Vx, I maxed it out with an outlet input measurement of 109W. On the other end, the laptop was able to draw around the 85-90W with the odd spike of 100W from time to time. This means that at around 94-100% load, the NB L90 was able to maintain efficiency of 77.9% to 82.3%. In my opinion, this is quite a feat the L90 has demonstrated to me. Of course, you're probably wondering how this is happening. How can a 90W adapter provide 100W of power? Well, it can't. In fact, I pushed the adapter to the point where it shut down on me from overloading. Oops was my first reaction... impressed was my second reaction. Not only has the FSP NB L90 demonstrated the ability to go a little over 90W for a few minutes, and not only has the FSP NB L90 maintain around 80% or better efficiency at these high loads, but the FSP NB L90 has also demonstrated amazing durability. That's right, the FSP NB L90 is still working properly after I overloaded it, meaning the over-current protection is working correctly on this unit without frying anything -- a show of a quality unit.
During these two tests, the PSU remained at a fairly cool temperature; of course aside from the few minutes I decided to break the 90W point, in which it did heat up quite a bit.
------------------------------------------
To be honest with you, I am actually quite impressed with FSP Group's NB L90. Whichever fits your situation -– lost or broke your stock adapter, or for pure convenience to use at home or for travel –- the NB L90 does a fantastic job in fulfilling these requirements. With its nine compatibility tips, the unit fits almost all laptops ever made. Also, the sturdy and soft carry bag, the sleek design, and amazing physical and technical durability make this adapter a definite consideration. It is, however, not without its flaws. First off, although the PSU is thin, the other measurements are quite big. FSP Group fails to acknowledge the possibility of proprietary adapters used on some laptops produced by manufacturers like Dell. Also, the lack of cable management with regards to the AC power cable makes the unit hard to use and at times problematic (Although it is no different from most OEM units). Finally, the tip stand fails to successfully protect the I-point connector on the tips, as many potential accidents may result in the entire unit becoming useless. One more thing to add that I wouldn't count this as a con, but I'd just like to point out a comparable unit like Cooler Master's SNA 95 features an auxiliary USB port on the side to charge your miscellaneous items, whereas the FSP NB L90 doesn't. No matter the pros, and no matter the cons, getting your hands on a universal notebook adapter may prove to be one of the smartest investments a laptop fanatic can make. Carrying a price tag of $54.99 USD at press time, the FSP NB L90 is definitely a product worth consideration. As I stated in the beginning "...there is ample reason that companies would be designing products specifically targeted for our convenience." So if you can't make your life a little easier, don't blame the universe, don't blame the companies... just blame yourself.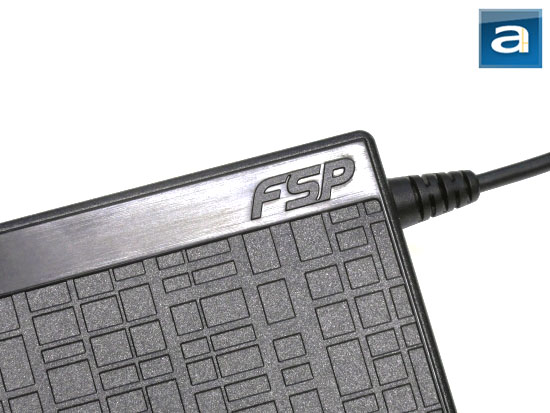 FSP Group provided this product to APH Networks for the purpose of evaluation.
APH Review Focus Summary:
8/10 means Definitely a very good product with drawbacks that aren't likely going to matter to the end user.
7/10 means Great product with many advantages and certain insignificant drawbacks; but should be considered before purchasing.
-- Final APH Numeric Rating is 7.1/10
Please note that the APH Numeric Rating system is based off our proprietary guidelines in the Review Focus, and should not be compared to other sites.
The FSP NB L90 does all that you need it to do, making it a great addition to an enthusiast's option of powering up your laptop efficiently and reliably.
Do you have any comments or questions about the FSP NB L90? Drop by our Forums. Registration is free, and it only takes a minute!