By: Jonah Chow
July 22, 2022
In my introduction of the DeepCool AK400, I talked about the city of Vancouver and all the delicious East Asian food there. While the context of that story was based around my church pastor, I had actually gone recently myself to visit family and friends I had not seen in a while. This was actually my fourth time in Vancouver over the past ten months, so naturally you may wonder why I did not see them earlier on those trips. The answer is simply that I did not have time as I had plans with other friends. The first time was a weekday trip, where my friends wanted to visit restaurants they wanted to check out, which I was happy to enjoy too. The second was a simply a layover from a ski trip in Colorado, and the third was time was an overnight stay after another ski trip in the close-by town of Whistler. This fourth trip was very different in the sense that I traveled alone, so I created my own plans and schedule. It felt long overdue to have this type of trip given the number of times I have visited Vancouver, but it made for a fresh new experience. Speaking of catching up, we have a new liquid cooler from GAMDIAS, a company we have not had any products from since 2019. We have also never looked at a liquid cooler from them, despite them having manufactured AIO coolers for a while now, so it feels overdue. Does the CHIONE M3-240W prove that GAMDIAS is capable of creating quality liquid coolers? Let us read on to find out!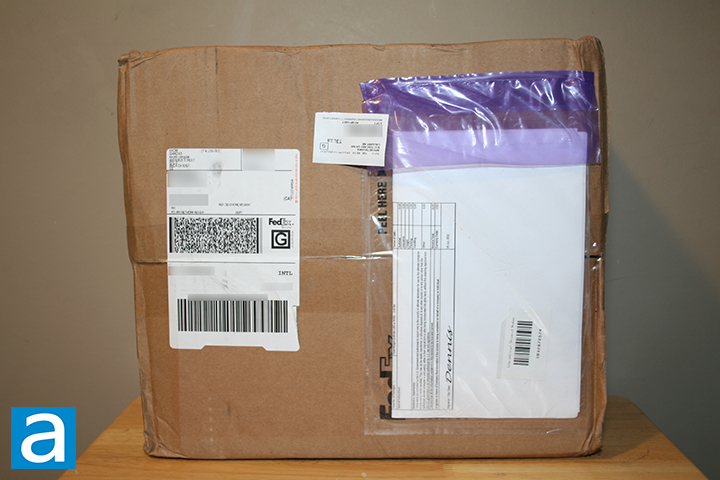 Our review unit of the GAMDIAS CHIONE M3-240W arrived in a medium-sized brown corrugated cardboard shipping box from their headquarters in Brea, California, USA via FedEx Ground. The liquid cooler arrived here in our offices in Calgary, Alberta, Canada in mostly good condition. It should be noted though that the shipping box is quite bruised on the sides, showing that FedEx could have done a better job here.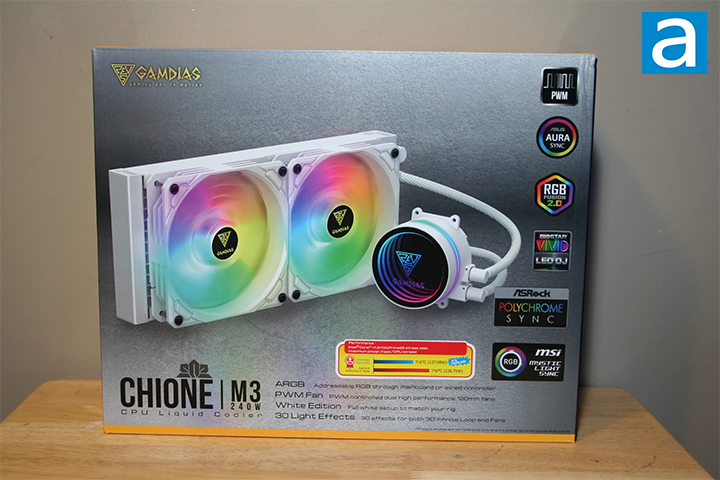 Unlike many other retail boxes we have seen, the GAMDIAS CHIONE M3-240W uses a metallic grey color. The liquid cooler itself is shown in the front, displaying the RGB LED lighting capabilities. The GAMDIAS logo is located on the top left. The product name is on the bottom left with the label "CPU Liquid Cooler" below. Some other descriptions are seen on the right side including the details of the addressable RGB fans, their PWM control, its white finish, and more than 30 lighting effects. All of the compatible motherboard manufacturers are seen on the right side, at least when it comes to controlling and synchronizing the lighting. Additional specifications and information can be found on the sides and back of the box.
Before we move on, here are the technical specifications from the manufacturer's website:
Packaging Contents
Cooler: 1
Fan: 2
Thermal Grease: 1
Lighting Controller: 1
Mounting Kit: Yes
GAMDIAS AEOLUS BOX Adapter Cable: 1
Liquid Cooler - Fan
Dimensions: 120 x 120 x 25 mm
Speed: 800 - 2000 RPM±10%
Noise Level: 10 - 31 dBA
Air Flow: 70.2 CFM
Air Pressure: 2.7 mmH2O
Bearing: Hydraulic
Rated Voltage: 12 V (Fan) / 5V(LED)
Connector: PWM
Support PWM Control: Yes
Liquid Cooler
Radiator Dimensions: 277 x 119 x 27 mm
Tube Material: Teflon
Base Plate Material: Copper
Radiator Material: Aluminum
Sleeved Tube: Yes
Pump Rated Voltage: 12 V (Pump) / 5V(LED)
Pump Connector: 4 Pin
Compatibility: LGA2066 / 2011-v3 / 2011 / 1700 / 1200 / 1151 / 1150 / 1155 / 1156 / 1366 / TR4 / AM4 / AM3+ / AM3 / AM2+ / AM2 / FM2+ / FM2 / FM1
TDP: 240W ±10%
Support Motherboard RGB Sync Connectors: 5V 3-pin addressable (digital) RGB header Only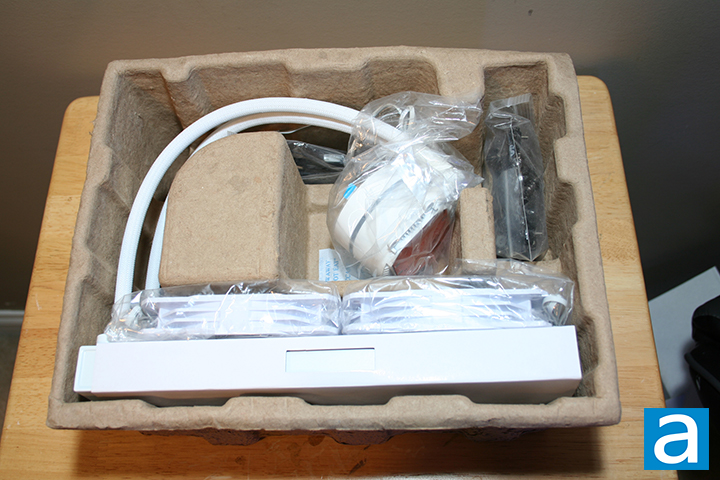 Upon opening the box, we are greeted with the all-in-one liquid cooler and all the typical accessories. We also have two GAMDIAS ARGB fans, a small packet of thermal paste, and all the necessary installation tools for both AMD and Intel sockets. A 4-pin PWM Y-split cable, USB cable, SATA power cables, and an ARGB LED controller can be found as well. There is no physical installation manual, which is instead found on the product page on the GAMDIAS website.
---
Page Index
1. Introduction, Packaging, Specifications
2.
Physical Look - Hardware, Installation
3.
Test Results
4.
Conclusion