By: Jonah Chow
June 24, 2022
When it comes to Canada, Vancouver is well-known for things such as rainy weather, solid public transit system, and being right next to the ocean. One thing that is particularly big for many of my friends is its excellent variety of East Asian food. Plenty of these tasty dishes can be found around the Richmond area, which is a location I have come to grow fond of over the last year. My church pastor recently went to Richmond for his daughter's volleyball tournament. While he had a great time there overall, one frustration he found himself having was the lack of dining in at these East Asian restaurants. The team would often want to go for Western food, which while not bad by any means, is not what Richmond is generally known for. When I think of food at Richmond, I generally imagine hotpot, sushi, Chinese barbeque meats, and Korean desserts rather than steaks and potatoes. While my pastor, his daughter, and her team did eventually get some of the really good food there, it still amuses me to think of spending a week in Richmond and only going for the East Asian food a few times. Similarly, I have now reviewed two gaming mice from DeepCool. While both the MC310 and MG350 were solid peripherals, they are not the type of products I generally expect to be reviewing from a company called DeepCool. This changes today with the AK400, a new CPU cooler for the aptly named manufacturer. Does the AK400 prove DeepCool can still also make solid coolers? Let us read on to find out!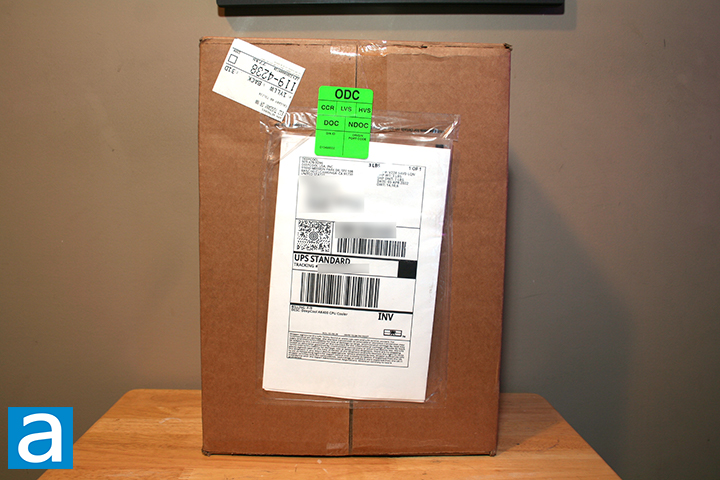 Our review unit of the DeepCool AK400 arrived via UPS Standard from the company's American offices in Rancho Cucamonga, California, USA via UPS Standard. Rancho Cucamonga is in San Bernardino County close to Los Angeles. The shipping package arrived to us here in Calgary, Alberta, Canada. Other than a few minor dents, the medium-sized brown corrugated cardboard box arrived in good condition.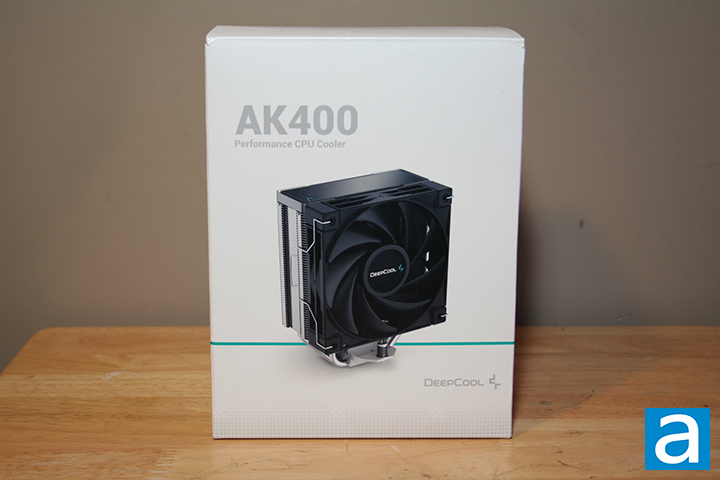 The retail box arrived in nearly perfect condition. A few minor dents can be seen along the sides closer to the top, but are barely noticeable. Moving on, the front-side retail packaging for the DeepCool AK400 is quite bare with very little text. The box is clean and does a good job of displaying the cooler. The box uses a simple white color scheme that does not do much to draw attention to itself with the exception of a single thin green line going across the middle. The AK400 label is seen at the top with the text "Performance CPU Cooler" below. The DeepCool logo is located towards the bottom right side. An image of the AK400 is displayed front and center, showing off the general design of the cooler. The back and sides of the box contain some of the specifications.
Before we move on, here are the specifications from the manufacturer's website:
Compatibility
Product Dimensions: 127×97×155 mm
Heatsink Dimensions 120×45×152 mm
Net Weight: 661 g
Heatpipe: Ø6 mm×4 pcs
Fan Dimensions: 120×120×25 mm
Fan Speed: 500~1850 RPM±10%
Fan Airflow: 66.47 CFM
Fan Air Pressure: 2.04 mm H20
AqFan Noise: ≤29 dB(A)
Fan Connector: 4-pin PWM
Bearing Type: Fluid Dynamic Bearing
Fan Rated Voltage: 12 VDC
Fan Rated Current: 0.13 A
Fan Power Consumption: 1.56 W
EAN: 6933412727446
P/N: R-AK400-BKNNMN-G-1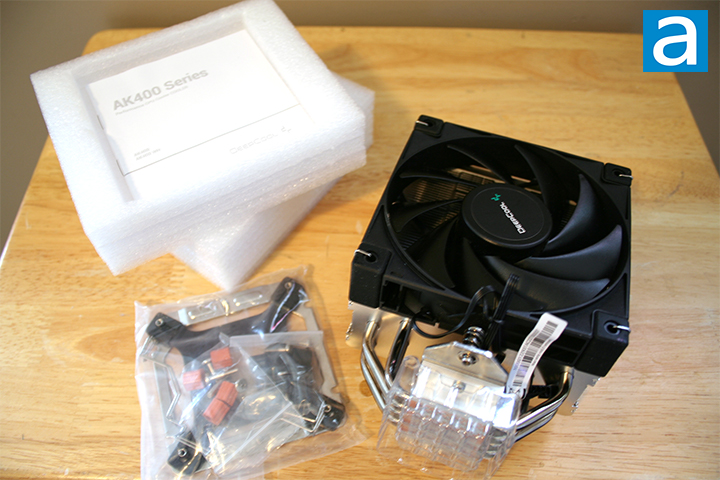 Opening up the retail packaging, we are met with the cooler itself and another box containing the installation accessories. The DeepCool AK400 arrived cased in foam padding with no scratches or scuffs on the cooler itself. The smaller bag contains installation tools to mount onto Intel's LGA1700, 1200, 1151, 1150, and 1155 sockets along with AMD's AM4 socket. The Intel and AMD mounting tools are in separate bags, although there are no labels to clearly distinguish them. There is no included screwdriver or thermal paste, as the thermal paste is pre-applied on the cooler already. A physical installation manual is included.
---
Page Index
1. Introduction, Packaging, Specifications
2.
Physical Look - Hardware, Installation
3.
Test Results
4.
Conclusion