By: Jonah Chow
June 10, 2022
One of the most interesting spikes in pop music culture I have seen over the past few years is the re-shaping of Machine Gun Kelly's music, which started as rap, but is now much deeper into the pop punk rock genre. Now, say what you will about the man, but as an artist, I have found myself really digging his rock music. He started by making a song in 2019 with YungBlood, which was a surprising banger of a song even if it was his first time really dipping his toes in the rock genre. He then released an entire rock album in 2020, which has some of the best headbangers I have heard in the past little bit. I feel this album was when he really came into his own as a pop punk rock artist, capturing the teenage angst of the genre. His first rock song, I Think I'm Okay, was already quite good, but I could tell that with his 2020 album he was able to improve on many aspects of his rock performance and bring to the next level. Just last year, I had the pleasure of reviewing DeepCool's first-ever gaming mouse, the MC310. Since then, DeepCool has released even more gaming mice, including today's review unit of the MG350. Does the MG350 prove DeepCool is also pushing to improve the quality of their output, especially with something new? Let us read on to find out!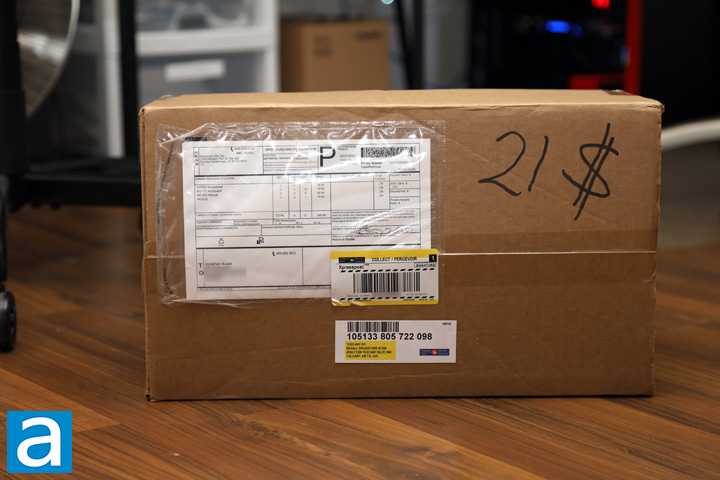 Our review unit of the DeepCool MC310 arrived here in Calgary, Alberta, Canada from the company's American offices in Rancho Cucamonga, California, USA via UPS Standard. Rancho Cucamonga is in San Bernardino County close to Los Angeles. The shipping box arrived in good condition with only a few minor dents and scuffs alongside the sides and corners. DeepCool also sent us their KG722, MG510, and GT920, which have all been reviewed by my fellow editor Aaron Lai.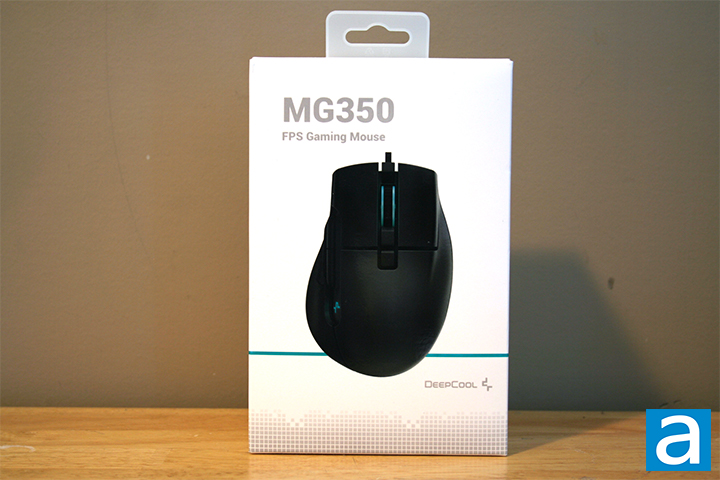 The retail box arrived in nearly perfect condition. A few minor dents can be seen along the sides closer to the top, but are barely noticeable. Moving on, the front-side retail packaging for the DeepCool MG350 is quite bare with very little text. The box is clean and does a good job of displaying the mouse. The box uses a simple white color scheme that does not do much to draw attention to itself with the exception of a single thin green line going across the middle. The MG350 label is seen at the top with the text "FPS Gaming Mouse" below. The DeepCool logo is located towards the bottom right side. An image of the MG350 is displayed front and center, showing off the general design of the mouse. The back and sides of the box contain some of the specifications.
Before we move on, here are some specifications from the manufacturer's website:
Overall Dimension: 106.62*72.92*43.58MM
DPI Range, DPI Switching: 16000, 1000/2000/8000/16000
Programmable Button Count: 8
Sensor type: PAW3335DB-TZDU
Lighting System: Cyan Single Color
Polling Rate: 125Hz, 250Hz, 500Hz, 1000Hz
Mouse Switch: Omron
Mouse button durability: 20 Million Clicks
Connectivity: USB 2.0
Grip Type: Palm & Claw
Acceleration: 40g
Mouse Tracking Speed: 400 IPS
Mouse Lift Off Distance: 1mm or 2mm
Cable Specification: Braided USB Cable
Mouse Feet Durability: PTFE
Mouse Memory: 32KB
Product Weight (g): 92.0±5g
Product Color: Black
EAN: 6933412796312
P/N: R-MG350-BKDUNN-G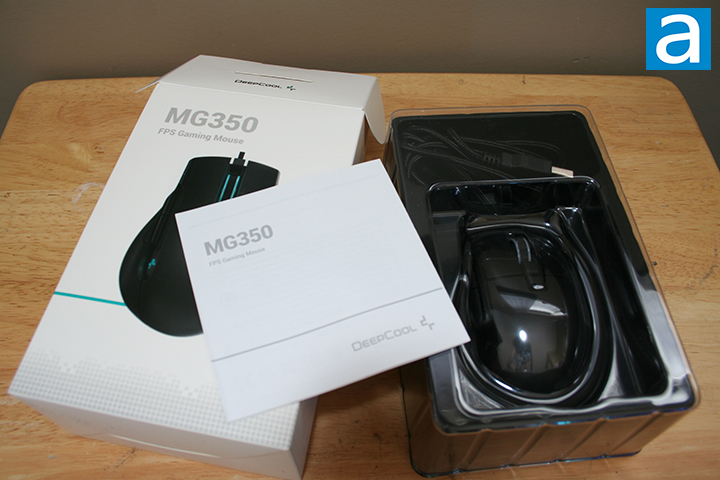 Right out of the box, the first thing you will see is the mouse itself. The mouse alongside its USB cable is bundled in a black plastic tray, which comes with a transparent plastic cover. A single user manual can also be found inside the box. The warranty, per the specifications, is two years, which is common for peripherals in 2022.
---
Page Index
1. Introduction, Packaging, Specifications
2.
A Closer Look - Hardware and Software
3.
Subjective Performance Tests
4.
Conclusion