By: Jonah Chow
November 26, 2021
As 2021 starts to draw closer to an end, one of the highlights of this year I look back on was catching up with some old friends from my childhood. For some background information, I went to a different high school than my designated one, so I had lost contact with a lot of people I talked to in middle school as life went on. This year, I got to catch up with many people I had not talked to since the ninth grade. I find it is neat seeing what people have been up to and what aspects of their personality have and have not changed in the last eight years. To give two similar examples, two of these friends had developed a very sudden but passionate interest in hiking, something I also had begun taking interest in recently. It was interesting to reconnect with these particular friends through an activity we had never done back when we were younger. Depending on the hike, you can spend up to the whole day with your hiking companions, which was usually the case. I found reconnecting with old friends from many years ago through a new activity to be very refreshing and fun. Similarly, DeepCool is a company we have reviewed products for, with the most recent one being the AK620. Before that though, the last product we had seen from DeepCool was the Deepcool Quanta DQ750 750W power supply back in 2015. Today, we have another chance to catch up with DeepCool and their first-ever mouse, the MC310. Does this new product have the quality to help us reconnect with DeepCool after all this time? Let us read on to find out!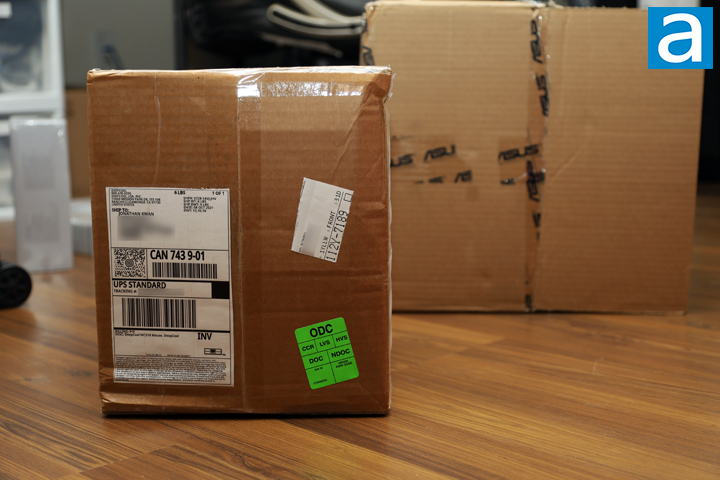 Our review unit of the DeepCool MC310 arrived here in Calgary, Alberta, Canada from the company's American offices in Rancho Cucamonga, California, USA via UPS Standard. Rancho Cucamonga is in San Bernardino County close to Los Angeles. The shipping box arrived in good condition with only a few minor dents and scuffs alongside the sides and corners. DeepCool also sent us their AK620 cooler, which was already reviewed by my fellow editor Aaron Lai.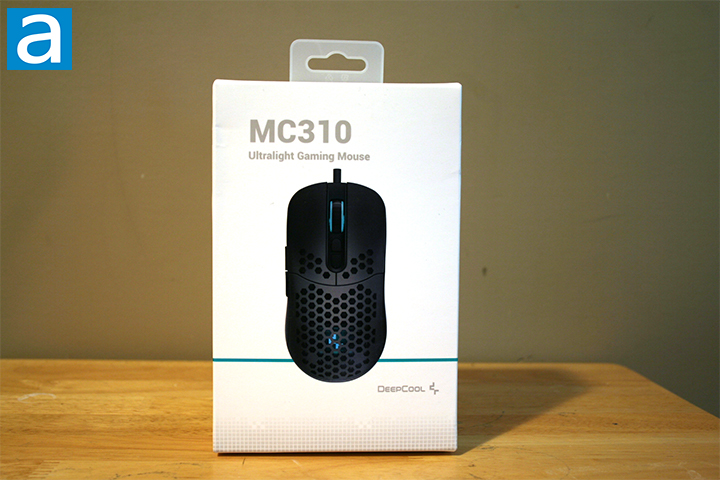 The retail box arrived in nearly perfect condition. A few minor dents can be seen along the sides closer to the top but are barely noticeable. Moving on, the front-side retail packaging for the DeepCool MC310 is quite bare with very little text. The box is clean and does a good job of displaying the mouse. The box uses a simple white color scheme that does not do much to draw attention to itself with the exception of a single thin green line going across the box. The MC310 label is seen at the top with the text "Ultralight Gaming Mouse" below. The DeepCool logo is located towards the bottom right side. An image of the MC310 is displayed front and center, showing off the general design of the mouse with a bit of RGB LED goodness shining from different areas of the mouse. The back and sides of the box contain some of the specifications.
Before we move on, here are some specifications from the manufacturer's website along with the product sheet:
Overall Dimension: 126x68x38mm
DPI Range, DPI Switching: 12800 DPI
Programmable Button Count: 7
Sensor type: Optical
Lighting System: RGB
Polling Rate: 125-250-500-1000 Hz
Mouse Switch: Huano
Mouse button durability: 10 Million
Connectivity: USB 2.0
Grip Type: Right Hand
Acceleration: 20 G
Mouse Tracking Speed: 60 IPS
Mouse Lift Off Distance: 2.3mm
Cable Specification: Braided Cable
Mouse Feet Durability: PTFE
Mouse Memory: 32KB
Product Color: Black
EAN: 6933412796275
P/N: R-MC310-BKCUNN-G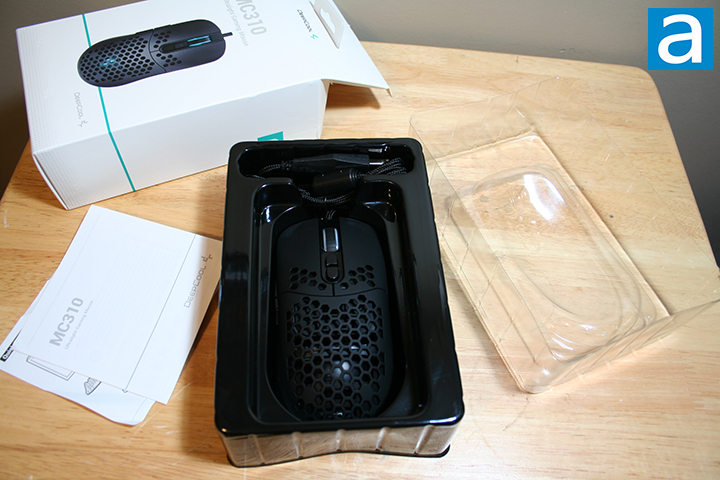 Right out of the box, the first thing you will see is the mouse itself. The mouse alongside its USB cable is bundled in a black plastic tray, which comes with a transparent plastic cover. A single user manual can also be found inside the box. The warranty, per the specifications, is two years, which is common for peripherals in 2021.
---
Page Index
1. Introduction, Packaging, Specifications
2.
A Closer Look - Hardware and Software
3.
Subjective Performance Tests
4.
Conclusion