By: Aaron Lai
April 8, 2022
In the past two weeks, I was involved in some reshuffling at work that led to me working on a team with most of the other members being located in Ontario, Canada. It was a pretty sudden shift and it has been a relearning process since they use a different programming language and work with a different line of work. It has been sort of interesting as it can seem like I am starting new again, even though I am not. However, I think one big change has been working with people in a different time zone, as I am still located in Calgary, Alberta. I know it sounds sort of obvious, but it has been tricky. For example, if we have meetings at "8AM", I will actually have to be up at 6AM, trying to drag my lifeless body to my computer. It is a good thing that I am working from home, but it still is much earlier than I am used to waking up to. Even in day-to-day conversation, I find myself needing to mention the time zone to ensure everyone is on the same page. Thankfully, the team has been quite accommodating of the time difference and have not scheduled too many early meetings yet. Hopefully this will continue in the future. In a similar vein, when DeepCool sent us their KG722, the first thing I was intrigued about was its small size. I have used tenkeyless keyboards before, but this is the first time I have tried out an even more compact 65% size. As such, I had to wonder what sort of things I would have to get used to with its form factor. What is involved in this adjustment process, and how will the KG722 perform as a keyboard, especially as this is DeepCool's first one? Let us read on to find out!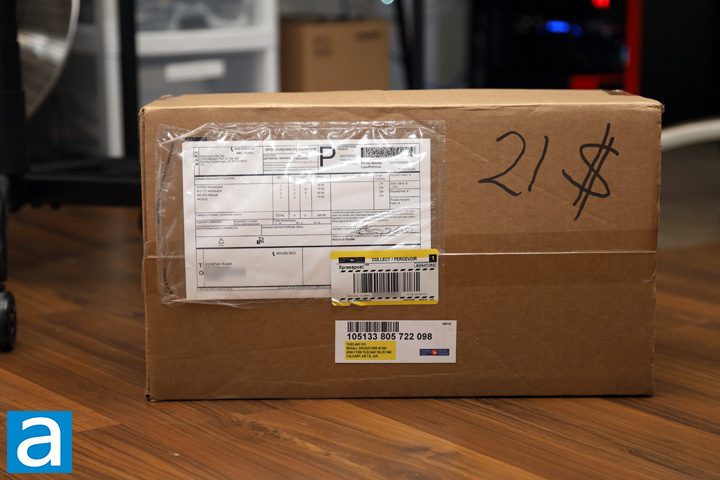 Today's review unit of the DeepCool KG722 arrived from DeepCool's offices in Rancho Cucamonga, California. The parcel was shipped with USPS and transferred to Canada Post when it crossed the border to our APH Networks offices here in Calgary, Alberta. Along with the keyboard, DeepCool also sent us a couple of peripherals for review, which myself and my colleague Jonah Chow will be covering. This includes the DeepCool MG510, MG350, and GT920.The parcel was shipped with packaging material and everything was individually packed in their own plastic bags to ensure all of the products arrived in good condition.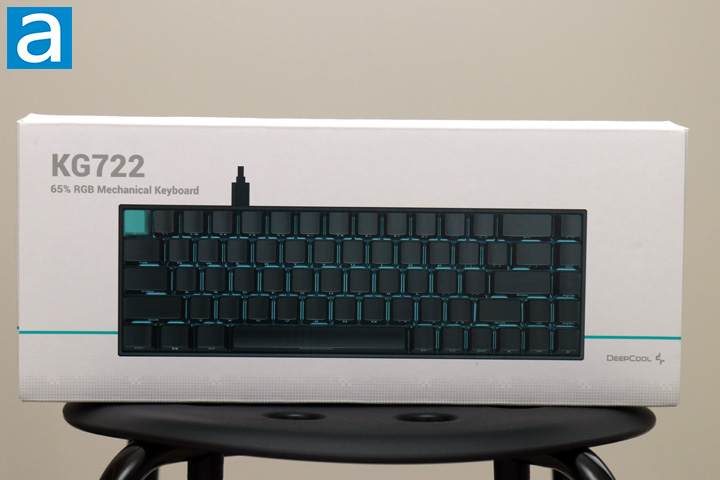 The DeepCool KG722 comes in a white and teal box, which is a similar color scheme we saw with other recent DeepCool products, like the AK620 and MC310. As such, we have the product name on the top left corner, followed by the description of "65% RGB Mechanical Keyboard" underneath. The keyboard is shown off with a teal illumination. The bottom right corner shows of the DeepCool name and logo. Around the box, we have a few features and specifications highlighted, showing off more information about the KG722.
If you are intrigued, I have gathered the information from the manufacturer's website for your viewing pleasure:
Overall Dimension: 310 (L) x 101.6 (W) x 39(H)mm
Keyboard Switch Type: Gateron
Material: ABS Plastic
Keyboard Keycaps: ABS Plastic
Lighting System: RGB
Polling Rate: 1000HZ
Response Rate: 12MS
Keyswitch durability: 50 Million
Connectivity: USB to Type C
Media Keys: FN Keys Enabled
Keyboard Type: Mechanical Keyboard
Cable Specification: 1.8M Braid Cable
Keyboard Memory: 32KB
Product Color: Black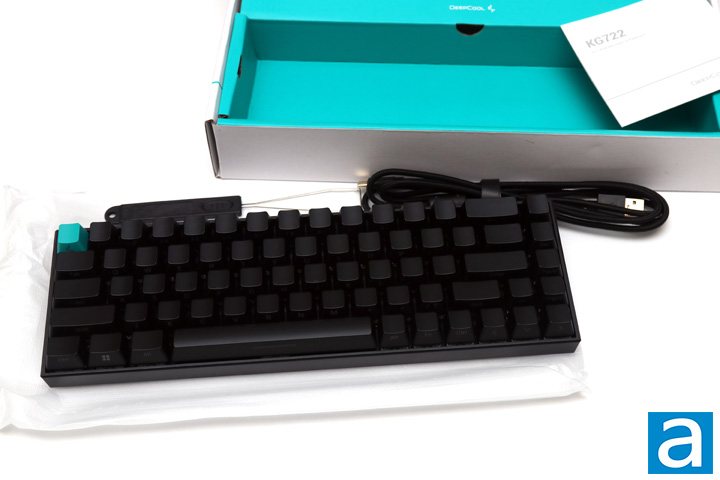 Out of the box, you can see more of the DeepCool teal that was more subtle on the front panel. The KG722 is wrapped in a thin white foam bag to ensure it arrives in pristine condition. DeepCool also provided the USB Type-A to Type-C braided cable measuring 1.8m in length and a wire keycap puller. This keycap puller is much more desirable than the hard plastic ones that most companies send us, especially since it helps with pulling the larger keys off of the keyboard. DeepCool also provides a small quick start guide, which contains all of the information you will need for keyboard shortcuts. You will probably need to look at it, but this will be explained on our next page.
---
Page Index
1. Introduction, Packaging, Specifications
2.
A Closer Look - Hardware and Software
3.
Conclusion