By: Jadon Lee
October 13, 2023
When it comes to games, there are ones that are highly regarded as being on of the greatest of all time. These games are timeless as their fanbases seem to never die off. One of which I have recently started playing is Final Fantasy VII. While I am not actually playing the original game, rather the remake, I have come to an understanding of why this game is so widely known and warranting a remake. With modernized gameplay and storytelling capabilities, Square Enix is able to retell a brilliant story and more. Being one of the best Final Fantasy stories out there, I initially was unsure of what to expect, as I have already played some of their more recent games. Getting to know the iconic cast, you begin to notice each of their unique quirks, whether you like it or not. The character development for each character is really interesting, especially for Cloud. With no spoilers, Cloud has a very unique identity as a character in the way that he grows through his enemy. This game has provided me with a nice story and I am excited to see out the rest of this remake trilogy. Just like my excitement for the continuation of Final Fantasy VII, I am also excited to try out a mic from GAMDIAS. GAMDIAS has sent us over their Pheme M1 for us to try out. Will this mic satisfy my excitement? Keep reading to find out!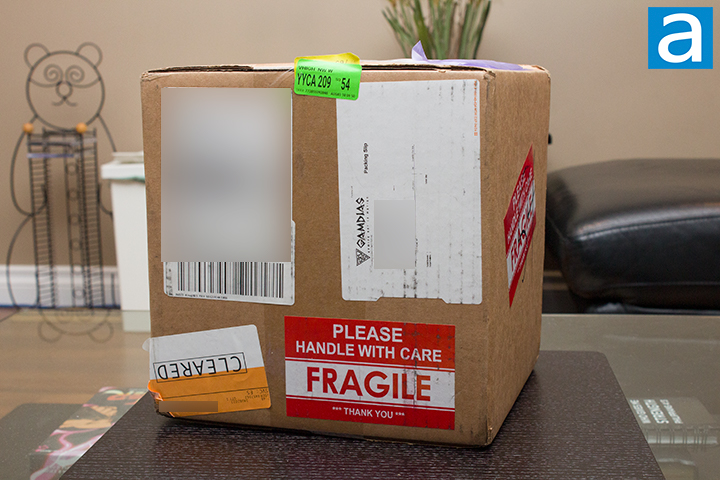 Today's review unit of the GAMDIAS Pheme M1 arrived from Brea, California, USA. Traveling with FedEx International 2day, this package arrived safely to our APH Networks offices here in Calgary, Alberta, Canada. This brown corrugated box was it pretty decent condition. There are no scratches or notable dents, but we will see the condition of the retail box when we open this up.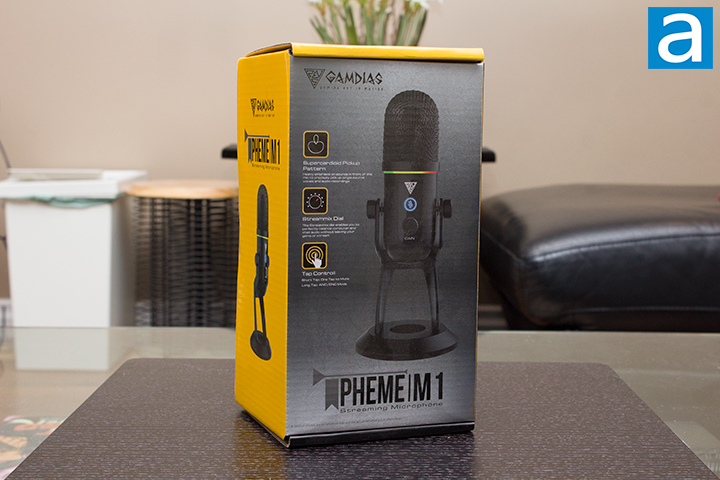 The GAMDIAS Pheme M1 comes in a pretty standard box with a gray exterior and yellow accent. The front of the box displays GAMDIAS' logo on the top left. On the left side mentions some features like Supercarioid Pickup Pattern, Streammix Dial, and Tap Control, which was spelt incorrectly. On the right of this is an image of the microphone itself, covering the majority of this face. On the very bottom is the name "Pheme M1" and categorized as a streaming microphone. The right side of the box talks about more features and claims, having listed ANC/ENC Mode, Professional Recording Quality, LED Indicator, Pop Filter Windshield, and Double Layer Grille. The left side of the box is used for more branding and a view of the microphone at another angle. The back of the box takes a deeper look into the specifications of the Pheme M1.
Before we move on, let us take a look at the specifications of the GAMDIAS Pheme M1, as obtained from the manufacturer's website:
Model: Pheme M1
Power Required/Consumption: 5V 100mA
Sample Rate / Bit Rate: 192kHz / 24bit
Capsule: 14mm condenser capsule
Polar Patterns: Supercarioid
Frequency Response: 20Hz – 20kHz
Max SPL.: 110dB
Dimensions (Folded): 170 x 100 x 100 mm
Dimensions (Unfolded): 225 x 100 x 100 mm
Weight (Microphone and stand): 0.369kg
Weight (Microphone only): 0.163kg
Impedance: 32Ω
Power Output (RMS): 0.3W
Frequency Response: 20Hz – 20kHz
Signal to Noise: >72dB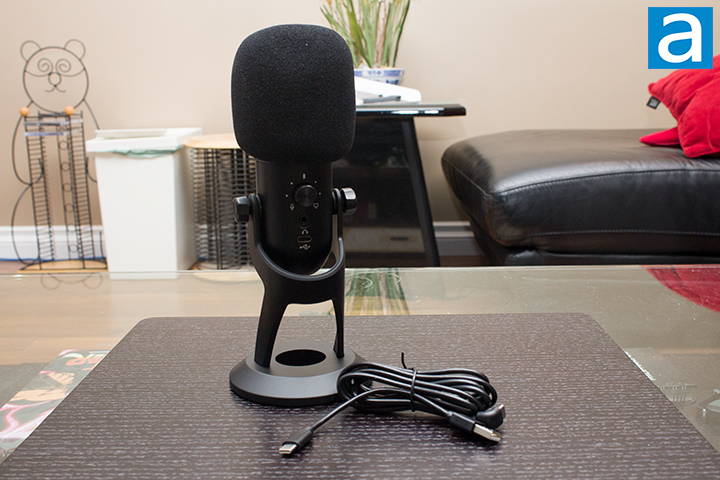 Upon opening the box, you are greeted with very minimalistic packaging. All packaging was sufficient for protecting the microphone itself using a tight-fitting foam to keep it nice and secure. After taking everything out, you realize the only things inside of the box are the GAMDIAS Pheme M1 and a USB Type-C to USB Type-A or Type-C cable. There is no documentation inside of the box, rather there is a QR code inside the box that leads to the user manual. I personally prefer this as I have everything I need, and the access to all components is simple.
---
Page Index
1. Introduction, Packaging, Specifications
2.
Physical Look - Hardware
3.
Recording Performance Tests
4.
Conclusion