By: Aaron Lai
June 28, 2013
What's in a name? that which we call a rose
By any other name would smell as sweet;
(II. ii. 42-43).
This quote taken from 'Romeo and Juliet', and is spoken by Juliet. In this, Juliet is questioning why her love of her life is also from the family of her enemies. While most of us have read Romeo and Juliet in their earlier days, Juliet does bring up a good point. What is in a name? Not only humans, but companies also have their own sub-branding. For example Canon cameras have the Powershot/ELPH line for consumers, Rebel line for enthusiasts, and their EOS (Double digit and lower) for prosumers and professionals. But do these name even matter? Obviously, not so much, as Canon has started to merge names, like the EOS M, a compact system camera whose image quality lacks in comparison to any of the EOS DSLRs. So when Gigabyte was deciding a name for their next product, an air mouse, they decided to throw it under the sub-branding of Aivia. If anyone looks at other Gigabyte Aivia products, they will find a common trend: A gaming product with a unique or new design. Unlike Gigabyte's Force lineup, these products are not only meant to game hard with, but to look good in the process. However, the Aivia Neon is not by any means a gaming mouse. Released in April 2013, this air presenter mouse's main purpose was to function well in the office or in a classroom. So what happens when Gigabyte decides to throw such an object into the Aivia branding? I guess we'll have to read on to find out!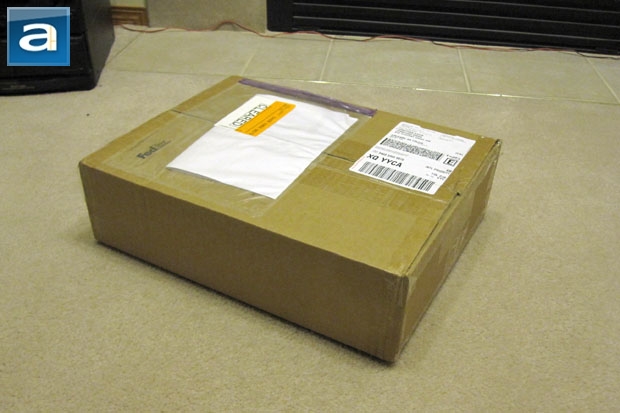 This particular unit arrived via FedEx Express from Gigabyte's office in City of Industry, California, an industrial suburb of Los Angeles. Packaging arrived promptly, and in great condition, as there are no dents or bruises on the box. At first glance, it would seem that this packaging is too big to be holding such a tiny presenter mouse... but we will have to take a look inside first.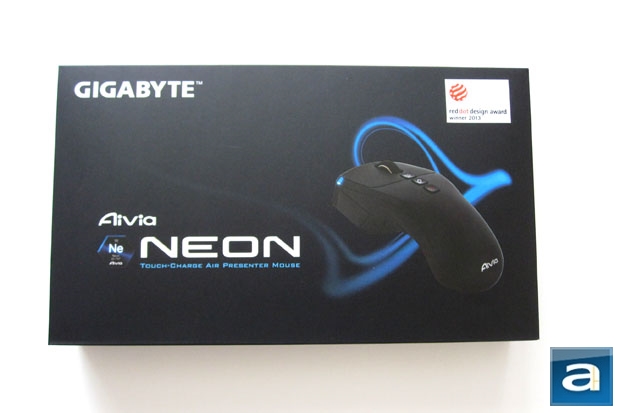 Upon opening the packaging, it is quite apparent as to why they have chosen such a large box. This box is relatively large in comparison to its contents. This unit came in retail packaging displaying a picture of the mouse in front of a blue wavy stripe, presumably referring to its name "Neon". As well, the top right corner displays the "red dot design award" for 2013, on the topic of "Less is more". According to red dot, the award is for "projects that set themselves apart significantly from comparable projects thanks to their excellent design".
On the back, however, less is definitely not more. While the front was kept simple and minimal, the back is covered by all the features and pictures that this presenter mouse has to offer. All in all, the box is very clean and refreshing and reinforces the reason for their design award.
Opening up the outer box reveals an inner black box, with the words "Gigabyte" on the top left, and "Aivia" on the bottom right. Again, kudos to the packaging team as this type of packaging is very Google Nexus like, with an Apple overtone to it.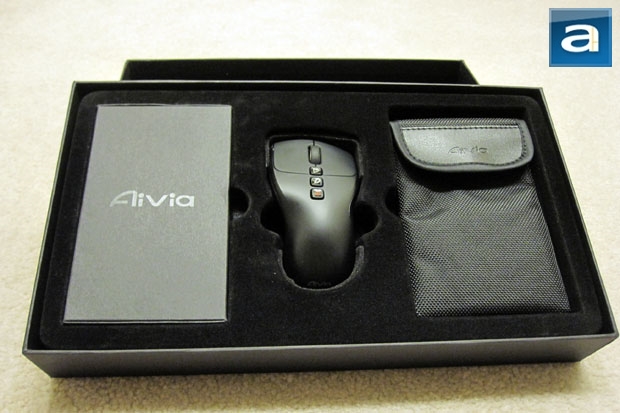 Oddly enough, this box is quite a bit harder to open. I guess even Gigabyte doesn't want everyone to look inside black box. After much shaking, the lid comes off to reveal three slots for the mouse and various accessories. The inside of the lid is lined with foam to protect the mouse from scratches. The plastic tray holding the three items are lined with a felt cloth, which is soft on the hands. On the left is another box holding the various accessories: a USB extension cable, cleaning cloth, manual, and an invite to join the Aivia Forum. In the middle is the mouse, with its nano-receiver at the bottom of the device. On the right is a carrying case, which I was pleasantly surprised to see.
The USB extension cable itself is a flat-wire male-to-female standard, which is quite useful if the ports in your computer have other peripherals plugged into neighboring USB ports -- more on this later. The carrying case itself is a mesh, backpack-type material with a smooth plastic lining on the inside. There is a bit of fabric in between the lining and the mesh, which gives the bag a cushion-like feel. Opening and closing the pouch is done with a single button. Personally, I would prefer a zipper or magnet of some sort, as the push button is quite difficult to close, and I would be a bit worried to push so hard with my mouse inside. However, it does still feel well designed and constructed.
Before continuing on, let's look at the specifications as provided from Gigabyte's website:
Interface: USB / 2.4GHz Wireless
Tracking system: Laser
Scrolling: Standard (3D)
Side Buttons: 4
Dimension: (L) 105x (W) 57x (H) 37mm
Weight: 107g
Transmission Distance: 10-15M (in open site)
Color: Black
Packing Content: mouse, USB extension cord, bag
Software: Aivia Neon Software
OS Support: Windows XP 32bit/ Vista/ Win 7 / Win 8
Certificate: CE, FCC, BSMI, NCC
Warranty: 2 Years
Sensitivity: 1200 DPI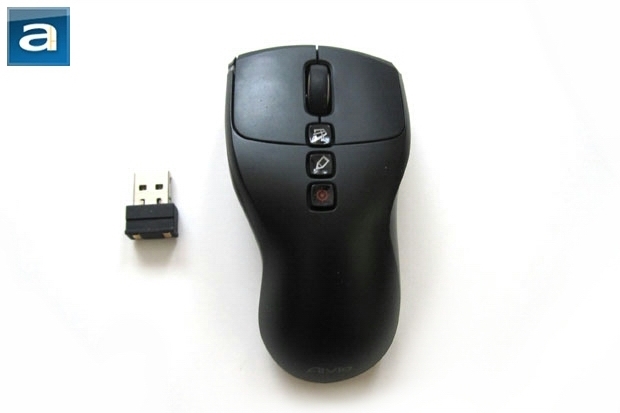 At first glance, you may think, "Wow, that's a weirdly shaped mouse." It sure is! One of my friends commented that this mouse looked more like a foot than anything else. Since this mouse is meant to be both a presenter and a mouse, the sides are carved out to make it easier to hold from the underside. The mouse has an asymmetrical design more accustomed to right-handed users, whether using the device as a traditional mouse or as a pointer. When used as a traditional mouse, the design encourages a claw grip rather than palm, as the mouse is too small to be a finger mouse. This is fully understandable. Styling wise, I do like the way the Aivia is designed, because it allows for easy switching between mouse and pointer. Furthermore, the differences do not detract from the feel of the mouse. Its dimensions are listed at 105 x 57 x 37 mm. The mouse itself is coated with rubberized Teflon, which feels smooth in the hand, but does not slip. Weighting is non-adjustable at 107g, and is meant to be more mobile as a wireless presenter, rather than a performance wired gaming mouse.
The USB nano-sized receiver is small, and goes into the USB port without protruding too much. After plugging it in, it sticks out approximately 13 mm. In comparison, Logitech's Nano Receiver protrudes out by 8 mm. The mouse itself utilizes a 2.4 GHz wireless frequency for transmission, which is quite standard for any wireless mouse. The USB receiver also doubles as a charger, which can be plugged into the side of the mouse. This receiver is held in place with a magnet, presumably inside the mouse, to keep the contacts connected. When the receiver is inside the mouse, the mouse cannot be utilized. As aforementioned, there is an additional USB extension in case your USB ports are too crowded together, and neighboring ports are also filled. This way, charging the mouse will not interfere with other USB devices. However, it does mean an additional item to carry around.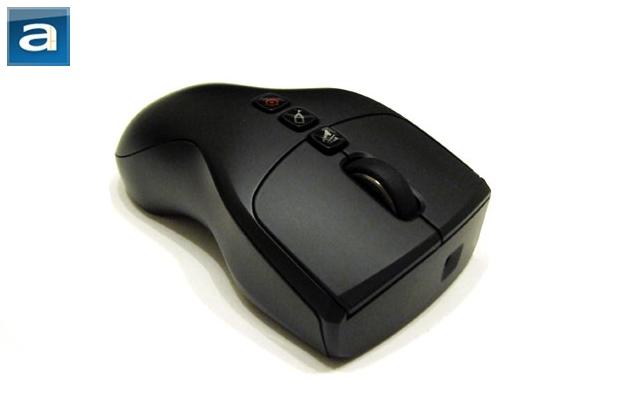 A total of six buttons (One on the underside of the mouse), one scroll-wheel, and an on/off switch (also on the bottom) are placed on the mouse. The overall layout for the traditional buttons is unchanged, as the scroll wheel is placed comfortably between the left and right buttons. It is worth mentioning that the scroll wheel only scrolls in a vertical direction, as horizontal scrolling has been omitted. Quality for all the buttons are quite good, as no click goes unregistered, and there are few additional noises produced when clicking. Scrolling is notched, unlike higher end mice that have a free moving wheel, such as the Logitech G9. Personally speaking, I prefer the notched feel over a frictionless scroll wheel, since it allows for greater accuracy. The on/off switch at the bottom is standard, and somewhat hard to switch if you don't have nails. As well, there are no colors painted on the switch to indicate whether the mouse is on or off.
Lifting the mouse up and pressing on the underside button, also known as the air-cursor button, makes this mouse into an air-mouse, which reveals its full purpose. Two options are present to enter the mouse into air mode: The user can hold down the air-cursor button, or double click it. To return to standard mouse mode, the user needs only to place the mouse back on a surface, and the Aivia Neon will return to standard tracking automatically.
When in air mode, the other three buttons become useful. Of course, these three buttons can also be used in the traditional mouse mode. Firstly, the top button implements Gigabyte's Free-Scrolling feature. The user can hold down the top button and scroll up, down, left and right in the windows on their computer by moving the mouse in the respective direction. This feature is quite useful, since the side scrolling had been omitted. As well, it allows for quick scrolling through pages that are too long to read through. The middle button then activates Gigabyte's Aivia Painter. This allows for drawing on display by activating a paint-like experience on any screen. It also works in Microsoft PowerPoint during presentation mode by activating the pen/marker mode, which allows users to draw and markup the slides. For the top two buttons, Gigabyte's own software must be downloaded from their website in order to take full advantage of them. The third button is the standard red laser pointer; another useful feature. I must say Gigabyte has really thought about actual real world application for a mouse like this. There are a few extras that I would like to see, such as a play/pause button for videos, a pause/resume button for PowerPoint, or a back button to go back in slides. These three are quite standard for wireless presenter, and I think Gigabyte could throw them in, should they make a successor.
On the left side of the left mouse button is a small LED indicator light. When powered on, the LED shines blue for five seconds before turning back off. This indicator light also tells users when the battery is low when it is charging, and when it is fully charged. As well, during low battery, every time the user wakes the mouse up, the red light blinks for 5 seconds until battery is depleted. While not a huge deal, I would like to see an indicator light that stayed on to tell me when my mouse is on or not. I'm currently used to turning off my mouse by the switch with my current Logitech M305. Since the optical tracking is visible with the traditional red light, this tells me automatically that my mouse is on.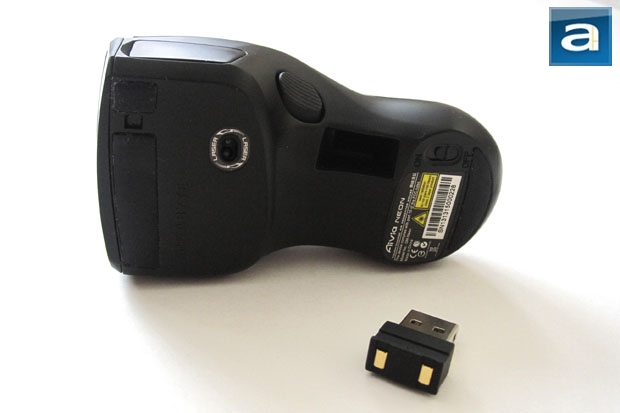 Flipping over the Aivia Neon reveals a curved underside. These curves allow for the user to comfortably hold the mouse as a presenter. The bottom is also coated with the same rubbery-Teflon feel as the top, which also provide a comfortable feel. As aforementioned, the on/off switch and the air-cursor button are located here. There is a rectangular hole in the bottom of the mouse where the USB receiver can be placed in for easy storage. Three Teflon or PTFE feet are located on the bottom, which reduce friction and provide a smooth-feel. In the center is a laser sensor capable of a non-adjustable 1200 dpi sensitivity.
-----------------------------------------
The Tests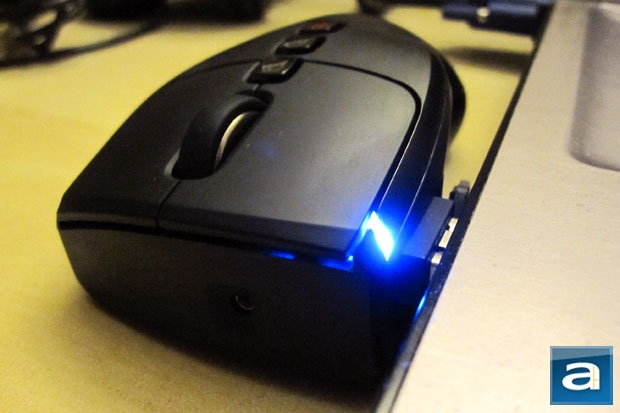 The first step was installing the Gigabyte Aivia Neon's software, which would enable the Aivia Paint. Since this mouse is unlike any other mouse we've reviewed before, we did not test it for gaming. Most of our testing includes normal office usage in the Windows environment. Mousing surface is on a generic wooden table, as well as in the air. Please note these are subjective tests, but we attempt to make it as objective as possible with our cross reference testing methods. In this test, I've chosen to compare it to the Logitech M305, as well as a generic wireless presenter.
As prior mentioned, this mouse encourages a claw-grip, which I am quite used to in my Logitech M305. Overall, I found the whole shape of the mouse, while odd-looking, to be quite pleasant in the hand. The rubbery Teflon feels great. On the other hand, it does easily attract fingerprints (Luckily the included microfiber cloth can clean this up). As well, this mouse is still quite small, and those with larger hands will find this mouse too small to use daily. The buttons on the top protrude quite a bit, to the point where I often activate the Aivia Paint without intending to. Since this is the only button that causes a different program to run, it can be quite annoying. Luckily, pressing it again turns the program off, and the user can continue as normal.
Again, since this is more of an air mouse, the first thing we should test on is the air abilities. And this brings me to the biggest issue with the mouse; using the air mode is quite difficult! When I think of one of the better tracking pointers, the first that comes to mind is the Wiimote on the Nintendo Wii. This pointer was tracked with an IR bar placed above the TV. That way, the place you point the Wiimote is where the actual cursor is. With the Aivia Neon, tracking is all based on relative position. For example, if I point the mouse all the way to the edge of the screen and keep moving, the cursor of course will stay at the edge of the screen. However, if I move back in the opposite direction, the cursor would begin moving even though the mouse itself is not pointing directly at the screen. With my setup, I have an extended monitor that is aligned higher than my laptop, so there is an area that doesn't pass straight through from one monitor to another. This means my cursor often gets stuck at that area, and realigning it involves overcompensating movement. While the actual motion of the cursor is sensitive to hand movement, it is not directly tracked, and therefore users can lose their cursor without intending to. Of course, this is just a limitation of RF, since no one likes to carry around a big IR receiver with their laptop. However, I feel this can definitely be improved via software for a better usage experience.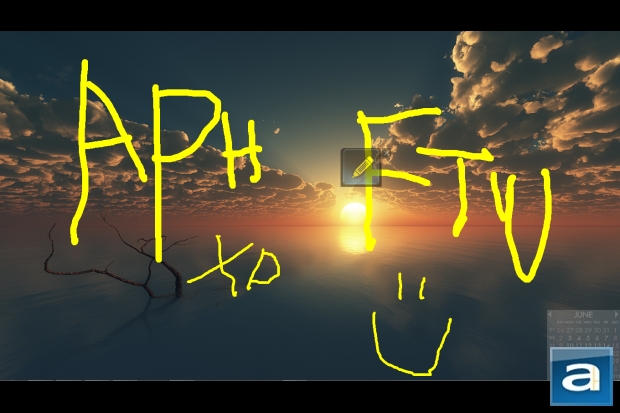 Above is a demo of the Aivia Paint. As you can tell, intentionally writing with free hand is quite difficult, and the Aivia Neon does not make it much easier. Gigabyte's paint program is basic and easy to use. Features include free hand drawing, drawing shapes (Filled or outline only), and inserting checkmarks. All of these can be adjusted with eight different color choices, and four different thicknesses. In addition, pictures (JPG and BMP) can be stamped on the screen. Gigabyte's Free Scrolling is also well implemented. When testing with extremely long websites (Mostly news websites), scrolling in all directions is quite easy and intuitive. But both of these excellent features are hampered by the finicky nature of the air mouse itself. Yes you could plop the mouse down and use it as a regular mouse, but the mouse was made for so much more! During the tests, both of these features were more accurate when used traditionally in comparison to using it in the air.
This brings me to the actual usage as a mouse. When switching back from air-mode to table-mode, the user can simply place the mouse back on the table, and it will be recognized as a regular mouse. Switching between the two modes was sometimes unreliable, as it would take a minute or two to revert to the traditional mode. I found that the easiest way to switch was just to tap the air-cursor button once more to release the lock. In table mode, tracking of the mouse was easy to use and accurate. Utilizing Adobe Photoshop to work with images proved to be simple and precise. In comparison to my old mouse, the Logitech M305, both of these mice are good for the common user. Gigabyte specifies an approximate ten to fifteen meter range for the mouse, and it does work in that radius.
Charging the mouse also proved to be a simple task. Gigabyte boasts a one month battery life before requiring a charge, and I have yet to need a charge since receiving the product. One problem I did find was the way the charging port stuck to the connectors on the mouse. While the magnet was strong enough to hold the USB receiver in place, I often found the mouse could easily be jiggled and the connection would stop, removing the current flow. Even with the provided extension cord, the USB stick still had jiggling room, and could accidentally be disconnected without notice. The Touch Charge is a very innovative idea, but lacks refinement that could easily be improved upon in the next iteration. As well, Editor-in-Chief Jonathan Kwan pointed out that it is possible that this charging capability may inhibit the wireless performance to some extent, hampering the potential full range of the mouse. (Side note: Jonathan Kwan is an Electrical Engineer specializing in RF design.)
-----------------------------------------
The Aivia name lives another day, but now as a hipster that drinks grandé mocha frappuccinos, while discussing their writings on their MacBook at the local Starbucks. Kidding aside though, red dot was definitely correct in giving the Aivia Neon a design award. Much like the Tt eSPORTS Level 10M reviewed earlier, this mouse is a looker, but for all the other reasons. The shape is unlike any other mouse we've seen before. But this design is also for the purpose of holding the mouse in two different positions. Build quality of this peripheral is great, and doesn't look very fragile. Its sleek curves also make this device a portable solution. Other good points include the extras such as their Free-Scrolling technology, their Aivia Painter, and Touch and Charge for on the go charging. But the design masks a problem very central to the mouse. Cursor tracking by this mouse is difficult in the air-mode, which hampers all of Gigabyte's efforts in their software add-ons. Its relative cursor movement means users will spend more time looking for the cursor than looking at their audience. Small omissions of buttons found on other wireless presenters also don't help the device's cause. While Gigabyte has been innovative in their extras and add-ons, they have forgotten that this is still a mouse. It needs to function well before any other features can be recognized in its full glory.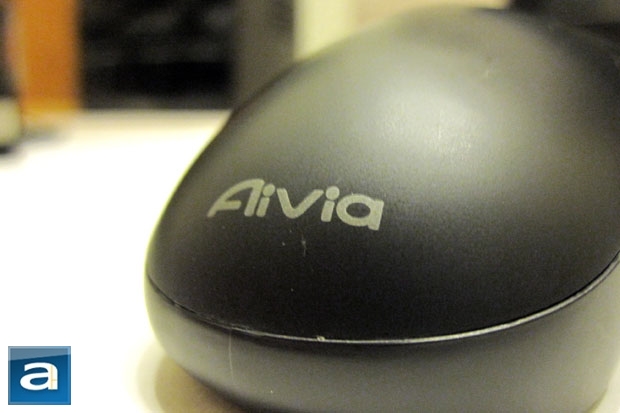 Gigabyte provided this product to APH Networks for the purpose of evaluation.
APH Review Focus Summary:
7/10 means Great product with many advantages and certain insignificant drawbacks; but should be considered before purchasing.
6/10 means A product with its advantages, but drawbacks should not be ignored before purchasing.
-- Final APH Numeric Rating is 6.3/10
Please note that the APH Numeric Rating system is based off our proprietary guidelines in the Review Focus, and should not be compared to other sites.
With a retail value of $90 USD, the Gigabyte Aivia Neon packs a great idea into a cool looking package. However, while innovation is present, refinement is required for this to truly be branded an Aivia product.
Do you have any comments or questions about the Gigabyte Aivia Neon? Drop by our Forums. Registration is free, and it only takes a minute!