By: Jonathan Kwan
November 10, 2007
It seems just like yesterday when Logitech released the updated flagship G5 laser mouse. The company flagship mouse seems to be short lived, however -- being available in the market for more than a couple months is Logitech's new flagship mouse for computer enthusiasts, the Logitech G9 -- in which can be considered quite a unique and different offering from Logitech's flagship product in its category. Almost all flagship enthusiast Logitech mice for the past few generations uses the shell first implemented with the MX500 -- it continued onto the MX510, MX518, G5, and finally, the G5 V2. The G9, on the other hand, follows none of the previous tradition as a radically new shell is developed along with a unique placement of buttons as well as the famous free-spin wheel first introduced in the Logitech MX Revolution and Logitech VX Revolution. What it really reminds me of is the car enthusiast's long awaited Pontiac G8 on a RWD platform for a full sized sedan at a relatively reasonable price. As juxtaposed to the Logitech G9, is this change a practical improvement over previous mice from the company, or a negative impact among its users? Let's investigate into this as we go over the Logitech G9 today.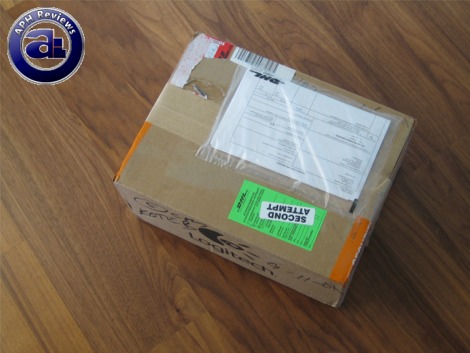 Our review unit of Logitech's G9 laser mouse arrived in a small Logitech box using DHL Express, from Logitech's offices in Fremont, California. It is the same box that contained the Logitech VX Nano we reviewed almost a month ago. You can certainly extrapolate from this statement -- we have had the Logitech G9 sitting here at APH Networks since the end of September.
In a sense, it's definitely positive since we've had loads of time to test this mouse and explore every aspect of this product to the best of our ability.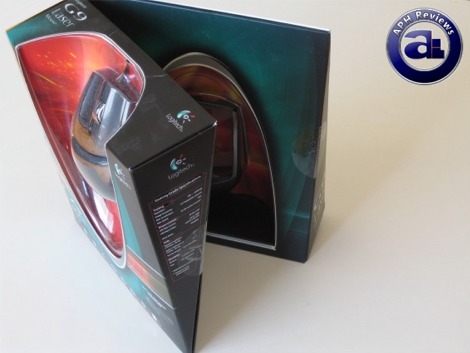 The retail package of Logitech's G9 retains a degree of Logitech's trademark teal and black color scheme; as well as the orange glow effects we've seen with previous Logitech gaming products. Also on the package is the model and minor information posted in front -- and the usual custom shaped clear plastic window over the physical mouse itself. Meanwhile, the outer box appearance does not necessarily reflect reality -- the typical appearance of the box is actually uniquely separated into two distinct sections with its content separated between the two; the folding design has a detachable hinge with the opposite section held closed by a pair of magnets behind the cardboard in each box.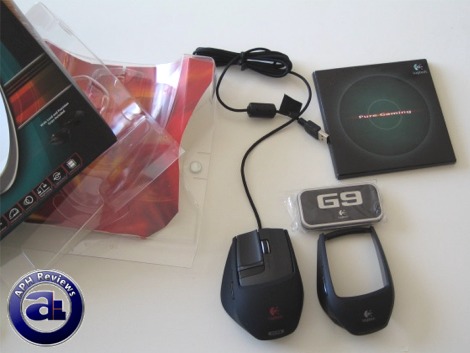 Ripping out the packaging and removing the contents from both sections reveals Logitech G9's bundle. Surprisingly little; but mostly practical -- out of the box users purchasing the Logitech G9 at a retail store will get the Logitech G9 laser mouse itself, along with a second grip shell, a tin case of weights for use with the weight cartridge, a sheet describing how to use profile settings with its onboard memory, along with a thick user guide in four different languages. No driver CD is included; users are expected to download Logitech's software off the internet themselves.
Before we move on, let's examine the specifications of Logitech's G9, as obtained from Logitech's website:
Tracking
- Resolution: 200–3200 dpi (user-selectable)
- Image processing: 6.4 megapixels/second
- Maximum acceleration: 20 G
- Maximum speed: 45–65 inches/second (depending on surface)
Responsiveness
- USB data format: 16 bits/axis
- USB report rate: Up to 1000 reports/second
- Sleep mode: Disabled
Glide
- Dynamic coefficient of friction (µk) on wood-veneer desktop: .09
- Static coefficient of friction (µs) on wood-veneer desktop: .14
- Tuning weight: Up to 28 grams
Durability
- Mouse buttons (left/right): 8 million clicks
- Mouse feet: 250 kilometers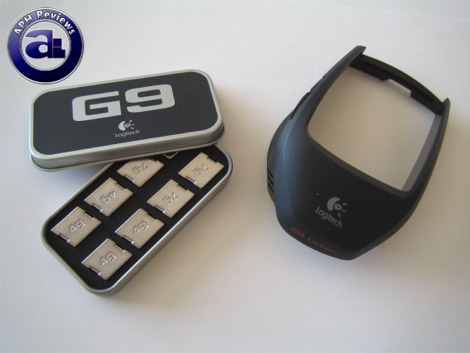 While the tin box of weights may look like the ones included with Logitech's G5 with exception of the product number label in front, its contents are manufactured quite differently. A total of eight weights weighing up to 28 grams are included with the Logitech G9; with four 4-gram units and four 7-gram units.
A secondary, user replaceable grip shell is also included with the Logitech G9. This inclusion allows a certain range of users to best accommodate their mouse usage habits; in which the default shape with the red Logitech logo (Anything to do with red Honda racing logos? Sorry, can't get cars off my head haha) for a more varied height shape and finger rests with soft, smooth texture to accommodate larger hands. The second shell features Logitech's DryGrip design, using a textured non-rubber interface that's first seen with the company's G5 mouse -- the idea is that it retains theoretically the same level of grip in both dry and wet conditions. The flatter design with a more compact feel would be inclined towards a finger grip more than a full palm grip as juxtaposed to the default shell.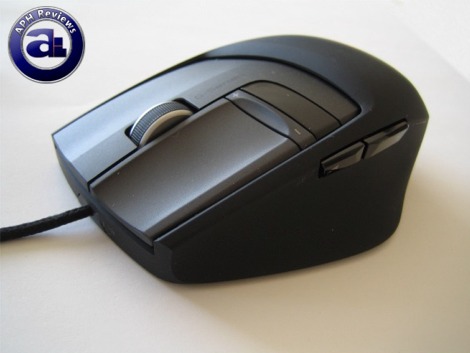 As previously seen on the company's previous flagship mice of Logitech G5 and Logitech G5 V2, the Logitech G9 continues the tradition of braided mouse cord for better flexibility, lower friction, and general durability advantage over plain plastic coated cables.
Located on the left side of the mouse itself are two buttons; one for forward and one for navigating back -- quite standard for applications such as web browsing and Windows Explorer. Uniquely implemented behind the wedged-in shaped left click button is an on-the-fly sensitivity adjustment control; clicking left and right will reduce and increase sensitivity, respectively. An array of LED indicator lights is displayed below the sensitivity adjustment button to indicate current setting correspondingly with amount of LEDs being lit. What's unique about it is that you can actually change the color of the LED lights in Logitech SetPoint due to the passthrough implementations with the LED.
In the middle is the wheel as we've seen previously in Logitech's VX Nano, Logitech VX Revolution, and Logitech MX Revolution. It operates in two modes; of which one in free-spin mode ("Frictionless") and click wheel mode and are adjusted by a button located at the bottom of the mouse. The wheel in free-spin mode can hold a momentum of spinning up to seven seconds (We've actually timed it against Logitech's specifications, it's verified).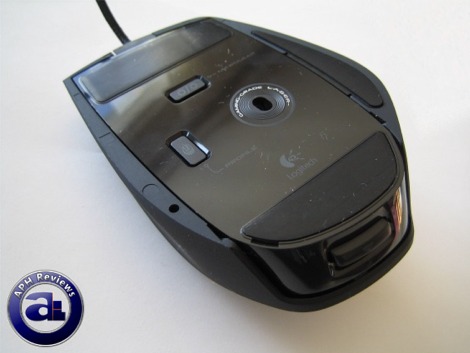 The bottom of Logitech's G9 laser mouse glides upon three large, smooth sheets of polytetrafluoroethylene (Multi-C2F4, Teflon) feet, of which the side piece of Teflon is physically attached to the user-replaceable shells and the two large main sheets located on the Logitech G9 main unit. The Teflon feet can be easily removed and replaced with new ones purchased from Logitech as far as I know. With 250km life, however, you probably won't need that -- as we've calculated last year, assuming you are going to move your mouse for a high estimate of 200 meters a day:
250km * 1000 = 250000m
250000m / 200m = 1250 days
1250 days / 365 days (1 year) = 3.42 years
The main unit's bottom utilizes a glossy plastic finish with the sensor located at middle-right. The sensor is capable of 3200dpi sensitivity; while this may be more of a marketing term than actual performance indicator -- this will allow higher flexibility for user sensitivity preferences. Like the G5 V2, the Logitech G9's eye is capable of sending up to 1000 reports per second over USB 2.0 to your computer.
The Profile button for switching onboard profiles for settings and button assignments are located directly to the left of the sensor, while a button for switching between free-spin and click wheel mode is located above and between the two. The profile feature is actually very useful for saving button (Including macro) settings, and other preferences on the Logitech G9 such as sensitivity -- this would take away the need for driver and computer dependency on mouse settings; because they are stored on the mouse itself and can be programmed in Logitech SetPoint. This is very useful and a favorite from what we've first seen on the Razer Copperhead a few years back. The Logitech G9's onboard memory can store up to five independent profiles.
At the back is an "Eject" mechanical button that moves a lever and disengages a lock within the Logitech G9 main unit to allow the shell to be removed and changed at user preference.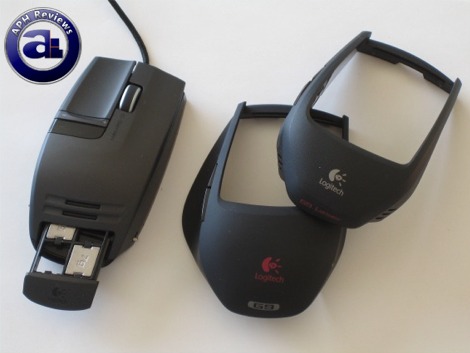 Removing the shell reveals the actual core of what's beneath the cover of the Logitech G9. A relatively slim mouse, we can see that the shell defines a significant portion of the ergonomics and physical shape of this mouse. This is certainly true with the included shells with the Logitech G9 -- the default grip shell has a smoother texture, while the second shell permits more grip -- but both conveys a slightly different shape and feel.
Weights can be added into a slide-out cartridge with four weight compartments from the back of Logitech's G9. The weights will sit securely inside the cartridge, and we can certainly say the same for the cartridge inside the mouse especially when it is physically accommodated behind the grip shell. As we've praised previous Logitech mice that offers this feature as first seen with Logitech's G5, in my opinion this is improved for better implementation although precise weight adjustments would be sacrificed on the Logitech G9. Not a big factor, however.
---
The Tests
Tests were conducted on a computer with the following specifications:
CPU: Intel Core 2 Duo E6600 @ E6850
CPU Cooling: Scythe Infinity with Arctic Cooling MX-2
Motherboard: Asus P5E3-Deluxe/WiFi-AP@n
RAM: Super Talent Project X DDR3-1800 2x1GB
Graphics: Asus EN8800GTS 320MB
Case: Thermaltake Aguila (Noctua NF-S12-800 - Front; NF-S12-1200 - Back)
Power: Seasonic M12 500W
Sound: Creative X-Fi XtremeMusic
Optical Drive: NEC AD-7170A 18X DVD+/-RW
Hard Drive: Seagate 7200.10 320GB 16MB SATA2
Operating System: Microsoft Windows XP Professional SP2
Logitech's G9 cannot be detected and configured under SetPoint 4.0. SetPoint 5.0 is to be used with the Logitech G9, in which offers a new interface and integrated new features such as firmware updates within the program. It can coexist with SetPoint 4.0 since it's only available for the G9. It's designed to support the new features of the Logitech G9, such as LED color configurations and button assignments to the mouse's onboard memory. The unique passthrough covers over Logitech G9's indicator LEDs allow users to select from a full spectrum of colors in SetPoint; but you are unlikely to be able to tell the difference between color variations of the same color such as, say, light blue and even lighter blue. This comes in handy as different LED colors can be configured for each profile, so you'll know which profile you are on based on the LED colors. Different sensitivity settings, LED colors, button assignments, macros, and report rate can all be saved to five independent profiles to the Logitech G9 onboard memory.
We've put the Logitech G9 through our series of standard tracking performance tests. This includes normal office usage as well as gaming within Counter-Strike: Source. Graphics work is done in addition to the regular office usage with Adobe Photoshop. The mousing surfaces used include the cloth based XTracPads Ripper XXL as well as the slick aluminum based SteelSeries SX.
I've definitely grown to appreciate the excellent build quality of the Logitech G9. Construction is done with precision and quality; all keys were solid and smooth as they are designed to be -- nothing loose or squeaky. With clean clicks, buttons implemented with appropriate feedback and expected resistance, even the new wheel is something we've grown to appreciate of the excellent metal construction. It's smooth in free spin mode as we've experienced with the Logitech VX Revolution and Logitech VX Nano; and click wheel mode is also distributed evenly between each gap with defined tactile responsiveness. Along with its large PTFE feet, glide over our mousepads as well as different surfaces prove it to be smooth and capable without any problems.
As a palm mouse user personally, I felt that this aspect would bring unfavorable comments to the Logitech G9 in our tests. What this means is that I prefer to cover the whole mouse with the palms of my hands. In general, to achieve fairness in a more objective manner the new shell is not necessarily for my type of palm mouse user -- nor is it designed for a finger grip type fitting. In fact, it felt kind of strange to me at first -- and in all honestly I've never really gotten used to its wide shape and short length. Therefore, depending on how you use the mouse, either you would really like it or you really don't like it -- I would highly suggest potential buyers of the Logitech G9 to physically feel it at a retail store to see if this unique shape accommodates their preferences.
The primary purpose of Logitech's flagship G9 is quite similar to the Logitech G5 V2. The target market is intended for the performance enthusiast crowd. This is not limited to gaming; it also includes graphic professionals and office users demanding the edge in tracking precision.
For graphics work and gaming, the Logitech G9 should be suitable for both -- as long as you are comfortable with this mouse in terms of grip. The sense of control and the smoothness of its glide over most tracking surface are superb, especially over specially engineered precision tracking surfaces -- generally, the pointer goes exactly as intended combined with the precision preferred -- no 'oil slick effects' and certainly no delay in response either. At 1000Hz polling rate, the Logitech G9 is both sharp and responsive -- but it will chew up your CPU cycles if you have a slower processor. I would highly suggest 500Hz or lower if you own less than the latest CPU. I tried 1000Hz with the saved profiles on a 800MHz Celeron just for fun, and let me tell you this -- the mouse owned the computer, haha.
It can be for regular every day use, but it's also an excellent mouse for office and productivity use. I know I said the same thing for the Logitech G5 V2 -- but I experienced zero issues using Logitech's G9 on any reasonably regular tracking surface; however just like any laser mouse it will not work with over reflective or transparent surfaces. Whether it's dark or light, I've used every mousepad we have here at APH Networks -- without any problems. The tracking performance is almost identical to the Logitech G5 V2, as they are based on the same technology with higher sensitivity in which probably won't matter in office use since that would be reduced anyway.
---
The Logitech G9 is an excellent mouse in many areas. From its excellent packaging, to a series of practically bundled accessories, the Logitech G9 offers a degree of permissible customizations and performance for the enthusiast. We've not only seen excellent construction quality as expected from Logitech; but also excellent implementations of detail. Onboard memory is something we wanted to see in a high end Logitech mouse since 2005, and that's on the Logitech G9. It also continued the tradition of large polytetrafluoroethylene feet for excellent glide that's across the company's current mouse line, along with the commendable weight adjusting platform. Logitech certainly has not missed out one of the most important aspects of a performance laser mouse -- performance! I really like the feature that the shell can be swapped with an included second included shell that offers a degree of customization with slightly different feels, unfortunately none of them appealed me personally. I know that it certainly appeals another group of users absolutely perfectly; from what I can see I can only say that it probably won't find anything in between -- either you really like it, or you really don't. This is truly one excellent mice, but its uniqueness puts it in a position that it's definitely not for everyone.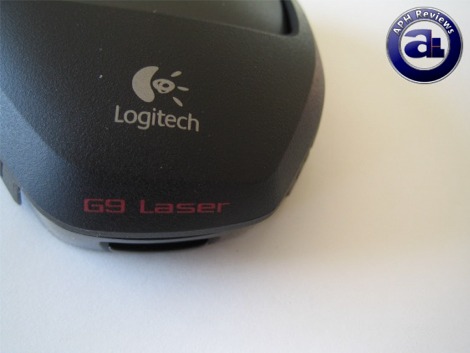 Special thanks to Kate over at Logitech for making this review possible.

APH equal.balance Award | APH Review Focus Summary:
8/10 means Definitely a very good product with drawbacks that aren't likely going to matter to the end user.
7/10 means Great product with many advantages and certain insignificant drawbacks; but should be considered before purchasing.
-- Final APH Numeric Rating is 7.6/10
Please note that the APH Numeric Rating system is based off our proprietary guidelines in the Review Focus, and should not be compared to other sites.
Excellent hardware performance in all aspects! The Logitech G9 is fully loaded with features including the long awaited onboard memory for storing profiles. While certain groups of users would definitely love the shape of this mouse, this very aspect means that the Logitech G9 is not necessarily for everyone either.