By: Jonathan Kwan
October 13, 2007
It's amazing how Logitech innovates. Every year between August and November, new Logitech products hit the market. While it is still 'just those keyboards and mice', Logitech implements an attractive force with each year's new products that attracts consumers with incredible power and temptation to just buy one and bring one home. The release of second generation "Revolution" series from Logitech includes the Logitech VX Nano -- sans the 'Revolution' tag, but still carries the trademark of the Revolution series. Its unique click/frictionless wheel is still to be found on this product, but what's so unique about this laptop mouse is not just about to be limited to the wheel that sets it apart -- what makes this mouse unique is the 'Nano' receiver, as depicted in the name. Logitech hopes to meet laptop users half-way when it comes to convenience -- it's not a Bluetooth mouse; but not every laptop has Bluetooth either -- the Nano RF receiver is designed to stay in your laptop's USB port without interfering with the laptop bag when packed inside. Isn't that amazing? Well, we'll tell you everything we think about this new Logitech mouse in our review today.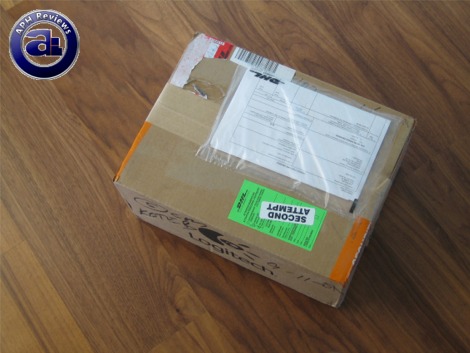 As usual, our evaluation units from Logitech arrived quickly (And thankfully, safely) from DHL -- as expected from the last few times. It did take a bit of effort as expected from our long history with DHL, I had to phone in and ask to see if it can be delivered at a more convenient time for me, or at a more convenient location. Both were answered by the DHL representative by a blunt 'No'.
What I did was write a note on the delivery notice, sign it, and instruct the person to leave it under my deck at the back yard (It's a walk out basement, so the bottom of the deck simply means its one full exposed story down from the main floor). Surprisingly, they accommodated our request. It worked out perfectly, and they even left it right outside the door of my walk-out basement. Now that it's safely in our hands, and after a few weeks of testing, our review continues on.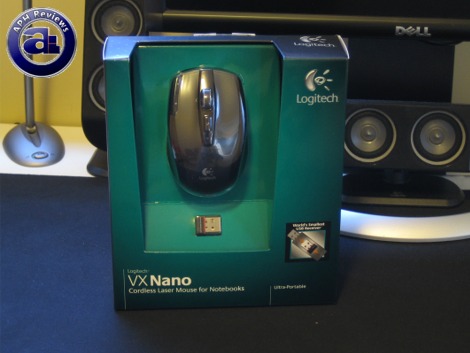 Our unit came in retail packaging with Logitech's accustomed black and teal packaging with a clear, custom shaped window showing the product in the middle. Also shown in front is the even smaller, nano sized receiver -- as juxtaposed to the 'extremely small RF receiver' I described from the Logitech VX Revolution last year. RF receivers have made quite a bit of progress.
The back of the box is a display of cleanness in design, and depicts a sense of business like feel associated with the Logitech VX Nano created by its executive-black style color scheme. It highlights four major aspects of this mouse; with the first one -- you guessed it -- the Nano receiver. Then comes the ultra portable design, 'frictionless' scroll wheel, and its advertised precision laser tracking.
At this point, I am just wondering if it can get any smaller while retaining the ability to be physically used in this purpose, haha.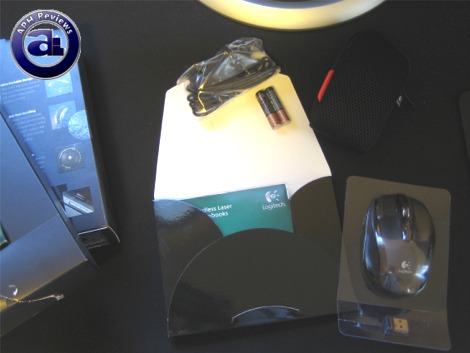 The Logitech VX Nano proposes more complex packaging when compared to last year's model. The slide out tray is separated into multiple sections, in which the mouse is contained in the custom shaped window in front along with the receiver at the top. Accessories are stored in a pocket underneath, and an envelope containing the rest at the back that could slide out on the side of the tray.
Out of the box, you will receive the Logitech VX Nano itself, along with the receiver, USB extension module for the receiver, 2 Duracell AAA batteries, zippered pouch, driver CD, and a Logitech booklet plus user guide.
Before we move on, let's take a look at the specifications and overview of this mouse, as obtained from Logitech's website:
The World's Smallest USB Receiver
* Plug-and-forget nano-receiver: Barely larger than a coin, the receiver is so tiny you can plug it into your notebook just once – and forget about it.
* Small, yet powerful: Expect a robust wireless connection with advanced 2.4 GHz cordless technology.
Convenience
* Always ready: Leave the nano-receiver plugged into your notebook—your mouse is always ready.
* Protective pouch: Use the stylish pouch to protect your mouse when it's not in use.
* Longer battery life: Get up to 6 months of use (or longer with the convenient on/off switch).**
Ultra-Portability and Style
* Ultra-portable mouse design: So slim, it slips easily into your notebook bag.
* Attractive style: Complements your active lifestyle with an ultra-slim, sleek design.
* Storable receiver: Store the nano-receiver inside the mouse when you need to free up a USB port. Shuts down when stored, saving more battery life.
Control and Precision
* Hyper-fast scrolling: Fly through long documents at hyperspeed with the nearly frictionless scroll wheel, or shift instantly to precise scrolling.
* Forward/backward buttons: Effortlessly navigate the Internet with Forward and Back buttons.
* Five programmable buttons: Customize the mouse controls to fit your needs with included SetPoint™ software (or, for Mac® users, with downloadable Logitech® Control Center software).
* Laser precision: Experience smoother cursor control on virtually any surface.*** The VX Nano outperforms ordinary optical mice.
* Based on 27 MHz USB receivers for notebook mice commercially available as of March 1st, 2007
** Battery life may vary, depending on user and operating conditions.
*** Laser sensor does not work on mirrors or clear glass.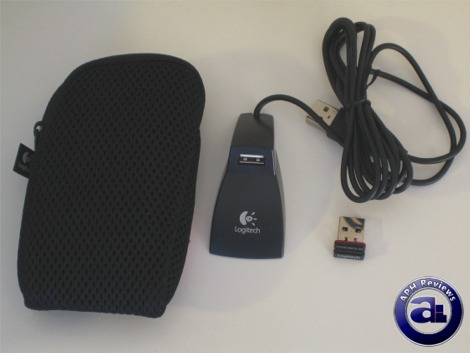 Let's take a closer inspection at the included accessories. At the left is a high quality zippered mesh and foam cushion pouch; the top is angled to the right possibly to reflect the shape of the top of a mouse. I know many mice that are designed this way; but the Logitech VX Nano isn't -- so it's probably for aesthetics purposes only. The purpose of this pouch is for mice protection from bumps and scratches (Especially for the PTFE feet which scratches easily). It's definitely a nice accessory, but my laptop bag already has an integrated mouse pocket -- I found this to be very useful for my camera though haha.
On the right of the pouch is a desktop USB extension module for the receiver. This permits desktop usage of this mouse (Despite the fact it is a laptop mouse) to be more convenient with regards to the receiver. In this sense, it should allow better signal reception as well. It's definitely a nice accessory to include in order to accommodate different users.
Below that is the Logitech VX Nano RF wireless receiver. Basically, it covers the standard size of a USB port and has a little stub around 0.5cm sticking out. This purpose of this design is to allow the USB receiver to stay in your laptop's USB port even when packed up, as it does not interfere with the surrounding. It's hard to deny that it's not only very convenient, but the size is absolutely impressive as well.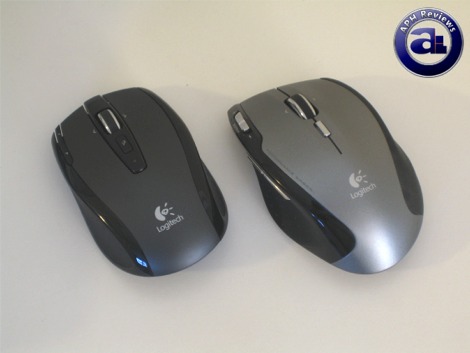 Located on the left is the Logitech VX Nano in which we are looking at today, and on the right is the Logitech VX Revolution from last year.
As you can see in our comparison shot above, the intention of the type of mouse user is quite different between the two mice. While the former has a small, flat ambidextrous design, the latter takes the approach of a more aggressively shaped mouse with a non-symmetrical design specifically for right handed users. During our tests, we discovered that the Logitech VX Nano is too small to be a finger mouse -- it actually encourages a claw like grip, which may be uncomfortable for certain groups of users.
I found it quite interesting of how flagship Logitech laptop mice do not support Bluetooth -- but there's a good reason why. Logitech wants to accommodate all users; making their flagship mice compatible with any modern computer. And to meet the consumer half way, the RF receiver can stay in the USB port unobstructively -- creating a balance of the best of both worlds.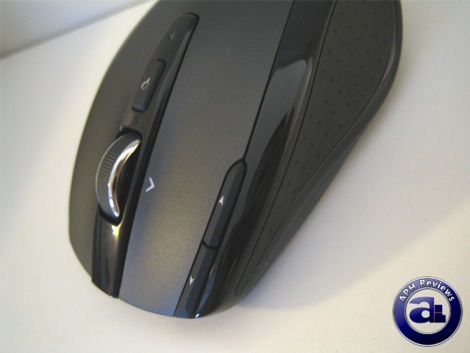 A shot from the front left of the Logitech VX Nano. Both sides feature reciprocal grips with breathing pits, which, to a certain extent will be vulnerable to sweat marks. The back/forward mouse keys are placed at the top left corner; in which may require some reach and time to get used to. The middle button is not clickable to function as a button because the button's click is designed to switch between click wheel and 'frictionless' mode -- in other words, the wheel cannot function as a middle button. A default zoom/reset button is placed below the wheel.
Unlike the Logitech VX Revolution, there's no battery indicator multi-LEDs on board of the Logitech VX Nano -- there's only a single LED on board is to indicate if the battery requires charging or not. While you can check battery status in Logitech SetPoint, hardware battery indicator LEDs would pose more convenience for the user.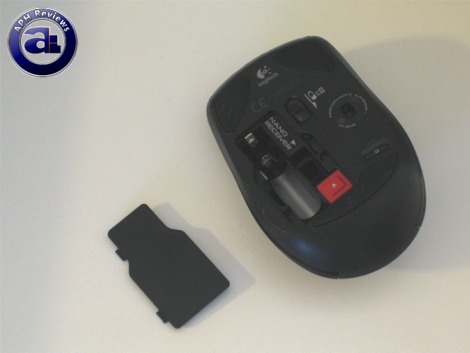 A shot at the bottom of the Logitech VX Nano. The VX Nano takes two AAA batteries, in which Logitech's specifications indicate up to 6 months of battery life. Typically we would expect around 70-80% of what Logitech specifies under regular usage, which still isn't bad. On the other hand, AA would be better in my opinion as they are cheaper and a single AA would also be lighter -- something that the VX Revolution used last year.
Utilizing three relatively large sheets of Polytetrafluoroethylene (PTFE) as its feet (Also known as Teflon), this is the same material we have seen in the past in all of Logitech's recent pointing devices. This is an excellent change we've observed over the years as large sheets of PTFE feet will enhance the glide of the mouse significantly, especially if you have a good mousepad to accompany it.
The battery compartment also accommodates the Nano receiver on the side, in case the user prefers the receiver to be not left in the USB port at some point but require it for traveling.
The laser tracking engine should be the same as the Logitech VX Revolution -- although not listed on Logitech's site, from what I remember the MX laser takes its shots at 800dpi -- and not on-the-fly changeable which I've grown so used to during gaming on my desktop with the company's flagship mice such as the Logitech G5 V2 as well as the new Logitech G9.
An on/off button is also placed at the bottom of the Logitech VX Nano.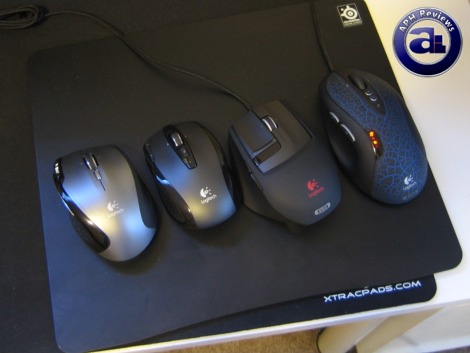 The tests were conducted on my laptop (Not that it would make any difference, but it wouldn't be a bad idea to test a laptop mouse on a laptop, right?). Specifications as below:
Dell Inspiron 6400 (Also known as the Dell Inspiron E1505)
Intel Core 2 Duo T7400 (Merom/2.16GHz/4MB L2)
Super Talent PC2-5300 2x1GB @ 5-5-5-13
ATI Radeon X1400 256MB
160GB Hitachi 5400rpm PMR SATA
8X Toshiba-Samsung DVD+/-Burner
15.4" Widescreen @ 1440x900
Microsoft Windows Vista Home Premium
After installing and properly configured SetPoint, we've put the Logitech VX Nano through our series of standard tracking performance tests. This includes normal office usage as well as gaming within Counter-Strike: Source. The mousing surface used is a SteelSeries SX that we've previously looked at.
In terms of build quality, we found it to be excellent just like the Logitech VX Revolution. No loose or squeaky keys, and the mouse is solidly built with no obvious flaws. Its feet, to an extent, may be vulnerable to being scratched or otherwise damaged during traveling, but an excellent pouch is included out of the box. The opaque eggshell (Non-glossy) bottom is not as vulnerable to scratches as the glossy plastic surface on the VX Revolution last year.
The design of this mouse is to accommodate a different type of hand user when compared to the Logitech VX Revolution, as we've described earlier. Logitech's VX Nano is a smaller mouse; but also feels much smaller -- while the VX Revolution is designed small in size, but large in feel for palm mouse users, the Logitech VX Nano is small and designed for claw-like grips on the mouse. Therefore, if you are a palm mouse user I would stick with the Logitech VX Revolution. Personally, I am not too comfortable with extended claw grip usage as the mouse feels very small, although that extends more to a personal level.
With its PTFE feet, glide over our mousepads as well as different surfaces prove it capable without any problems. Likewise, as I've said the exact same thing with last year's Logitech VX Revolution -- the Logitech VX Nano with its new receiver posed no problems for me regarding wireless reception and range. No lag from what I can see, and the range can be over 4 meters without any problems -- although I don't see a reason why you would try to look at a sub 17" screen from that kind of distance on your laptop.
The primary intention of this mouse is for productivity usage -- as we can tell from the packaging to implementation of features. This does not mean it cannot be used for gaming; probably won't offer the best response time and tracking precision of a performance (gaming) oriented mouse but it still features Logitech's excellent MX laser tracking engine.
For web surfing, general office usage, and light graphics design, the MX engine that I've experienced is excellent. I cannot obtain a nice claw-type grip this mouse is designed for, because I am more of a palm mouse user -- the VX Revolution is better in my case. Regarding the tracking performance, I can only make one complaint; that the control is a bit missing because the cursor does not to seem as 'sharp' as mice based on Logitech's G-series laser tracking engine. Therefore if you are up for some down to the detail graphics designing, you are better off with a better mouse. But for its target audience and as a laptop mouse, and everyday office usage as a pointing device, it's not bad at all. Plus, it's portable and designed for mobility -- the priority of this concern is much greater for the intended audience of the Logitech VX Nano.
The biggest barrier of me adapting to this mouse completely is that the wheel cannot function as a middle button. The design is when the wheel is clicked, it switches between how the wheel scrolls (Click or frictionless). While the Logitech VX Revolution used a slider switch at the bottom of the mouse, I don't understand why Logitech did not do the same for the VX Nano -- the lack of middle click is a big one for me and many users who enjoys opening new tabs or closing tabs through this mean while web surfing.
In terms of gaming, you can possibly game with this mouse, but due to the lack of 'sharpness' in aiming, the kind of precision and fast response is not really there. Without on the fly dpi changer, the best you can do is running up the mouse sensitivity in game instead of running the hardware at a higher resolution such as 2000dpi as seen in top end gaming products from various major manufacturers. Not that dpi is the biggest thing, but sensitivity change on the fly really comes in for convenience purposes.
---
Prior to receiving this mouse, I expected to give it a really high mark because it really does sound great on paper. However, in my opinion the Logitech VX Nano is a disappointment -- besides the innovative and incredibly convenient Nano receiver, this mouse has nothing over the Logitech VX Revolution. Sure, it has great looks and portability, plus it comes with a nice bundle of accessories. I won't comment on its claw-grip design, since as a palm mouse user this would give it an unfair disadvantage -- this one is quite up to you. All I can tell you is that this mouse does feel small, unlike the Logitech VX Revolution which is a small mouse but does not feel small. The placement of back/forward buttons is a bit weird and would require some effort to reach, and the biggest turn off is the wheel that cannot act as a middle button. On the other hand, performance is very good for a wireless laptop laser mouse, but so is the Logitech VX Revolution. In conclusion, I would highly recommend the Logitech VX Revolution over the Logitech VX Nano. Or at least until Logitech comes out with their next new laptop mouse, which hopefully won't go the tracks of the Logitech VX Nano regarding the mouse itself. I must, however, reemphasize that the receiver is truly innovative and excellent. It would be awesome if Logitech would improve and build upon the VX Revolution, and use the new RF receiver to combine the best of both worlds!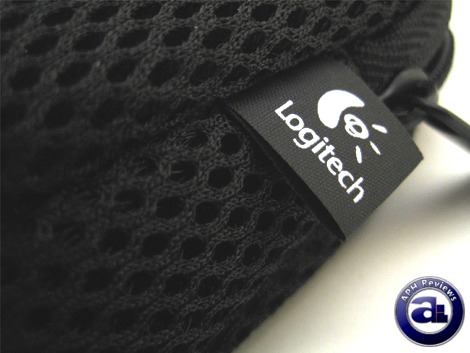 Special thanks to Kate over at Logitech for making this review possible.
APH Review Focus Summary:
6/10 means A product with its advantages, but drawbacks should not be ignored before purchasing.
-- Final APH Numeric Rating is 6.0/10
Please note that the APH Numeric Rating system is based off our proprietary guidelines in the Review Focus, and should not be compared to other sites.
Logitech is extremely innovative and gives the consumer incredible convenience with the new RF receiver on the Logitech VX Nano. Regarding the mouse itself, the Logitech VX Revolution is a much better product in our opinion.