By: Jonathan Kwan
November 1, 2013
When Soviet mathematician Pyotr Ufimtsev published his paper "Method of Edge Waves in the Physical Theory of Diffraction" in the Moscow Institute for Radio Engineering journal in 1964, it showed the world radar signature is actually a function of the edge configuration of the object, rather than the traditional understanding of it being related object's size. The crucial part about his work, and what the US military was particularly interested in, was Ufimtsev was able to demonstrate radar cross section calculations across an aircraft wing's surface and leading edge. This means by exploiting the principles presented in the paper, even large planes can be made almost invisible to radar, giving friendly forces a huge tactical advantage over enemy territory in battle. Of course, Ufimtsev's research was almost a decade ahead of its time; airplanes designed based on his stealth theory is not aerodynamically stable enough to fly until more advanced flight control computers were made available in the 1970s. Fast forward to 2013, with modern home desktop computers more powerful than virtually anything available four decades ago, where else does stealth design, computational power, and battle advantage come in? Apparently, rather than taking it to the skies over the Persian Gulf, Gigabyte thinks it should be no further than your latest gaming rig and a copy of Battlefield 4. The Gigabyte Force K7 is a "stealth gaming keyboard" promising to deliver ultra short travel, scissor based key actuation, three color backlighting, anti-ghost keys, and dynamic volume and backlight control. Will this keyboard give you an advantage over the noobs, or will it fly under the radar of true enthusiasts? We took one in to find out.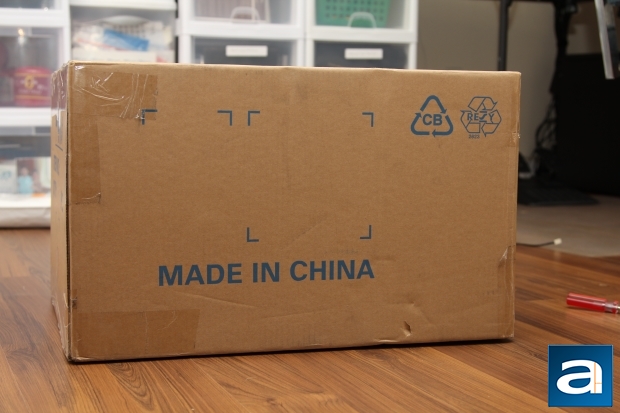 Our review unit of the Gigabyte Force K7 came in a rather large, brown corrugated cardboard box from the company's American headquarters in City of Industry, California, USA. A big "Made in China" wording is printed boldly across the side of the box, but let's be fair -- what is not made in China nowadays? (I'm not, but that's another story, haha.) Using FedEx International Economy, everything arrived safely to our doorstep here in Calgary for our review today. If you have been following APH Networks for the last little while, you will realize this packaging photo appeared on another occasion before. This would be in the Gigabyte Aivia Uranium review, which was covered by my colleague Aaron a few weeks ago. Cracking open the package, I snatched up the Force K7 for myself, and Aaron laid his claim on the Uranium. Looks like no mouse with an OLED screen for yours truly.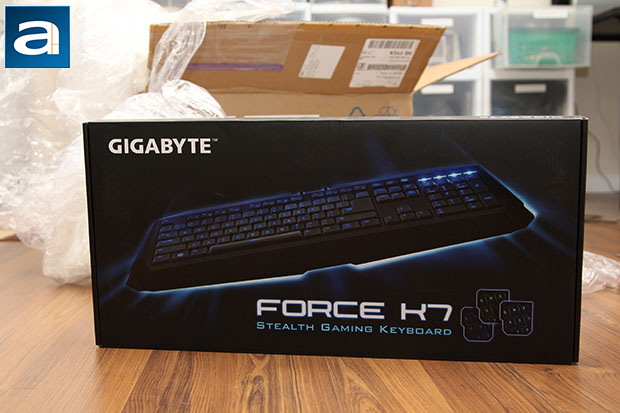 Despite not being branded as a product from Gigabyte's Aivia line, the Force K7's retail packaging carries a strong family resemblance with the Gigabyte Aivia Uranium as aforementioned. The prominent, large center placement of the product photo across the front of the packaging, in conjunction with a blue underglow on a flat black background, well accentuates its 'stealth gaming keyboard' theme. This means it is quite a bit different than another keyboard actually from the Aivia line -- the Aivia K8100 -- reviewed by my colleague Preston in January 2011. This also means the Force K7's packaging is also quite a bit different than another product actually from the Force line -- the Force M7 Thor reviewed by my colleague Kenneth in February of this year. With Gigabyte's logo at the top left corner, "FORCE K7" branding at the bottom, and three photo crops showing off its different backlight colors, the retail box design is unusually clean for a computer gaming peripheral. Lately, Gigabyte has done an excellent job at making their product packaging simple and effective, and the Force K7 is yet another one to add to list.
If you are interested in grabbing more information about the Gigabyte Force K7, flip the box around, and you will find a set of photos highlighting special features on this keyboard. Specifications are not found on the box, but it can be found on the manufacturer's website, as listed below:
Interface: USB
Activation: Membrane
Switch Type: Scissor
Switch life: 5 million times
Key Profile: Ultra-slim
Travel distance: 3.0+/-0.2mm
Activation Distance: 1.9+/-0.05mm
Peak force: 55g ±10%
Dimension: 480(L)* 195(W)*26.5(H) mm
Weight: 1100g±10%
Cable length: 1.8m nylon braided cord
Color: Black
OS Support: Windows XP/Vista/Windows 7/8
Certificate: CE, FCC, BSMI, KCC
Once you flip open the box, you will realize what you get out of the box with Gigabyte's Force K7 is everything you would expect, and nothing more. The black keyboard is placed inside a molded cardboard pulp tray to prevent it from moving around inside the box, with the fix cabled routed behind the tray to keep it secure during transport. A short instructional manual is provided as well, but frankly, I never bothered to read it, haha. With that in mind, let's get straight down to take a closer look at the keyboard itself.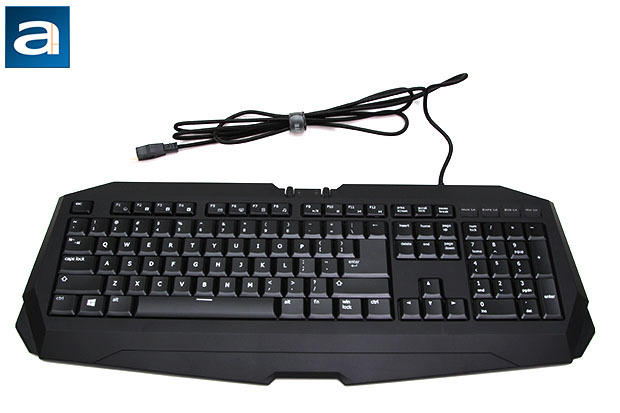 At first glance, you will think the Gigabyte Force K7 looks like your run of the mill keyboard, and I will forgive you for that. To be honest, I like "down to earth" keyboards more than those with a billion features stuck to it, but that is just me. Of course, there are elements that make the Force K7 unique in its own way, but it really does not hurt to spend a little bit of time taking a more general approach when examining this keyboard before we dig down to the details. As you can see in our photo above, Gigabyte has taken a fairly traditional layout when it comes to laying out the Force K7; the only addition they have made is the dynamic volume and backlight control wheels at the top. You will find no macro keys, or even dedicated media control keys, for that matter. That said, sticking to its 'stealth gaming keyboard' idea boldly printed across the front of the retail box, the Force K7, in conjunction with its integrated non-detachable wrist rest, is made with a series of angled, straight leading edges. Personally, I found that pretty cool, whether the keyboard is invisible to radar detection or not. I mean, it probably already has a pretty low radar signature, but either way, not a whole lot of people are planning to take this to Iraq any time soon.
The Gigabyte Force K7 measures in at 480mm width, 195mm depth, and 26.5 mm height. This is a mid-sized keyboard. To go along with its medium footprint and slim profile, the keyboard weighs about 1100g according to the manufacturer. This weight specification will not bog you down too much if you attend LAN party events frequently. The reason for its relatively lightness compared to many modern gaming keyboards is due to the fact the Force K7 is not a mechanical keyboard, but rather, a scissor structured, membrane based keyboard. A scissor switch based keyboard has its own independent keyswitch mechanism over a membrane switch, which, when properly designed, can produce excellent typing response. One such example are Lenovo ThinkPad laptop keyboards, which has long been hailed as the epitome of laptop keyboards. The total key travel distance for the Gigabyte Force K7 is 3.0mm with ultra slim keycaps. The activation distance is specified at 1.9mm with a non-linear activation force of 55g. This makes the Gigabyte Force K7 excellent for people who prefer laptop-type keyboards for overall feel and response. I found this keyboard's typing experience not quite ThinkPad, but decent nonetheless. It does take a bit of time to get used to, as it bottoms out quicker than most keyboards I have used before. The actuation effort is minimal, while delivering an acceptably distinct and tactile response for accurate typing. Unlike many laptops, the base is rock solid, so you won't get any keyboard flex, which is excellent. The switches are rated for five million keystrokes.
Clearly, the Gigabyte Force K7's partial NKRO -- also known as N-key rollover -- ability is designed with first person shooter gamers in mind. Q, W, A, S, D, left shift, and space can be pressed simultaneously without interference. Your average full NKRO keyboards will cost a lot more money than the Force K7, so I think it is a reasonable compromise. However, adding left "Ctrl" to the NKRO list will definitely be a welcomed addition in my opinion.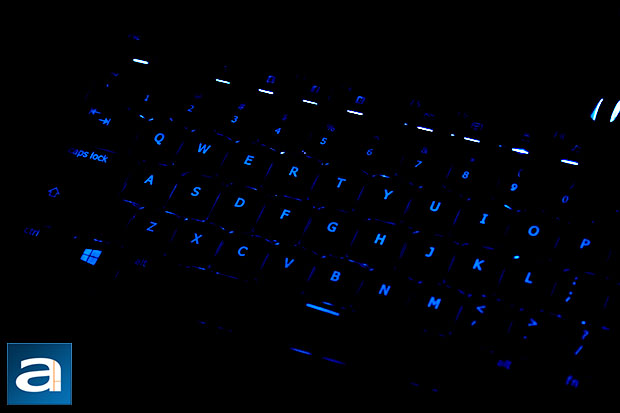 Once you turn off the lights and activate the Gigabyte Force K7's backlit keys, the stealth theme really kicks in. This keyboard features full key backlighting, with three switchable illumination color options in blue, green, and cyan. I have always been a fan of full backlit keyboards, and the Force K7 does not disappoint. The key illumination distribution is reasonably even. You will notice darker spots in keys closer to the outer edge, but it is more pronounced in my photograph above than it is in real life. One cool feature about this Gigabyte keyboard is the backlight can be adjusted by a 'stepless' wheel (It is not exactly stepless, but the increments are very small) to precisely control backlight intensity to accommodate different personal preferences. If you really want true stealth, the backlight can be turned off completely in the same way you toggle through illumination color -- keep clicking the backlight control wheel at the top until you come across your desired setting.
The F keys at the top converts into specialized feature keys when the Function key is depressed at the same time. Starting from F1 and ending in F12, in that order, we have Home, Google, Facebook, Twitter, Mail, Task Manager, Calculator, Music, Play, Stop, Skip Back, and Skip Forward. The Gigabyte Force K7 does not have any driver software, so these feature keys are not customizable, which is too bad. So how do they work, anyway? Well, many of these features are native Windows commands, with the exception of webpage shortcuts such as Google, Facebook, and Twitter. Those basically work as a permanently programmed macro -- you can watch it open the Run menu, and type in the respective URL into the dialog box. It is pretty funny to watch, haha. I would have much preferred a proper software suite though.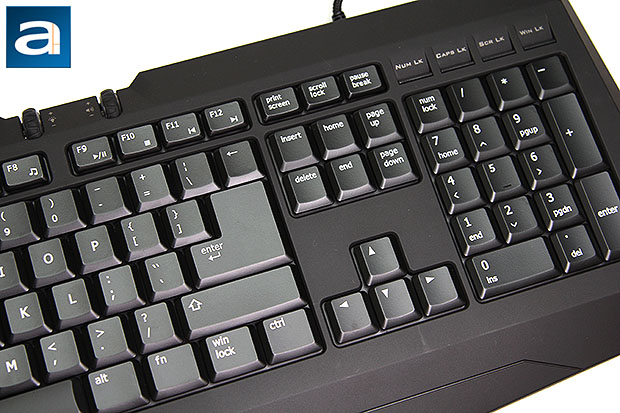 Fundamentally, everything is quite standard here in terms of layout. Even the arrangement of production keys is in classical formation -- users who are used to the Logitech arrangement will need to switch back. However, I do have one complaint. Because the Gigabyte Force K7 has a full sized, double row Enter key, the "\" button is moved to the left side of the right "Shift" key; reducing the size of the latter. I am more used to having a full width Shift on the right, and a half height Enter -- I would have much preferred that instead. My Tt eSPORTS Meka G-Unit has this same layout, and I miss the "\" key every single time I try to hit it. Of course, this is just a matter of personal preference.
Three standard plus one custom indicator LED corresponding to Num Lock, Caps Lock, Scroll Lock, and Win Lock, respectively, can be found at the upper right hand corner. They glow blue when activated, regardless of the backlight color. Its lighting intensity is also not adjustable, making it permanently bright. The Win Lock key is located next to the Function key across the bottom row of the keyboard, on the right side of the spacebar, as shown in the photo above. This is an important feature in any gaming keyboard, because let's face it: How many times have you tried to duck in your favorite FPS while engaging an enemy, only to be killed instantly, because you missed the "Ctrl" key and your game was minimized? Yeah, it is a legitimate issue, and the Win Lock key is a good solution.
At the top, we have the dynamic volume and backlight control wheels. They do exactly as its name suggests -- the volume wheel adjusts volume, and the backlight control wheel controls the backlight; where the latter's function is discussed earlier. The volume wheel is also clickable; doing so will immediately mute your computer's audio output.
At the back of the Gigabyte Force K7 is the USB cable lead out. It comes out biased to the right and is not detachable. This nicely braided cable extends 1.8m in length, and connects to your computer by a Gigabyte branded gold plated USB connector. When we bring about the question of whether gold plated connectors are actually useful or not, let's just say if it was the actual pins, then possibly -- since gold offers better conductivity than other metals. This theoretically establishes a better connection with your computer, but on a digital signal level, we must understand it is a discrete one or zero; so if anyone tells you they can tell the difference, you can definitely defeat their theory with a double blinded test. Additionally, if you are referring to the gold part of the connector you see on the plug, I would like to point out it actually does not make any physical contact electrically with your computer. In other words, it is nice to have, and it is pretty to look at, but it is not anything significant on a practical level.
At the bottom are three rubber pads at the back and two hard rubber strips in front to help the Force K7 stay in place during intense gaming sessions. The front hard rubber strips on the riser edges provide very little traction, but it is not a deal breaker, since you will be concentrating most of your forces at the back anyway. Two flip-out risers at the back tilts the keyboard up for those who prefer it. Once flipped out, the same hard rubber is still making contact with your desk, so grip is still minimal in this area. No keyboard drain holes are available, so be sure to keep your Mountain Dew far away.
------------------------------------------
In a world overly obsessed with mechanical keyboards, where does the Gigabyte Force K7 stand? Firstly, we must strip away the whole "mechanical = good" and "not mechanical = bad" mentality, and look at the merits of each product individually. Secondly, we must understand while price is a factor, preference and function is also very important. Created with an adjustable, tri-color full key backlighting, partial anti-ghosting cluster, and a decent typing experience for about $50 at press time, to answer the question presented in the beginning of this review, will the Gigabyte Force K7 give you an advantage over the noobs, or will it fly under the radar of true enthusiasts? To be honest, I found the Force K7 to fall right in between, and it is not because it is not a mechanical keyboard. Actually, Gigabyte's scissor mechanism delivers a surprisingly decent typing response -- it is not quite ThinkPad, but decent nonetheless. Those who know will appreciate its short travel distance (But will require some time to get used to), solid base for no keyboard flex, and even actuation force around the key. Its adjustable, tri-color full key backlighting is quite appealing as well. However, its lack of key customization, limited anti-ghosting ability, and less than optimal grip design are notable shortcomings of the Gigabyte Force K7. If you are looking for a laptop-like keyboard you can enjoy every day for office work, and can take on a game or two occasionally during lunch breaks or after hours, the Gigabyte Force K7 is certainly a viable contender on your shopping list. On the other hand, for a little more money, I would highly recommend taking a look at Gigabyte's own scissor key based Aivia K8100 as well -- now that is an amazing looking keyboard with more features and great typing response to boot.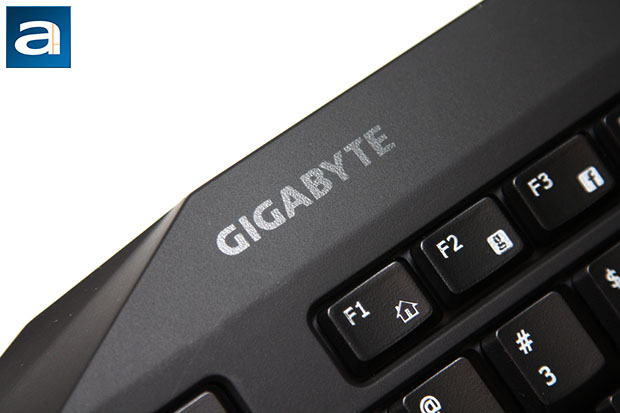 Gigabyte provided this product to APH Networks for the purpose of evaluation.
APH Review Focus Summary:
7/10 means Great product with many advantages and certain insignificant drawbacks; but should be considered before purchasing.
6/10 means A product with its advantages, but drawbacks should not be ignored before purchasing.
-- Final APH Numeric Rating is 6.5/10
Please note that the APH Numeric Rating system is based off our proprietary guidelines in the Review Focus, and should not be compared to other sites.
The Gigabyte Force K7 is a decent backlit laptop-like keyboard that you can enjoy using for office work every day, and can still take on a game or two during break time.
Do you have any comments or questions about the Gigabyte Force K7? Drop by our Forums. Registration is free, and it only takes a minute!