By: Kenneth Kwok
February 22, 2013
Lately, things have been getting pretty busy over here at APH Networks Vancouver -- just take a look at some of our latest reviews, and I'm sure you will notice something quite new. That said, even with more work over here, there is always downtime for gaming -- and just relieving stress in general. Lately, I have been spending some of my off time playing games I never would have imagined that I would enjoy. One such game is a Japanese visual novel by the name of Rewrite by a company called Key/Visual Art's (of Kanon, Clannad, and Little Busters! fame), a company well known for their heart touching stories and excellent music composition. The opening song of Rewrite is a song called Philosophyz, which includes a line that seems quite applicable to how I'm feeling about things lately. In Japanese, the very last line of the song is "kakikaeru, sono subete", which may seem like 'moonspeak' (As a friend of mine would put it) but roughly translated into English, it is quite simply "I will rewrite everything". This line can pretty much sum up what I have been up to lately in more than one sense; from editing this review, editing other people's reviews, to working on my school papers. Let's just say editing and rewriting other people's work takes quite a bit longer than editing my own work -- there are times where it may honestly be easier to just rewrite parts than to spend time fixing mistakes here and there. Well, with that off of my chest, let's take a look at today's review. This product is a gaming mouse from Gigabyte, who is famous for their motherboards and graphics cards, and has been slowly creeping into the gaming market as of late. It seems just about every hardware company is putting out some gaming products nowadays, haha. Today, we will be taking a deeper look at the Gigabyte Force M7 Thor gaming mouse, and see just how it stacks up to not having to be 'rewritten'.
Our review unit of the Gigabyte Force M7 Thor came in a medium sized, brown corrugated cardboard box from Gigabyte's American headquarters in California, USA, where just about every major tech company office is located. FedEx Ground was the choice of shipping here, and as expected, did a good job of getting the package to us quickly and safely. The packaging inside is the standard affair with bubble wrap and all; what we are really after is the Gigabyte Force M7 and a pair of Gigabyte GP-H11 earbuds, which we will review in a couple of weeks from now. Interestingly, there was also another unexpected thing inside -- it turned out to be a bunch of marketing material obviously not originally intended for us. Now, I have a few Gigabyte posters and displays, and the company is nice enough to let us keep it. Maybe I'll set them up and take some pictures at some point, but that's for another day.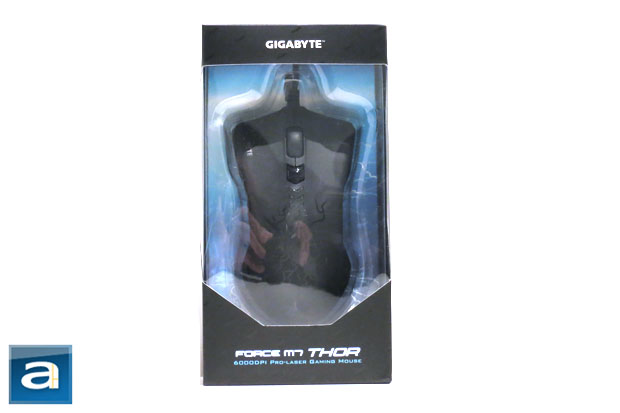 The Gigabyte Force M7 Thor's retail packaging isn't exactly eye catching or sophisticated, but it gets the job done. Following standard design conventions for compact store displays, the box design is mostly black, and is highlighted by a giant window at the front with a weirdly cut window on the sides and front to allow the mouse itself to be in full view in any display. However, one of the problems seem to be that dust and smudges had gathered on the plastic covering of the retail packaging, and it hasn't even been five minutes yet. We expect this normally not to be a problem, and are probably just a one-off thing. The rest of the text is in white or light blue, which gives a pretty stark contrast to the black background. This includes the Gigabyte logo at the top, and the name of the product at the bottom. The bottom of the box has the model number, product number, certifications, and a bunch of other legalese. Overall, the design should look good on any type of store shelf, and has the upside of saving a lot of room while giving a clear view of the product.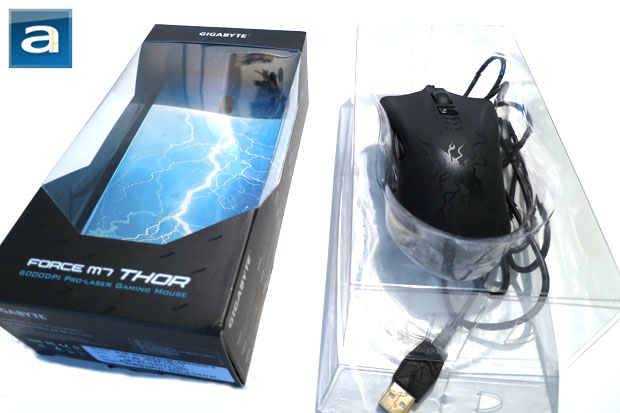 (Un)surprisingly, we only found one thing inside of the box as seen from the front, which, of course, is the Gigabyte Force M7 Thor itself. Since this isn't exactly a top of the line mouse, and accessories aren't actually necessary for mice without extra parts, this is a pretty good approach. It saves trees and lowers production costs, which is a win-win situation for the consumer. Considering the market the mouse is aimed at, the budget crowd, this is fully understandable. Of course, this means the software specifically made for the Gigabyte Force M7 Thor is to be downloaded by the end user, as with most of the other important documents such as a full product guide. There really isn't much else to say; there is only the molded plastic that keeps the mouse from moving inside the box, and the mouse itself here -- that's it.
Before we move on further let's take a quick look at the specifications of the Gigabyte Force M7 Thor, as obtained from the manufacturer's website:
- Interface: USB
- Tracking system: Advanced Laser Sensor
- Sensitivity: 6000dpi (The hardware based sensitivity up to 5600dpi)
- Frame Rate: 12,000 frames/second
- Maximum Tracking Speed: 150 inches/ second
- Certificate: CE/ FCC/ BSMI/KCC
- Color: Black
- Cable Length: 1.8m / Gold-plated USB connector
- Dimension: (L)137 x (W)78 x (H)41 mm
- Weight: 110g
- Support OS: Windows XP/ Vista/ Windows 7
- Maximum acceleration: 30G
- Switch Life (L/R click): 5 million times (Left/right click)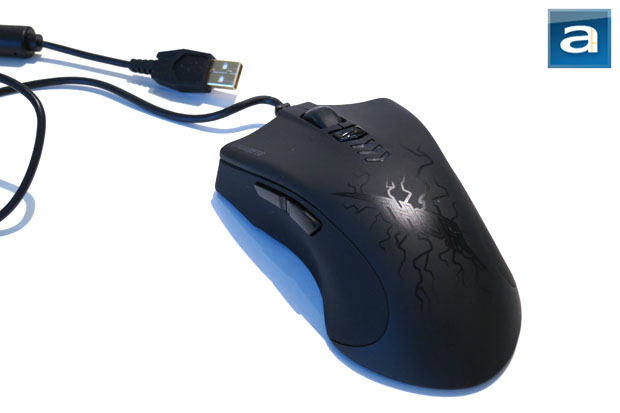 When it comes to design, the Gigabyte Force M7 Thor takes on an interesting hourglass shape, and has a 'Razer-esque' feeling to it. The only thing that seems a little weird is the cable has a protruding cable reinforcement tip coming out of the mouse. It seems similar to one that can be found on AC adapters used to prevent the cable from bending too much; not that it is really bothersome, but it feels as though it should be removable. The rest of the cable is a heavy duty plastic said to be more durable than regular plastic mouse cables. It would have been nice to see a braided cable instead, but it is quite understandable, given the circumstances of price. Lengthwise, the cable is approximately 2 meters long, which should be more than sufficient for most standard users.
Going back into the design of the Gigabyte Force M7 Thor, as we have mentioned before, the mouse is reminiscent of an hourglass -- or better yet, a shield. The first design element that jumps out would be the overall black color. This seems to be the norm when it comes to gaming mice. One exception, of course, being the ThermalTake Tt eSPORTS Level 10 M, but it may be in a class of its own when it comes to design. The first thing that becomes visible looking at the Gigabyte Force M7 Thor would be the giant imprint of a design with lightning, and the giant word 'THOR' in the middle. This design is located near the base of the mouse, where one would rest the bottom half of their fingers and part of their palm. When we take that into account, this mouse is more suited for claw grip users rather than palm grip users, since the design is slightly more comfortable and shaped this way. Since it is aimed at claw grip users, the mouse is also symmetrical, making it possible to be used by the ambidextrous, save for the side buttons that are located on the left side just above the grip. Both sides have a slight curve near the bottom of the mouse to be used as grips for your thumb and pinky. A rubber coating has also been applied over the entirety of the mouse, providing comfort, and makes it quite a bit easier to clean as well. That being said, the mouse is quite wide at the top, and measures in at 137 x 78 x 41 mm altogether. Given all this, the Gigabyte Force M7 Thor is well put together and feels solid, but does at times come up as a heavy piece of plastic, just due to its shape.
Located in the middle of the mouse just above the giant THOR design are three downward pointing arrows with LEDs behind them. These blue LEDs are used to indicate the current dpi level, which can be adjusted anytime using the plastic slider right above it. There are only three preset values. They can be changed using the software found on Gigabyte's website, which we will go over later on in the review. I was really hoping that more companies would allow for more than three dpi settings, since even the Logitech G500 from way back when has five pre-configured dpi settings. It really isn't that hard to add more steppings; you could easily just use variations of the LEDs to get it to work. As aforementioned, two buttons can be also found on the left side of the mouse, which can be used as extra buttons in games, bound to different functions in software, or as navigational tools in a web browser or Windows Explorer to navigate back and forth through pages. Finally, the mouse wheel isn't anything special, but it is functional and has a pretty good feel to it, due to the rubber coating applied.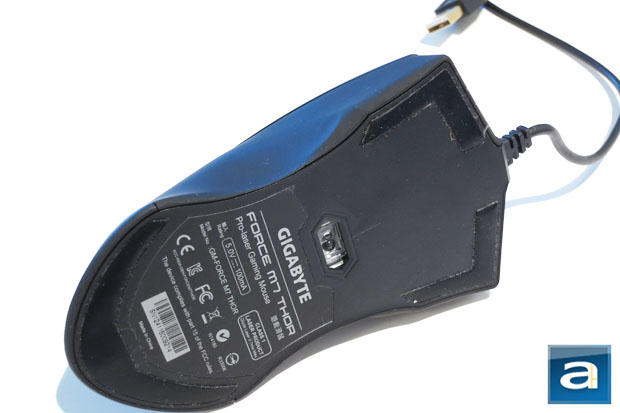 Taking a glance at the bottom of the Gigabyte Force M7 Thor, we quickly find there isn't too much to be seen here. The base of the mouse is completely built out of plastic as one would expect. Located just below the laser sensor is a label with the product name, various warnings, specifications, and finally, certifications. The dominating feature on this side would definitely be the three polytetrafluoroethylene (Multi-C2F4, Teflon) feet. Two are located near the top left and right corners, while another one can be found covering the very bottom of the mouse. These feet are pretty large, and cover a large majority of the mouse. These bigger sheets should take longer to wear out than most standard feet due to the sheer size, although I must admit that the placement is a bit interesting. I would have personally preferred some grip near the middle to better balance out the base of the mouse. Although there is no rated lifetime for the feet, I can safely say from previous experience that they should last longer than the lifetime of the product.
Found near the center of the base is a hexagonal shape housing the actual laser sensor. This laser sensor is capable of up to 6000 dpi sensitivity at 12000 frames per second in image processing power; although in most cases the dpi has really become a marketing term more than a real life depiction of what the actual performance of a given sensor is, at least in terms of precision. Of course, the higher the sensitivity of a sensor, the more flexible it is in real world application, and can be used to adapt to different purposes and styles of usage. This can easily range from normal productivity usage to hardcore FPS gaming. As with most gaming mice, the USB connector is gold-plated. In reality, it does very little, since the gold plating is external, and doesn't make any contact with the USB pins physically. Even so, it does look 'bling' so to speak.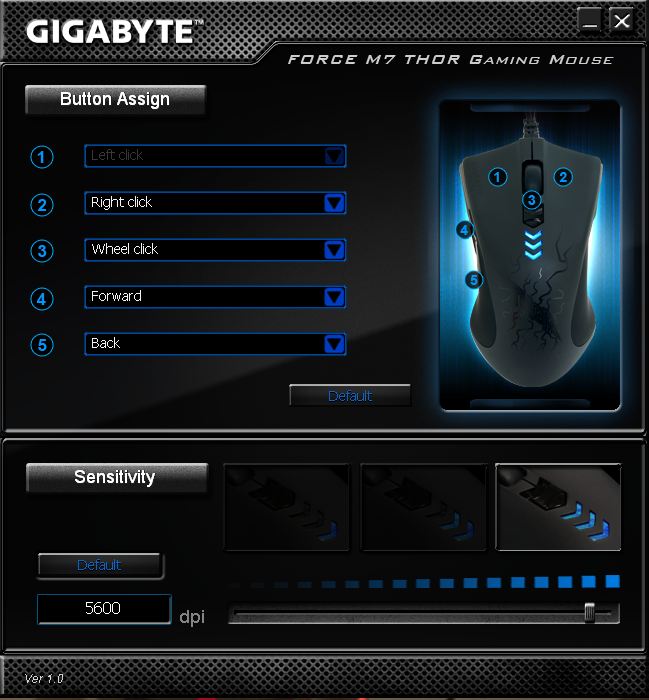 The Gigabyte Force M7 Thor has software that can be downloaded from Gigabyte's website named Gigabyte Force. The software is used to customize features found on the mouse. Even though the program is simple, it is not necessarily a bad thing, given how easy it is to use. The top half of the software is used to set the button assignments for each of the individual buttons on the mouse, while the bottom half is used to set the three dpi settings, which are pre-configured at 800, 1600, and 5600 dpi, respectively. Of course, these can easily be changed here, and saved to more suitable settings depending on preference. For the record, we set ours to 1600, 3200, and 6000 dpi as our new configuration.
-----------------------------------------
The Tests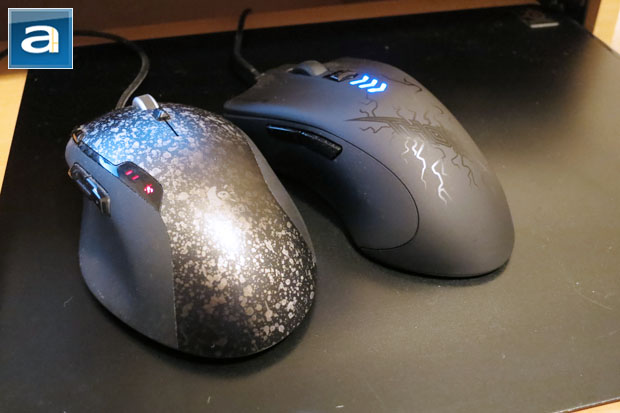 After installing and configuring the Gigabyte Force program to our liking, we have put the Gigabyte Force M7 Thor through our series of revised standard tracking performance tests. This includes normal office usage in the Windows environment, as well as gaming. Graphics work is done in addition to regular office usage with Adobe Photoshop. Games we have used in this test include Garry's Mod, Counter-Strike: Source, Counter-Strike: Global Offensive, Warhammer 40K: Dawn of War II, Company of Heroes, and of course, the aforementioned Japanese visual novel Rewrite (Surprisingly, these games involves quite a bit of clicking and mouse movement). The mousing surface used is the SteelSeries SX, SteelSeries QcK mass, and Razer Mantis Speed. Please note that these are subjective tests, but we will attempt to make it as objective as possible with our cross reference testing methods.
As with our Editor-in-Chief Jonathan Kwan, I also prefer to grip my mouse with my entire palm extended over the entire surface of the mouse. However, the Gigabyte Force M7 Thor is just designed to be used with a claw-like grip. Although many users argue about which grip is better, it can be said that most gamers have a preference for one or the other. Even though it would have been possible to use it in palm-grip style, it was just more natural to use it as if it were built for claw-grip users. It took a while to adjust, but after some testing, I can say that using it this way was more comfortable due to the shape of the mouse. Using the mouse was actually quite enjoyable due to the rubber grip that has been applied over the entirety of the mouse, which is reminiscent of the material used on the Mionix Naos 3200 and Mionix Naos 5000. This is a very good thing, considering how I found them to be some if the most comfortable mice I have ever used. The one downside I still have is the shape of the mouse; the middle part just leaves me wishing it was slightly wider which would provide more comfort for both types of mice users. One thing I thought would be a problem at first was the side buttons. However, after using it, I learned they were placed quite well; just above the grip on the left side making it hard to accidentally click.
Given the primary aim of the Gigabyte Force M7 Thor as a gaming oriented product, it does a good job for the most part in this context. I have had no major problems with it during usage; it glided well, and gave pretty good control overall. It responded as one would expect given the specifications behind the laser sensor. Even when cranked up to 6000 dpi, it performed as expected. However, one problem I had with prolonged usage of the mouse for a given time was it felt clunky to move large distances. It wasn't so much the fact that it wasn't giving good control or glide, but the weight and shape of the mouse and the Teflon feet might be a small hindrance. When it comes to customization, there really isn't that much lacking with easy on the fly dpi swapping; changing sensitivities mid-game was a breeze.
Sadly, the same can't quite be said for day to day usage such as office or productivity usage. The weird shape of the mouse is just a bit awkward. and leaves something to be desired. It just isn't as comfortable as one would like from a standard mouse. The easiest fix would be to widen the middle part of the mouse, and to possibly add additional Teflon feet on the bottom to change this feeling when using the Gigabyte Force M7 Thor. Even so, the internals of the mouse is pretty good considering how this is supposed to be a budget oriented product.
-----------------------------------------
So, did the Gigabyte Force M7 Thor manage to get through without needing a total 'rewrite'? While there may be some flaws to the product, namely the oddly sized shell, slightly weird shape, and the placement of the Teflon feet leading to some imbalance. There are still many things going for this product, which includes the high grade sensor, smooth glide, comfortable rubber grip coating, and good button placements. The mouse wasn't exactly terrible in terms of usage; gaming wise, it was more than acceptable, but when it comes to productivity usage, it just falls short. Build quality wise, the mouse is pretty decent and well built, especially when one takes a look at the price which can be found on major retailers for only $30USD at press time. There may be some downsides to this mouse, but I can safely say that it doesn't need a total 'rewrite', and could just use some adjustments and possibly some design modifications, as the internals are still worthwhile, and the ideas behind it was sound. Let's just say if one can find this mouse comfortable and doesn't worry too much about the Teflon feet location, you have a decent mouse given the price.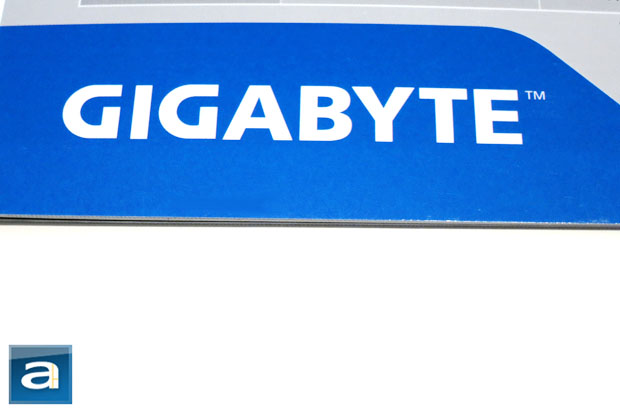 Gigabyte provided this product to APH Networks for the purpose of evaluation.
APH Review Focus Summary:
7/10 means Great product with many advantages and certain insignificant drawbacks; but should be considered before purchasing.
6/10 means A product with its advantages, but drawbacks should not be ignored before purchasing.
-- Final APH Numeric Rating is 6.8/10
Please note that the APH Numeric Rating system is based off our proprietary guidelines in the Review Focus, and should not be compared to other sites.
If you can get over the slightly awkward shape of the mouse, the Gigabyte Force M7 Thor is a steal for the price.
Do you have any comments or questions about the Gigabyte Force M7 Thor? Drop by our Forums. Registration is free, and it only takes a minute!