By: Hai Wang
September 23, 2016
It is interesting that some people who are really into computer hardware and electronic devices are also car enthusiasts. Our Editor-in-Chief, Jonathan Kwan, is one example. Although he has a pretty nice mid-size sedan as his daily driver, that does not stop him from checking out new cars just for reference for future car purchasing. There are three cars he is particularly interested in: The BMW 340i xDrive, Mercedes-AMG C43, and Lexus IS350. Both the BMW 340i xDrive and the Mercedes-AMG C43 are turbocharged, therefore they have tremendous acceleration performance. As a non-turbocharged car, the Lexus IS350 has nice naturally aspirated engine sound, and a set of incredible leather bucket seats in my opinion. After test driving them all, I think he likes the Mercedes-AMG C43 the most, because it has the power and torque to have the fastest acceleration among other choices; and in terms of interior quality, the Mercedes-AMG C43 is also the best. Another nice feature of the Mercedes-AMG C43 is the majority of the car's chassis is made out of aluminum, which has the best combination of weight, strength, and corrosion resistance. However, different people have different opinions; I personally like steel and iron instead of aluminum. I guess this is why I enjoyed watching those Chevrolet commercial videos about their steel trucks versus all-aluminum Ford trucks. For a computer case company, it is important to use as many materials they as can find to make cases: Steel, plastic, aluminum, and even glass to satisfy different customers. The majority of today's review unit, the In Win 303, is made out of exclusively steel and glass. Yes, this sounds like it would be my choice of computer case. Can it make me a satisfied customer? Let us find out.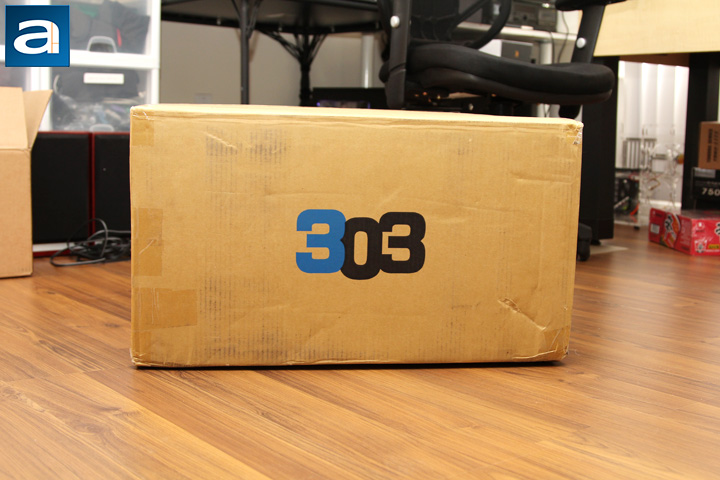 Today's review unit was shipped from the City of Industry, CA, USA to us here in Calgary, AB, Canada. The City of Industry is also In Win's headquarters in North America. Although you may see some small scratches and dents on the parcel, there was actually no sign of unacceptable damages on the shipping box itself that can make you nervous about the safety of the glass panel after thousands miles of transportation -- well done FedEx. The box was rather big and heavy, which I felt pretty excited about, since I knew it was made of some serious steel.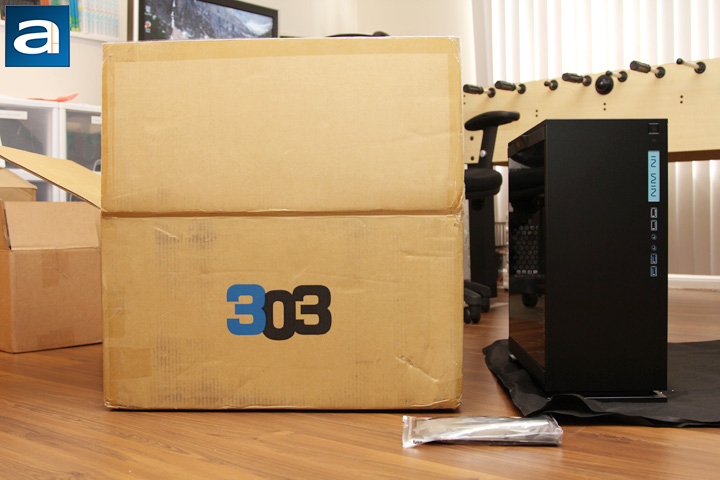 Usually, a good retail package design can draw people's attention and make the product itself stand out among hundreds of other products on the shelf. However, the reign of computer case is different. Most of the time, the dealer will either directly put sample cases on the shelf, or just demonstrate some fully built computers using those chassis. Therefore, it is mostly unnecessary to have a fancy retail package for a computer tower. At least for me, I would not buy a computer case just because it looks great in photos. The retail package of In Win 303, which is also the shipping package, is simply a brown cardboard box. It shows no picture of the product itself; not even a sketch of the product. The company's name and logo are presented on the box, with the model name "303" is also located at one side, as you can see from the above picture. Critical information such as the color of the case, product features, and handling instructions are also provided on the package. The clean look of the retail package may suggest the product itself will be compact and clean as well.
Upon open the box, you will see the case is wrapped inside a big black synthetic bag instead of plastic bag. The synthetic bag is thick enough to prevent the relatively fragile part of the In Win 303, the tempered glass panel, from being damaged, and it can also be reused if you want to take your computer to some other places, or just keep it from dust when not used. Since the whole chassis is supported by eight pieces of foam brackets at the corners, there is no direct contact from the shipping package, thereby no damage is found on the case. All the accessories, including hardware and zip ties, are contained by a plastic bag with a zipper on it.
For you to know the In Win 303 a little bit more, the specifications of the mid-tower from its official website is listed below:
Specifications:
-Model: 303
-Color: Black
-Case Type: Mid Tower
-Case Material: SECC, Tempered Glass
-Motherboard Compatibility: 12" x 10.7" ATX, Micro-ATX, Mini-ITX
-Expansion Slots: PCI-E x 7
-Maximum Compatibility: VGA Card Length: 350mm, CPU Heatsink Height: 160mm
-Front Ports: USB 3.0 x 2, USB 2.0 x 2, HID Audio
-Internal Drive Bays: 3.5" x 2, 2.5" x 2
-Thermal Solution Compatibility: 120mm Rear Fan / Radiator x 1, 120mm Top Fan x 3 / 360mm Radiator, 120mm Bottom Fan x 3
-Power Supply Compatibility: PSII ATX 12V (length up to 200mm)
-Product Dimension (H x W x D): 500mm x 215mm x 480mm
-Product Dimension (H x W x D with screw & handle height): 500mm x 248mm x 480mm
-Package Dimension (H x W x D) 335mm x 610mm x 572mm
-Net Weight: 10.88kg / 24lb
-Gross Weight: 13.02kg / 28.7lb
---
Page Index
1. Introduction, Packaging, Specifications
2.
Physical Look - Outside
3.
Physical Look - Inside
4.
Installation and Conclusion