By: Jeremy To
May 6, 2011
In European folklore, dragons were always depicted as evil serpentine-like creatures that roamed the lands wreaking havoc towards towns, and selfishly guarding treasure. Of course, a few things have changed, in that modern day dragons became more like huge fire-breathing creatures with horned dinosaur-like features over the less-frightening Germanic mythological dragon whose meaning came from the word "worm". However, I say "Screw European folklore!" To me, it is all about the Chinese mythology of dragons that really hit home. In fact, I am quite impressed by my own rich culture as a CBC (Canadian born Chinese) and I can attest to the fact almost everybody here in the staff team at APH Networks is yelling out "Damn straight!" towards our proud discovery of creating dragons. The Chinese depiction of the dragon is on a whole other avenue, as dragons were divine mythological creatures that brought prosperity and good fortune. So with the usual introductory-tangent-babble said and done, let us make our acquaintance with today's review unit, the computer chassis from In Win called the Dragon Rider. What is a dragon rider? Well, besides being a person that rides dragons, I really have no idea. Nowhere in mythology, whatever the culture, ever had dragon riders (Don't quote me on that though). So in this sense, has In Win forged a dragon rider out of a plastic and steel box? I can tell you this case is bold and beefy and strong and... well, let's just read on.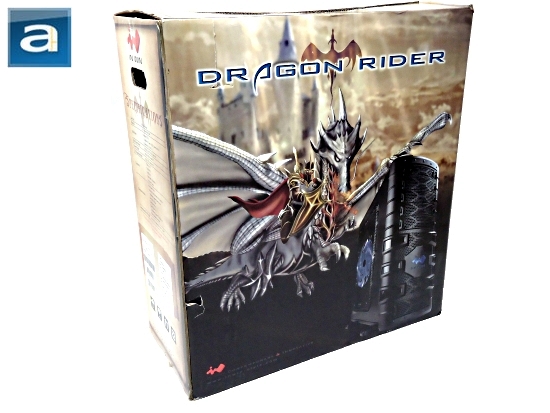 Lately, our Calgary office here at APH Networks has been quite exciting. Following our most usual motto of "When in doubt, get all of them", piles of units from several different manufacturers have been arriving daily. From cases to keyboards to CPUs to hard drive enclosures, we have pretty much covered all grounds of computer-related hardware and peripherals in the last few months. Surprisingly, it has been over a month since we received the In Win Dragon Rider that came to our office the week several other cases arrived. Of course, you could very well refer to the last week of March to be the "chassis" week, where other cases like the Cooler Master Storm Enforcer and the Thermaltake Armor A30 also arrived. The retail box of the Dragon Rider came to us without an exterior packaging box, which is fine, so long as it arrives to us safe and intact. Purolator made sure the unit -- from Richmond Hills, Ontario -- made its trip across Canada to our offices in mint condition.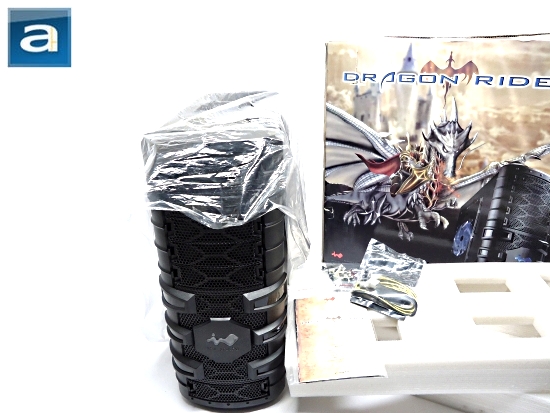 Taking one quick look at the retail box, I had mixed feelings about the design. Design of course is important for any consumer, and is based solely upon opinion. For me, the box design is a little overdone and almost corny, as if it was intended to light up the eyes of a 12-year-old -- not my cup of tea. You know what would have been a great design though? If In Win photoshopped the chassis on top of the dragon to replace the current poser dragon rider, haha. Now that would be creative marketing!
Like most cases, the Dragon Rider is escorted by two large Styrofoam bricks that kept the unit intact and safe from excessive movement. The Dragon Rider only comes in one color, black, so I was not expecting anything else. The chassis was fully covered in a plastic wrap that also help to protect it from scratching or from moisture. With regards to its design, I understand what In Win tried to do. Make the Dragon series of chassis seem medieval-like with the front bezel incorporating a chain-mail-armor-like design. What they have done is nothing short of this, but frankly, the end result has room for improvement since the front is all plastic. Since I do not want to go into great depth of the design on this page, I will leave it at that.
Before we go on, let's first briefly look at the product specifications, as found on the product packaging as well as the manufacturer's website:
Specifications
-Case Size: Full Tower Chassis
-Material: 1.0~0.8mm SECC Steel
-Power Supply: ATX 12V, PSII Size and EPS
-I/O Expansion Slots: PCI-E/PCI/AGP SlotX8
-M/B Form Factor: E-ATX(12"X13"), ATX, Micro-ATX
-Drive Bays: External 5.25" x 5, includes FDD Cage x1(5.25" converted into 3.5"), internal 3.5"x6, 2.5" x 1.
-Front I/O(Ports): e-SATAx2, IEEE 1394Ax1(FireWire), USB 2.0 x 2, HD/AC'97 Audio, USB 3.0 x 2
Cooling system
- Rear 12cm Fan x 1
- Front: 12cm Fan x 1
- Top: 12cm Fan x 1 (Maximum supports 12cm Fan x 2)
- Side:22cm LED Fan with switch x 1 (Maximum supports 12cm Fan x 6)
- Water-Cooling Hole Ready
- 12cm LED Side Fan
---
Page Index
1. Introduction, Packaging, Specifications
2.
Physical Look - Outside
3.
Physical Look - Inside
4.
Installation and Conclusion