By: Brian Cheung (Guest Writer)
July 10, 2015
If you have had the pleasure of owning any Nintendo Game Boys, you will know about the Game Link Cable. For our readers who are a little younger, the Game Link Cable was a game changer in the late 1990s. As its name suggests, it is a cable for the Game Boy line that allowed players to connect their systems together for a multiplayer gaming experience. Depending on which Game Boy each player had, the Link Cable could be used for head-to-head competition, co-op play, and trading items; the list goes on. The only game I recall playing religiously with my friends that involved the Link Cable was Pokemon, specifically Red and Blue. If you wanted to be the very best, like no one ever was, you had to have the Game Link Cable. Although technology has improved significantly in the past fifteen years, and players who want to compete with each other and trade items no longer have to carry around a cable to do so, the sentimental and usability factor is still in play. Various implementations of wireless technology has been the primary way of transferring files from one device to another in the past decade. However, even with Wi-Fi, the experience was definitely not seamless. Hence, when I had the opportunity to review the Inateck HB4009 USB hub, I was ready to see what it was capable of. Will the Inateck HB4009 bring back fond memories of the Link Cable in connecting multiple devices together cross-platform, or will it be phased out and labeled irrelevant for today's users? Read on to find out!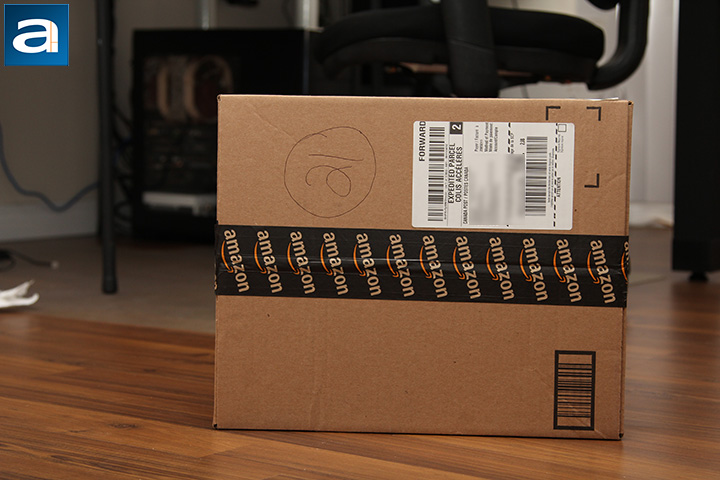 Today's review unit of the Inateck HB4009 came in a brown corrugated box from Amazon in Mississauga, Ontario to our APH Networks offices located in Calgary, Alberta. Inside the box was the also the Inateck MP1320 Hipster Macbook Pro Sleeve covered by Editor-in-Chief Jonathan Kwan in our Lounge section of this website a few weeks ago. The box was delivered using the Canada Post Expedited Parcel service, and arrived in excellent condition with no visible bumps or bruises.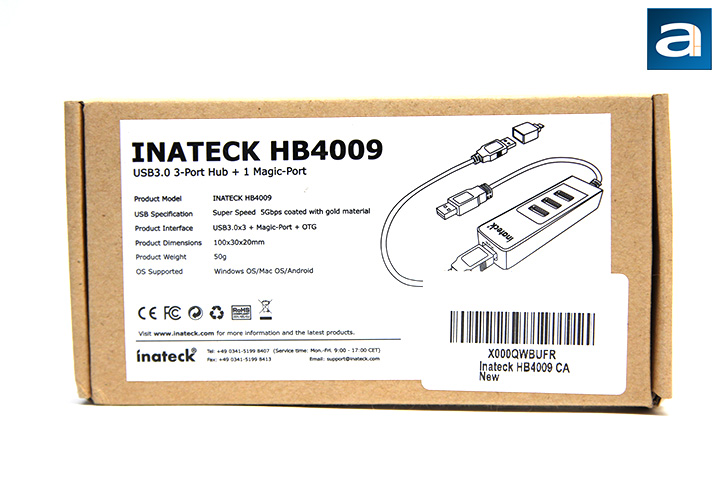 Carefully cutting the Amazon labeled tape, we quickly got to the bottom of the box where the HB4009 was located. The retail container holding today's review unit reminds me of a simple gift box. For this specific packaging, it is very simple with one large sticker label across the top displaying a diagram of the product and the features it offers. Inateck has chosen to leave the rest of it in its natural color.
Before we move on with this review, let us take a look at the features and specifications of the Inateck HB4009, as presented on the box itself and from the manufacturer's website:
Features
- USB 3.0 with super speed transfer up to 5Gbps
- Keyboard and mouse swapping
- Superspeed USB 3.0 interface with elegant metallic finishing
- Magic Port cross-platform file transfer between Windows, Mac, and Android
- Clipboard sharing
- No CD installation program required, plug and play
- Backwards compatible with USB 2.0 and 1.0
Specifications
Dimensions: (LxWxH): 100 x 30 x 20mm
USB Cable Length: 30cm
USB 2.0 Cable: 120cm
USB Ports: 3
Magic Port: 1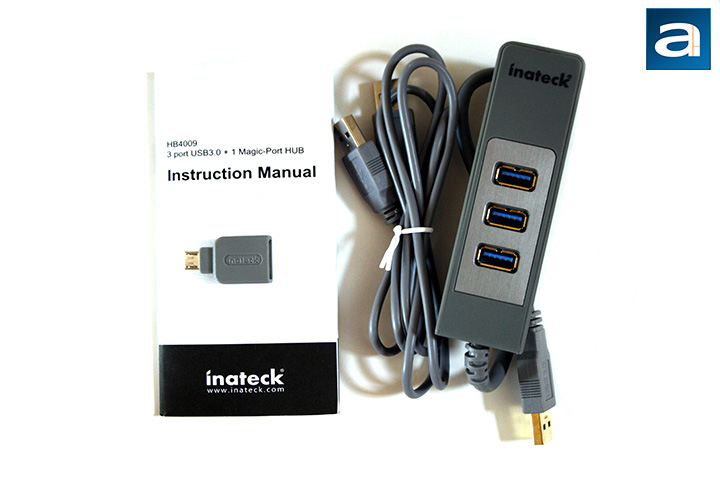 As mentioned, the box Inateck chose to use is very simple, with a single flap design. Upon lifting the tabs on the side of the box, you will find the Inateck HB4009 with its cables neatly wrapped and bundled to its side. Along with this are the accessories that complete the unit as a whole, including the additional USB 2.0 cable, OTG adapter, and product manual. All of the contents mentioned above are organized extremely well to fit inside the box, and was easy to see without having to flip through it.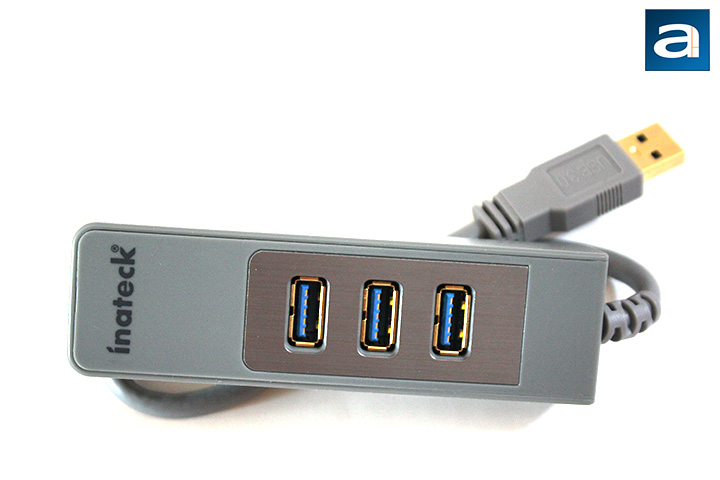 Taking a look at the 3-port USB hub from this angle, you will find it looks like almost any USB hub at your local computer hardware store. The Inateck HB4009 is 100 mm in length, 30 mm in width, and 20 mm in height. The unit also weighs approximately 50 grams, which is reasonable for its size. The body of the USB hub is plastic and quite utilitarian. The main difference the HB4009 offers against its competitors is the Magic-Port located on the bottom, which I will cover later on in this review. Taking a look at the top of the HB4009, you will find the Inateck logo printed with a darker gray font to contrast the lighter gray color of the unit. In fact, the product itself and its accessories promote a theme of gray. However, for those who are looking for another color, Inateck does not provide you with this choice. Just be glad it does not come at you with fifty shades of it, haha. An interesting design element on the HB4009 is the silver brush-like metal finish around the three USB ports. This is very similar to the brush-like metal finish I saw previously in my Tesoro Lobera Spectrum keyboard.
Most USB hubs come in two different load styles; the side load style, and the top load style. Older USB hubs have favored the side load style, but more recently, manufacturers began leaning towards a top load style. The Inateck HB4009 features a top load style, but what is better comes down to personal preference. All three of the USB ports are USB 3.0 compliant. Unlike many USB hubs I have seen in the past, the HB4009 features USB ports that are spaced out evenly for USB flash drives with larger swivel covers, which is a very nice touch. All of the female USB connector on the unit including the Magic-Port are gold-plated. However, as we have mentioned in many other reviews here at APH Networks, gold-plated USB connectors are nice to have, and it is pretty to look at, but it does not really do anything practically or electrically.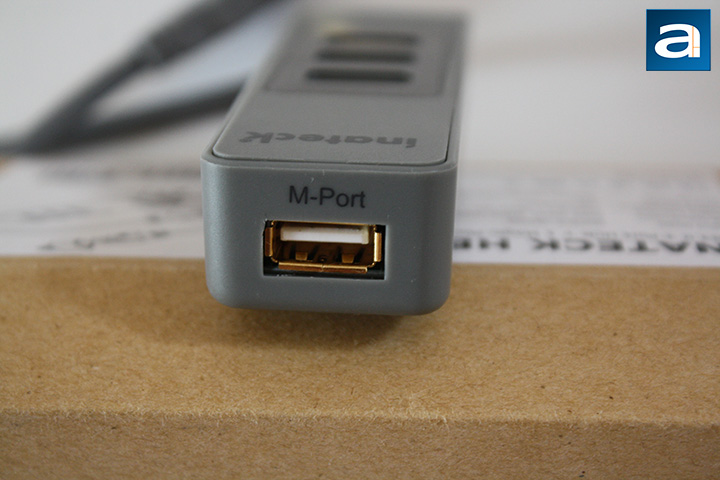 Here is a close up look of the Magic-Port, or as labeled by Inateck on the HB4009 itself, the M-Port. This port is the first step in transferring files between Windows, Mac OS, and Android based devices. This port is also gold-plated for show, and does not speed up or enhance any part of the transfer process as aforementioned. The Magic-Port is very useful in my case, because since I have built my PC, I have not invested in a card reader. Hence, when taking pictures for my past reviews, I have been relying on the Windows HomeGroup. I would have to go through the arduous process of transferring pictures from my SD card to my laptop, and then to my desktop. However, with the Magic-Port, I can now connect my laptop to my PC, and Voila!, the files I want are transferred.
I am rather surprised, after taking a look at the main hub of the Inateck HB4009, at the lack of a single LED light. Even some older USB hubs I have owned had an indicator to show whether or not power is being supplied. It would also be nice to have individual LED lights for each of the three USB ports to know my devices are connected and active.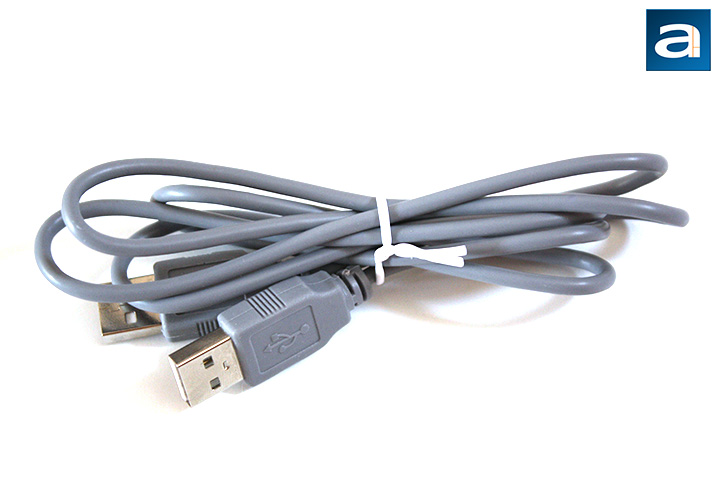 Inateck has been very generous in offering a long extension male USB 2.0 cable to establish a connection between systems and devices. The cable itself is 120cm long, which should be more than enough to make a good connection your computer to your phone, or computer to computer. At this point, you may ask, "Why include a USB 2.0 cable instead of a USB 3.0 cable?" The answer is rather simple. Unfortunately, the HB4009 only supports USB 2.0 transfer speed from computer to computer, which is kind of strange, considering this is a USB 3.0 hub. I would love to see USB 3.0 speed between devices, considering this is, after all, 2015.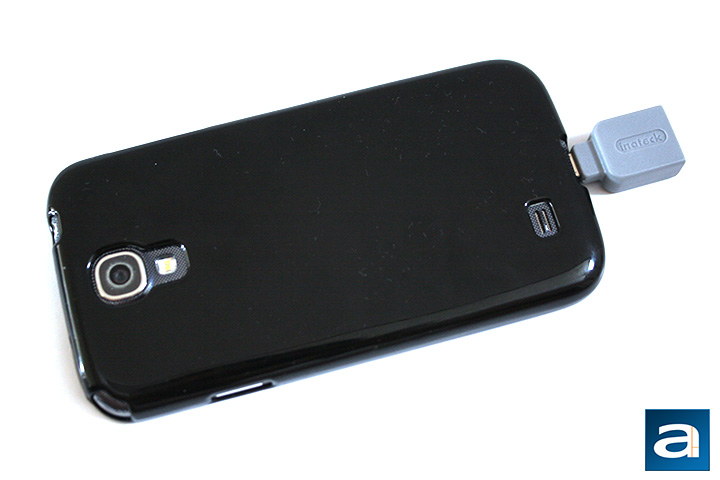 With the USB 2.0 cable comes a female USB 2.0 Type A to male micro USB 2.0 connector, which can be used to connect your PC to any Android device. You will need to make sure the Android device is OTG-enabled, and using your Windows or Mac OS system as the control terminal. If you are using Android 4.4 (KitKat) and below, you can use your phone as the control terminal, but Android 5.0 Lollipop is incompatible with this program. The Windroid Linker program must also be installed either by using the App Download QR Code or directly from the Google Play Store. The program itself does not take up much space on your Android device, as it is only 792 KB from the Play Store. After the app has been downloaded, it is simply plug and play. The interface has a picture of Windows on one side and Android on the other, with the words "disconnected" or "connected" under the pictures.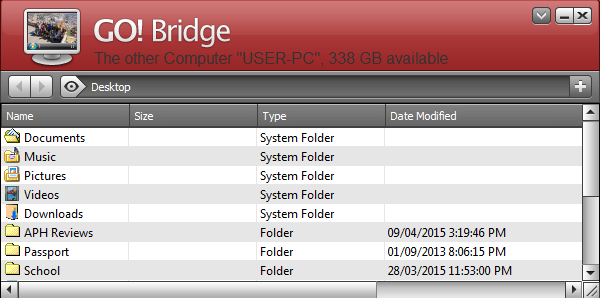 For me, I have it configured between my desktop, laptop, and Android phone. After the PC to PC or PC to Android connection was made, the computer took some time to install drivers needed for file transfers. When all the drivers were installed, the computer provided a quick notification, telling you a connection was made with either the other PC or Android device. At this time, you can go into the settings menu to confirm where the other device is physically located; either to the left or right of the main PC. By doing this, it will allow you to control both computers with one mouse and one keyboard. It feels, quite literally, like magic -- you can move your mouse seamlessly between the displays of your two devices, and use your keyboard accordingly.
The next part to begin the transfer process is to open up the GO!Bridge program by right-clicking and selecting the program. This program will allow you to locate the files you want in the other system, and transferring it with a click and drag of the mouse. The user interface is not the best, but I have definitely seen worse. This certainly promotes convenience for users who want to transfer files from their primary PC to their secondary PC, or users who want to work on two PCs, but want to seamlessly integrated the experience of both together.
-----------------------------------------
The fondest memories I had with the Game Link Cable consisted of getting the items I wanted and battling with my friends on my Nintendo Game Boy. The Inateck HB4009, in essence, is the Link Cable of the modern era. Inateck has been able to combine both the looks and the function of the HB4009 into a great product. Although the design of the USB hub is on the simple end, the plastic and brushed metal look shows a well made product. The function of the Inateck HB4009 is nothing short of awesome. It does its job, and it really surprised me with the function of the Magic-Port. It provides the convenience of being able to use two PCs at the same time -- seamlessly -- with one keyboard and one mouse. You really have to see it first-hand to understand the magical feelings. The programs offered by Inateck for file transfers also works without a hitch, and it is simple to use. Starting with the Go!Bridge program, it is, as promised, plug and play. This allows users to see files on their secondary PC, and transfer the files they want by dragging. The Android application is also easy to use. The graphical user interface for the Windows program has room for improvement, but I have no issues with its functionality. The real bummer is data transfer is limited to USB 2.0 only, and not USB 3.0. For a future product, I would definitely like to see USB 3.0 transfer speed between devices. At this day and age, USB 3.0 is practically a necessity. LED indicator lights would also be a welcome feature to let users know about hub activity and power. For a MSRP of $25 USD around press time, the Inateck HB4009 is quite reasonable, considering it not only acts as a hub, but delivers a simple solution for file transfer and seamless control of two computers with one keyboard and one mouse.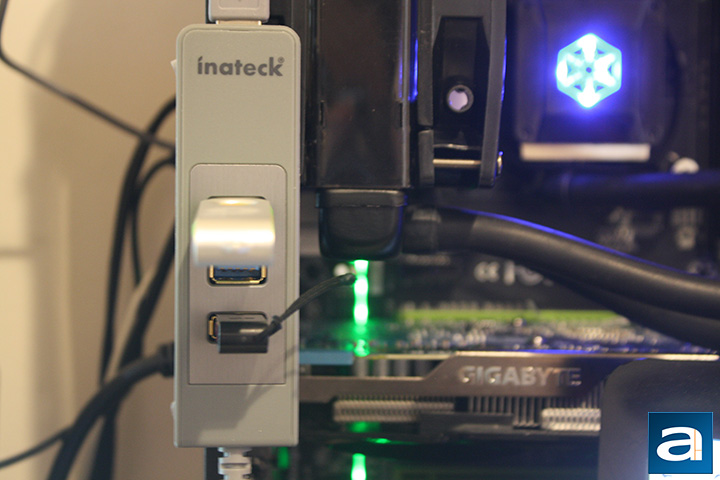 Inateck provided this product to APH Networks for the purpose of evaluation.
APH Review Focus Summary:
7/10 means Great product with many advantages and certain insignificant drawbacks; but should be considered before purchasing.
6/10 means A product with its advantages, but drawbacks should not be ignored before purchasing.
-- Final APH Numeric Rating is 6.8/10
Please note that the APH Numeric Rating system is based off our proprietary guidelines in the Review Focus, and should not be compared to other sites.
Even though I do not believe in magic, I have to say there is something mystical about the Inateck HB4009.
Do you have any comments or questions about the Inateck HB4009? Drop by our Forums. Registration is free, and it only takes a minute!