By: Jonathan Kwan
June 26, 2015
If you have been following APH Networks for a while, you may have realized quite a number of the staff team are avid Lenovo ThinkPad users. In the introduction of my G.Skill F3-8500CL7D-8GBSQ 2x4GB review back in December 2009, I said the ThinkPad brand was strong in "progressive refinement, subtle beauty, pride, and tradition". Furthermore, I said ThinkPads were the ultimate 'sleeper' device in the midst of frequently stolen Apple MacBook Pro laptops here at the university. Well, it looks like a few things have changed in the last five years or so, because recently I sold my ThinkPad T420, and bought none other than a high-spec 13" Apple MacBook Pro with 16GB of RAM and a 512GB SSD. Was this a betrayal of my roots? You could say so. But regardless of what you think, what comes as an even bigger surprise is the stereotypically expensive Macbook Pro is actually the most competitively priced systems with the best specifications in this form factor. I always vote for the best product with my wallet, rather than out of blind brand loyalty. Now that I am an Apple user, it is important to assimilate myself into the culture. As I write this review at a coffee shop in Inglewood here in Calgary, drinking my non-fat cinnamon soy latte paid for using my American Express, sitting next to the window wearing thick rim acetate Ray Ban glasses and skinny jeans, and just about the hail the cab using my iPhone 6, I decided I better pack up my MacBook Pro into what is really the final frontier in my quest to become a hipster: The Inateck MP1320 Hipster MacBook Pro Sleeve. "Hipster" is actually not a part of the product name, but that is only because doing so is too mainstream.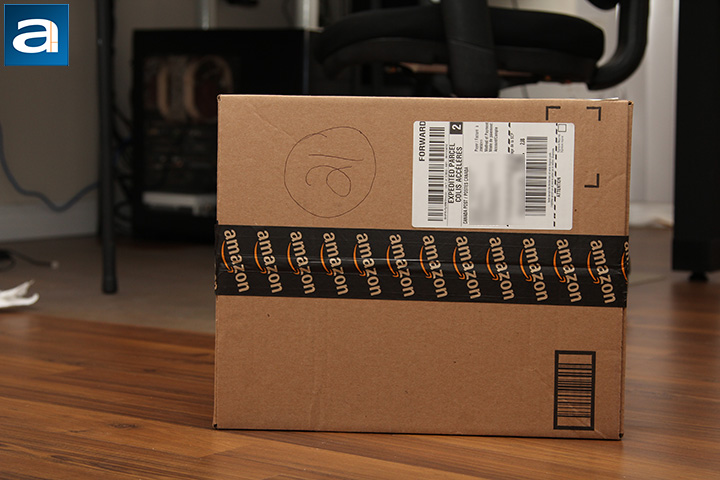 Our review unit of the Inateck MP1320 was sent to us via an Amazon order fulfillment from Mississauga, Ontario. Using the Canada Post Expedited service, it arrived to us here in Calgary, Alberta in great condition for our review today. Coming along with the package was the Inateck HB4009, which Brian Cheung will cover here at APH Networks shortly as well. Without wasting too much time, being a Lounge article and all, I grabbed a knife, and opened up the box to lay my hands on my first ever hipster MacBook Pro sleeve.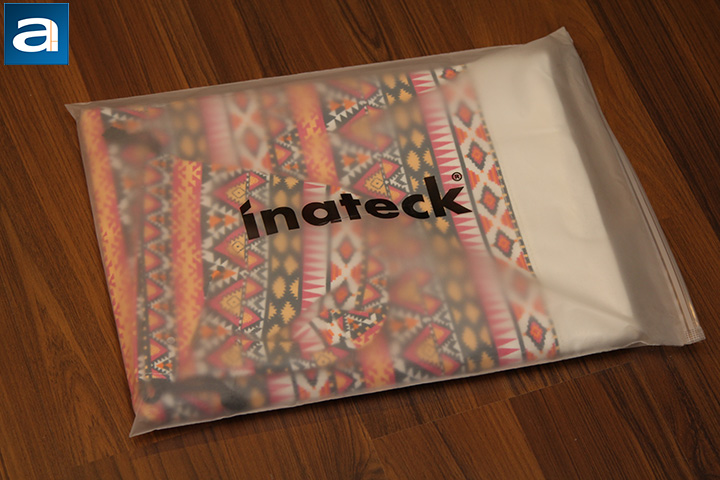 The retail packaging of the Inateck MP1320 is pretty simple. All you will get is a translucent resealable plastic bag with the company's brand name printed boldly across the front in black. This is pretty environmentally friendly, considering an almost complete lack of excess waste. You can even use the resealable plastic bag for other purposes; should that no longer fit your needs, hitting the recycle bin will keep Mother Nature happy. Just like how when I am not taking the cab, I roll around in my Toyota Prius to keep it green. "Ya won't see me ever hit 'E' with my MPGs...... in my Prius!" The MacBook Pro, of course, is safely stowed in the hatch, protected by the MP1320.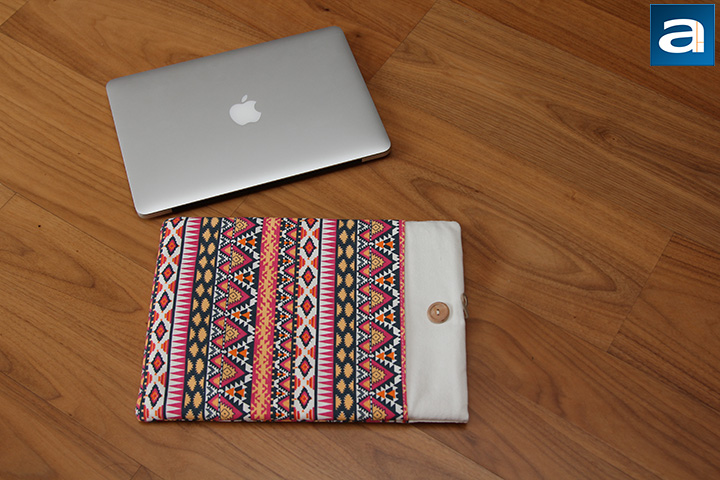 "Wow, that is so hipster."
"Pink looks girly. Is it available in other colors?"
"It is so soft!"
About a month ago, in an internal discussion on upcoming reviews among editorial team, my colleague Aaron Lai shot me the following in an email: "Jonathan you should get that MacBook sleeve. Time to fit into the true hipster status!" Needless to say, the Inateck MP1320 is designed for the de-facto hipster laptop, the 13" Apple MacBook Pro, but it will also accommodate the MacBook Air. This Bohemian style bag fits my 2015 MacBook Pro like a glove. On the style end of things, the MP1320 -- from the physical design to its artistic patterns -- is definitely hipster in every respect. Words will not do it justice, so I will let the photos speak for itself. On a side note, I know I have already overused the word "hipster" at this point of the review, but brace yourself for more to come, haha.
Our particular sample from Inateck is the Opera Pink version (MP1320), but the sleeve is also available in Royal Black (MP1322) or Simple White (MP1323). Given a choice between pink, black, and white, it was not a hard choice for us here at APH Networks. Among the editors, we have a tradition of covering pink products, such as the FSP NB Q90, SilverStone Air Penetrator SST-AP121-USB, and Silicon Power Blaze B05 64GB. As the Editor-in-Chief of APH Networks, I actually have not covered a pink product before, so to scrape off some irony in the tenth anniversary of this website, I took the plunge and got into the game.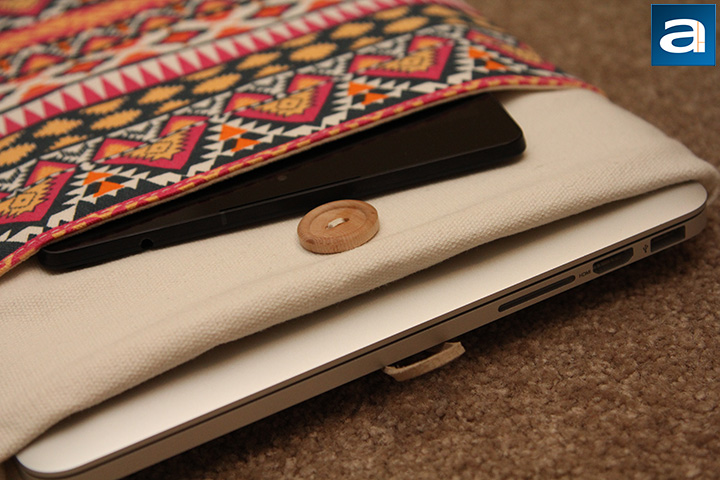 Is a Google Nexus 9 hipster? Oops, I better leave it out next time.
Taking a closer look at the Inateck MP1320, and you can see how snugly it fits my MacBook Pro. The plushy, four layer construction of the bag promises 360 degree of protection without all the bulk, and I would say they have generally done a great job at meeting both parameters. Of course, even with the hipster-max water resistant canvas exterior, fleece interior lining, and the eco-friendly lycra and neoprene in between, I would not go around and drop my laptop on concrete to check its crash test protection. For day to day use, you are pretty well covered. Consistent with its style, my MacBook is held inside by a wood patterned button, and a short string loop. I am slightly concerned about the quality of the loop, because it looks like it might crack with age, but for now, everything works as advertised.
The hipster sleeve also features a side pocket. The side pocket is not enclosed, so make sure what you are keeping inside will not fall out. That said, it comes in a perfect size for letter sized documents, and even standard folders. If business is not your thing, the side pocket will happily accommodate the latest issue of Vice or your Nexus 9... I mean, iPad Air 2.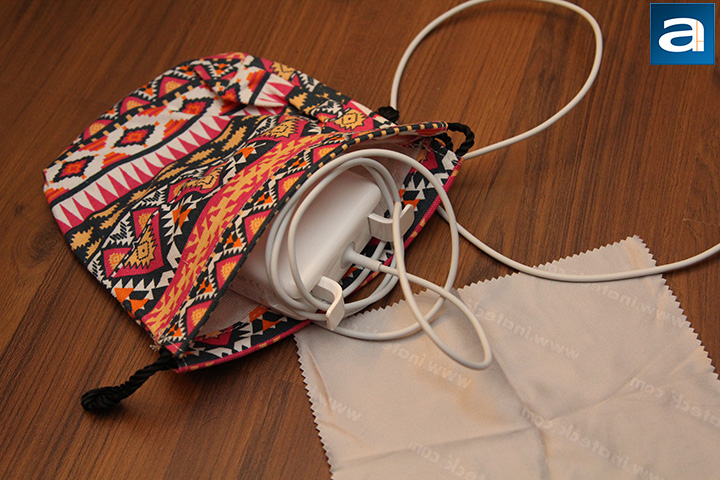 Besides the actual sleeve, Inateck also throws in a small Bohemian style drawstring bag to go with the MP1320. That is, if the laptop sleeve itself is not hipster enough already, a touch of Central Europe will definitely seal the deal. You can use the auxiliary bag to hold your AC adapter or laptop mouse. A microfiber cloth, nicely laid with Inateck's logo, is also included to keep your equipment free of fingerprints by peasants who have never seen your hipster gear before. Clearly, they have really thought of everything.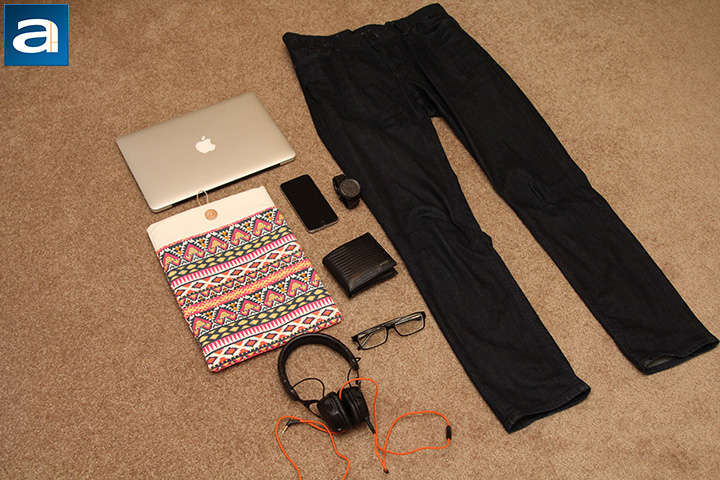 As you can see in our photo above, the Inateck MP1320 Hipster MacBook Pro Sleeve fits well in its natural habitat. This includes the latest MacBook Pro, iPhone 6, Ray Ban glasses, skinny jeans, and a pair of V-MODA XS headphones. In all seriousness though, I think Inateck has done a great job with the MP1320. For about $15 at press time, the Bohemian style sleeve is well constructed, and delivers reasonably good protection for your laptop, without the bulk for a very reasonable price. The side pocket can actually accommodate useful content, and the auxiliary bag keeps smaller items handy. I think adding a button to the side pocket will be useful, and improving the loop string quality is also a good idea.
By the way, before we close off today, I have a confession to make. My primary operating system on my MacBook Pro is actually Windows 8.1 Professional.
After all, running Mac OS on an Apple computer is too mainstream. A good laptop deserves a real operating system.
True hipster status achieved?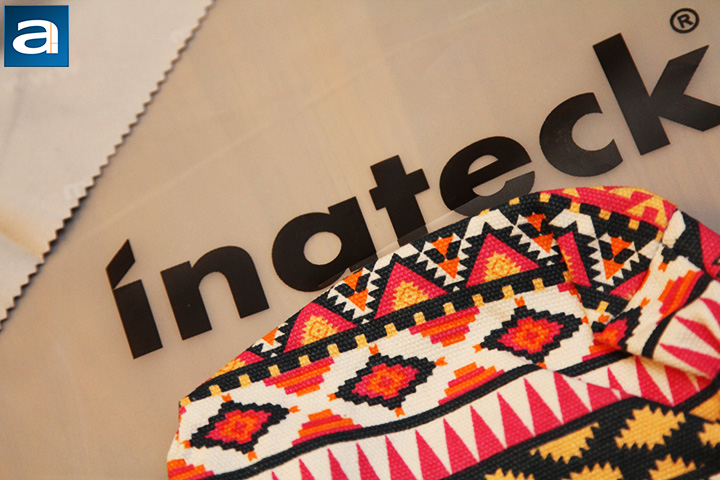 Inateck provided this product to APH Networks for the purpose of evaluation.

Do you have any comments or questions about the Inateck MP1320? Drop by our Forums. Registration is free, and it only takes a minute!