Page 2 - Physical Look - Hardware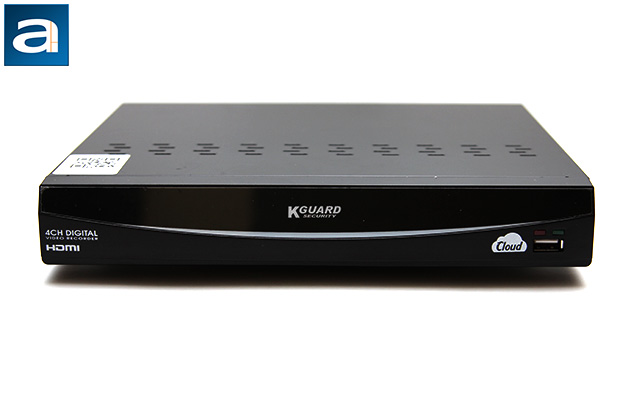 Since there are so many components to the KGUARD Easy Link EL421-4HW212B home security camera system, we will have to break this review up, and order things up a bit. Of course, at the center of this surveillance package is the digital video recorder. As its name suggests, it records video, but for those who have subscription based television at home, you will find quite a bit of similarities between this and the one sitting under your HDTV right now. Now obviously, you won't be able to catch the latest episode of Game of Thrones using the KGUARD box, but if you want to catch a predator, then get ready to hook up a few cables. Like set top boxes, it collects video feeds from its sources, can be viewed live and/or record everything in the process, and played back at a later time either directly on the device or remotely over your network. Sweet! If you want more details, we will cover the hardware and software aspects of all these in just a short moment from now.
Meanwhile, back to the box itself, to get with the times, the digital video recorder is surprisingly slim and compact. Our particular unit is the 500GB version, which provides a very reasonable amount of video storage. Measuring in at 250mm width, 230mm depth, and 45mm height, it will fit almost anywhere, and fit well in the process, thanks to its subtle black enclosure. Vents are placed at the top to dissipate heat away from the components inside, but it does not run hot enough to call for active cooling. During operation, the system is pretty quiet -- all you will hear is the hard disk drive.
Meanwhile, the QR code sticker used for quick setup found on the packaging can be seen on top as well. In front, you will find KGUARD's logo front and center. The logo glows blue when turned on. On the right, you will find a red HDD activity LED and a green power LED. Both LEDs are quite bright; the red HDD activity LED might be pretty annoying at night if you are placing the DVR anywhere other than the storage room, since it blinks constantly. A front USB port is present for you to connect external devices like a hard drive or mouse. Finally, an IR receiver is hidden behind clear plastic for the included remote control.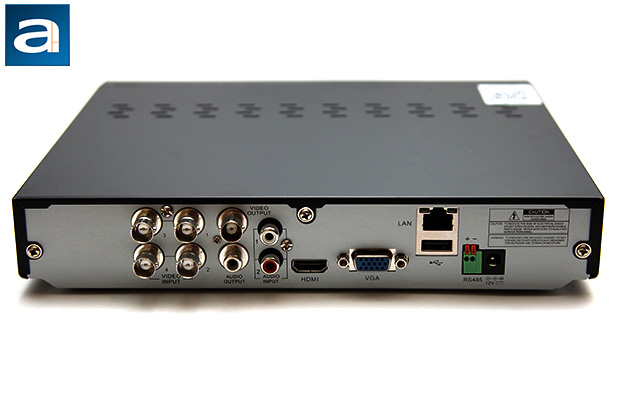 A simple array of connectors reside at the back of the KGUARD Easy Link EL421-4HW212B's standalone digital video recorder. Starting from the left, there are four BNC connectors for video input. This is a four channel device; meaning you can connect to and record from four cameras simultaneously. This is followed by a small array of video outputs, which includes BNC, HDMI, and VGA ports. Audio input comes in the form of two RCA jacks, while audio output comes in the form of one RCA jack. On the right, we can see an RJ45 10/100 Ethernet adapter, USB 2.0 port, and RS485 PTZ control connector. The DC 12V input on the very right closes off this list. The USB port can be quite useful if you decide to connect an external hard drive for capacity expansion. It is also nice to see KGUARD include VGA and HDMI for up to full HD output on connected monitors, which can be very useful for those who have the DVR connected to their TV. For me personally, I have set up my device to go headless, and controlled via network exclusively. We will talk about that more on the next page.
The KGUARD Easy Link EL421-4HW212B records video using H.264 compression, and supports recording at 120fps @ CIF (360×240), 120fps @ HD1 (720x240), or 120fps @ D1 (720x480) for D1 NTSC, and 120fps @ WCIF (480×240), 120fps @ WHD1 (960×240), or 120fps @ WD1 (960×480) for 960H NTSC. For PAL D1, it can be configured for 100fps @ CIF (360×288), 100fps @ HD1 (720x288), or 100fps @ D1 (720x576), while at 960H, it can be set to 100fps @ WCIF (480×288), 100fps @ WHD1 (960×288), or 100fps @ WD1 (960×576) .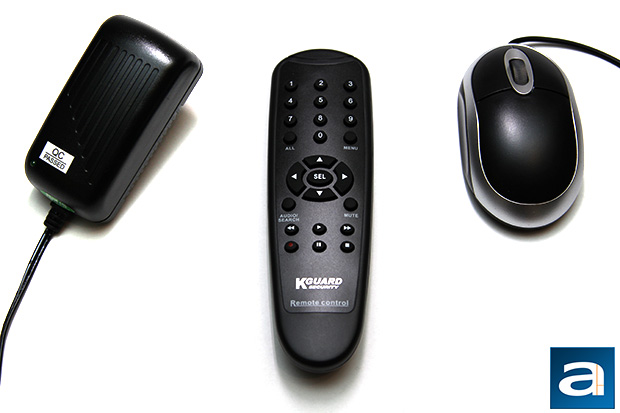 From the left, we have an AC adapter, remote control, and USB mouse. KGUARD throws in two identical AC adapters to go with the kit; one is used for powering the DVR, while the other is used for powering all four cameras via an included splitter. The AC adapter is manufactured by Shenzhen FuJia Appliance with model designation FJ-SW1202000U. It is rated for 12V 2000mA output, meaning this is a 24W power supply. A green LED at the top will light up to indicate the plug is live, which is quite convenient. My only complaint about the FJ-SW1202000U is its sheer size -- being tall and fat, it will easily take up your entire power strip, unless you are using one designed specifically for use with personal computers.
On the other hand, the IR remote control is quite compact. It takes two AAA batteries, which are included from the factory. This KGUARD branded unit is straightforward and intuitive to use. As you can see in our photo above, the number pad is stationed at the top, with two buttons, labeled 'All' and 'Menu', located on the left and right of the '0' button, respectively. In the center of the remote control is a circular D-pad with 'Select' in the middle. Two buttons, one labeled "Audio/Search" on the left and one labeled "Mute" located on the right, is positioned underneath the D-pad. Finally, a matrix of six buttons for controlling video -- rewind, play, fast forward, record, pause, and stop -- is found near the bottom. Overall, using the remote control with the Easy Link EL421-4HW212B kit is as straightforward as it looks, but in my personal opinion, you are much better off using a mouse. Trying to enter data like your system password on the onscreen keyboard can be a real chore with the remote control.
Of course, this brings us to the topic of the mouse, which KGUARD has also kindly included. It is not wireless, so this is not something you can use on your couch like the remote control. The mouse is more for people who have a dedicated CCTV monitoring station with an LCD monitor connected to their DVR. It is nice to see KGUARD having all their bases covered; designing their system with USB mouse support, and actually including one. On the other hand, for me, it is much more convenient to control everything over network. After all, every function that is available locally is also available remotely, and at the comfort of my PC, too. Again, we will talk more about this on the next page.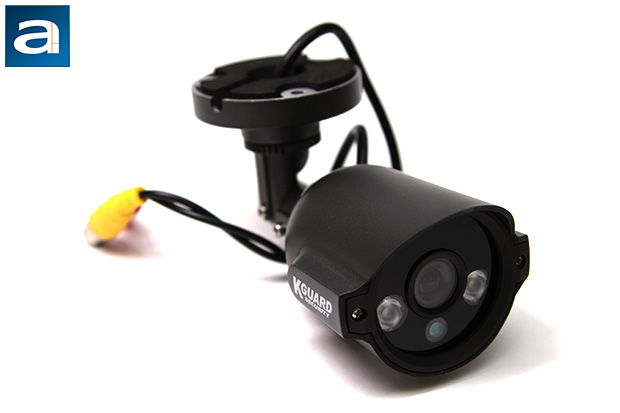 Lastly, we have the camera itself. Four identical units are included in the KGUARD Easy Link EL421-4HW212B security camera kit. KGUARD Security's logo can be found on both sides of the camera. They are made out of aluminum, and feel extremely solid, yet very lightweight to behold. Its black enclosure gives it a fairly subtle appearance, which is always desired for security equipment. Dimensions are specified at a relatively compact 68x58x153mm, with a weight of only 0.53 lbs. The cameras are weatherproof, so you can not only install them indoors, but also outdoors as well. KGUARD specifies their operating temperature to be between -10c and +50c, but let me put it this way: -10c for Canadian winters is absolutely nothing. Does this mean your outdoor cameras will be out of service several months of the year if you live up north? Fortunately, I have them installed outside just before a seriously cold front hit Calgary last month, and with all confidence, I can say they work flawlessly even when it drops below -30c.
The cameras are powered by KGUARD's Fulcolor image sensor, which provides up to 600 TVL resolution. In NTSC mode, the electronics shutter can range between 1/60 to 1/100,000 seconds with auto gain control and backlight compensation. In PAL mode, this changes to 1/50 to 1/100,000 seconds. One thing to point out is, while the DVR is capable of recording at 960H (960x480), the cameras do not capture in that resolution, making it more of a future expandability option than a current feature set. The 3.6mm fixed lens provide a wide 75 degree viewing angle, which, for most setups, provides a very reasonable field of view. Located on both sides of the lens is an 850nm infrared array to provide night vision for up to 20m range. From my tests, the night vision quality is excellent. Just to note, it captures in full color during the day, but once night mode activates, it becomes black and white. This is pretty much standard fare for all security cameras in the market today.
Camera installation is as straightforward as it gets. Everything you need is included out of the box, and being independently packaged and all, installation tools for each camera are included fourfold. So awesome. Much accessories. Wow. To start, use the paper drill pattern to drill three holes on the surface you would like to install your camera. Once all three holes are drilled, align your camera base, and put in the self-tapping the screws. KGUARD has designed the cameras to allow three hundred and sixty degree of alignment independent of the base, meaning you can point your camera in any way you want regardless of how you have attached it to your wall or ceiling. Two adjustments are done by a hex screw (One Allen key is included for each camera), while the last one is configured by hand. Unfortunately, the base opening is not large enough, so you cannot hide the BNC lead out connectors within camera itself. Unless your house is prewired with BNC cables, or you are drilling your wires into the wall, you will have to leave them dangling outside.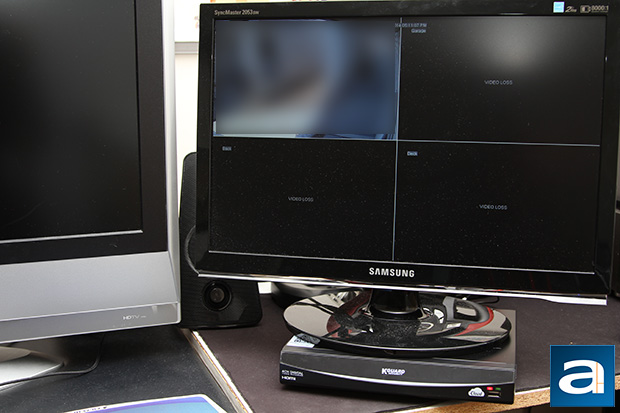 Once all the cameras were installed, wired, and plugged in, I fired up the KGUARD Easy Link EL421-4HW212B digital video recorder. For the interest of my own security, I have blurred out or disconnected all the camera footage for images that will appear in this review. To get a feel of how the system is when connected directly to a monitor, I have tried it out on my 55" 1080p HDTV, as well as a 20" widescreen monitor via VGA, as you can see in our photo above. While the user interface is generally intuitive straight from the machine, as I have mentioned earlier, it might be a bit frustrating to use with a remote control, and slightly inconvenient even with a USB mouse attached. This is especially true, since any menu options will require you to enter a password first. As everything is also available via its a web based interface, I will be taking a deeper look at that from the comfort of my PC instead on the next page.
---
Page Index
1.
Introduction, Packaging, Specifications
2. Physical Look - Hardware
3.
Configuration and User Interface
4.
Results Discussion and Conclusion