By: Jonathan Kwan
March 28, 2014
What do you call a Pizza Hut when an employee pees in the sink? One could refer to it as a PEEza Hut. Recently, a surveillance video on YouTube was uploaded, showing a Pizza Hut district manager peeing in the restaurant's kitchen sink in West Virginia. While we here at APH Networks are not about to debate the reasons why anyone would do such a thing, let us sit back for a moment, and think about it: Would anyone have known about this if there were no surveillance cameras installed practically facing right at the kitchen sink? Even if there were surveillance cameras, would we have known about it the internet did not exist? With the explosion of affordable electronics and fast internet installed almost everywhere, we have access to more useless information than ever before. On the other hand, although it is mere amusement to the rest of the world of what is happening at a PEEza Hut in West Virginia, other than to the people in West Virginia, what is going on in our own home when we are at work or at school may be of significant relevance to us. KGUARD Security, a company that specializes in making surveillance cameras, has exactly this in mind. Coming out of the business niche and making their foray into the home market, the company understands buying all the equipment separately can be quite an overwhelming task, especially to newbies. Therefore, they created the Easy Link EL421-4HW212B four channel CCTV combo kit, which promises easy setup, remote internet access, and affordable pricing all in one package. Is this one box to rule them all? We gave it shot to find out.
Our review unit of the KGUARD Easy Link EL421-4HW212B came in a pretty beefy brown corrugated cardboard box from the company's American headquarters in California, USA. Using UPS Standard, everything was handled well to us here in Calgary, Alberta, Canada for our review today. I have actually received the package in early February; unfortunately temperatures around here dropped like a rock, and hovered around -20c to -30c for quite a number of weeks. As such, I have not had much of a chance to fully set up the system due to the cold. With the temperatures rising to levels that most Albertans would consider T-shirt and shorts weather (And still deathly cold by Californian standards), I was finally ready to fire up the testing again.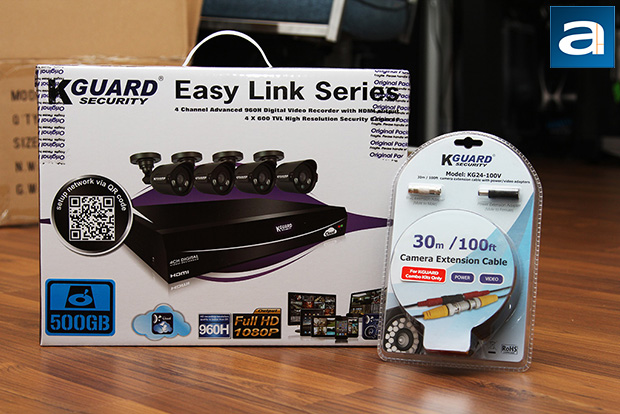 At first glance, the KGUARD Easy Link EL421-4HW212B's retail box is pretty down to business. How should I put it? According to my logbook that I filled in last month, I said it was pretty "security-esque". I have to say, I agree with myself. At the top, you will find KGUARD Security's logo, along with the text "Easy Link Series" printed boldly across. Under it, you will see a description of what the kit consists of, which is basically a digital video recorder and four cameras. Logically, a photo of a digital video recorder and four cameras occupy a big spot in the middle of the box. Who would have thought? At the bottom, an array of icons show some of the features of this product, such as the 500GB hard drive, 960H recording quality, and 1080P video output of the DVR. A big QR code -- which you will see more than once; more on this later -- lets you scan it to fire up set up a easily. On the two sides of the box, you will find some feature highlights; diagrams and specifications are printed at the back for those who may find this kit interesting at a retail store. KGUARD also kindly sent along a KG24-100V extension cable for our setup today. The 100ft cable costs about $25, which is very reasonable. It is a standard BNC video with power cable, and comes with an extension adapter for video signal. You will not need the power extension adapter for standard setups. Interestingly, I picked up a KGUARD 100ft extension cable from a local retail store with a slightly different model number, and it does not come with the power extension adapter.
Before we move on, let's take a look at the specifications of the KGUARD Easy Link EL421-4HW212B security combination kit, as obtained from the manufacturer's website:
EL421-4HW212B Specifications
Model No.: EL421
No. of Channel: 4 Channels
Cloud
Cloud Storage: Yes
Storage Mode: Schedule / Motion Detection
Video
Video Format: NTSC / PAL
Video Input: 4 BNC Inputs
Video Output: 1 VGA, 1 BNC, 1 HDMI Outputs
Video Output Resolution: "VGA: 800x600, 1024x768, 1280x1024, 1440x900, 1920x1080 HDMI: 1080p"
Audio
Audio Input: 2 RCA Inputs
Audio Output: 1 RCA Output
Recording
Video Compression: H.264
Recording Frame Rate D1 NTSC: 120fps @ CIF (360×240), 120fps @ HD1 (720x240), 120fps @ D1 (720x480); PAL: 100fps @ CIF (360×288), 100fps @ HD1 (720x288), 100fps @ D1 (720x576); 960H NTSC: 120fps @ WCIF (480×240), 120fps @ WHD1 (960×240), 120fps @ WD1 (960×480); PAL: 100fps @ WCIF (480×288), 100fps @ WHD1 (960×288), 100fps @ WD1 (960×576)
Recording Mode: Always / Manual / Motion Detection / Schedule
HDD Interface: 1 SATA
HDD Support: Up to 2TB
Network
Plug & Play: Yes
Network Interface: RJ45, 10M/100M
Network Type: DHCP, PPPoE, Static IP
Playback
Local Playback: Max. 4 Channels Simultaneously
Playback Search: Date & Time / Event List / Time Bar
Playback Mode: Play, Fast Forward, Fast Rewind, Slow Motion, Zoom
General
PTZ Control: RS485 Built-In, supports PELCO-P & PELCO-D
Backup Method: HDD, USB, Network
Power Supply: 12V/2A
Operating Temperature (W/O HDD): -10℃ to 50℃ ( 14°F to 122°F )
Storage Temperature: -20℃ to 70℃ ( -4°F to 158°F )
Dimension (LxWxH) in mm: 250x230x45
CCTV Camera Specifications
Video
Image Sensor: KGUARD Fulcolor
Horizontal Resolution: 600 TVL
Electronics Shutter: NTSC 1/60-1/100,000(sec); PAL 1/50-1/100,000(sec)
Lens: 3.6mm Fixed
Viewing Angle: 75 Degrees
Video Output: 1.0VP-P, 75Ω
S/N Ratio: More than 48dB(AGC OFF)
Day / Night Mode: Color during day / switches to B&W at night
Minimum Illumination: While Infrared LED on "0" lux
Gain Control: Auto
Backlight Compensation: Auto
Night Vision
Night Vision Distance: 20m / 65ft
Illumination: Mini Infrared Array
Infra-Red Wavelength: 850nm
Infra-Red LED Life: 10,000hrs
General
Indoor / Outdoor: Weatherproof (Both)
Operating Temperature: -10~50°C / 14~122°F
Storage Temperature: -20~70°C / -4~158°F
Body Construction: Aluminum
Dimensions - Camera with Stand (WxDxH): 68x58x153mm
Weight - Camera with Stand: 240g / 0.53lbs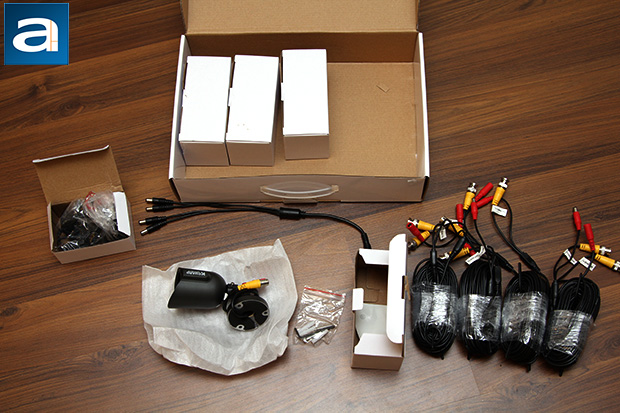 Inside the retail box, there are two more retail boxes. This is one of those "Yo dawg, I heard you like retail boxes, so I put a retail box in a retail box so you can unpack a retail box to unveil another retail box" moments. The KGUARD Easy Link EL421-4HW212B combination kit is quite literally a combination of a DVR and four cameras -- you can easily separate the two, and sell them separately. Inside the retail box that contains the cameras, as shown in our photo above, are even more boxes. Here, you will find four included cameras, each individually packaged in white boxes. Inside each white box is one camera, three screws, three plastic grommets, hole pattern template, and an Allen key. Having one Allen key for each camera is probably a bit excessive and redundant, but hey -- I am not complaining about extra free accessories.
The Easy Link kit also comes with four 18m BNC video and power combination cables. All four cables are individually wrapped in clear plastic, and wrapped around a simple plastic core to keep everything nice and tidy. For most houses, if you are planning to run the cables through walls, 18m should be more than long enough. If you are not running your cables through walls, 30m extension cables can be purchased separately, as I have with my KG24-100V. An AC adapter and one to four power splitter is provided to keep all your cameras powered at once.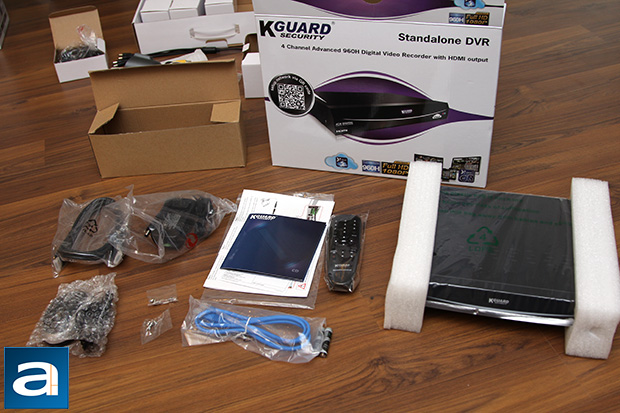 The standalone digital video recorder can be found inside the second retail box. As expected, this retail box has the same design style as all the other KGUARD retail boxes, just to keep everything within the same family. Here, you will find a 500GB DVR between two Styrofoam brackets, AC adapter, IR remote control, USB mouse, two AAA batteries, a really short 3ft CAT5e cable, two packs of screws, HDMI cable, setup CD, and a warranty card. Again, everything is nicely bagged individually.
Overall, KGUARD has done a great job at organizing the Easy Link EL421-4HW212B surveillance camera kit. There is a serious laundry list of included items, and I actually had to log every included item while opening the box, just so I can keep track of them. Despite the sheer complexity of all the included items, everything is neatly organized in a logical manner, which makes the life of the consumer much easier. Also, as promised, this Easy Link combination kit really includes everything you need to set up a home security system, making the whole shopping process as painless as possible for first time users. I will definitely have to give the company big props for making everything as straightforward as possible.
---
Page Index
1. Introduction, Packaging, Specifications
2.
Physical Look - Hardware
3.
Configuration and User Interface
4.
Results Discussion and Conclusion