Page 4 - Results Discussion and Conclusion
After using the KGUARD Easy Link EL421-4HW212B for about a month or so, I will admit it: How have I ever gone without a surveillance camera system? Once you have one installed, you will never go back. I think it was an absolutely genius move for KGUARD to take the products they already had, package it together into a single kit, and sell it to people who are looking to get a whole system running quickly without worrying about what to buy. The four channel digital video recorder is a slim and compact little box that comes with everything you need. With 500GB of capacity and expandable via USB, I really do not have much to complain about when it comes to hardware. Heck, it even comes with a remote control and mouse! As far as the bundled cameras are concerned, again, they are absolutely top notch. They are solid units with very good video capture quality in both day and night. This is not to mention they worked flawlessly for me, even when the temperature outside dropped to -30c. My only complaint is you cannot hide the connectors in the base itself; I think KGUARD expects you to have BNC cables running in your wall or ceiling already, which is not always the case. Anyway, for a first time user of a surveillance camera system, I am pleased to say installation was extremely straightforward. The cameras were easy to mount, and aligning them was as flexible as it can possibly get. The DVR was easy to configure, but the software has tons of room for improvement. There are some software bugs that should be ironed out, and its graphical user interface can use a serious facelift. Either way, whether I am sitting back at the comfort of my own desk, or traveling on the train checking to see how things are going around my house on my phone, the KGUARD Easy Link EL421-4HW212B has it all covered for an extremely competitive price of only $300 at press time. This, my friend, is seriously good hardware for a seriously awesome price.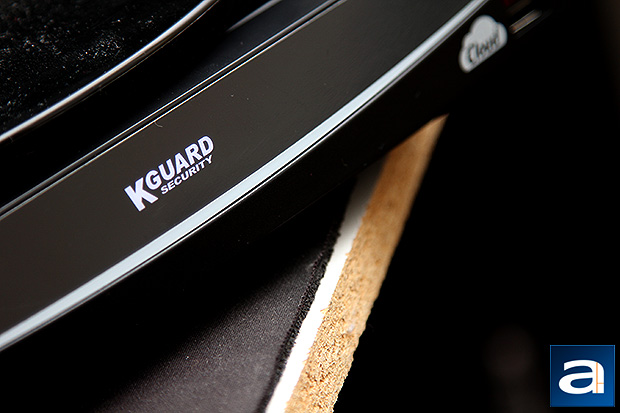 KGUARD Security provided this product to APH Networks for the purpose of evaluation.

APH equal.balance Award | APH Review Focus Summary:
8/10 means Definitely a very good product with drawbacks that aren't likely going to matter to the end user.
7/10 means Great product with many advantages and certain insignificant drawbacks; but should be considered before purchasing.
-- Final APH Numeric Rating is 7.4/10
Please note that the APH Numeric Rating system is based off our proprietary guidelines in the Review Focus, and should not be compared to other sites.
The KGUARD Easy Link EL421-4HW212B is exactly what its name suggests -- easy setup that is easy on the wallet to make it an easy winner.
Do you have any comments or questions about the KGUARD Easy Link EL421-4HW212B? Drop by our Forums. Registration is free, and it only takes a minute!
---
Page Index
1.
Introduction, Packaging, Specifications
2.
Physical Look - Hardware
3.
Configuration and User Interface
4. Results Discussion and Conclusion