By: Jonah Chow
October 21, 2022
One of the newest trends I have found recently is the rise of the BeReal app. The idea behind BeReal is to take a selfie along with a photo of wherever you are in the moment. Both photos are posted together and stay up for 24 hours for all your friends to see, friends being whoever you have added on the app. I watched more and more of my friends slowly jump on the app over the last few months before I eventually decided to jump on BeReal myself. I have been having some fun with it over the last little bit, not just posting my own photos, but also seeing what my friends post and what they are up to in their day-to-day lives. It is like a mix of Snapchat and Instagram, with Snapchat's personalized photos and Instagram's posting feature. It is always fun to jump on new trends and see what the hype is all about. While it may not necessarily be a trend in the exact same way, DDR5 is starting to spread through the PC enthusiast community with the mainstream release of compatible platforms. Just like BeReal, I am now also jumping on this new "trend" by getting my hands on some DDR5 memory, which brings us to today's review of the Kingston FURY Renegade DDR5-6200 2x16GB. It has been a while since I have reviewed a memory kit, so I am excited to get back into it. How does the FURY Renegade hold its ground when compared to other DDR5 memory kits? Let us read on to find out!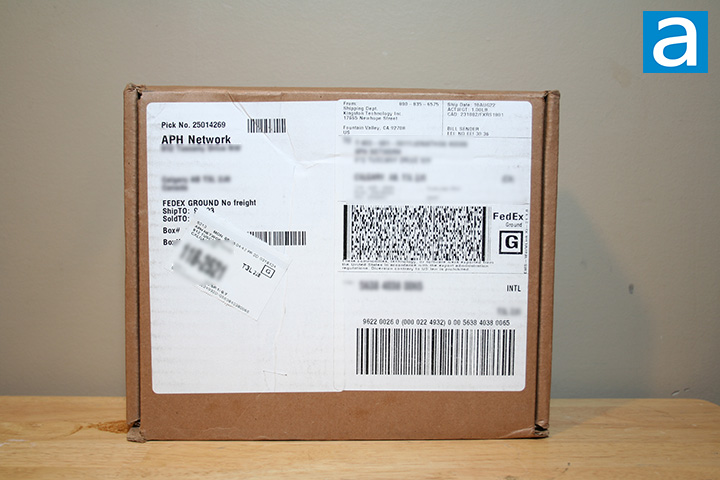 Our review unit of the Kingston FURY Renegade DDR5-6000 2x16GB arrived via FedEx Ground from Kingston's offices in Fountain Valley, California, USA. The shipping package arrived to us safely here in Calgary, Alberta, Canada. The brown corrugated cardboard box arrived in good condition with only a few minor scuff marks at the bottom.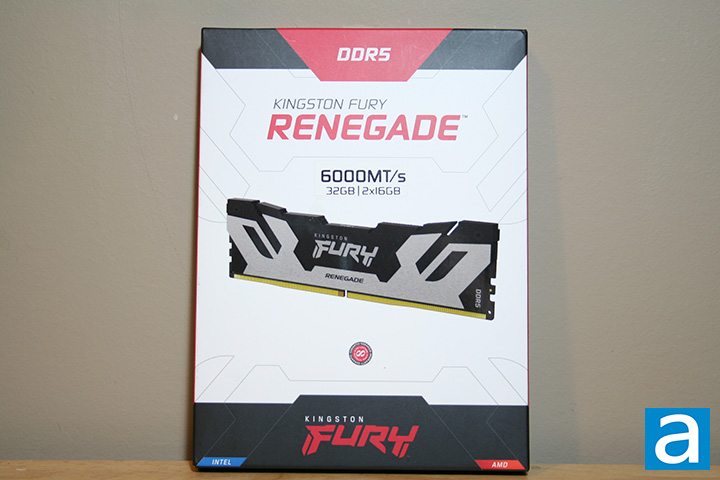 When it comes to colors, the retail packaging of the Kingston FURY Renegade DDR5-6000 2x16GB takes on a mix of white, black, and red. Text indicating this is a DDR5 kit is printed at the top of the front side. An image of a single memory module can be seen front and center of the box. A label just above indicates the memory capacity and speed. The Kingston FURY branding is seen at the bottom of the box with the Intel and AMD brand text on either side of it to show that it can be used with both processors. The backside contains additional information, including the manufacturer location and a list of certifications.
Before we move on, let us take a look at the features and specifications, as found on Kingston's website:
Features
Engineered to maximize performance
Tap into extreme overclocking potential
Intel® XMP 3.0 Certified
Qualified by the world's leading motherboard manufacturers
Aggressive aluminum heat spreader design
Specifications
Capacities: Singles: 16GB, Kit of 2: 32GB
Speeds*: 6000MT/s, 6400MT/s
Latencies: CL32
Voltage: 1.35V, 1.4V
Operating Temperature: 0°C to 85°C
Dimensions: 133.35mm x 39.2mm x 7.65mm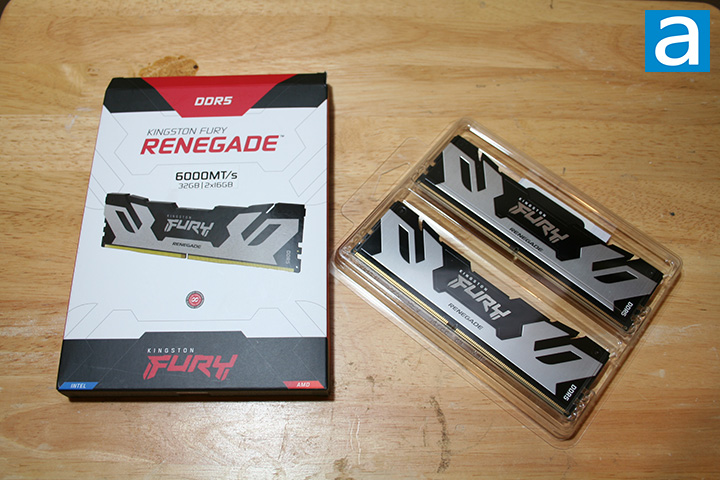 Opening the box, you have the two FURY Renegade memory modules. Both RAM sticks are inside a plastic shell, which helps protect the memory modules from scrapes and scratches. Nothing else arrived in the memory kit package, which is to be expected. The Kingston FURY Renegade DDR5-6000 2x16GB comes with a limited lifetime warranty.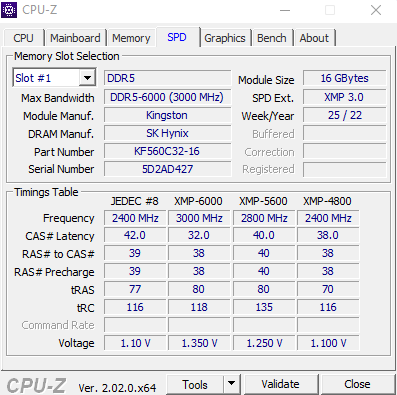 The photo above is a screenshot of the SPD tab in CPU-Z with Kingston's FURY Renegade DDR5-6000 2x16GB installed. The SPD timings table in CPU-Z reads standard JEDEC specifications programmed into the memory along with XMP/DOCP data for running the RAM at various speeds. The ASUS ROG Strix B660-I Gaming WiFi motherboard used for testing was perfectly capable of getting all the information about the FURY Renegade RAM. The Kingston FURY Renegade DDR5-6000 2x16GB retails for about $270 at press time.
---
Page Index
1. Introduction, Packaging, Specifications
2.
A Closer Look, Test System
3.
Benchmark: AIDA64 CPU
4.
Benchmark: AIDA64 FPU
5.
Benchmark: AIDA64 Memory
6.
Benchmark: PCMark 10
7.
Benchmark: 3DMark
8.
Benchmark: PassMark PerformanceTest 10
9.
Benchmark: SuperPI 1M, Cinebench R23
10.
Overclocking and Conclusion