By: Jonathan Kwan
June 22, 2018
A few months ago, my colleague Gina sent me a text message out of the blue. "Do you know how to change batteries?" she asked. "Of course I do," I wrote. "I am an expert in alarm clocks and graphing calculators." I could imagine her rolling her eyes as she sent a semi-sarcastic reply back. "How about locomotives?" More often than not, we have preconceived notions about the form and context of the things that we assume other people already know what we are trying to say. In this particular case, I knew she was asking whether I could help her change the battery in her car, but that did not stop me from having a little fun in the beginning. It is technically correct to say I have experience in changing alarm clock and graphing calculator batteries no matter how trivial the task is; and no, I have never worked on a locomotive before. In another example, what is the first thing that comes to your mind when I say "SSD"? A 2.5" Serial ATA drive? An M.2 expansion card? What about mSATA? For me, it would be a traditional 2.5" SATA drive, even though I have rocked a very nontraditional OCZ RevoDrive 350 480GB PCI Express unit for years. But whether you are thinking 2.5", M.2, or mSATA when I mention "SSD", you cannot be wrong with the Kingston UV500. The company offers their latest budget offering in all three form factors, and we here at APH Networks has all of them sitting in our labs. To start off the first review of our series, let us take a look at the most traditional of the bunch: Serial ATA.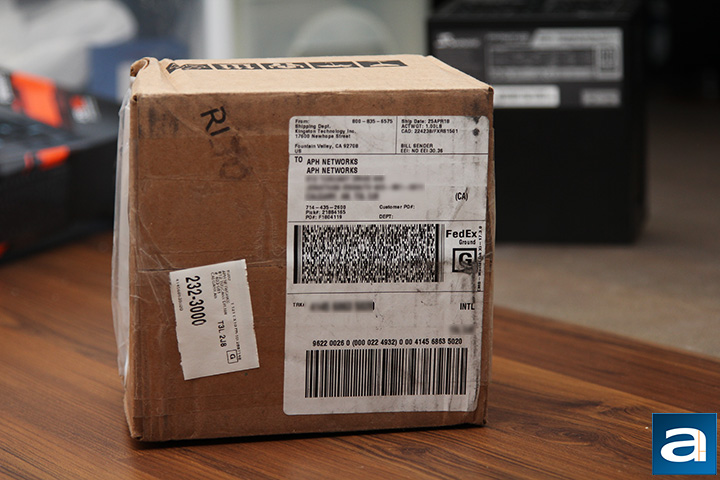 Our review units of the Kingston UV500 240GB came in a small brown corrugated cardboard box from the company's American headquarters in Fountain Valley, California, USA. Using the FedEx Ground service, everything arrived in excellent condition to us here in Calgary, Alberta, Canada for our review today. Inside the box are three different form factors of the same drive as aforementioned, in which you will see in the next photo.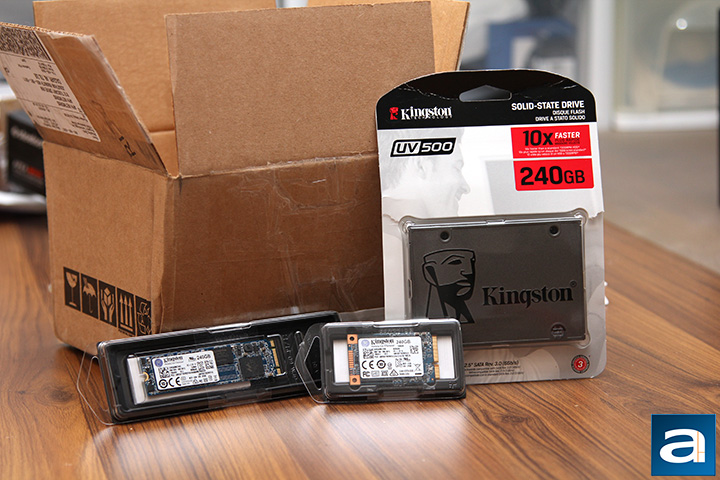 If you are unfamiliar with Kingston's marketing efforts, the packaging for the UV500 will tell you all you need to know. While the HyperX brand is aimed at enthusiasts, any products sold with the Kingston name is all about business. As you can see in our photo above, the SATA UV500's retail packaging is quite serious, and should I say, professional and business-like. The M2 and mSATA units simply use OEM packaging. Its predominantly white background is composed of a faded image of a man in front of a computer, while the model name, performance highlight, and storage capacity is shown in the foreground under the black strip containing Kingston's logo and the words "Solid State Drive". The UV500 itself is placed behind a beveled plastic shell doubling as a window showing off the SSD. At the bottom, you will find a series of texts telling you it comes with free technical support, the fact this is a 2.5" SATA device, and its three-year warranty. This is the same kind of packaging where you can hang it on a store shelf rail, but chances are that it will be locked up in the glass cabinet behind a counter, since they are quite easy to steal, haha.
Before we move on, let us take a look at the specifications of the Kingston UV500 240GB, as obtained from the manufacturer's website:
Interface: SATA Rev. 3.0 (6Gb/s) – with backwards compatibility to SATA Rev. 2.0 (3Gb/s)
Controller: Marvell 88SS1074 Controller
NAND: 3D TLC
Encryption: Encryption Support (AES 256-bit)
Sequential Read/Write: up to 520/500MB/s
Maximum 4K Read/Write: up to 79,000/25,000 IOPS
Power Consumption: 0.195W Idle / 0.5W Avg / 1.17W (MAX) Read / 2.32 W (MAX) Write
Dimensions: 100.1mm x 69.85mm x 7mm
Operating temperature: 0°C~70°C
Storage temperature: -40°C~85°C
Weight: 41g
Vibration operating: 2.17G Peak (7–800Hz)
Vibration non-operating: 20G Peak (10–2000Hz)
Life expectancy: 1 million hours MTBF
Warranty/support: Limited 5-year warranty with free technical support
Total Bytes Written (TBW): 240GB — 100TB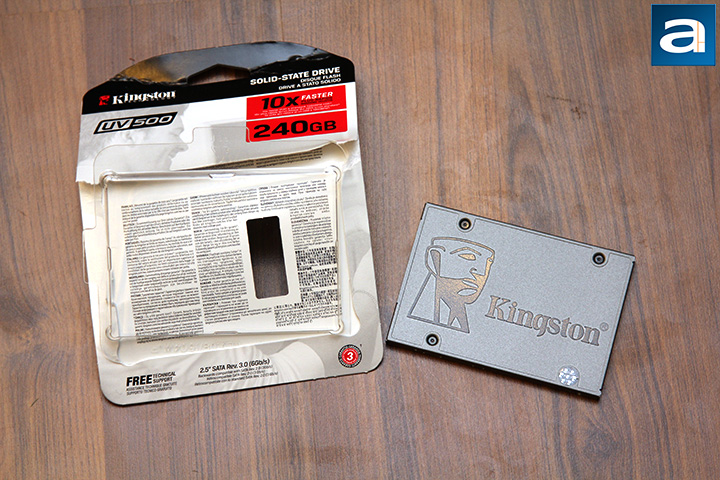 Peeling apart the thin cardboard, you will find almost nothing included from the factory. This is expected, considering this is a budget drive. Clipped between two clear plastic tray pieces is the Kingston UV500. This is it -- there is quite literally nothing else from the manufacturer. SSDs are a mainstream commodity in 2018, and this is evidence to the state of things.
---
Page Index
1. Introduction, Packaging, Specifications
2.
A Closer Look, Test System
3.
Benchmark: AIDA64 Disk Benchmark
4.
Benchmark: ATTO Disk Benchmark
5.
Benchmark: Crystal Disk Mark 3.0
6.
Benchmark: HD Tach 3.0.1.0
7.
Benchmark: HD Tune Pro 4.60
8.
Benchmark: PassMark PerformanceTest 8.0
9.
Benchmark: PCMark Vantage
10.
Benchmark: PCMark 8
11.
Conclusion