By: Aaron Lai
July 18, 2014
Have you ever found yourself running through more and more electronics each year? For example, let us look at mobile phones. There was a time when people could actually buy cellphones, use them for a full three years on their contract, and when they were ready to change phones, they would pick a newer model with very similar features or specifications. Sure, one phone may have a full color screen, another with a back-facing camera, or equipped a slide out keyboard. However, the usage of phones back then was for two main purposes: Talk and text. Nowadays, you will find that most phone manufacturers are remaking their phones annually, despite not having huge differences. Operating systems can go through multiple updates within a year, and internal hardware can go through refreshes quite quickly, but the changes are not major. Yet, most users are searching for a new phone practically every year so to keep up with the times. This is not just for high end phones, but low and mid range devices too. While you could debate on whether this is actually necessary or not, the fact is consumers are gobbling up as much and as fast as they could. Unfortunately, this also means a lot of our products get replaced quickly. And one of those products is today's review of the Kingston DataTraveler microDuo 32GB. This product was available to consumers around March of this year, but only five months later Kingston announced the launch of the DataTraveler microDuo 3.0, a line-up serving the exact same purpose as this product, except with the inclusion of USB 3.0 and its faster speeds. So what exactly is the DataTraveler microDuo's purpose? And is this product already outdated? Let's find out in today's review!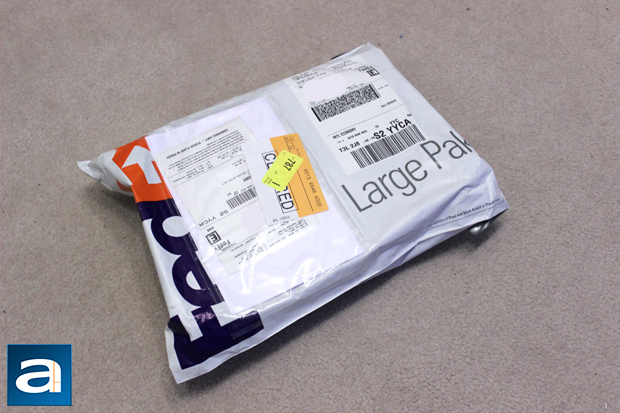 Our review unit of the Kingston DataTraveler microDuo 32GB arrived from California, USA, where Kingston's American offices resides. Much like the past Kingston products we have seen shipped to us, Kingston chose a nice FedEx Large Pak. Inside these large bags Kingston also puts a smaller, brown corrugated box to actually hold the product, in this case the DataTraveler microDuo 32GB. Using the International Economy service, everything arrived in mint condition to APH Networks in Calgary, Alberta, Canada. At the time of the review, we also received the Kingston HyperX Fury HX318C10FK2/16 2x8GB DDR3, which I will be reviewing in the weeks to come. Oddly enough, they sent both of these items in different packages, despite arriving at the same location and the same time.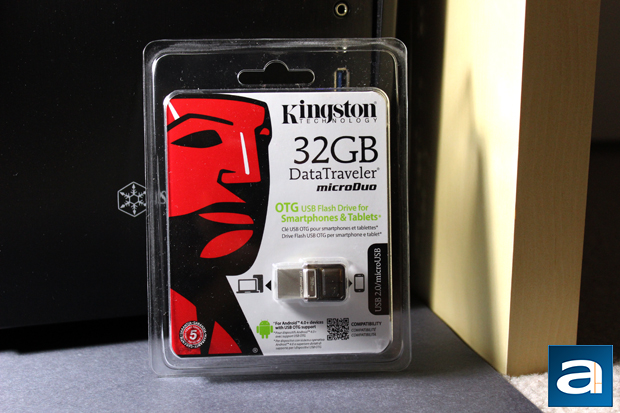 Sticking my hands into the envelope, I pull out the brown box as aforementioned, which holds the retail box of the Kingston DataTraveler microDuo 32GB. Unfortunately, the retail packaging is much like the rest of Kingston's products, which means awful blister packing. The red Easter Island head is also where it is, and the product name is printed predictably on the top right corner. The only difference is the green font to state this USB flash drive can be used with Android phones and tablets. The small Android mascot, Bugdroid, is located near the bottom to again affirm users of the usage for the Kingston DataTraveler microDuo 32GB. In addition, devices must be running Android 4.0 (Ice Cream Sandwich) or higher and is USB OTG, or USB On-The-Go compatible. Kingston has also kindly provided a site to check for compatibility, but a quick Google search will also accomplish the same task.
Before we continue onto the Kingston DataTraveler microDuo 32GB, let us peruse the manufacturer's website for a list of features and specifications:
Features:
- Supports USB OTG (On-The-Go) functionality
- Expanded storage for tablets and smartphones
- For Android™ 4.0+ devices with USB OTG support
- Easily transfer and back up files, photos and videos to free up space
- Great for storing large files, including movies and music libraries, while traveling
Specifications:
- Capacities: 8GB, 16GB, 32GB, 64GB
- Interface: USB 2.0
- Dimensions: 27.63mm x 16.46mm x 8.56mm
- Operating Temperature: 0°C to 60°C
- Storage Temperature : -20°C to 85°C
- Warranty/support: 5-year warranty with free technical support
- Compatible with: Windows® 8.1, Windows 8, Windows 7, Windows Vista®, Windows RT, Mac OS X v.10.6.x+, Linux v.2.6+
---
Page Index
1. Introduction and Specifications
2.
A Closer Look, Test System
3.
Benchmark: AIDA64 Disk Benchmark
4.
Benchmark: ATTO Disk Benchmark
5.
Benchmark: Crystal Disk Mark 3.0
6.
Benchmark: HD Tach 3.0.1.0
7.
Benchmark: HD Tune Pro 4.60
8.
Conclusion