Page 2 - A Closer Look, Test System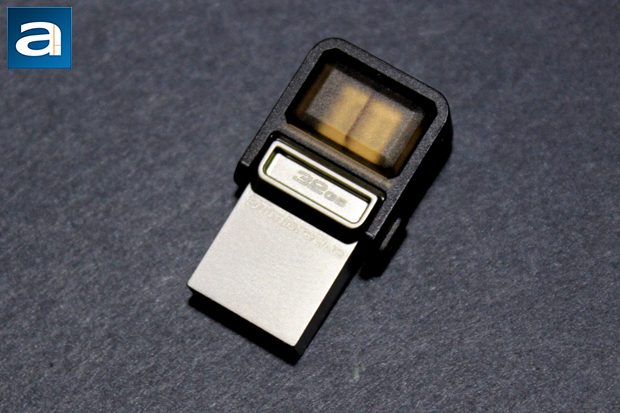 Taking a closer look at the Kingston DataTraveler microDuo 32GB, you start to realize you actually need to take a really close look; that is, this product is really tiny. The photo above does not really show this quite clearly, but I am sure you will understand as we continue on. The microDuo 32GB is primarily made up of a silver metal, and has been brushed over to give it a bit of a matte finish. Otherwise, the top cap covering the Micro USB plug is a hardened rubber that is slightly frosted over. There is a small bump and indent where Kingston has printed the capacity on the drive, with this one being 32GB. Just on a side note, there are a total of four capacity sizes available at press time: 8GB, 16GB, 32GB, and 64GB. Underneath the protrusion is another small engraving of the words "DT microDuo". Flipping the DataTraveler microDuo over, we can see other small fine print, including the model number and the country that this product was made in, which is Taiwan. I have had quite a few different Kingston products, and they all seem to have different origins, with even the Kingston DataTraveler Vault Privacy 3.0 32GB being assembled in USA. On the back is also a small metal loop, which allows users to string through the included key loop, and should make the DataTraveler microDuo easier to hang onto. Overall, I have to say this is another quality Kingston product, as it feels solid in the hands.
One gripe I had with the Patriot Stellar 64GB was the cap, and its rather thin wire holding it to the body. Luckily, the Kingston DataTraveler microDuo 32GB offers a much more substantial way to hide the Micro USB output. As well, it looks like they did not have to sacrifice much in terms of size, as this thumb drive is as small as you can find. The only thing bothering me in terms of design, as with most metal drives, are the scratches that start appearing after several times of plugging in and pulling out. When there is a cap on the end of the full-size USB plug or when it retracts, you do not notice it as much. However the full size USB 2.0 plug has no cap, the scratches are spotted even more easily. I do not have a real solution for this, as this is the result of metal on metal contact, but it should be noted.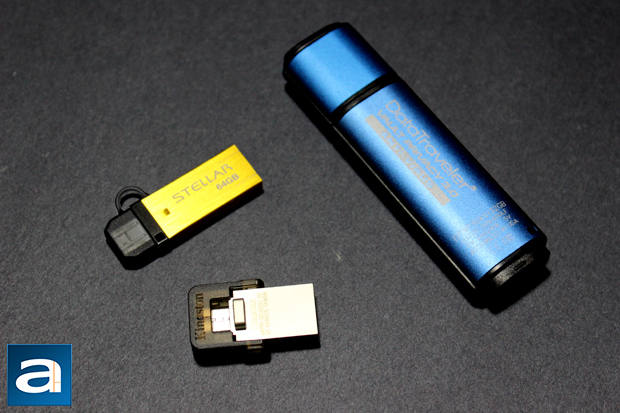 Comparing the Kingston DataTraveler microDuo to the other two aforementioned drives, the Patriot Stellar 64GB and the Kingston DataTraveler Vault Privacy 3.0 32GB, you can see the huge difference in size. While the larger Kingston is generally also bigger than most USB 3.0 thumb drives, the difference between the two OTG products is also noticeable. The Stellar is a bit longer at a measured length of 37mm, compared to the Kingston DataTraveler microDuo at around 28mm. At widest end though, the Kingston is a tad larger, only due to the included swiveling cap. Overall, I am quite impressed with how Kingston can put this much capacity into a small package, but I also know this is the trend of technology. If it is not about getting faster, it is about getting smaller. By now, you may have looked through all the pictures and said, "Hey, where is the color blue?" To that, I will point to the Kingston DataTraveler Vault Privacy 3.0, which is pretty much the only blue on a Kingston device you will see in today's review. The Kingston DataTraveler microDuo 32GB itself is a USB 2.0 device, and not USB 3.0. Most USB 3.0 plugs have a blue plastic part inside the plug to differentiate between it and its older father and grandfather, USB 2.0 and USB 1.1, respectively. Finally, much like the Patriot Stellar 64GB, there is no activity LED on the drive, as Kingston probably wants the DataTraveler microDuo 32GB to draw as little power as possible. This is a tad unfortunate, but it is understandable.
As I mentioned in the Patriot Stellar 64GB review, most Android devices nowadays are only equipped with Micro USB 2.0 inputs. Micro USB 3.0 inputs are practically the same width as a full-sized USB input, and take up a lot of space on a phone or tablet. In order to save space, device manufacturers generally forgo the speed advantage to get a slimmer phone or tablet. In fact, only a few Android devices have Micro USB 3.0, such as the Samsung Galaxy Note 3 or Galaxy Tab Pro 12.2. Luckily, if any of you readers actually have one of these devices, you will be happy to know the older Micro USB 2.0 fits in the newer plug, just off to the side. With this taken care of, the Micro USB 2.0 plugs directly into my HTC One X+, which runs Android 4.1.1, also known as Jelly Bean. I do have a Google Nexus 7 (2012) which runs Android 4.4.4 KitKat, but unfortunately the device is not OTG compatible. Once again, a quick Google search will work to check for this compatibility, but you can also go to Kingston's site, which has a list of OTG compatible devices. I could not find my phone on the list, but I know it works.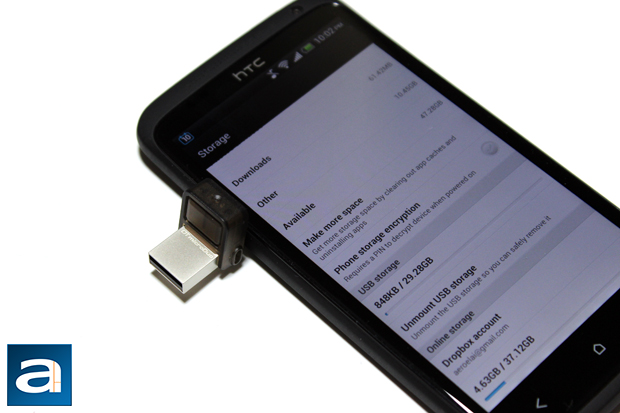 In order to actually reveal the smaller plug, you first pull the cap out, then swivel it up. Much like the boyband, the cap only swivels in one direction, and therefore the cap is easily removable. When I first plugged in the Micro USB side, I found the connection to be actually very loose, and I was almost a tad worried the microDuo 32GB would pop out unintentionally. Luckily, it can hang in there, but Kingston should make a better or tighter plug to ensure users the DataTraveler microDuo would not pop off randomly. Using the device itself is easy, as you can download a third party app to use as a file explorer. Kingston seems to also have an affinity with ES File Explorer as there is a small logo printed on the back of the retail packaging. I currently use an app called File Manager, but any other file management application will do.
When the Kingston DataTraveler microDuo is plugged in, you can do the standard things you would do with most Micro SD cards. Watching videos and streaming media is no issue. However, as this is a temporary solution for storage, applications cannot be installed on the DataTraveler microDuo. This is more of an Android issue than a Kingston problem, but it should be noted. As you can see in the above photo, the DataTraveler microDuo does not actually protrude very far out, again thanks to its small size. One thing you might notice though is the warmth of the DataTraveler microDuo 32GB, and I do not mean its hospitality. While it may seem surprising at first, there is no need to be alarmed, as the DataTraveler microDuo 32GB is small and heat dissipation will occur this way. Finally, while there is 32GB of internal storage, only 29.28GB are actually available for the user. This is quite normal for any type of storage, as it is expected to have less usable storage than actual advertised space.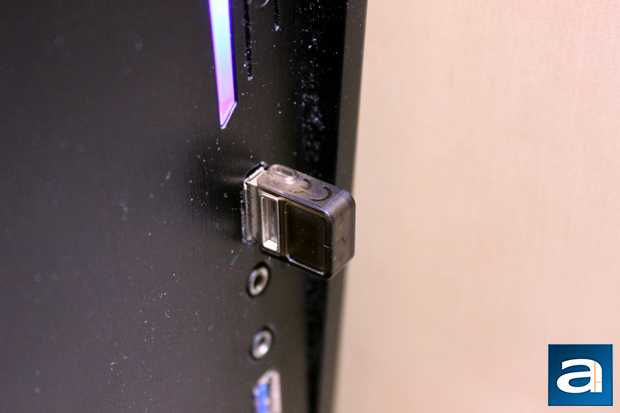 Now we have gotten past the main exclamation point of the Kingston DataTraveler microDuo 32GB, how does it compare with other drives in terms of speed tests? We already know this will not be as fast as our more recent USB storage devices, especially since it lacks the USB 3.0 interface. Can it at least match the other USB 2.0 flash drives we have seen in the past? The test configuration is as follows:
CPU: Intel Core i5-4670K @ 3.4GHz
CPU Cooling: Stock cooler
Motherboard: Gigabyte Z87X-D3H
RAM: G.Skill Ripjaws-X F3-12800CL9D-8GBXL 2x8GB
Graphics: EVGA GeForce GTX 760 2GB
Chassis: Silverstone Precision PS10
Storage: Western Digital Blue EZEX 1TB
Power: Cooler Master V1000 1000W
Operating System: Microsoft Windows 8.1 Professional x64
Compared Hardware:
- Kingston DataTraveler microDuo 32GB (USB 2.0)
- ADATA DashDrive Durable HD650 500GB (USB 3.0)
- ADATA DashDrive Elite UE700 64GB (USB 3.0)
- ADATA DashDrive HV620 1TB (USB 3.0)
- Kingston DataTraveler Locker+ G2 32GB (USB 2.0)
- Kingston DataTraveler Locker+ G3 32GB (USB 3.0)
- Kingston DataTraveler HyperX 3.0 64GB (USB 3.0)
- Kingston DataTraveler Ultimate 3.0 G2 32GB (USB 3.0)
- Kingston DataTraveler Ultimate 3.0 G3 32GB (USB 3.0)
- Kingston DataTraveler Vault Privacy 3.0 32GB (USB 3.0)
- OCZ Rally2 Turbo 4GB (USB 2.0)
- Patriot Supersonic Magnum 64GB (USB 3.0)
- Patriot Supersonic Rage XT 32GB (USB 3.0)
- Patriot Stellar 64GB (USB 3.0)
- Silicon Power Armor A30 1TB (USB 3.0)
---
Page Index
1.
Introduction and Specifications
2. A Closer Look, Test System
3.
Benchmark: AIDA64 Disk Benchmark
4.
Benchmark: ATTO Disk Benchmark
5.
Benchmark: Crystal Disk Mark 3.0
6.
Benchmark: HD Tach 3.0.1.0
7.
Benchmark: HD Tune Pro 4.60
8.
Conclusion