By: Aaron Lai
April 5, 2014
When you buy a new device nowadays like a laptop, tablet, or even a smartphone, there are quite a number down the specifications list to keep in mind, such as the processor speed, amount of RAM, and its weight. Of course, none can overlook the capacity of the system -- this is especially true for smaller devices. Multimedia hungry users of the twenty first century want to cram more and more into them, while hoping we will still have enough space to fling some foul fowl at pigs, rearrange numbers into powers of two, or control a sporadic flying bird through pipes. When people cannot get this space, we look at alternatives like expandable storage through microSD cards. Even with phones being able to store as much as 64GB internally, people want more room for pictures, videos, and music. When the Nexus 5 was launched in 2013, it was criticized for having a lack of expandable storage. It was one of the best price-to-performance phones on the market at the time, yet because of the lack of a Micro USB slot, some people chose other options. As you can see, having extra storage seems to be important to people, whether they actually use it or not. So for those that need more room in their devices and do not have any expandable storage slots, Patriot seems to have a solution to this dilemma right now, and it is called the Patriot Stellar 64GB. While it may not be a permanent solution, it is a USB flash drive made to work with both your PC and with Android tablets and phone via a Micro USB connection on the other end. Will this finally put these storage thirsty users to rest, or will they continue to cry for more? This and other questions will be answered in today's review!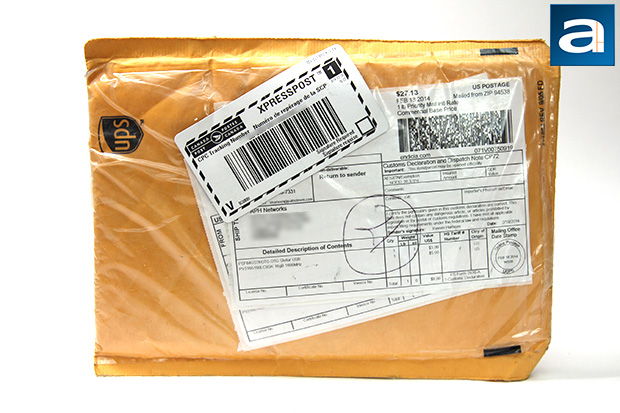 Today, the Patriot Stellar 64GB review unit arrived with the Patriot Viper SODIMM PC3-12800 2x8GB laptop RAM, which will be reviewed in the coming weeks by Jonathan Kwan. This arrived from Patriot's headquarters in California, USA. While you would assume this brown-orange bubble-wrapped envelope arrived via UPS, as marked in the photo, these products actually were delivered by Canada Post via USPS Priority Mail. It took almost three weeks to cross the border, but we are happy it arrived in excellent condition. Since most envelopes are more flexible than the standard box, you can understand there will be bends and creases all over the envelope. Luckily for us, our USB drive came in pristine condition, without any noticeable damage to the packaging.
Tearing open the envelope, we are greeted with the Patriot Stellar 64GB in its full retail packaging. With its bright looks and a purple-based coloring scheme, this packaging already looks pretty awesome. On the side, Patriot notes that this is part of the "Mobility Series", or a line of USB accessories aimed for use in conjunction with mobile devices. In this case, this drive is meant to work with Android 4.0 Ice Cream Sandwich devices and higher, as well as Windows and Mac OS based computers. As noted by the packaging, this is the 64GB model, which comes in yellow. The other two models, the 16 and 32GB, come in orange and silver, respectively. The actual packaging is a tad annoying to open. I mean, you could be lazy and pull out your scissors, destroy the whole package by cutting it in half, and pop out the drive. On the other hand, you can pull out a knife and cut carefully around the edges of the clear plastic around the USB drive. You would need to make sure not to scratch the surface of the drive, but to still cut deep enough to break through the plastic. I chose the latter, as it would keep the entire thing in one piece, but it did take me a few minutes more than it should have. Other than the Stellar, there was nothing else in the packaging.
Before we take a closer look at the USB stick, we should first take a look at the manufacturer's webpage for some specifications, as quoted below:
- USB 3.0 / Connector for PC/Mac
- Micro USB connector for Android 4.0 & up - based smartphones / tablets
- USB 3.0: Up to 140MB/s transfer
- Driveless support for most operating system
- Compatible with Windows® 8, Windows® 7, Windows Vista®, Windows XP®, Windows 2000®, Windows® ME, Linux 2.4 and later, Mac® OS9, X and later
- Portable and light weight (3 grams)
---
Page Index
1. Introduction and Specifications
2.
A Closer Look, Test System
3.
Benchmark: AIDA64 Disk Benchmark
4.
Benchmark: ATTO Disk Benchmark
5.
Benchmark: Crystal Disk Mark 3.0
6.
Benchmark: HD Tach 3.0.1.0
7.
Benchmark: HD Tune Pro 4.60
8.
Conclusion