Page 3 - Benchmark: AIDA64 Disk Benchmark
About AIDA64 Engineer
AIDA64 Engineer is a streamlined Windows diagnostic and benchmarking software for engineers. AIDA64 Engineer provides a wide range of features to assist in overclocking, hardware error diagnosis, stress testing, and sensor monitoring. It has unique capabilities to assess the performance of the processor, system memory, and disk drives. AIDA64 is compatible with all current 32-bit and 64-bit Microsoft Windows operating systems, including Windows 8.1 and Windows Server 2012 R2.
From: Developer's Page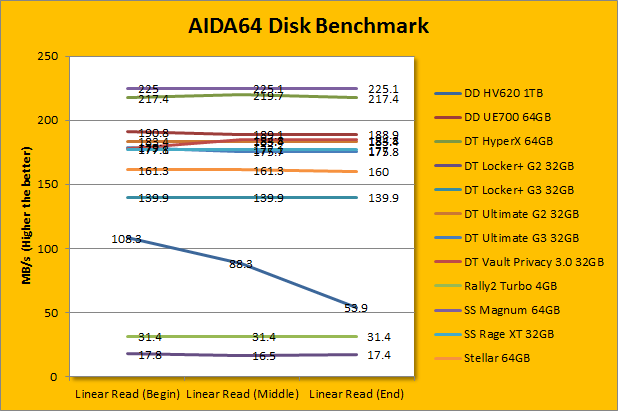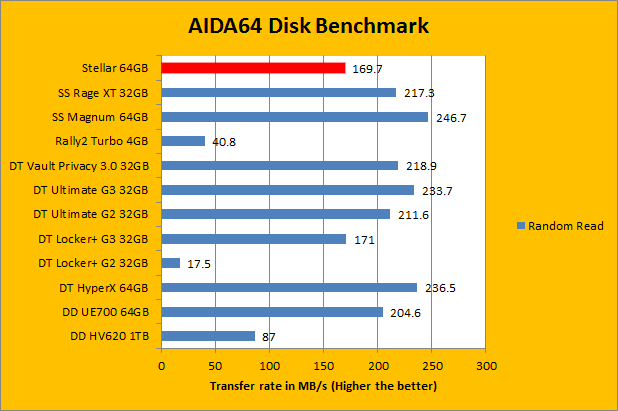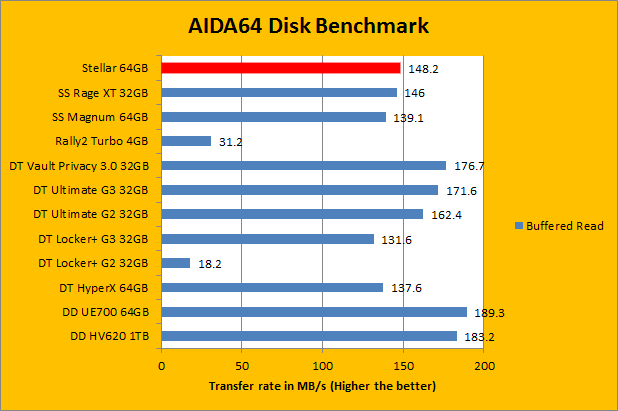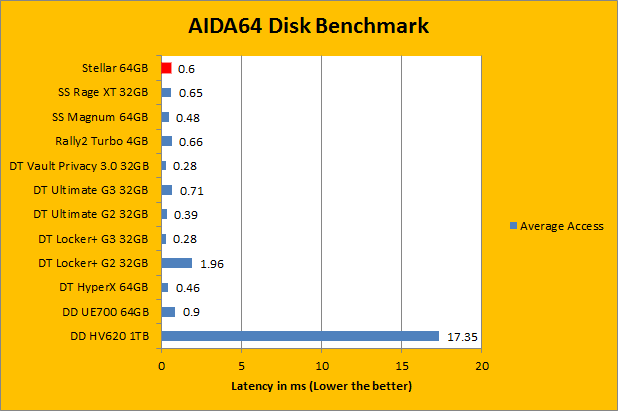 With AIDA64 as our first test, we see some quite interesting numbers. With ratings around 161.3MB/s sequential read, 169.7MB/s random read, and 148.2MB/s buffered read, the Patriot Stellar 64GB far exceeds the manufacturer's ratings of 140MB/s. While these numbers are by no means the highest we have seen here at APH Networks, they are still respectable numbers for something this small. Not all USB 3.0 drives are made the same, and these graphs illustrate this point. An interesting item to identify is that while the Patriot Stellar 64GB ranks near the back end of the random reads, for buffered reads, the Stellar 64GB is able to match and out duel its compatriots from Patriot, including the Patriot Supersonic Rage XT 32GB and the Patriot Supersonic Magnum 64GB. This is pretty significant considering the physical size difference between the Stellar and its older brothers. The fact that Patriot can pull these numbers while keeping the drive so small is a pleasant surprise. The recorded 0.6ms average access time is a bit higher than other comparable USB drives, but in a real life situation, most users will not notice a difference, if at all.
---
Page Index
1.
Introduction and Specifications
2.
A Closer Look, Test System
3. Benchmark: AIDA64 Disk Benchmark
4.
Benchmark: ATTO Disk Benchmark
5.
Benchmark: Crystal Disk Mark 3.0
6.
Benchmark: HD Tach 3.0.1.0
7.
Benchmark: HD Tune Pro 4.60
8.
Conclusion