By: Jonathan Kwan
December 5, 2014
Like many guys, I take incredibly good care of my car. Sure, my Honda Accord is no exotic, nor is it a garage queen. It gets driven year round, whether it be a nice summer day or a snowstorm strike; just like how a car is meant to be used. But when it comes to maintenance, in addition to whatever the owner's manual tells me to do, I also claybar, polish, and apply a layer of paint sealant to the exterior body every six months. For the interior, it receives a thorough cleaning regularly every three months, which includes all leather upholstery conditioned, plastic surfaces wiped dust-free, and glass cleaned with a special microfiber cloth. The list goes on. However, late in the summer of this year, my friends and I went on a road trip. It was only a week or so after I did a full interior detail, and shortly after I came back, I discovered a large hand mark on the rear driver's side window. When I told my colleague Aaron Lai about this, who was with me on the same road trip, he immediately said, "It must be [insert girl name here]." Now, I may have driven a few other people in between, but we both blamed that girl. Why? Simply put, no guy will leave hand prints like that on the window of another guy's car like that. Jokes aside, to this day I still have not figured out who left that hand mark on my window, because there is no way for me to log and prove diagnostically car problems like this. But for every other car problem, from a "Check Engine" light being activated, to you just curious about the intake air temperature, we got something cool here at APH Networks. The Lemur BlueDriver is a Bluetooth module that plugs into your car's OBD-II port, and allows you to collect and log everything you have been curious about on your iOS or Android based smartphone via an app. Intrigued? So are we.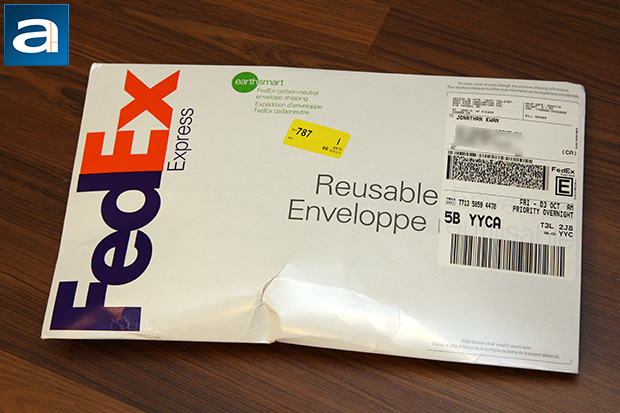 Our review unit of the Lemur BlueDriver came in a thin cardboard envelope from way out in the east coast of Canada in St. John's, Newfoundland. Yes, not only is the product not from USA, like the vast majority of the stuff we review here at APH Networks, but the fact it came from Newfoundland is quite refreshing to us. I mean, just like how the rest of Canada thinks us here in Calgary, Alberta is all oil and gas, we would tend to also believe Newfoundland is just about fishing (And being really late to join confederation). Anyway, FedEx got the package to us safely and quickly to us almost from sea to sea using the Priority Overnight service. The guys at Lemur did not even bother bubble wrapping its contents, which, in my opinion, exhibits quite a confidence in their products, haha.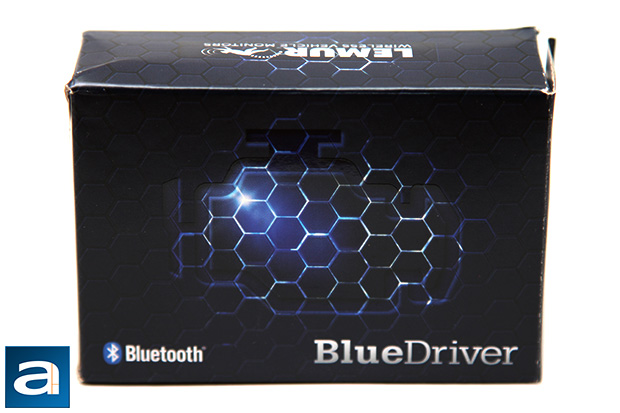 The retail box of Lemur's BlueDriver is surprisingly simple and compact. To get an idea of how small it is, depending on the size and resolution of the monitor you are reading this review on, the photo above might actually be bigger than it is in real life. To give you a reference, I stuck the box in front of my Dell UltraSharp U2413, which is a 24" 1920x1200 monitor, and the actual thing is noticeably more compact. With that in mind, the design of the packaging is quite simple. In front of the primarily black background is a honeycomb mesh pattern, which can be seen with more prominence in the center, thanks to the blue glow behind the engine shaped trace. At the bottom left corner is the Bluetooth logo, while the other end features the BlueDriver branding. The rest of the sides are not particularly interesting; they are mainly logos and branding material.
Before we move on, let us take a look at the features of the Lemur BlueDriver, as obtained from the manufacturer's website:
Read & clear diagnostic trouble codes (DTCs).
- Confirmed Engine Codes
- Pending Engine Codes
- ABS Codes for Ford, GM, Chrysler
For each DTC, generate a report for your specific vehicle that contains information such as:
- Code Definition
- Possible Cause(s)
- Top/Frequently/Other Reported Fix(es)
Freeze Frame Data is a snapshot of your vehicle when the Freeze Frame Code was stored.
Check for whether or not your vehicle is ready for your local smog (i.e. emissions) test.
Advanced test results for On-Board Diagnostic System Monitors.
Capture and share any live data supported by your vehicle(s).
- Graph - multiple data sources
- Gauge - select a single data source
- Data Log - save data to a CSV file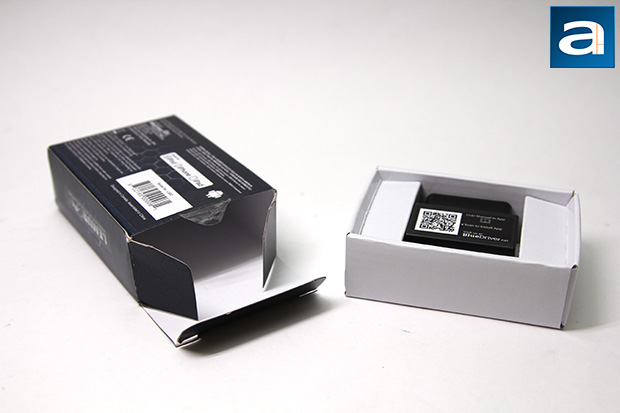 Opening the flap on the right that says "BlueDriver Sensor Inside", and we are greeted with a white tray with the BlueDriver Bluetooth OBD-II scanner in the middle. This is it. No manuals, no stickers, nothing. It is really all you need, and this is exactly what you will receive. Needless to say, this in conjunction with its simple packaging, Lemur has done really good at keeping more items from entering your recycle bin.
---
Page Index
1. Introduction, Packaging, Specifications
2.
A Closer Look - Hardware
3.
A Closer Look - Software
4.
Conclusion