By: Aaron Lai
April 25, 2023
I think it is funny the number of practices you adopt from your parents that seems normal until you compare with others. For example, in my parents' place, all of our mugs and cups are located in one cupboard. When I used to live at my parents, we designated certain cups to each member of the family. We would put all our personal cups in one level, while all the guest cups would go on the level above. This way, everyone in the house knew and did not accidentally drink from someone else's cup. Also, it removed some chance of sharing germs by isolating the cups to each person. However, when I started dating my girlfriend, her family had a large drawer of cups and it was generally a free-for-all. She did mention there were unwritten rules within the family as to which cup belonged to who, but guests could go for any cup. I think I like distinguishing the cups, just because I have certain cups I like and it ensures my guests now do not use my favorite cups. In a similar fashion, Lexar has been producing memory related products for a long time now. If we take a look at their whole lineup, their products have been solid if not remarkable, which is generally a good thing. However, I think it is also important for manufacturers to distinguish themselves with one or two items that become iconic for the entire market. Of course, this distinguishing is not just to identify the product when compared to other Lexar products, but from its competition as well. Today, we have the Lexar ARES RGB DDR5-6000 2x16GB kit, which is Lexar's first foray into the DDR5 generation of RAM. How does it compare to the rest of the DDR5 memory we have reviewed and is it worth taking a look at? Let us read on to find out!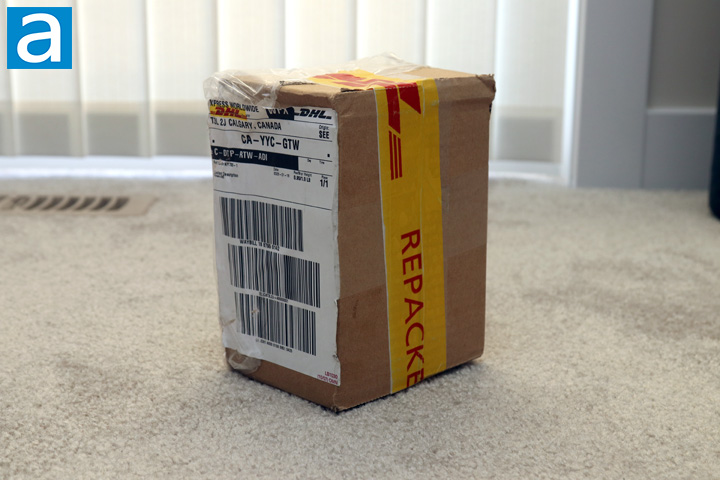 Today's review unit of the Lexar ARES RGB DDR5-6000 2x16GB kit arrived from Lexar's public relations firm in Brea, California, USA. Traveling with DHL and their Express Worldwide service, this box arrived in good condition with no bumps, bruises, or scratches to be concerned about. As expected, we have the red "Security Checked" label on one edge of the box. There is not much else to see here, so I continued with opening up the corrugated cardboard box. In addition to our set of DDR5 memory, Lexar also sent us their SL660 BLAZE 1TB, which I reviewed earlier this year.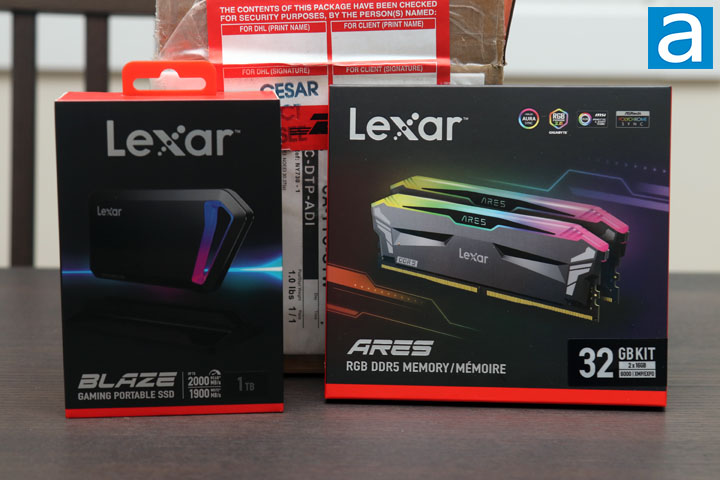 The Lexar ARES RGB DDR5-6000 2x16GB kit is pretty typical for its retail container. As we have seen from the past memory kits, such as the Hades RGB DDR4-3600, the ARES RGB's box looks very similar. Thus, we have an all-black background box with some red highlights. The top shows off the company logo with all of the supported RGB implementations from the most popular motherboard manufacturers, including ASUS, Gigabyte, MSI, and ASRock. Otherwise, you can see the memory kit in the middle and illuminated in its full RGB lights. Underneath, you can see the ARES name and description. To the right, we have a label that shows this is indeed a 2x16GB kit that runs at a 6000MT/s and supports both Intel XMP and AMD EXPO memory profiles. Around the box, we have some information regarding the warranty and other specifications of the Lexar ARES RGB DDR5-6000 2x16GB kit.
Before continuing on, I have obtained the specifications from the manufacturer's website for your viewing pleasure:
Capacity: 32GB Kit (16GBx2)
Memory Type: DDR5
Interface: 288PIN
Standard: XMP 3.0 & EXPO (TM)
Speed: 5600Mbps / 6000Mbps (XMP 3.0 & EXPOTM)
CAS Latency: CL32-36-36-68 / CL34-38-38-76 (XMP 3.0 & EXPOTM)
Voltage: 1.2V / 1.3V (XMP 3.0 & EXPOTM)
Operating Temperature: 0°C to 85°C(Tcase)
Storage Temperature: -55°C to 100°C
Dimension (W x L x H): L140 x W43.3 x H7.9mm (with heat spreader)
Application: PC Enthusiasts and Gamers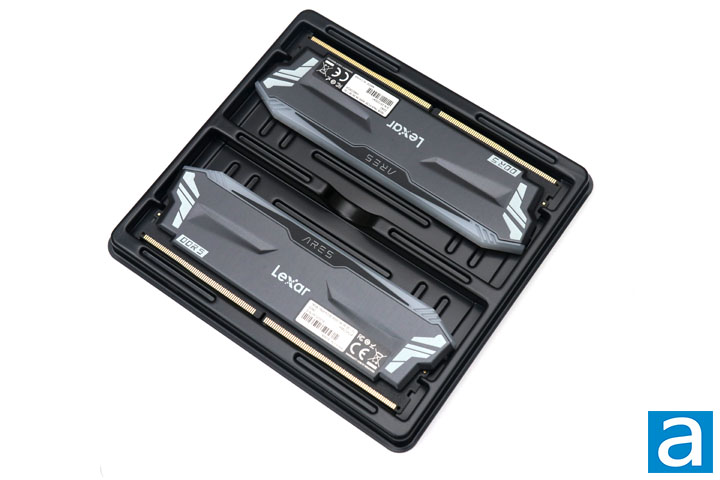 Inside, the Lexar ARES RGB DDR5-6000 2x16GB comes in a plastic shell, sandwiched between two covers. There is no other manual or brand sticker here, although this is not too surprising for memory in general. Otherwise, these shells should do a sufficient job in protecting the sticks of memory while in transit.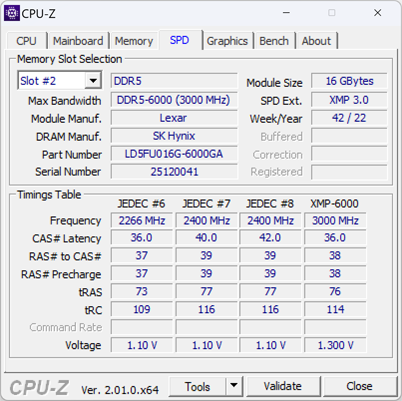 A screenshot of the memory tab in CPU-Z with the Lexar ARES RGB DDR5-6000 2x16GB installed. The SPD timings table in CPU-Z reads standard JEDEC specifications programmed into the memory as well as XMP data for running the memory at various speeds. Our ASUS ProArt Z690-Creator WiFi motherboard used for testing had no issues detecting and working with the ARES RGB RAM right out of the box using the latest BIOS revision. At the time of the product launch, the Lexar ARES RGB DDR5-6000 2x16GB is priced at $150.
---
Page Index
1. Introduction, Packaging, Specifications
2.
A Closer Look, Test System
3.
Benchmark: AIDA64 CPU
4.
Benchmark: AIDA64 FPU
5.
Benchmark: AIDA64 Memory
6.
Benchmark: PCMark 10
7.
Benchmark: 3DMark
8.
Benchmark: PassMark PerformanceTest 10
9.
Benchmark: SuperPI 1M, Cinebench R23
10.
Overclocking and Conclusion