By: Aaron Lai
October 14, 2022
In September of this year, I had the enjoyment of attending Edmonton Expo with my girlfriend and her family as she set up shop in the Artist Alley once again. While it was fun to attend and sell things, a lot of work went in on her behalf to get up to that point. Leading up to the weekend, we spent the entire week before printing out signs and merchandise, purchasing supplies for the displays, and packing everything up for the trip. She was also hard at work sketching a few prints to get ready. This was not her first time with a booth to sell things, so thankfully she could reuse a bit of her experience and supplies. However, it was the first time being a vendor outside her hometown, so there was an added element of the unknown throughout the whole event. This included additional costs of accommodations and travel while also navigating the unfamiliar environment. All in all, I think she still pulled off a successful convention with more lessons learned. In a similar vein, it might be easy to think all products of a certain category are the same, especially when it comes to internal storage. However, we often know the devil is in the details as the differences really show up past the specifications. Today, we have the Lexar Professional NM800 PRO 2TB, the latest M.2 NVMe SSD from Lexar. As a brand name, Lexar is no stranger to storage, so we have to wonder how they have built upon their past legacy and experiences. How does this new drive compare to other performance options and will we have a positive outcome? Let us read on to find out!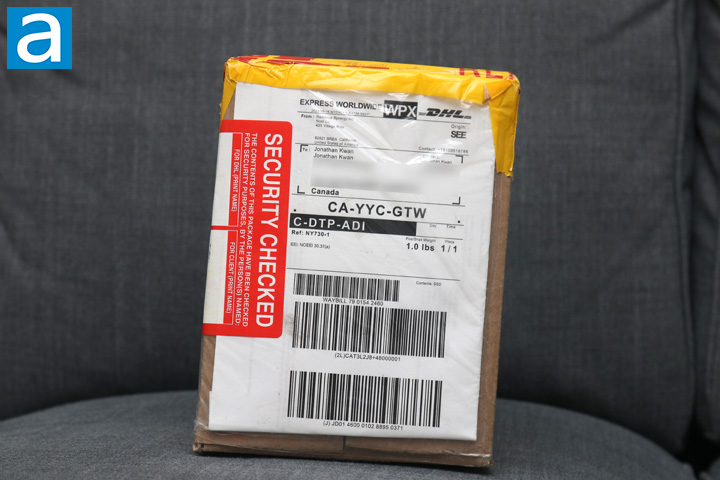 Today's review unit of the Lexar Professional NM800 PRO 2TB arrived from Lexar's public relations firm in Brea, California, USA. Traveling with DHL and their Express Worldwide service, this box arrived in relatively good condition. Once again, we have the "Security Checked" red label on the box to indicate it has indeed been checked. Otherwise, there is not much else to see here, other than the yellow DHL tape on one edge, so I opened up this corrugated cardboard box.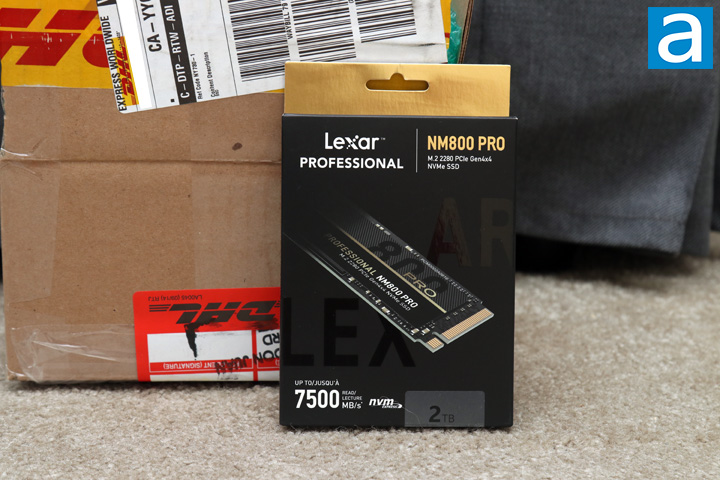 The retail box of the Lexar Professional NM800 PRO 2TB looks pretty clean with some accents that make it stand out. First, we have a gold top that stands out from the rest of the black box. The company logo with the "Professional" title is in the top left corner, while the right side shows the product name in the same gold color. A portion of the M.2 SSD can be seen in the front, with a glossy lettering of Lexar in the background. At the bottom, we have the specifications of this able to reach 7500MB/s speed, while also using the NVMe protocol. As you already know, we have the 2TB capacity today, which is displayed on the bottom right corner. Around the box, we have a few more specifications and features highlighted, as well as the five-year limited warranty provided with the NM800 PRO 2TB.
Before we continue, I have grabbed the specifications from the manufacturer for your perusal:
Capacity: 512GB/1TB/2TB
Form Factor: M.2 2280
Interface: PCIe Gen4x4
Speed:
- 512GB — sequential read up to 7450MB/s, sequential write up to 3500MB/s1
- 1TB — sequential read up 7500MB/s, sequential write up to 6300MB/s1
- 2TB — sequential read up 7500MB/s, sequential write up to 6500MB/s1
Operating Temperature: 0°C to 70°C (32°F to 158°F)
Storage Temperature: -40°C to 85°C (-40°F to 185°F)
Dimension (L x W x H): 80 x 22 x 2.45 mm / 3.15" x 0.87" x 0.10"
Weight: 9g / 0.02lbs
Warranty: Five-year limited warranty
Shock Resistant: 1500G, duration 0.5ms, Half Sine Wave2
Vibration Resistant: 10~2000Hz, 1.5mm, 20G, 1 Oct/min, 30min/axis(X,Y,Z)2
TBW:
- 512GB: 500TB
- 1TB: 1000TB
- 2TB: 2000TB
DWPD: 0.535
NAND Flash: 3D TLC
MTBF: 1,500,000 Hours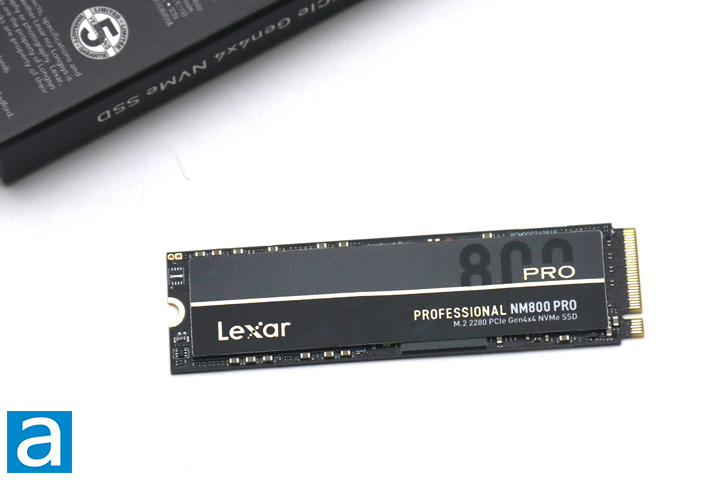 Out of the box, the Lexar Professional NM800 PRO 2TB comes in a plastic clamshell tray. A small user manual comes with the drive which covers quick start and warranty information. Interestingly, Lexar also includes a small screw to help users mount the NM800 PRO into a typical M.2 slot on your motherboard. This is really helpful as it is easy to lose these screws. Otherwise, there is not much else here, so let us take a closer look at the SSD.
---
Page Index
1. Introduction, Packaging, Specifications
2.
A Closer Look, Test System
3.
Benchmark: AIDA64 Disk Benchmark
4.
Benchmark: ATTO Disk Benchmark
5.
Benchmark: Crystal Disk Mark 8.0
6.
Benchmark: HD Tune Pro 5.70
7.
Benchmark: PassMark PerformanceTest 10
8.
Benchmark: PCMark 10
9.
Benchmark: 3DMark
10.
Conclusion