Page 2 - A Closer Look, Test System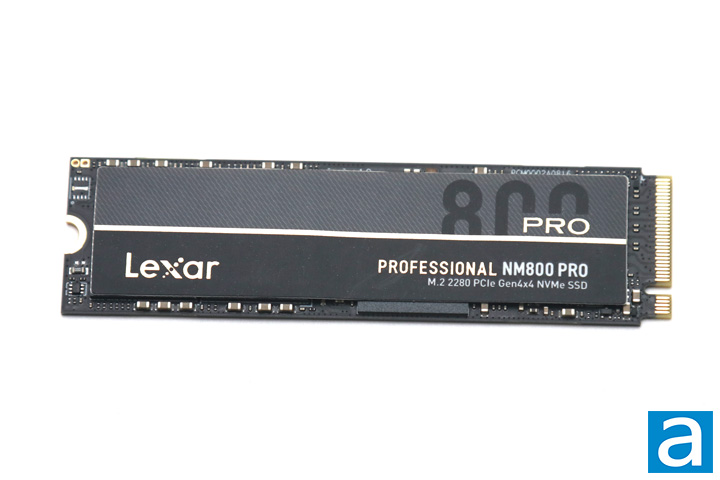 If the retail box was not enough, the Lexar Professional NM800 PRO 2TB continues the black and gold color scheme for both its label and the printed circuit board. The sticker does have a bit more of a substance to it, but it does not act as a heatsink. It covers all of the NAND chips, memory, and controller on this side. From a physical perspective, the Lexar Professional NM800 PRO 2TB is an M.2 2280 SSD. The "2280" standard refers to its physical size of 22mm by 80mm. The components are located on the black printed circuit board, which we will take a glance at soon enough.
The Lexar Professional NM800 PRO 2TB works on the NVMe 1.4 logical device interface and plugs into compatible motherboards directly. Electrically, this M.2 NVMe drive interfaces with PCIe 4.0. The NM800 PRO 2TB uses up to four lanes for a theoretical maximum of 8000MB/s bandwidth in each direction. The specified weight is 9g. As you may have already seen in the specifications, the NM800 PRO comes in 512GB and 1TB capacities in addition to the 2TB. As well, there is an alternate model that includes a metal heatsink out of the box.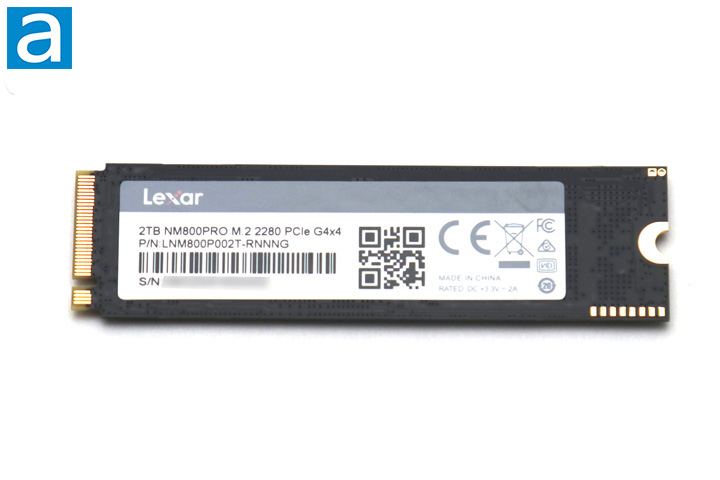 Flipping the Lexar Professional NM800 PRO 2TB around, there are no components of interest. Instead, a label is found here and it carries miscellaneous information such as its model name, serial number, and regulatory certifications. Unsurprisingly, this Lexar SSD is manufactured in China.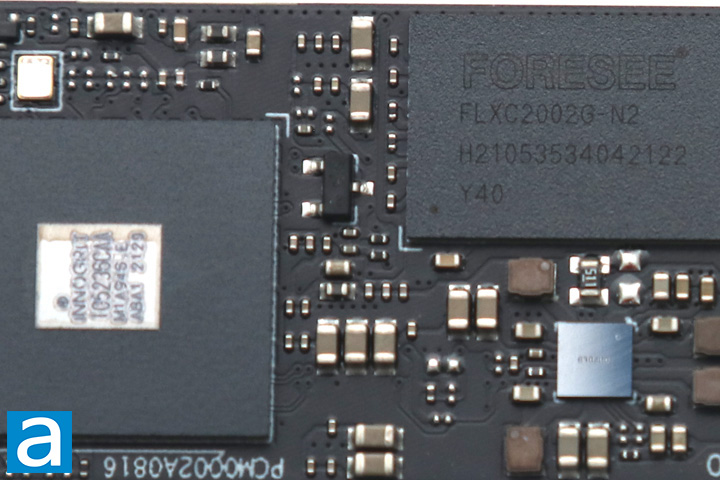 Behind the sticker, you can see all the parts of the Lexar Professional NM800 PRO 2TB. The first is the InnoGrit Rainier IG5236 controller. This is an NVMe solution on the M.2 socket that uses the PCIe 4.0 standard. It is built on the 12nm process with a 32-bit ARM Cortex R5 quad-core processor. This is the same controller found on the XPG Gammix S70 Blade 1TB. A single Foresee FLXC2002G-N2 memory chip can be found nearby with a capacity of 2GB. This is used by the controller for random access memory.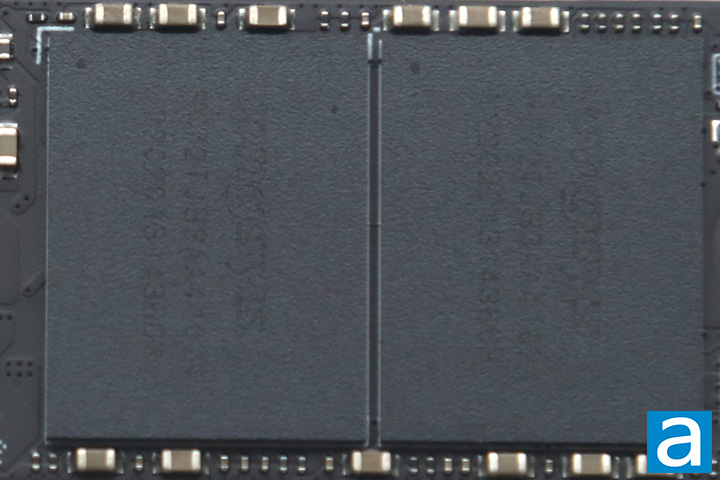 The NM800 PRO's flash memory is two NAND chips labeled as Longsys RC72TJB3AA41024. Each have a capacity of 1024GB for a total of 2TB together. Upon closer inspection, these are rebranded Micron B47R 1TB 176-layer triple-level cell chips. Its rated write endurance is 2000TBW, which works out to just over 1095GB written per day for five years. There is no overprovisioning on the Lexar Professional NM800 PRO, as the actual usable space is 2048GB. In Windows, you will see 1907GB available. As Lexar mentioned, this drive is also PlayStation 5-compatible and ready for users to expand their console storage without much hassle.
Specified at 7500MB/s read, 6500MB/s write over NVMe 1.4 on PCIe 4.0 x4, these numbers are pretty impressive. To see how all this hardware translates to numbers in our benchmarks, we will test the Lexar Professional NM800 PRO 2TB against other PCIe 4.0-based drives from manufacturers like Crucial, Patriot, Western Digital, XPG, and Kingston in the next seven pages.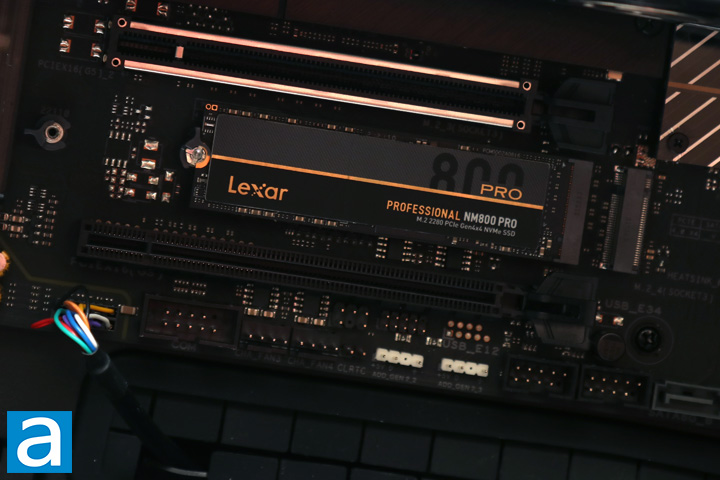 Our test configuration is as follows:
CPU: Intel Core i5-12600K
CPU Cooling: Noctua NH-U12A chromax.black
Motherboard: ASUS ProArt Z690-Creator WiFi
RAM: XPG Lancer RGB DDR5-6000 2x16GB
Graphics: EVGA GeForce RTX 3070 Ti XC3 ULTRA GAMING
Chassis: Thermaltake The Tower 500
Storage: XPG Atom 30 1TB
Power: FSP Hydro PTM Pro 1200W
Operating System: Microsoft Windows 11 Pro
Compared Hardware:
- Lexar Professional NM800 PRO 2TB
- ADATA Legend 960 1TB
- Crucial P3 Plus 1TB
- Crucial P5 Plus 1TB
- Kingston FURY Renegade 1TB
- Kingston KC3000 1TB
- Patriot P400 1TB
- Western Digital WD_BLACK SN770 NVMe SSD 1TB
- Western Digital WD_BLACK SN850 NVMe SSD 1TB
- XPG Atom 50 1TB
- XPG Gammix S70 Blade 1TB
---
Page Index
1.
Introduction, Packaging, Specifications
2. A Closer Look, Test System
3.
Benchmark: AIDA64 Disk Benchmark
4.
Benchmark: ATTO Disk Benchmark
5.
Benchmark: Crystal Disk Mark 8.0
6.
Benchmark: HD Tune Pro 5.70
7.
Benchmark: PassMark PerformanceTest 10
8.
Benchmark: PCMark 10
9.
Benchmark: 3DMark
10.
Conclusion