By: Aaron Lai
July 15, 2022
Planning a surprise party, after doing it for the first time, was definitely more stressful and work than I anticipated. In my case, it was my girlfriend's birthday. To start, you have your regular party items to plan, such as figuring out availability, location, things to do, what to eat, and more. This has its own share of work already, including figuring out a date that works with everyone. The surprise factor compounds this because you have to do this in secret, ensuring the subject of surprise is available for the day, but unbeknownst to the plans. This, to me, is the trickier portion because I am often excited to share things with her. On multiple occasions, different people in our group almost accidentally leaked the event, each in different ways, but thankfully she was unaware until the moment of surprise. To surprise her, all of the people involved in the event hid in a washroom and popped out when she opened the door. Needless to say, she was definitely astonished. All of this being said, parties do not need to have the surprise element. I am sure she would have still been happy if she knew we were planning a party for her, but I think the element of the surprise adds that much more. In a similar line of thought, RGB LEDs do not need to be a part of memory modules, as they really do not add anything in terms of performance. However, RAM manufacturers have been doing this for quite a while, as the craze started during the previous generation of DDR4 memory. Now that we are on to DDR5, we can see the trend is still going strong, which is seen today in the XPG Lancer RGB DDR5-6000 2x16GB kit. How do these sticks of RAM perform and how does the lighting add to it? Let us read on to find out!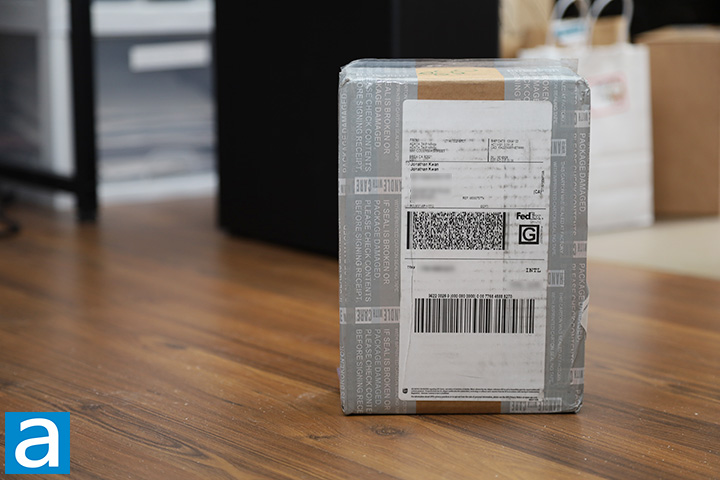 Today's review unit of the XPG Lancer RGB DDR5-6000 2x16GB arrived from the company's American headquarters in Brea, California, USA. With FedEx Ground, the small corrugated cardboard box arrived in excellent condition to us here in Calgary, Alberta, Canada for our review today. In addition to our memory modules, we also received the ADATA Elite SE880 1TB, which was reviewed by my colleague Jonathan Kwan a few weeks back.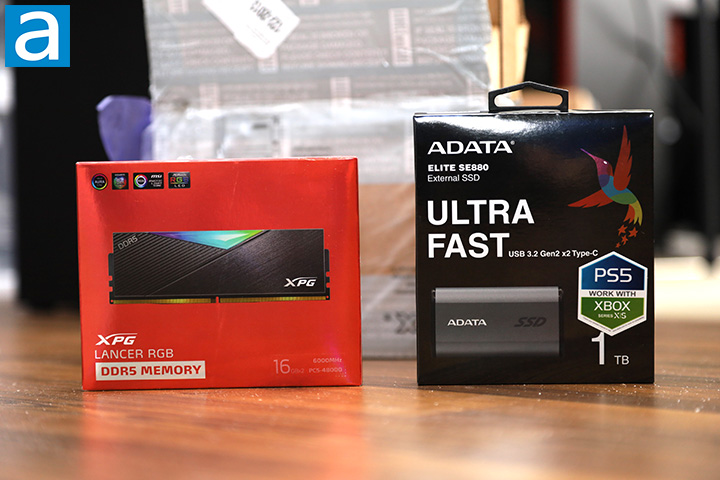 In a similar way that my colleague Hai Wang loved the packaging on the XPG Alpha Wireless, calling it like a "red Ferrari", I also think the XPG Lancer RGB comes in packaging that really makes it also stand out like a hot sports car. Not only do we have the red packaging, but XPG has added a glossy reflective finish that adds further pop to the whole set. A single stick of the module is found on the front, illuminated to show the RGB elements. The top shows off the compatible motherboards, at least in terms of lighting integration, which includes ASUS, Gigabyte, MSI, and ASRock. Underneath, we have the XPG logo and product name in the bottom left corner, while the bottom right corner shows off the capacity and operating transfer rate of this memory. One thing that is a bit confusing is the fact this shows "16GB" in large font, with a very small "x2" right beside it. As such, even our representatives sent this unit to us thinking it was the 2x8GB variant. This being said, the website does refer to the fact the XPG Lancer RGB only comes in 16GB modules. Even so, I did not really know what they sent us until I installed it in my system. Otherwise, you can see this operates at 6000MT/s.
Before we continue, I have grabbed the specifications from the manufacturer's website for your perusal:
Memory Type: DDR5
Form Factor: U-DIMM
Color: Black / White
Capacity: 16GB
Speeds: 5200, 6000MT/s
CAS Latencies: 38, 40
Operating Voltage: 1.25V, 1.35V
Operating Temperature: 0°C to 85°C
Dimensions (L x W x H): 133.35 x 40 x 8mm
Weight: 74g
Warranty: Limited lifetime warranty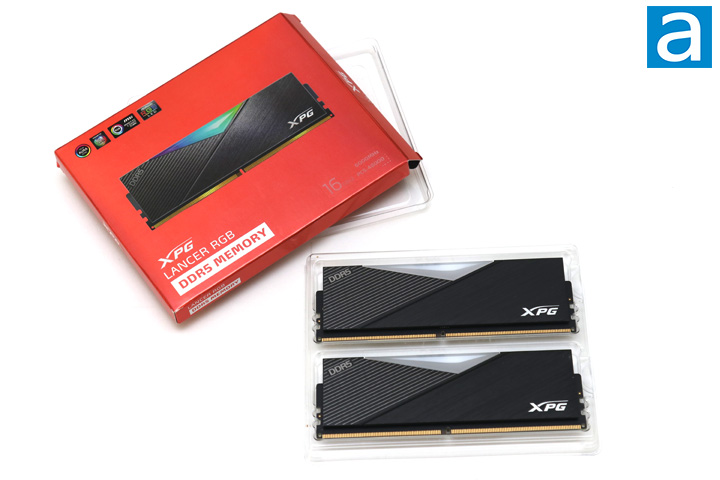 Out of the box, you will see the two memory modules in the XPG Lancer RGB kit are packaged in a plastic shell that is separated for each module. Otherwise, there is nothing else included, but this is not too surprising for a kit of DDR5 RAM.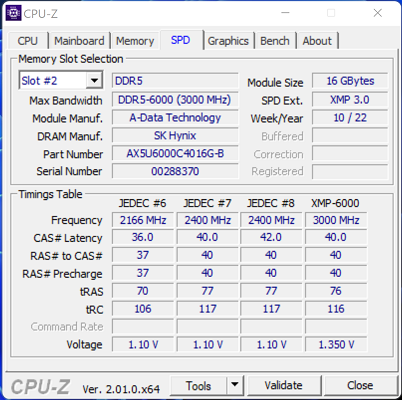 A screenshot of the memory tab in CPU-Z with the XPG Lancer RGB DDR5-6000 2x16GB installed. The SPD timings table in CPU-Z reads standard JEDEC specifications programmed into the memory as well as XMP data for running the memory at various speeds. Our ASUS ProArt Z690-Creator WiFi motherboard used for testing had no issues detecting and working with the XPG Lancer RGB right out of the box using the latest BIOS revision. The XPG Lancer RGB DDR5-6000 2x16GB retails for approximately $280 at press time.
---
Page Index
1. Introduction, Packaging, Specifications
2.
A Closer Look, Test System
3.
Benchmark: AIDA64 CPU
4.
Benchmark: AIDA64 FPU
5.
Benchmark: AIDA64 Memory
6.
Benchmark: PCMark 10
7.
Benchmark: 3DMark
8.
Benchmark: PassMark PerformanceTest 10
9.
Benchmark: SuperPI 1M, Cinebench R23
10.
Overclocking and Conclusion