By: Jonathan Kwan
June 17, 2022
Do you know people who are, to put it in generous terms, very intentional? I know someone who is like that. No matter where she goes, no matter who she meets, there is only one thing she cares about: Networking. This person would try to meet people she deems relevant and connect with them to try to jump start her career in some way. If the said person reaches out to hang out with you, there is probably a reason why. And if she calls or texts you, chances are that she needs help for something or wants something from you. Worse yet, if, at any time, she thinks you cannot help her achieve her goals, the conversation will just abruptly stop until the next time she has a reason to talk to you. As a result, many people find it hard to be actual friends with her. If there is anything we can learn here, using people to benefit yourself will not make you many friends, nor will it achieve your goals. After all, people are not tools and relationships are not on-demand. But when it comes to USB storage devices, one could say they are tools and are made to be available on-demand. Do not need the extra storage? Simply put it away. Need something from the drive? Plug it into your PC or game console. Traditionally, this comes with a bit of a performance penalty compared to internal drives, but this has been increasingly less so in recent years with speedy external SSDs like the Western Digital Black P50 Game Drive SSD 1TB, which is capable of delivering throughput of 2000MB/s with high IOPS. Today, ADATA aims to challenge the limit with the Elite SE880 1TB, which also promises up to 2000MB/s over its USB 3.2 Gen 2x2 interface. Will this be one of the fastest external USB SSDs to ever appear on this website? Let us find out!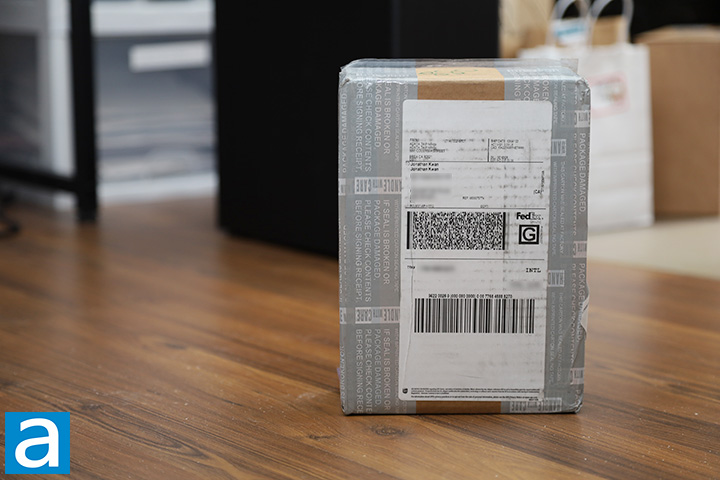 Our review unit of the ADATA Elite SE880 1TB arrived in a small brown corrugated cardboard box from the company's American headquarters in Brea, California. Using FedEx Ground, the package arrived in excellent condition to us here in Calgary, Alberta, Canada for our review today. Traveling along the external SSD we are viewing today is the XPG Lancer RGB DDR5-6000 2x16GB memory kit, which my colleague Aaron Lai will look at in the coming weeks.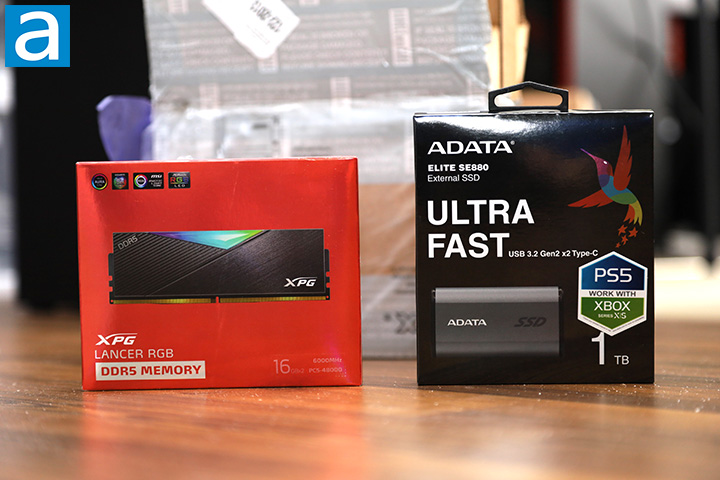 Our review unit of the ADATA Elite SE880 1TB came in its retail packaging. The SE880's retail box is predominantly black with white text. A slightly larger than real life photo of the drive itself is prominently displayed at the bottom left corner. What is even bigger and bolder are the words "Ultra Fast" in all caps across the center, which makes me think ADATA wants us to think the SSD is... ultra-fast. The same big and bold text is on the right side of the box. We will thoroughly examine that claim in our review today, given this is a USB 3.2 Gen 2x2 drive. ADATA's logo along with the model name and product description is placed at the top left corner. On the right is ADATA's logo. The drive capacity is found at the bottom. A sticker indicates its PS5 and Xbox Series X|S compatibility. Feature highlights such as its rated 2000MB/s read speed and technical specifications can be found on the remaining sides on the box.
Before we move on, let us take a look at the specifications of the ADATA Elite SE880 1TB, as obtained from the manufacturer's website:
Color: Titanium Gray
Capacity: 1TB
Dimensions (L x W x H): 64.8 x 35 x 12.25mm / 2.55 x 1.38 x 0.48inch
Weight: 31g / 1.1oz
Interface: USB 3.2 Gen2x2 Type-C
Sequential Read (Max): Up to 2000 MB/s
Sequential Write (Max): Up to 2000 MB/s
Operating system requirements: Windows 8/8.1/10/11, MacOS X 10.6 or later (reformatting required for use), Linux Kernel 2.6 or later, Android 5.0 or later
Op. Temperature: 5°C (41°F) - 50°C (122°F)
Op. Voltage: DC 5V, 900mA
Accessories: USB 3.2 Type-C to C cable, USB 3.2 Type-C to A cable, Quick Start Guide
Warranty: 5-year limited warranty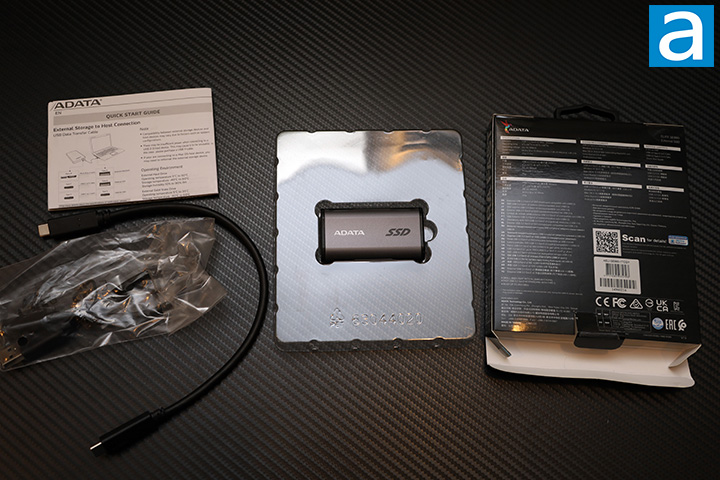 Out of the box, everything is neatly laid out thanks to a clear plastic tray and the fact there is not a whole lot of stuff to begin with. You will receive the ADATA Elite SE880 1TB itself, USB Type-C to USB Type-C cable, USB Type-C to USB Type-A cable, and a multi-language quick start guide. Having both cables included will ensure universal compatibility, which I appreciate. This no-frills approach keeps the retail box small and excess waste low, and I am always appreciative of companies who do not throw in extras for the sake of throwing in extras.
---
Page Index
1. Introduction, Packaging, Specifications
2.
A Closer Look, Test System
3.
Benchmark: AIDA64 Disk Benchmark
4.
Benchmark: ATTO Disk Benchmark
5.
Benchmark: Crystal Disk Mark 8.0
6.
Benchmark: HD Tune Pro 5.70
7.
Conclusion