By: Aaron Lai
July 24, 2020
Updated June 27, 2022
I was talking to my colleague Jonathan Kwan recently, asking him about how he budgets his money. Personally, I have been raised by my parents to manage my money prudently and, as such, have been making budgets for myself. My dad was a software developer back in his time, so he created a small Access database that I have been using since to track my spending habits and budget for each year. Budgeting helps me understand the ceiling of my spending so I do not overspend on a month-to-month basis. It also helps me figure out how much to hold back from previous or future months if I plan to purchase a larger item. While general living costs and frivolous purchases can be small, they add up over time, so this tracking of spending also keeps me in check. However, when Jonathan answered my question, he pretty much told me he has never needed to budget. For him, most of his purchases are big ticket items, and he does not worry about the small things. I am not sure that would ever work for me, because big ticket items often have too high of a price tag for me to really consider them, but also because I just have a lot of purchases overall. When we look at today's review item, the Western Digital Black P50 Game Drive SSD 1TB, you may not think an external storage option would be too much. However, when we look at the Western Digital Black P50 Game Drive SSD 1TB, its $250 price tag may be seen as higher compared to other external SSDs. What does this drive bring to the table and how does it compare to the competition? Let us read on to find out!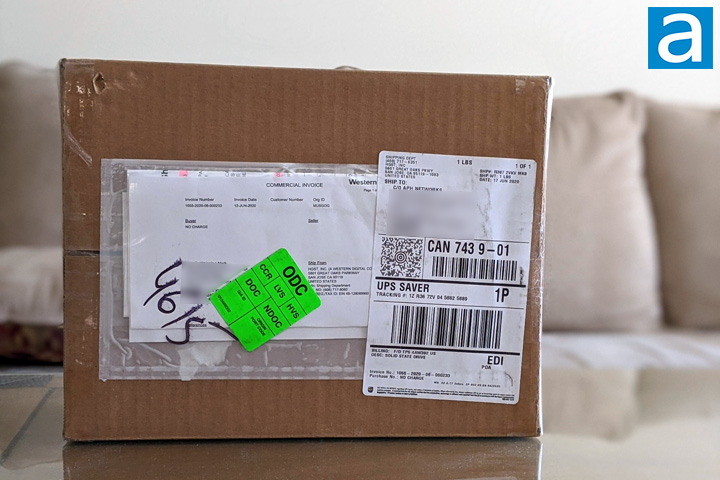 Today's review unit of the Western Digital Black P50 Game Drive SSD 1TB arrived from Western Digital's offices in San Jose, California. Traveling with UPS and their fast Saver service, this box arrived in excellent condition with no dents or bruises to be concerned about. This is quite a large box to ship an external solid state drive in, but inside, there was quite a bit of packing paper to prevent any damage to the product inside.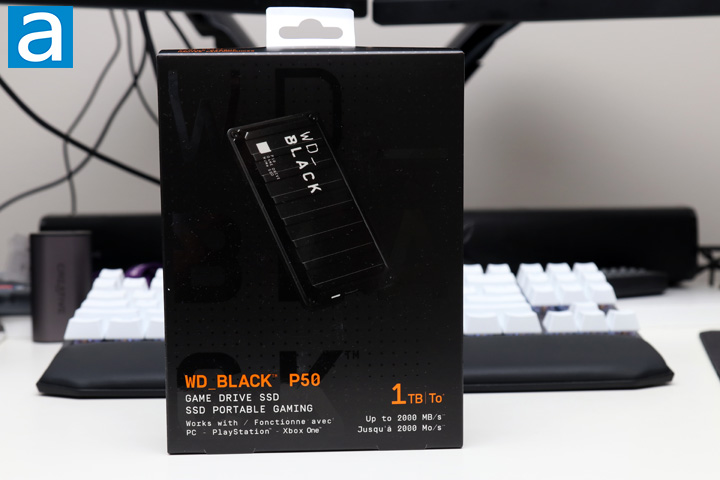 Taking a look at the retail packaging of the Western Digital Black P50 Game Drive SSD 1TB, this external SSD looks quite similar to their other product in the Black lineup we have reviewed, the Western Digital Black SN750 NVMe SSD 1TB. The front shows off the product in the foreground with large glossy letters of "WD_BLACK" in the background. The full product name is on the front, as well as the capacity. Otherwise, some notable features are printed on the front, including the fact it "Works with PC, PlayStation, Xbox One" as well as "Up to 2000 MB/s". While one of these claims is much more substantial than the other, the former emphasizes the fact this SSD can work as your game storage for all types of platforms, while the latter emphasizes the fast speeds provided by the P50 Game Drive SSD. We will explore these claims later on in our review.
Before we continue on, I have grabbed the specifications from the manufacturer's website for your perusal:
Specifications:
Interface: USB 3.2 Gen 2x2
Connector: USB-C
Compatibility:
- Windows® 8.1, 10
- macOS 10.11+
- PlayStation™ 4 Pro or PS4 with system software version 4.50 or higher
- Xbox One™
Dimensions (L X W X H): 118mm x 62mm x 14mm
In The Box:
- WD_BLACK™ P50 Game Drive SSD
- USB Type-C to Type-C cable
- USB Type-C to Type-A cable
- Quick Install Guide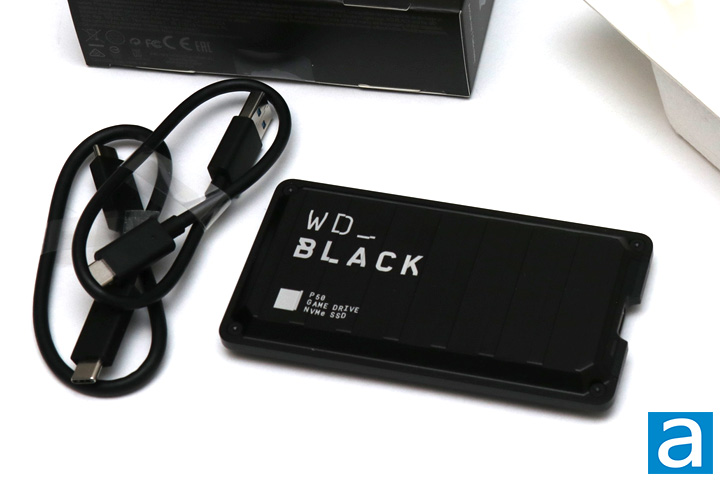 As mentioned in the specifications, you can see out of the retail box we have the external drive itself and two cables. One is a USB Type-C to Type-C cable, and the other is a USB Type-C to Type-A cable. Otherwise, Western Digital also includes a small quick install guide, which is mostly a plug-and-play process. There is some information about warranty too, which is five years in length. This is really great to see, and it matches up with other Western Digital SSDs we have seen in the past.
---
Page Index
1. Introduction, Packaging, Specifications
2.
A Closer Look, Test System
3.
Benchmark: AIDA64 Disk Benchmark
4.
Benchmark: ATTO Disk Benchmark
5.
Benchmark: Crystal Disk Mark 6.0
6.
Benchmark: HD Tach 3.0.1.0
7.
Benchmark: HD Tune Pro 5.70
8.
Conclusion