Page 2 - A Closer Look, Test System
It has been many years since I have looked at an external ADATA storage drive, with the last one being the DashDrive HV620 1TB in 2014. The 2014 model, while also being 1TB in capacity, was a hard disk drive that could barely exceed 110MB/s, while what we are reviewing today is NVMe SSD-based that can pull 2000MB/s according to the specifications -- what a time we live in. ADATA has always tried to put out interesting designs with the external storage products, and the Elite SE880 continues this tradition. The rounded corners and curved surfaces with surface lines look interesting but not busy. The majority of the enclosure is made out of cold-to-touch aluminum, and curves inward at the surface lines for easy grip using your fingers. Meanwhile, we can distinctively see where the surface of the aluminum enclosure ends and the plastic ends start. Aluminum is lightweight and great for heat dissipation, and the matte titanium gray finish is fingerprint-resistant. Unfortunately, I noticed thermal throttling pretty quickly into a sustained write operation, so I think the company can do a better job in its thermal management. That said, this compact solid state drive feels solid and flexes to nothing.
ADATA Elite SE880 1TB weighs about 31g without the cables and measures in at 64.8mm wide, 35mm deep, and 12.25mm thick. This is considerably smaller than the Crucial X8 1TB. The company makes no claims for any tests against extreme temperatures, shock, or vibration, so it follows there is no official IP certification. I would guess like any solid-state storage device, the ADATA Elite SE880 1TB should be reasonably durable against these things in day-to-day use.
One 23cm long USB Type-C to USB Type-C cable and one 16cm long USB Type-C to Type-A cable is included. Having both cables included will ensure universal compatibility, which I appreciate. However, the USB Type-C to Type-A cable seems a bit short. The USB Type-C to USB Type-C cable is pretty reasonable at 23cm in my opinion though. A better solution would be to include a USB Type-C to Type-A adapter instead of a separate cable.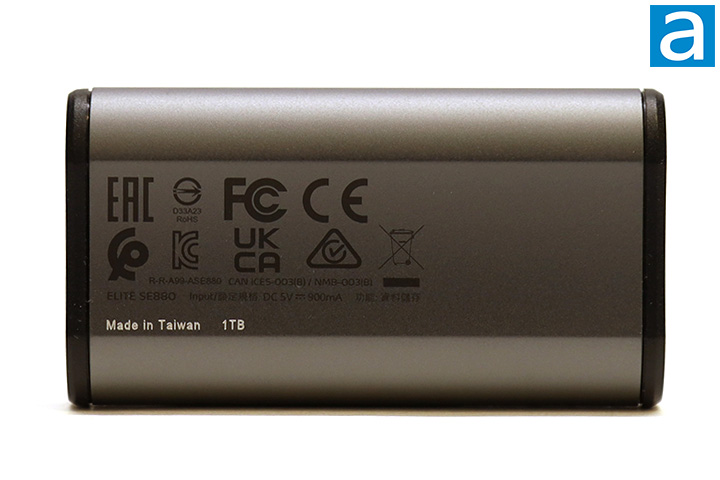 As it is with the front of the ADATA Elite SE880 1TB, the aluminum back has a matte titanium gray finish. A series of regulatory logos are found at the back as well. On the inscriptions, you will see this is the 1TB model and the SSD is a product of Taiwan. The unit's serial number is inscribed on the right of the capacity, but I edited it out. There is also a 500GB variant of the Elite SE880.
A USB Type-C port is on the left side of the drive, or on the right from the angle above. Because the Elite SE880 has an NVMe solid state drive inside and uses the USB 3.2 Gen 2x2 interface, the port already provides all the power it needs; no external AC adapter is required. A faint blue activity LED next to the USB port flashes when there is activity, but I would much rather have it stay on when plugged in and blink when there is activity instead to better indicate powers status. I would also appreciate it to be brighter and more visible.
I am not entirely sure what drive and controller resides inside the ADATA Elite SE880 1TB. The company does not post the rated write endurance either.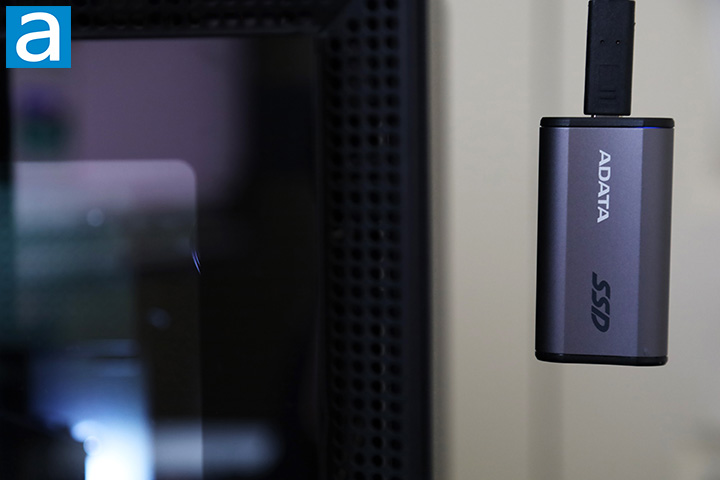 Our test configuration is as follows:
CPU: Intel Core i7-12700K
CPU Cooling: Noctua NH-D15 chromax.black
Motherboard: ASUS ProArt B660-Creator D4
RAM: Crucial Ballistix DDR4-3600 4x32GB
Graphics: ASUS Dual GeForce GTX 1060 3GB
Chassis: NZXT H710i
Storage: Kingston KC3000 1TB, Western Digital WD_BLACK SN850 NVMe SSD 1TB
Power: Seasonic PRIME Ultra Titanium 850W
Operating System: Microsoft Windows 11 Pro
Compared Hardware:
- ADATA Elite SE880 1TB
- Crucial X6 2TB
- Crucial X8 1TB
- Crucial X8 2TB
- LaCie Mobile SSD 500GB
- LaCie Rugged SSD 1TB
- Lexar Professional SL100 Pro 500GB
- Western Digital Black P50 Game Drive SSD 1TB
---
Page Index
1.
Introduction, Packaging, Specifications
2. A Closer Look, Test System
3.
Benchmark: AIDA64 Disk Benchmark
4.
Benchmark: ATTO Disk Benchmark
5.
Benchmark: Crystal Disk Mark 8.0
6.
Benchmark: HD Tune Pro 5.70
7.
Conclusion