By: Jonathan Kwan
November 27, 2020
What has changed since last year? If you are reading this review years after it has been published, history will tell you a lot has changed between November 2019 and November 2020. November 2019 was still pre-COVID, and I will have to say I probably got my year's worth of traveling in the months immediately leading up to the pandemic. Between September and February, I went to Honolulu, San Francisco, Vancouver, San Antonio, and Houston, which I have to say was a bit of luck since I do not usually fly that often. While I was in San Francisco, I attended Micron Insight, where I met Luke Ottrey who headed the Crucial X8 external solid state drive project. The Crucial X8 was available in 500GB and 1TB variants when it was launched; the latter I reviewed here at APH Networks almost exactly a year ago. A lot of things have changed now that a year has passed. Many of us are stuck in our houses with limited social and travel opportunities. Crucial's product line has also changed with the addition of the Crucial X6, but that is not it. The Crucial X8 has also changed with the addition of the 2TB model. Other than the capacity increase, is there a difference in performance with the new model? Read on to find out!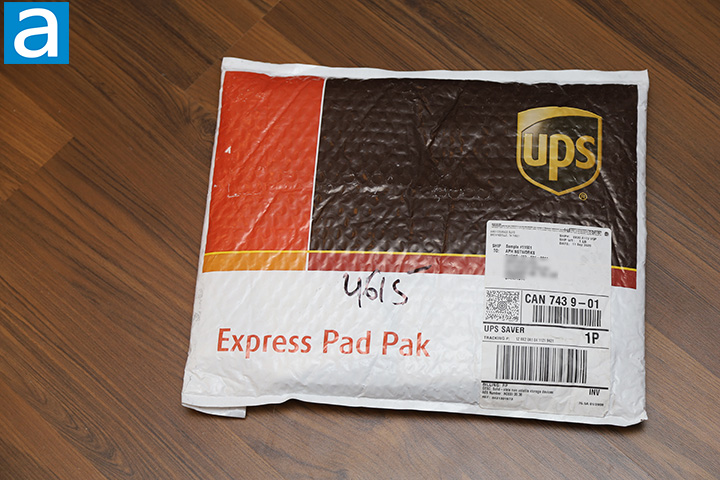 Unlike the Crucial X8 1TB I reviewed last year, our review unit of the Crucial X8 2TB arrived in a UPS Express Pad Pak-branded bubble envelope from Brownsville, Texas, USA. This was the same as the Crucial Ballistix DDR4-3600 2x32GB I recently reviewed. I have no idea why this package came from Brownsville, since Micron has no offices anywhere near there. The closest ones in the state are in Austin and Allen; where the latter is in the greater Dallas-Fort Worth area. What was even more confusing is they UPS Saver to ship this product, while the Ballistix RAM came using the FedEx International Priority service around the same time. Either way, everything arrived in excellent condition to us here in Calgary, Alberta, Canada for our review today.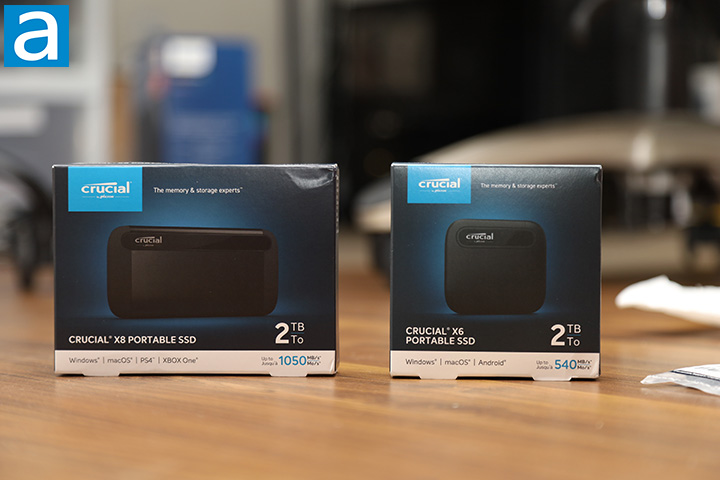 Crucial's retail package designs has always been about business, and the X8 is no different. Also inside the shipping package was the Crucial X6 2TB, which I have recently reviewed. The simple, environmentally friendly box is the same shape and size as everything we have seen before. It uses a relatively compact, thin square box to deliver the SSD into the hands of the consumers with the contents and miscellaneous information printed on the back. As you can see in our photo above, the box art evokes a strong business feel. The dark blue gradient background is plain for the easily distracted. A front shot of the solid state drive is shown boldly across the middle. Above it, you will find Crucial's logo and slogan. Under it, you will find the model name and capacity. The white strip at the bottom shows off its compatibility with Windows, macOS, PS4, and Xbox One.
Before we move on, let us take a look at the features and specifications of the Crucial X8 2TB, as obtained from the manufacturer's website:
Life Cycle - New
Brand - Crucial
SSD series - X8
Warranty - Manufacturer's 3 Year Limited
Sequential Read - 1050
Capacity - 2TB
Specs - SSD portable Crucial X8 2TB • USB 3.1 Gen-2 • Up to 1050MB/s sequential read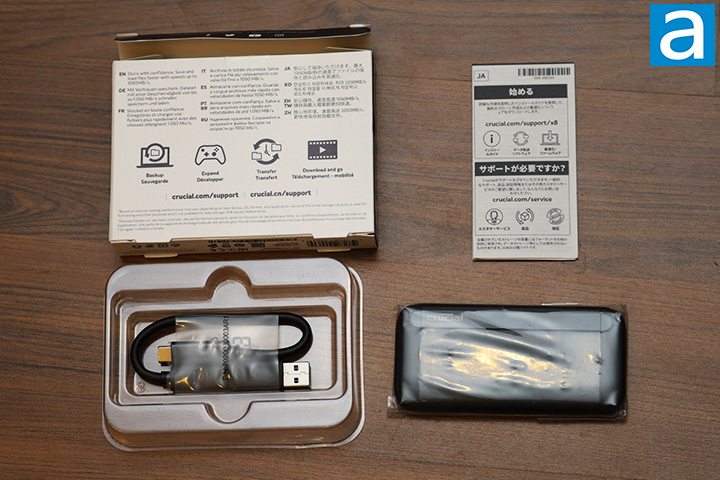 Out of the box, everything is neatly laid out thanks to a clear plastic tray and the fact there is not a whole lot of stuff to begin with. You will receive the Crucial X8 2TB itself, USB Type-C to USB Type-C cable, USB Type-C to USB Type-A adapter already attached, and a multi-language quick start guide. This no-frills approach keeps the retail box small and excess waste low, and I am always appreciative of companies who do not throw in extras for the sake of throwing in extras.
---
Page Index
1. Introduction, Packaging, Specifications
2.
A Closer Look, Test System
3.
Benchmark: AIDA64 Disk Benchmark
4.
Benchmark: ATTO Disk Benchmark
5.
Benchmark: Crystal Disk Mark 7.0
6.
Benchmark: HD Tach 3.0.1.0
7.
Benchmark: HD Tune Pro 5.70
8.
Conclusion