By: Jonathan Kwan
November 15, 2019
When was the last time you have met the person who created the product you are using? Last month, I attended Micron Insight where I got to meet quite a number of people at the company, including President and CEO Sanjay Mehrotra himself. Besides groundbreaking new technology like the Micron X100 solid state drive, one consumer product they were particularly excited about was the Crucial X8 1TB portable SSD. In the media round table where they revealed the X8, I got to meet the man who managed this project, Luke Ottrey, whose title at Micron is SSD Product Manager. Now, if there is anything I will tell you about Luke other than the fact the X8 was the fruits of his labor, it would the fact he is also quite an interesting guy. Born in Australia, he met his wife while on vacation in New York and got married not too long after. His journey did not begin in electrical engineering, but rather in retail. Like many people in the team at Micron, he actually previously worked for SanDisk. On the X8, he would say it is not just a Crucial P1 with an NVMe to USB enclosure. According to Luke, the enclosure was specially designed to withstand heat generated from the internal components along with an optimized removable storage firmware. The end result: Crucial claims this is one of the fastest portable consumer SSDs in the market today. Does it live up to its claims? Let us find out.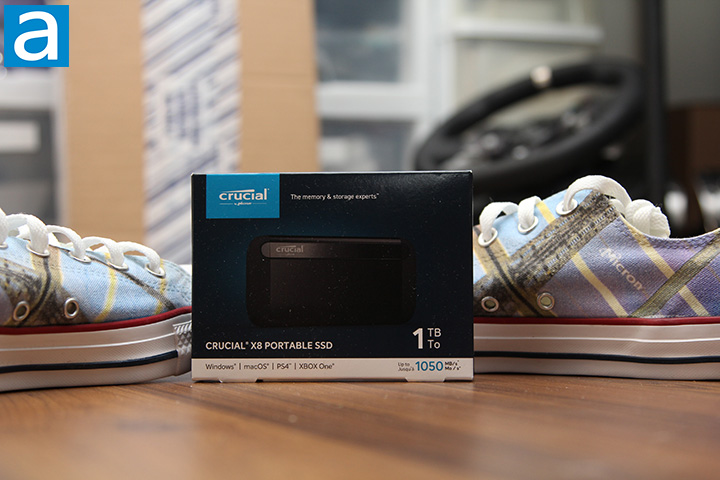 I picked up the Crucial X8 1TB directly from Micron's new offices in San Jose, California, USA. This is the first time I have ever picked up a review sample directly from the manufacturer, but it works for me. I packed the Crucial X8 into my carry-on bag along with a pair of custom-made Converse shoes the company handed out at the conference and flew back with the SSD to our home base in Calgary, Alberta, Canada. After a short 3 hour flight on United Airlines, everything arrived in excellent condition, me included; no one was dragged off the plane.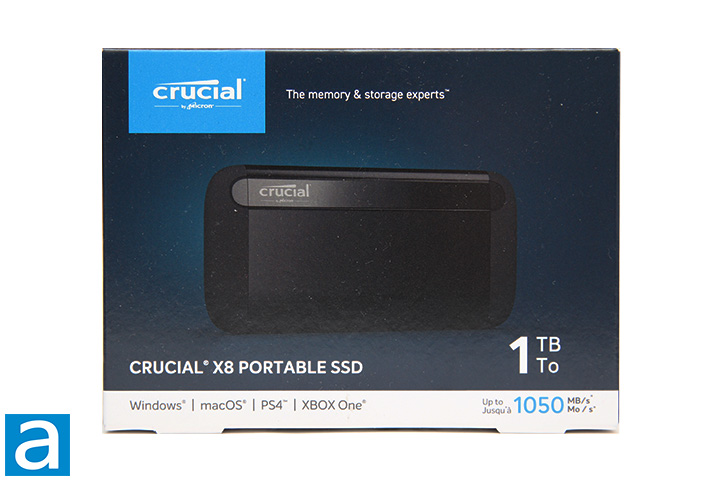 Crucial's retail package designs has always been about business, and the X8 is no different. In fact, changes were mostly evolutionary since I first reviewed the MX100 back in 2014. The simple, environmentally friendly box is the same shape and size as everything we have seen before. It uses a relatively compact, thin square box to deliver the SSD into the hands of the consumers with the contents and miscellaneous information printed on the back. As you can see in our photo above, the box art evokes a strong business feel. The dark blue gradient background is plain for the easily distracted. A front shot of the solid state drive is shown boldly across the middle. Above it, you will find Crucial's logo and slogan. Under it, you will find the model name and capacity. The white strip at the bottom shows off its compatibility with Windows, macOS, PS4, and Xbox One.
Before we move on, let us take a look at the features and specifications of the Crucial X8 1TB, as obtained from the manufacturer's website:
Form Factor: Portable Solid State Drive
Total Capacity: 1TB
Warranty: Manufacturer's 3 year
Specs: 1TB Crucial X8 Portable SSD • USB 3.1 Gen-2 • Up to 1050MB/s Sequential Read
Series: X8
Product Line: Client SSD
Interface: USB 3.1
Density SSD: 1TB
Device Type: Portable Solid State Drive
Package Content: Crucial X8 Portable SSD; USB 3.2 Gen2 Type-C to Type-C USB cable (10Gb/s); USB 3.2 Gen1/USB 3.0 Type-C to USB-A adapter (5Gb/s); Quick-Start Guide
Form Factor SSD: Portable Solid State Drive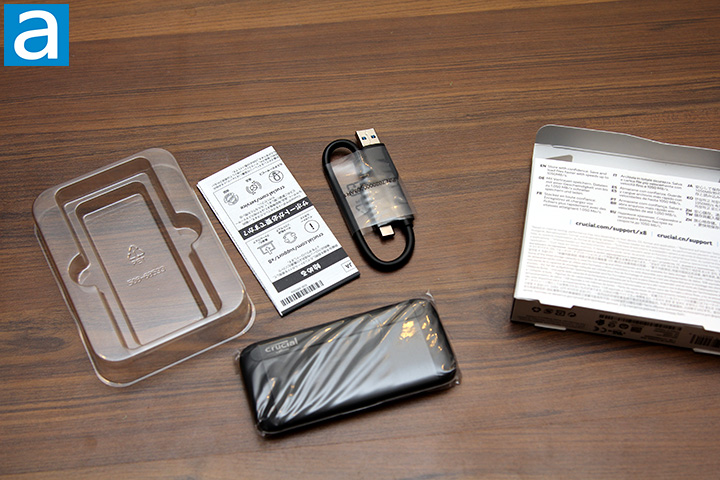 Out of the box, everything is neatly laid out thanks to a clear plastic tray and the fact there is not a whole lot of stuff to begin with. You will receive the Crucial X8 1TB itself, USB Type-C to USB Type-C cable, USB Type-C to USB Type-A adapter already attached, and a multi-language quick start guide. This no-frills approach keeps the retail box small and excess waste low, and I am always appreciative of companies who do not throw in extras for the sake of throwing in extras.
---
Page Index
1. Introduction, Packaging, Specifications
2.
A Closer Look, Test System
3.
Benchmark: AIDA64 Disk Benchmark
4.
Benchmark: ATTO Disk Benchmark
5.
Benchmark: Crystal Disk Mark 6.0
6.
Benchmark: HD Tach 3.0.1.0
7.
Benchmark: HD Tune Pro 5.70
8.
Conclusion