Page 2 - A Closer Look, Test System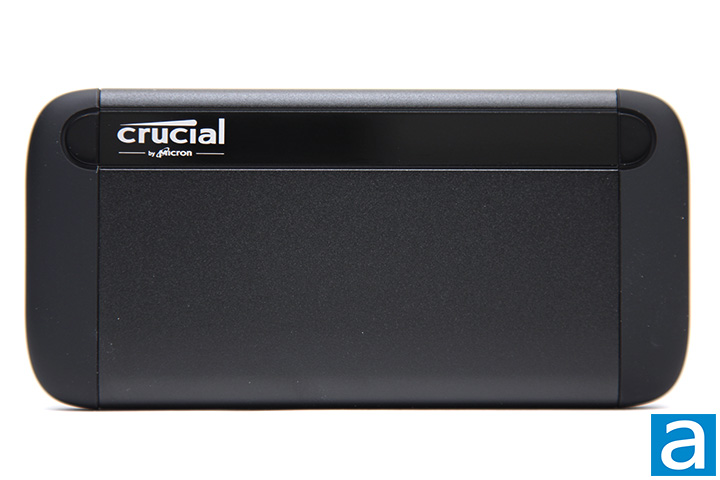 Crucial has always been a company that is all about business, and the X8 is there to help you keep that impression. The rounded corners and curved surfaces look classic and conservative. A piano black strip at the top contains Crucial's logo. Meanwhile, distinct lines mark where the surface of the aluminum enclosure ends and the plastic caps start. Aluminum is lightweight and great for heat dissipation to prevent thermal throttling, and the matte black finish is mostly fingerprint resistant. All in all, I found this slim and sleek solid state drive feels solid and flexes to nothing.
The Crucial X8 1TB weighs about 100g without the cables and measures in at 110mm wide, 53mm deep, and 11.5mm thick. According the company, the X8 is designed to handle drops up to 7.5 feet on carpeted and 3 feet on hard floors, although there is no guarantee there will be no cosmetic damage. That said, if you are paranoid about the appearance of your electronics, the Crucial X8 1TB should have no problems holding up to everyday use; unless, of course, you do something extreme to try to intentionally cause damage to it. The company claims it was tested against extreme temperatures, shock, and vibration, but there is no official IP certification.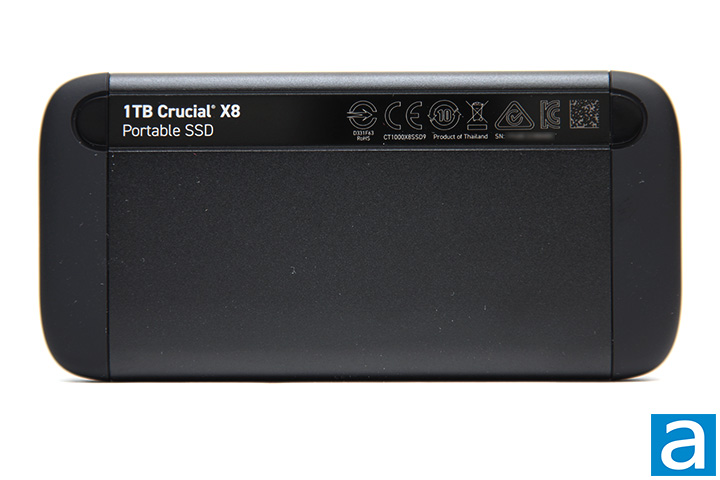 As it is with the front of the Crucial X8 1TB, the aluminum back has a matte finish. A series of regulatory logos and the unit's serial number is found at the back as well. On the inscriptions, you will see this is the 1TB model and the SSD is a product of Thailand. There is also a 500GB variant of the Crucial X8.
A USB Type-C port is on the right. Because the X8 has an NVMe solid state drive inside and uses the USB 3.1 Gen 2 interface, the port already provides all the power it needs; no external AC adapter is required. One thing about the X8 is it features no activity LED. This is a strange omission to me, since there is no way for you to tell whether the Crucial X8 is receiving power or is active or not. That aside, one short USB Type-C to USB Type-C cable is included along with a USB Type-C to Type-A adapter. I like the fact there is one cable with an adapter so you do not need to carry two separate cables around, but the included cable is too short at 15cm in my opinion.
I did not disassemble the drive to take a look at its internal components, but we know there is a Crucial P1 1TB with custom firmware inside. The Crucial P1 1TB is an NVMe solid state drive rated at 2000MB/s read, 1700MB/s write, and 200TBW total write endurance. This translates to about 109GB per day for five years, which is good. The X8 is rated much lower at up to 1050MB/s sequential read mainly due to interface limitations, but still twice as fast as any other external SSD we have tested here at APH Networks.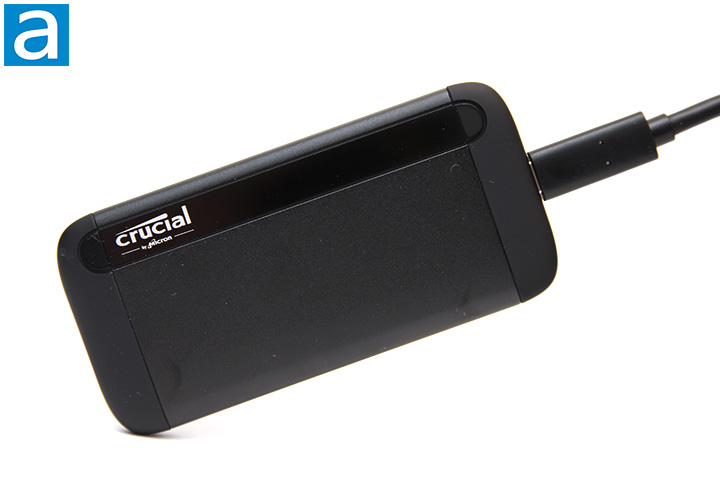 Our test configuration is as follows:
CPU: Intel Core i7-6700K @ 4.60GHz
CPU Cooling: Noctua NH-D15 (Single fan)
Motherboard: Gigabyte GA-Z170X-UD5
RAM: Kingston HyperX Savage Black HX426C15SBK4/64 4x16GB
Graphics: Gigabyte G1 Gaming GeForce GTX 970 4GB
Chassis: NZXT H700i
Storage: OCZ RevoDrive 350 480GB; Kingston HyperX Predator PCIe 480GB; SanDisk Extreme PRO 480GB
Power: Seasonic PRIME Ultra Titanium 850W
Operating System: Microsoft Windows 10 Pro
Compared Hardware:
- Crucial X8 1TB (Solid State Drive)
- ADATA DashDrive Elite UE700 64GB (Flash Drive)
- Kingston DataTraveler HyperX 3.0 64GB (Flash Drive)
- Kingston DataTraveler Ultimate 3.0 G3 32GB (Flash Drive)
- Kingston HyperX Fury 64GB (Flash Drive)
- LaCie Mobile SSD 500GB (Solid State Drive)
- Patriot Supersonic Magnum 64GB (Flash Drive)
- Patriot Supersonic Magnum 2 256GB (Flash Drive)
- Patriot Supersonic Rage 2 256GB (Flash Drive)
- SanDisk Ultra Fit 128GB (Flash Drive)
- SanDisk Ultra Fit 256GB (Flash Drive)
- Silicon Power Blaze B05 64GB (Flash Drive)
---
Page Index
1.
Introduction, Packaging, Specifications
2. A Closer Look, Test System
3.
Benchmark: AIDA64 Disk Benchmark
4.
Benchmark: ATTO Disk Benchmark
5.
Benchmark: Crystal Disk Mark 6.0
6.
Benchmark: HD Tach 3.0.1.0
7.
Benchmark: HD Tune Pro 5.70
8.
Conclusion